Replacing That Large Tub Nobody Uses Anymore
July 12th, 2023 | by Elizabeth | Posted in bathrooms, Before and Afters, construction, design, remodeling

These days, we're ripping out bathtubs left and right. Y'all know the ones… they're built into a platform, may or may not have jets, and likely haven't been used since the early 2000s. Oh, you have one, too? I thought you might. And believe me, I can relate.

Here was the Scruggs bathroom not all that long ago…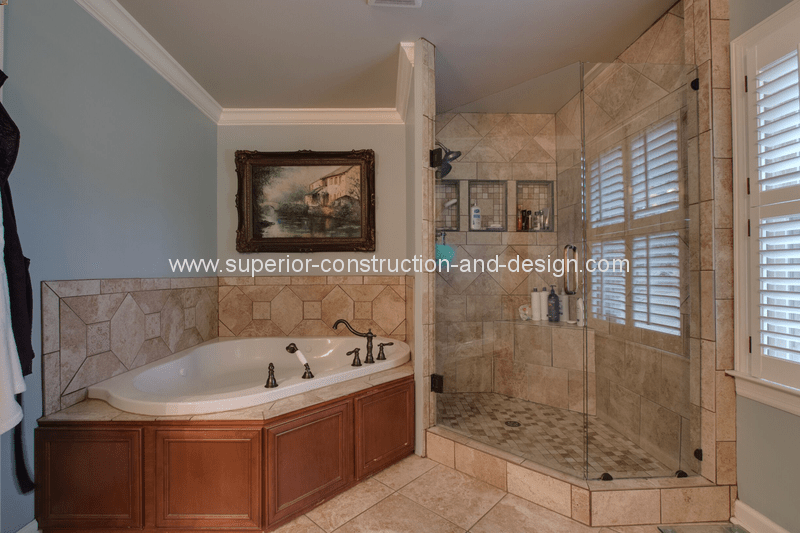 To be honest, I've seen worse. But between the dysfunctional diagonal placement (y'all know how I feel about that!), the oak paneling, and the exposed plumbing fixtures (sitting right where anyone could knock them out of place), this bathroom needed work.
If your bathtub makes you cringe as much as mine did, here's where you should start:
First, decide whether the bathtub is being completely removed or replaced.
Next, decide how much of the bathroom will need to be renovated.
Assemble the right people for your team.
Let's talk about each of these…
1. Should your bathtub stay or go?
Before you decide to give your bathtub the boot, you'll want to keep your home's value in mind. If there is no other bathtub in the house, I wouldn't remove it completely. Instead, I would replace it with a smaller free-standing tub, like we did in our client's Traditional Master Bathroom Refresh: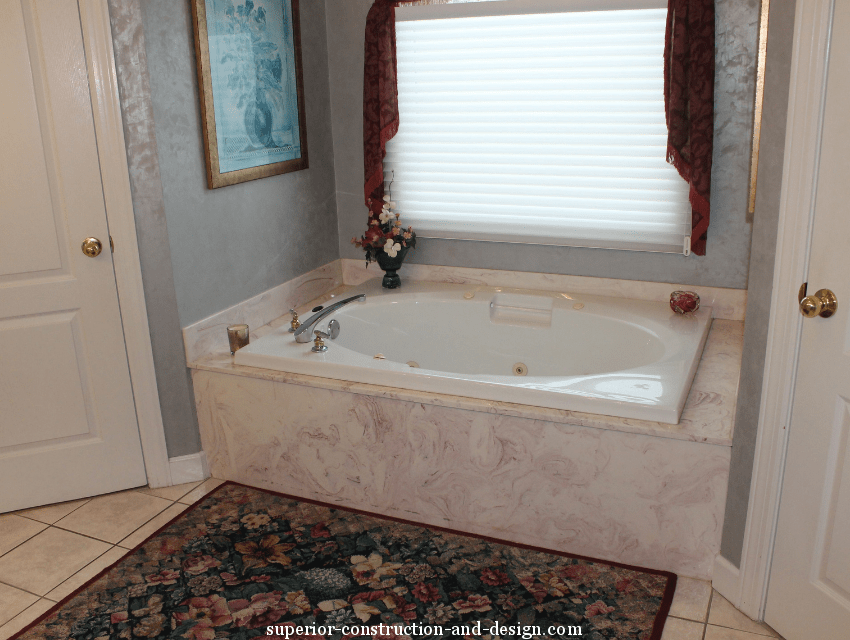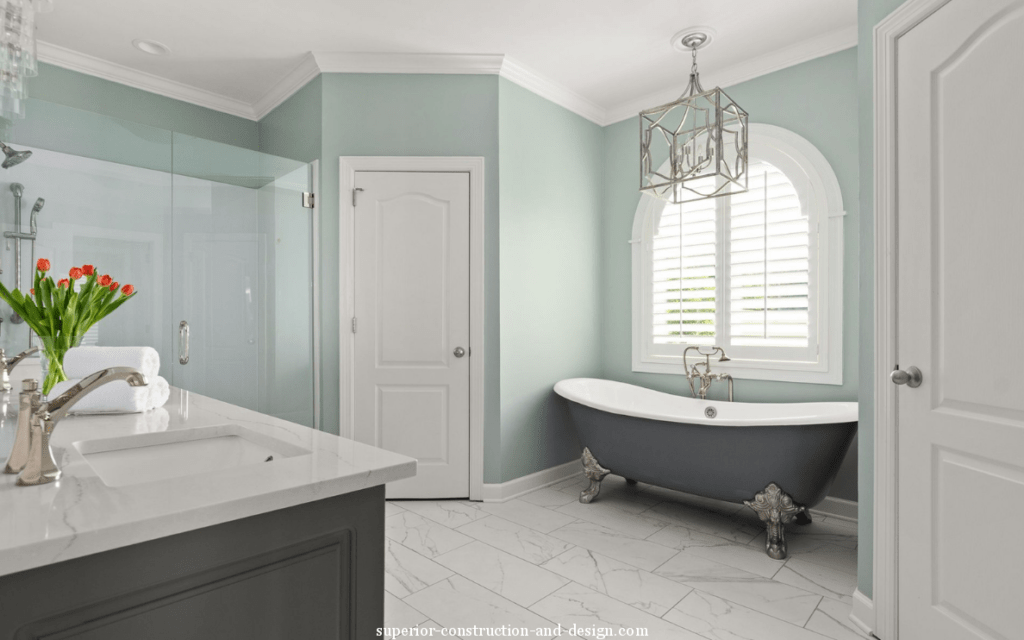 Adding a free-standing tub created more walking space, and the bathroom feels more open and spacious overall. The perfect happy medium.
How much will you need to renovate?
If you're excited to renovate the entire bathroom, have at it! I am always supportive of a full transformation if that's what you want. However, if you're trying to get by with the least invasive reno possible, the scope will depend on your existing space.
Flooring Considerations
If your flooring runs underneath the tub box, your team will likely be able to remove the tub box and preserve the flooring. But this is almost never the case. Usually, the flooring stops at the edge of the tub box, which means you'll have to replace ALL of the floors in the bathroom. This is exactly what we did in the bathroom above.
Wall Placement
In some cases, removing a tub will also present the question of whether to remove or build a wall. I've seen tubs separated from showers by a half-wall or even a full wall like mine was. If you want to move that wall to create a larger space, or chop it into a smaller version (see below), you've got yourself a larger renovation.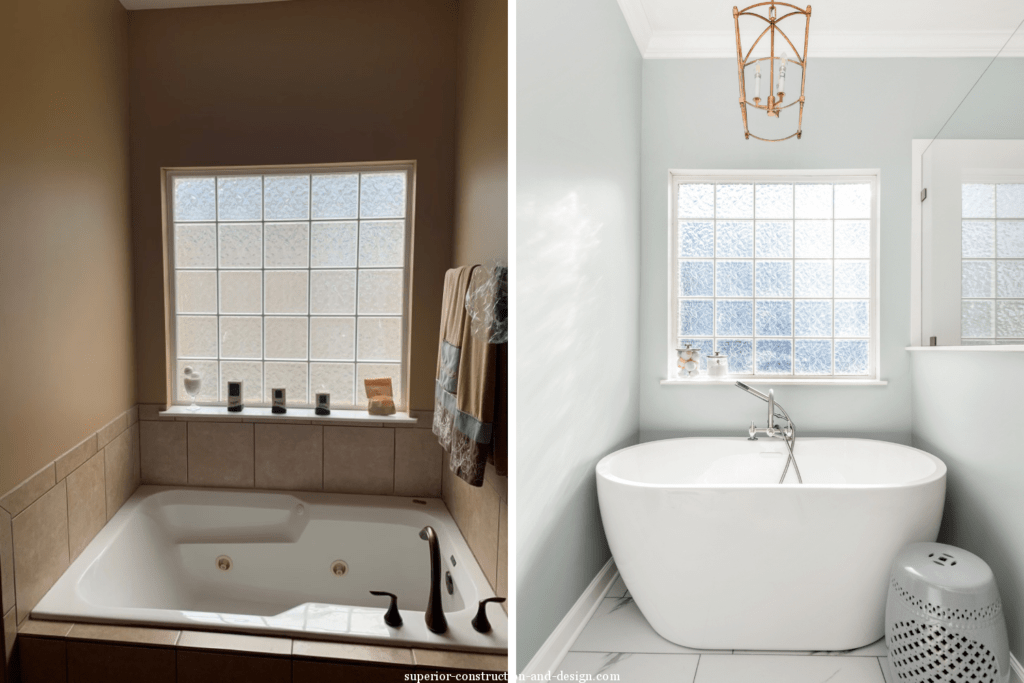 In our Mt. Juliet Renovation, we swapped the jacuzzi tub with a free-standing tub, replaced all floors, and removed the top part of the wall to open up the space and get more natural light in there. This was a full-scale renovation, and our clients were thrilled with the results.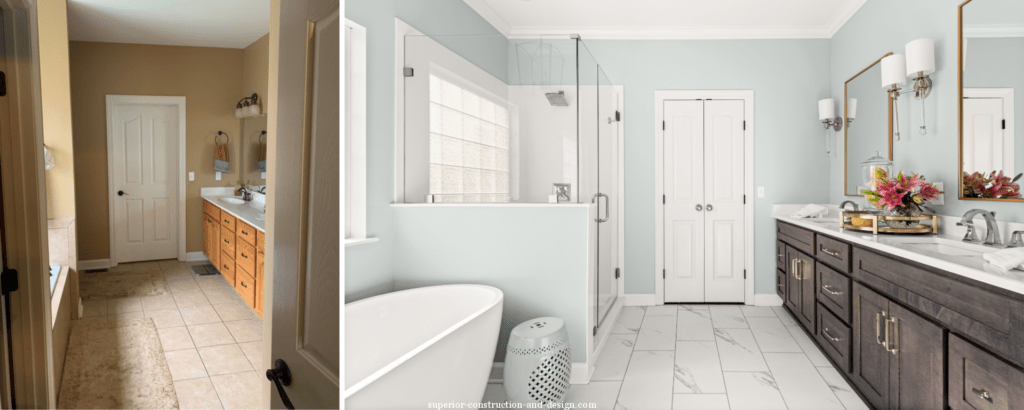 Unexpected Surprises
And lastly, the scope of your project will depend on unexpected surprises? What's that, you ask? Join me for a moment on a quick trip down Memory Lane in the Scruggs home…
It was late 2019, and we were at the tail end of recovering from the Waterpocalypse, a kitchen leak that required us to replace ALL of the floors in our living spaces, from our back entrance through the kitchen, den, hallway, my son's room, my bedroom, and my office.
Well, the very last section of new flooring was being installed when one of our team members came into my office. "Uh, Mrs. Elizabeth… I think you need to see something." He had this look on his face like he was half scared to show me. When we got back to our master bedroom, he was in one of the closets tearing out the old flooring — and that's when he found it.
MOLD.
Every homeowner's nightmare.
And it had come from the master bathroom. Apparently, our son (who loved to swim in the tub) knocked a line loose at some point. Remember those exposed plumbing fixtures?? Now we can see why that was a bad idea. Every time said tub was draining its zillion gallons — most was going under the house, and LOTS was going under the floor.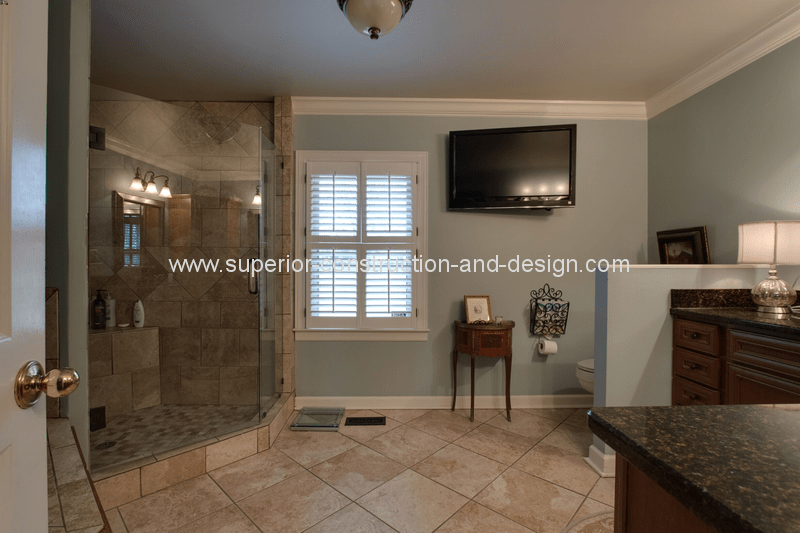 It looks so innocent, doesn't it? But looks can be deceiving. You never know what you'll find underneath floors and inside walls. That's why I always recommend a contingency budget. Because if you discover mold, there's only one thing to do — bite the bullet and rip it all out!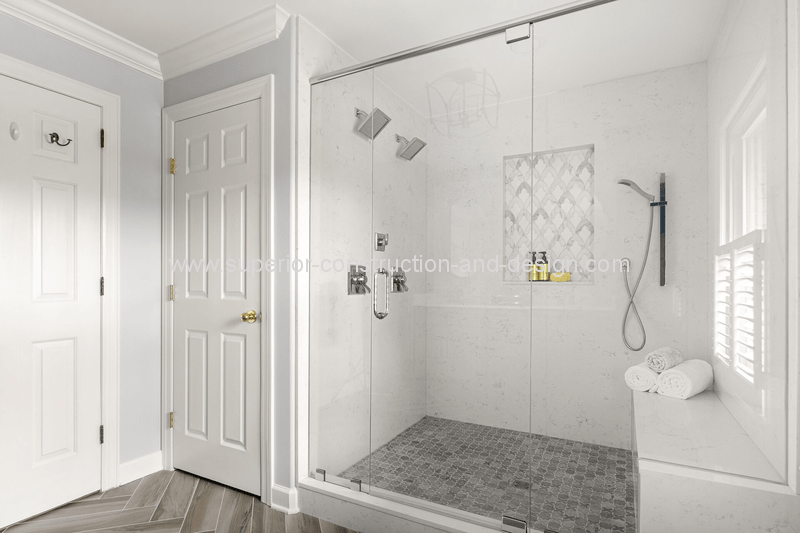 I'm so glad we did. Here's the Scruggs bathroom as of 2020. That platform tub is gone, we have new flooring, and this spacious shower is still a treat to use!
Who should you hire for your project?
Okay, you're ready to assemble your winning lineup. Who should you call?
If you're just removing the tub, you'll need a plumber, a demo crew, and an electrician if there's a motor hooked up to it.
If you're renovating the space, adding new flooring, removing/building walls, or installing a new tub, you'll also need a general contractor.
If you care about the style and functionality of the space, I would also recommend hiring an interior designer, or at least finding a GC that has a designer on staff. (Or is licensed at both, like us!) This will ensure that your results meet your expectations on every level.
My final advice?
If you ask me, removing your platform tub is worth it. It always makes the bathroom roomier and will keep your home looking up-to-date. However, as with anything, it's better to go all-in versus do it halfway. I suggest waiting until you can do the entire bathroom at once. Y'all will get better results!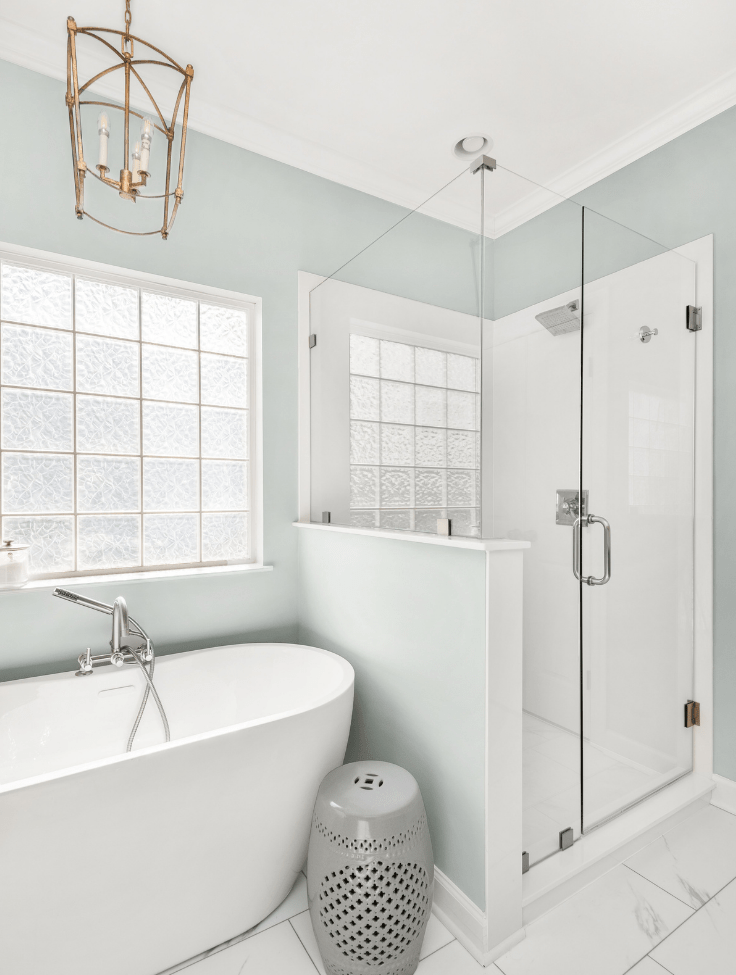 Need help with your bathroom renovation? That's what we're here for, my friend. Book a call with me to share more about your project and see if we're the right team for you. 'Til next time…
Xo,
E