Everything You Ever Wanted to Know about Built-Ins
July 5th, 2023 | by Elizabeth | Posted in built-ins, construction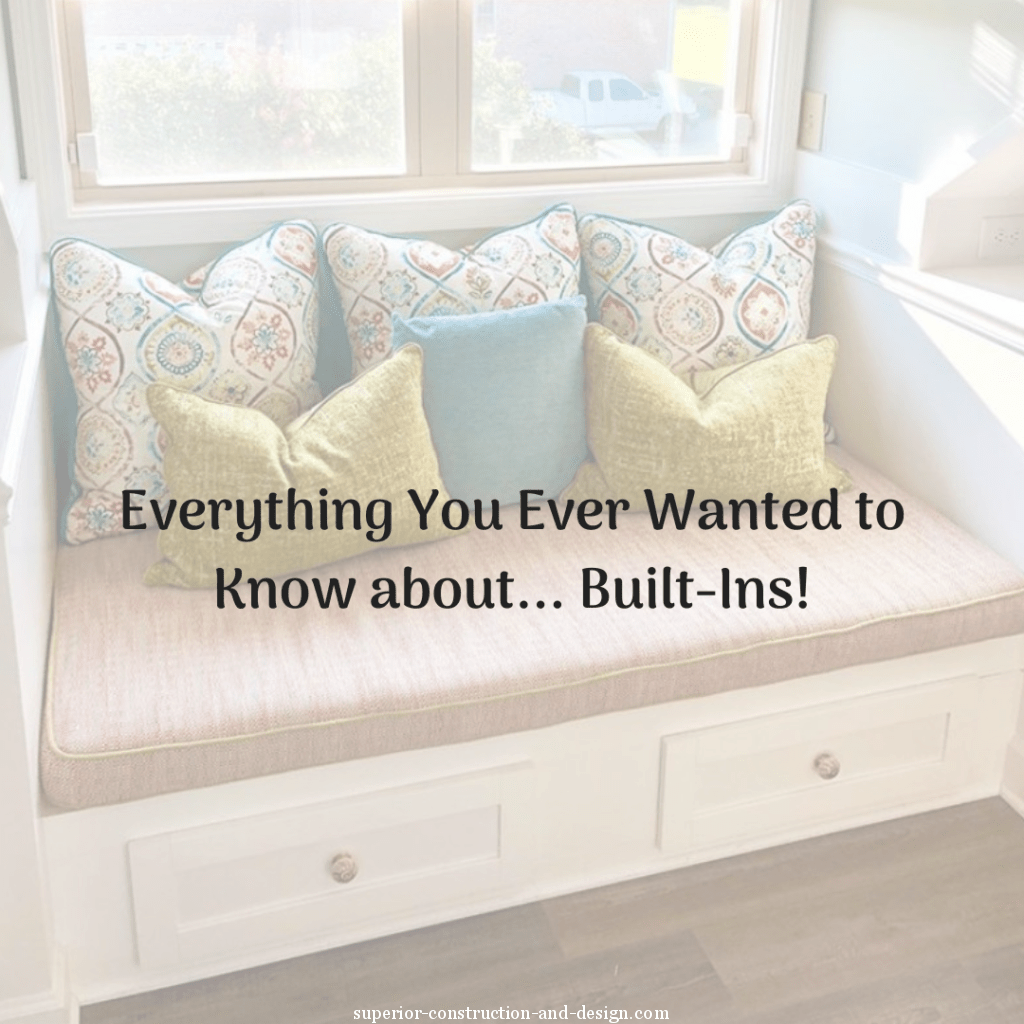 You've seen them on Instagram and Pinterest… they're cropping up in homes left and right… they look timeless and classic… they're… built-ins!!
Okay, y'all know that I love adding custom millwork to our projects, and that's exactly what a built-in is – a custom feature "built in" to the home itself.
Built-ins could be shelving, benches, drawers, a doggie house (really), or a combination of any of those!
Today, I want to share the ins and outs of built-ins, where you can put them, what you need to know, and lots of inspiration along the way. So grab your imagination and come take a look!
The built-in in this office nook from one of our Kitchen Remodels
Which are the best rooms to put in a built-in?
There really are limitless places in a home to add built-ins. The obvious places…
a long wall in a great room or family room
around a fireplace
in a home office
But then there are the other, less obvious places like the forgotten nooks and crannies of a home…
under a stairwell
at the end of a pantry cabinet
along a knee wall
even in a hallway if it's wide enough!
We've personally been doing a lot of doggie houses under stairs and TONS of entry way/mud bench types of built-ins.
A dog home! Not your typical cupboard under the stairs…
Room for two very clean fur babies…
How do you know if a space can accommodate a built-in?
There are two qualifications…
First, you need to confirm if there is wiring or outlets are in the wall and decide how to deal with those.
Many times, we build around them and design the shelving at those spots to be large enough to house a small lamp or other item that may need electricity, like a printer.
Second, you need to know what will be going on those shelves! We have created built-ins with shelves as narrow as a soup can in a pantry to accommodate canned goods.
If it's going to fit what you have in mind, then yes, the space is built-in approved!
Have a window? Create a sunlit reading nook like we did in my home!
What is required in the design, planning and building of a built-in?
The only thing required is an imagination! (That's usually what limits us all, right??)
If you are specifically asking us for a built-in, we'll have a conversation around what it's going to be used for and what you envision seeing in the space.
Many times, we'll also look through our past projects with you for inspiration, or have you show us photos of built-ins you've seen and loved.
We then begin to sketch out together what we think it should look like. (I love getting creative with this part!)
If we are doing the overall design for a space, we may add a built-in in the plan to accommodate a need you might have, such as benches with storage inside for blankets, games, or toys in a playroom.
No surprises here… one of my favorite built-ins to create is a window seat/bed for reading and bookshelves for books!
We added this built-in shelving for books in the Scruggs family bonus room. What a cozy little space, right?
How long does it take to design and install a built-in?
From beginning to end, of course, depending on scope and size, we can typically have them built in about a week.
Fast, right? The painting and curing (drying time for the paint) process is what takes a bit of time, and what our clients have the hardest time waiting for!
Note: If we're adding a built-in as part of a larger renovation, yes, your whole reno will take much longer than a week! Sorry, I know home reno shows make it look that way!
The Lake House living room built-in shelving and cabinets
Built-ins come in all shapes and sizes and functions!
We built these around a red brick dated fireplace and then painted the whole thing out to match the trim. From this renovation in Mt. Juliet.
Do I have any built-in styling tips?
No one wants naked shelves, right?? First, less is more. ALWAYS. Negative space is important, so don't junk up your shelves with lots of tchotchkes!
If you're going to add items, make sure they're meaningful to you or they'll just collect dust.
Of course, my favorite items to add to shelves are… BOOKS!! These are the very first things we start with in wall built-ins.
Second, remember that not everything has to be how you expect it. You can prop books up or stack them, place photos on the shelf or on a book stack, layer art in the back, etc.
Feel free to get creative and play with the geometry!
Alright, that about sums it up. I think this biggest takeaway here is that you can do SO MUCH with built-ins and with a little creativity, they can beautifully and easily fit into your space, style, and lifestyle.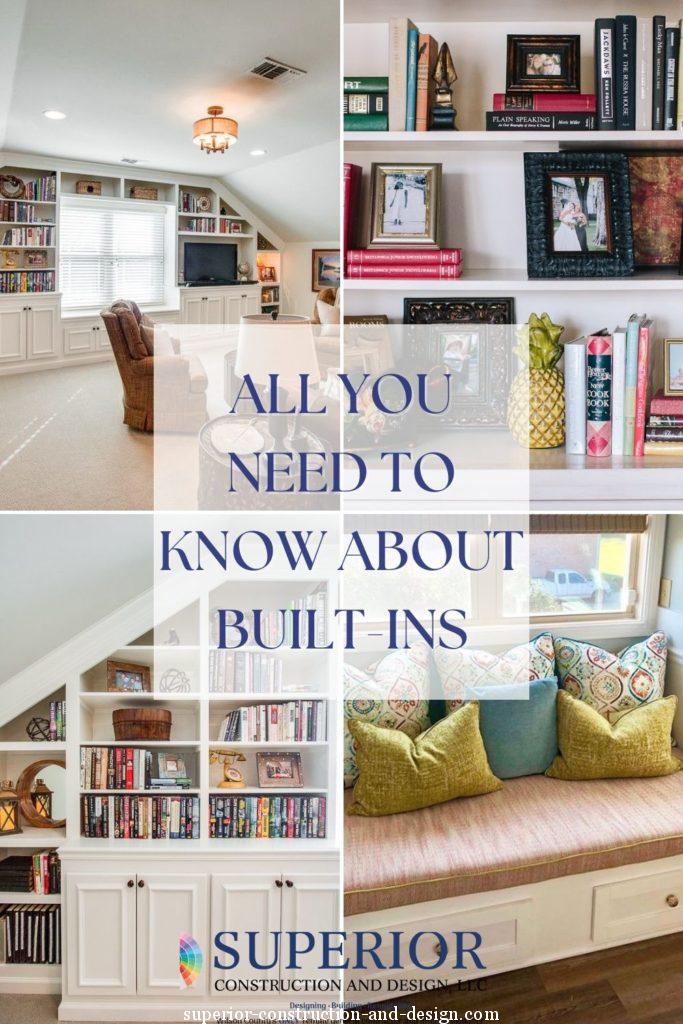 So which one was your favorite? Is your imagination going wild? I'd love to hear your favorites below!
Xoxo,
E