Down to the Studs: Bedrooms, Bonus Room & Bathroom Design
February 15th, 2022 | by Elizabeth| Posted in bathrooms, bedrooms, Before and Afters, bonus rooms, children's rooms, construction, remodeling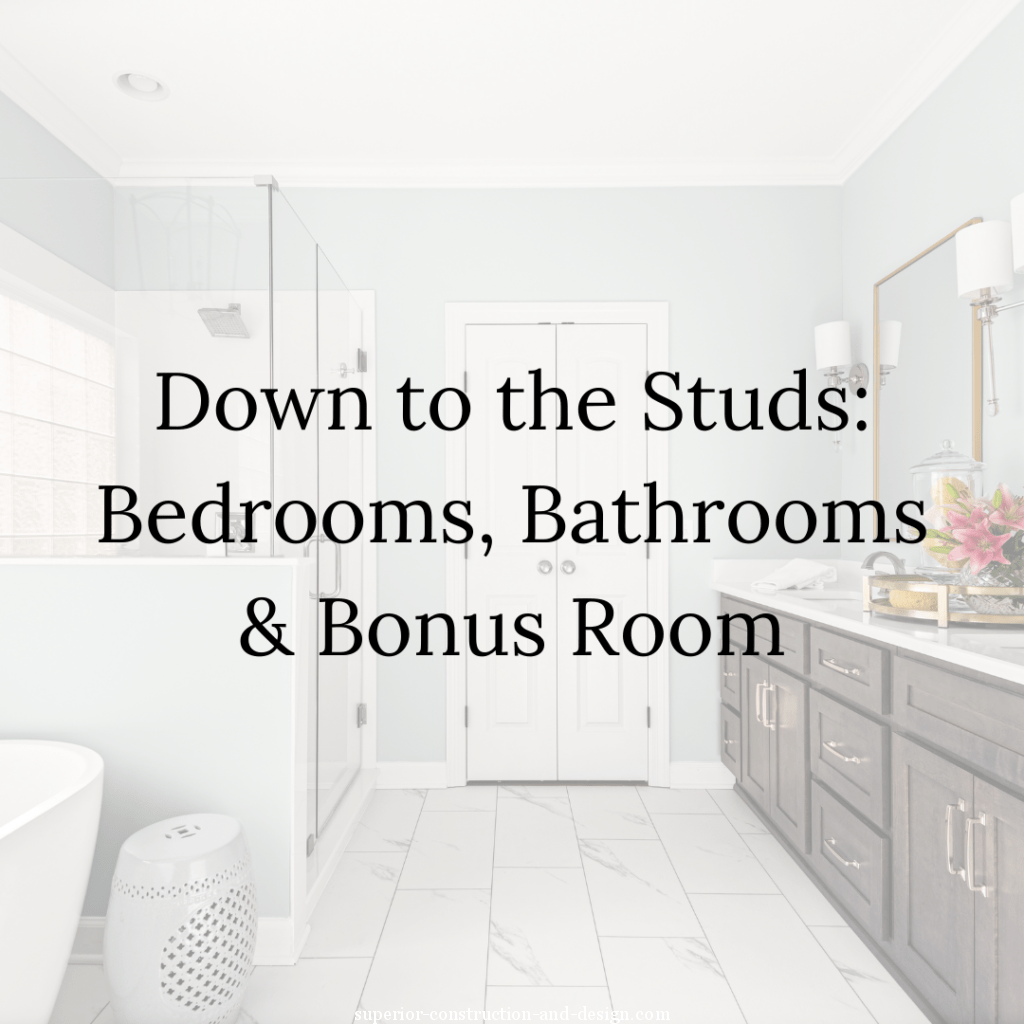 Well, we've made it to part two of Down to the Studs Remodel — the bedrooms, bathrooms, and bonus room. To recap, this family of four leads an active lifestyle, full of careers, kids' sports and activities, and a bustling neighborhood where get-togethers are a weekly occurrence. (Don't y'all love Wilson County?)
Mr. and Mrs. W. were eager to transform their yellow, dated home into one that would support their busy routines…and I think we delivered. In case you missed it, you can see the kitchen, great room, and dining area reveal here. Today, let's head into the more private spaces, where new paint, flooring, fixtures, and furnishings have made all the difference…
Master Bedroom & Bathroom Design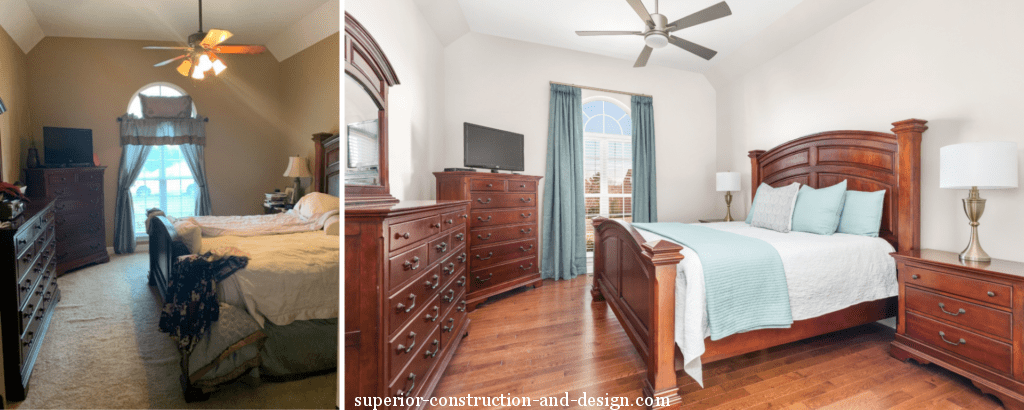 In the master bedroom, we said goodbye to dated carpet and hello to this warm-toned wood flooring. It works perfectly with their original furnishings. A new coat of paint, along with light blue linens and black-out drapery panels, help it feel fresh and light. Proof that not every space needs a total overhaul to look like new.
One of the main concerns for my clients was being able to block the light that came in through the window in the early morning. (See: Pillow in the Before photo transom above.) We raised the panels and installed the French curtain rod where it needed to be, along with the black-out lining in the panels. No more pillow in the transom!!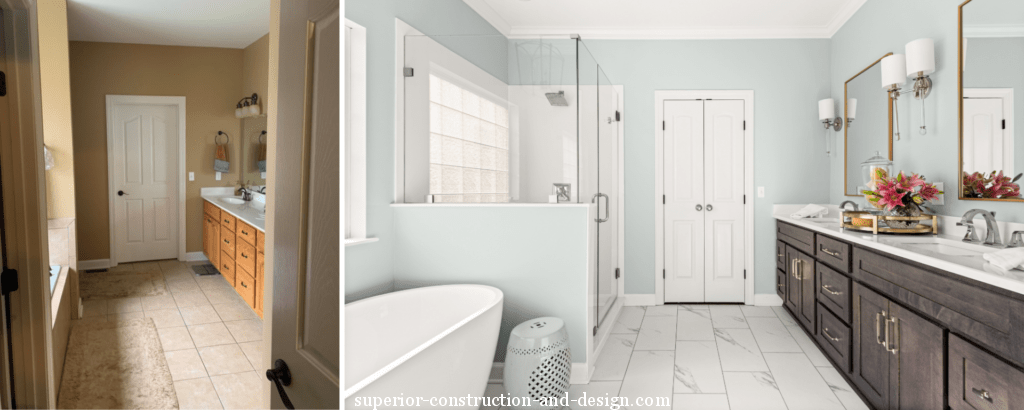 Their ensuite bathroom received a bit more attention and, you guessed it, took it down to the studs. We were initially dealing with a platform tub, tiny shower, dated tile flooring, and of course, more of that yellowy-brown paint color. We traded these for a free-standing tub, larger shower, fresh tile flooring with beautiful grey veining, and soft blue walls that instantly open up the space.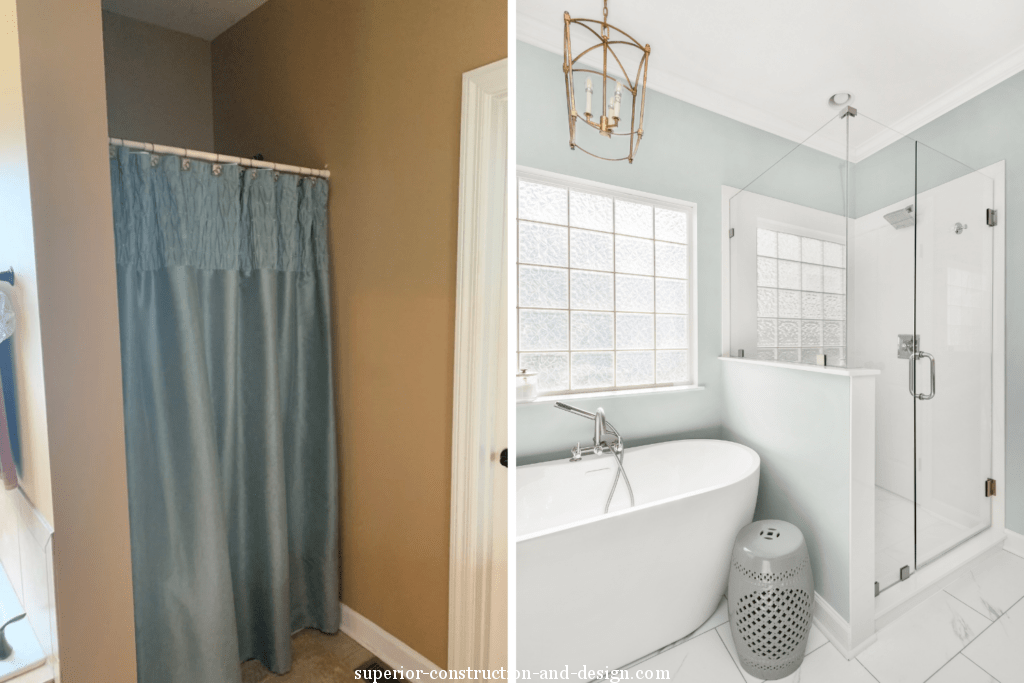 Here's a close-up of their previous teeny, closet-y shower. Can you imagine trying to wash your hair without smacking your elbows?? Now, they have plenty of space and it doesn't feel like a dark cave. SO much better.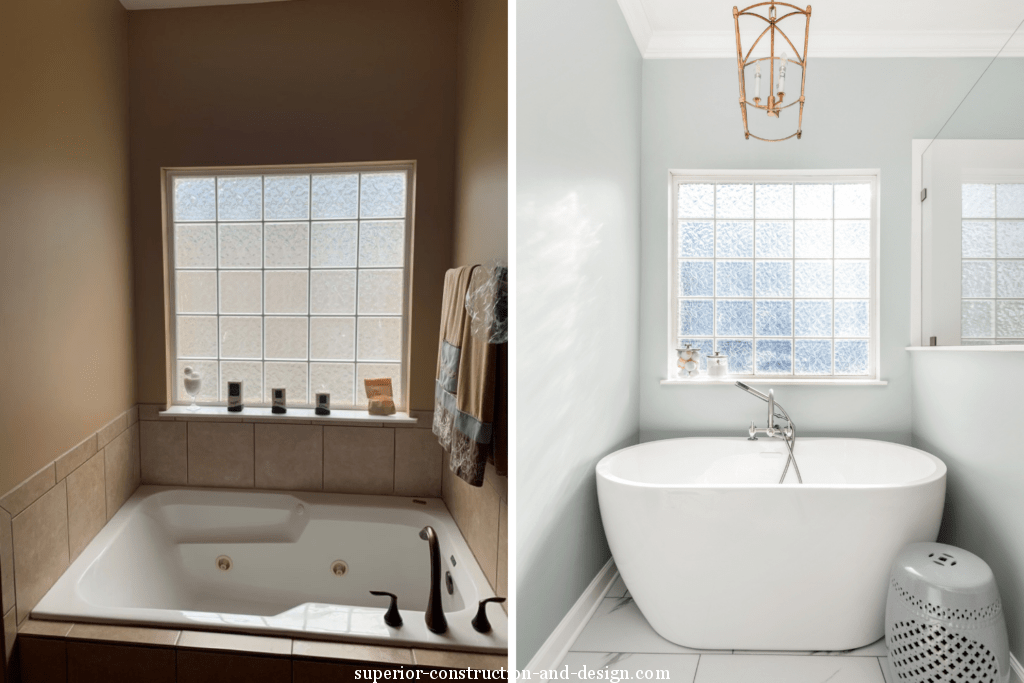 Built-in bathtubs take up a lot of space, especially when there's a whole wall on either side. Installing this free-standing tub and reducing the full wall of the shower to a half wall with glass, gives the W's more walking space, and it just looks more elegant, open, and inviting in general. This show-stopping chandelier tops it all off and sets the mood.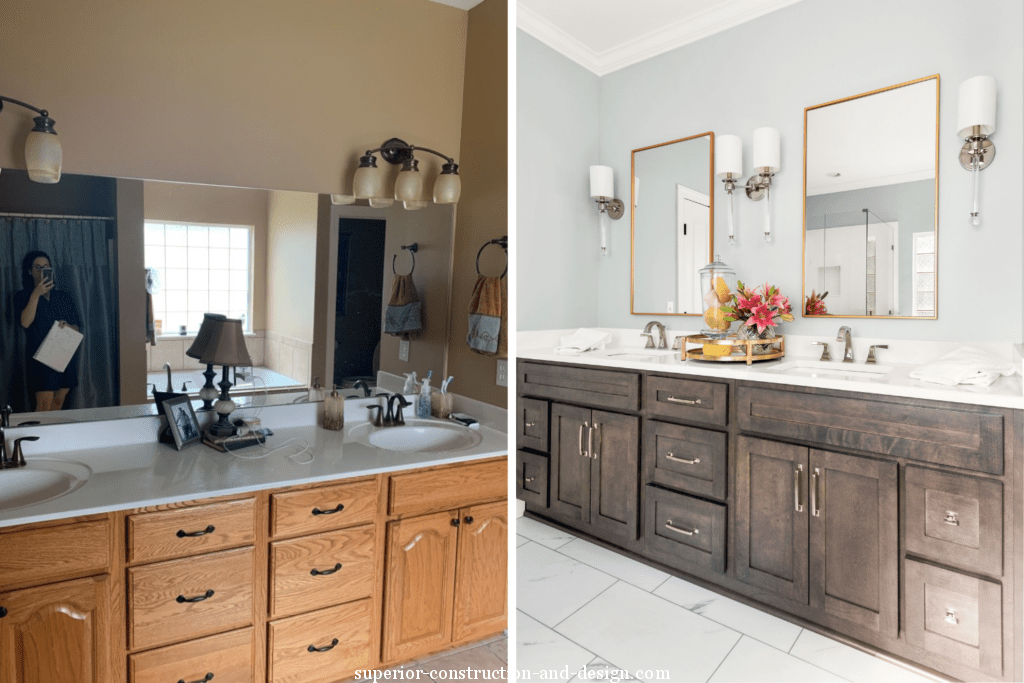 Opposite the shower and tub, we said adios to the oak vanity, traditional lights, and mounted mirror—all relics of the '90s. Now, our clients have this new double vanity in dark wood, paired with modern sconces and brass-framed mirrors. Much more current while still hanging on to beautiful traditional roots.
Children's Bedrooms & Bathroom
Now that we've pampered Mr. and Mrs. W, let's talk about the kids' spaces.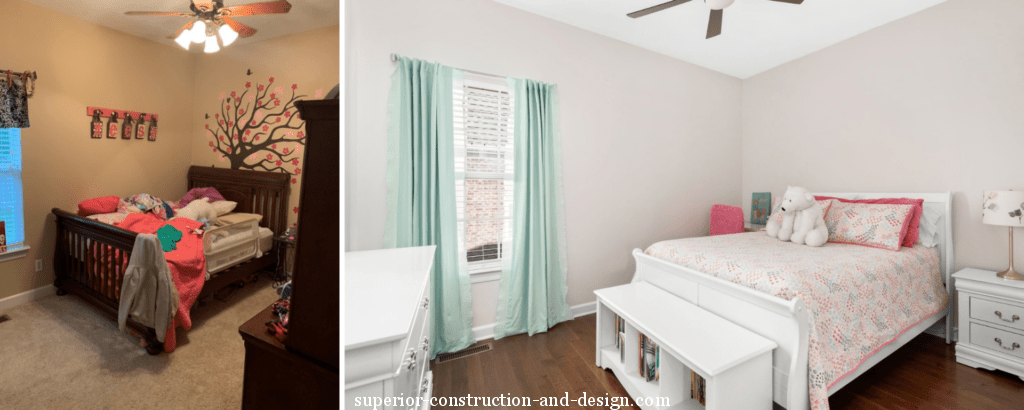 In their daughter's bedroom, we knew this carpet and yellow color would have to go, and that lighter furnishings would make it feel softer and more open. We chose soft aqua drapery and paired it with pillows and her existing linens that she loves!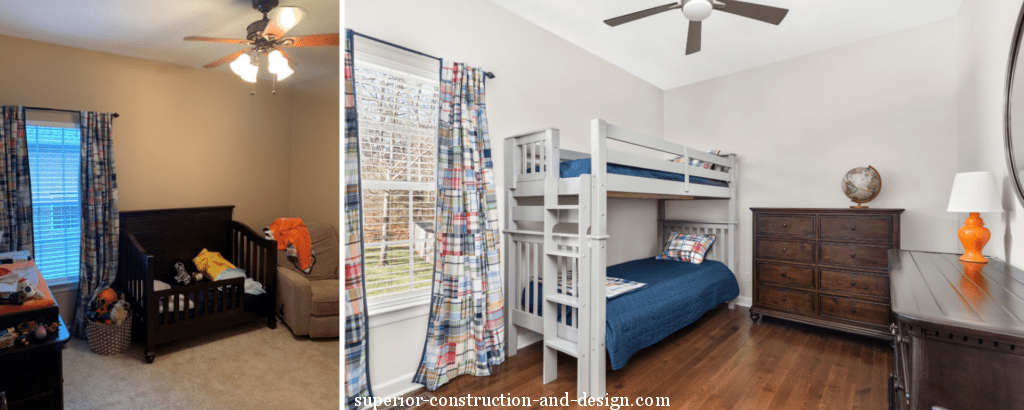 Their son's bedroom also received new hardwood flooring, and during our time working with this family, he upgraded from his crib to a "big boy bed." (They grow so fast.) We added bunk beds in here for sleepovers, forts, and all the other adventures kids get into.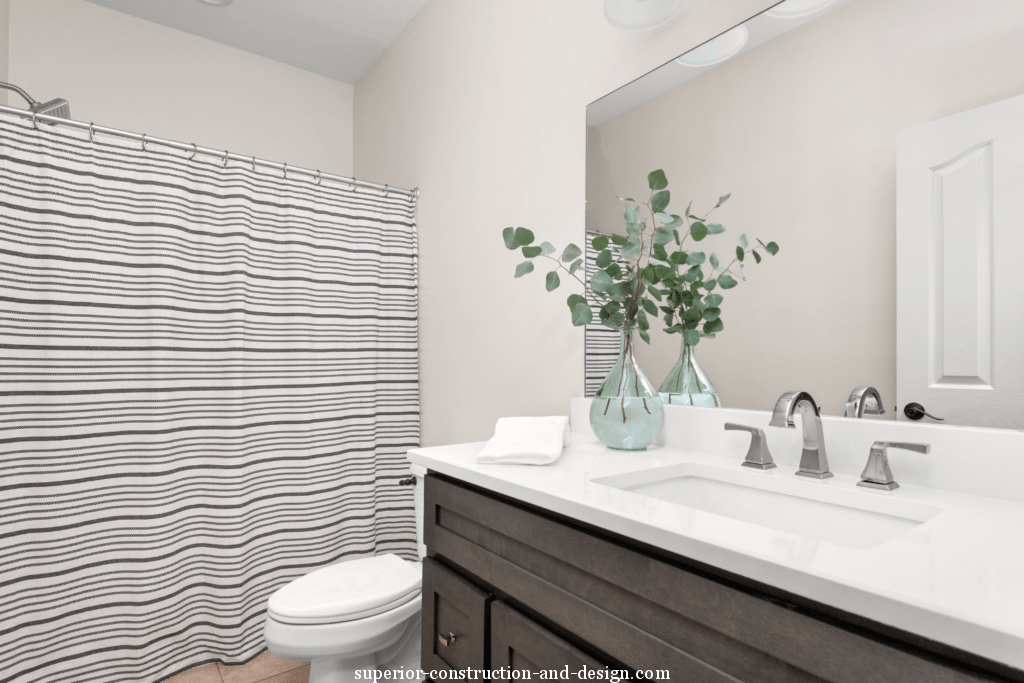 The kiddos' shared bathroom received only a light refresh, with an updated vanity, fresh paint, and new shower curtain that helps visually widen the space.
A Delightful Bonus Room
This family's bonus room serves many purposes: storing the kids' toys, gathering with friends to watch football, displaying their favorite UT memorabilia, and as a guest room for Mr. and Mrs. W's parents when they visit. Since this space gets a lot of attention, our goal was to brighten it up and make it as enjoyable and comfortable as possible…while keeping a nod to UT present in the space.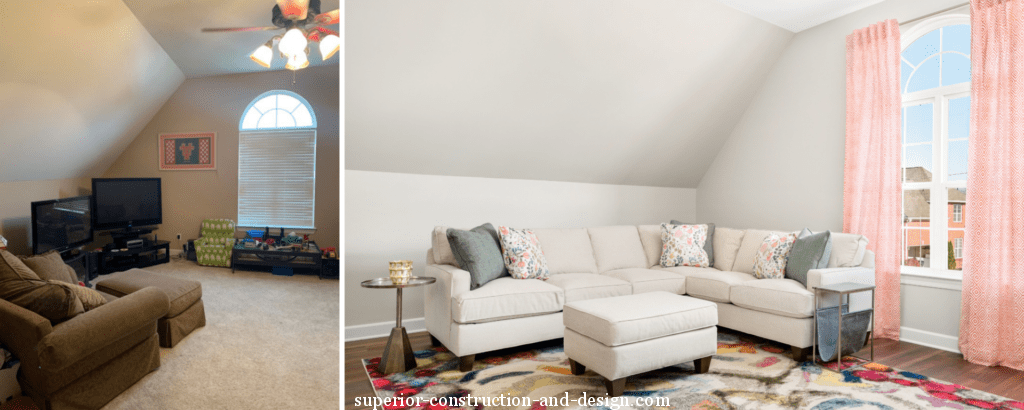 We packed a whole lot into this room. Bye-bye, builder brown. Hello, custom and colorful! We added a beautiful new floor for cleaning ease, a fun and colorful rug from Unique Loom, and added these patterned orange drapery panels to celebrate UT.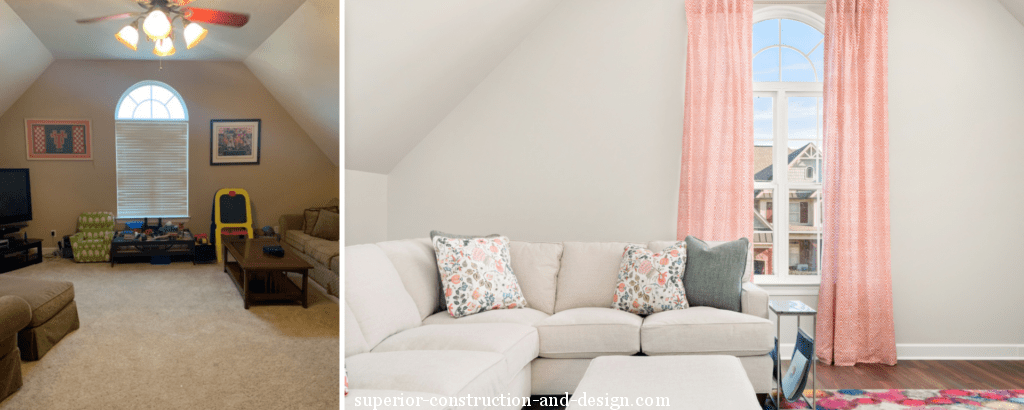 This custom sectional is super comfortable AND comes with a Tempur-pedic mattress for guests. Pretty sure guests will be fighting over this room for years to come. The other side of this space also serves as Mr. W's home office, which is far enough from Mrs. W's office in the dining room that they can each take calls without bothering the other. The perfect arrangement.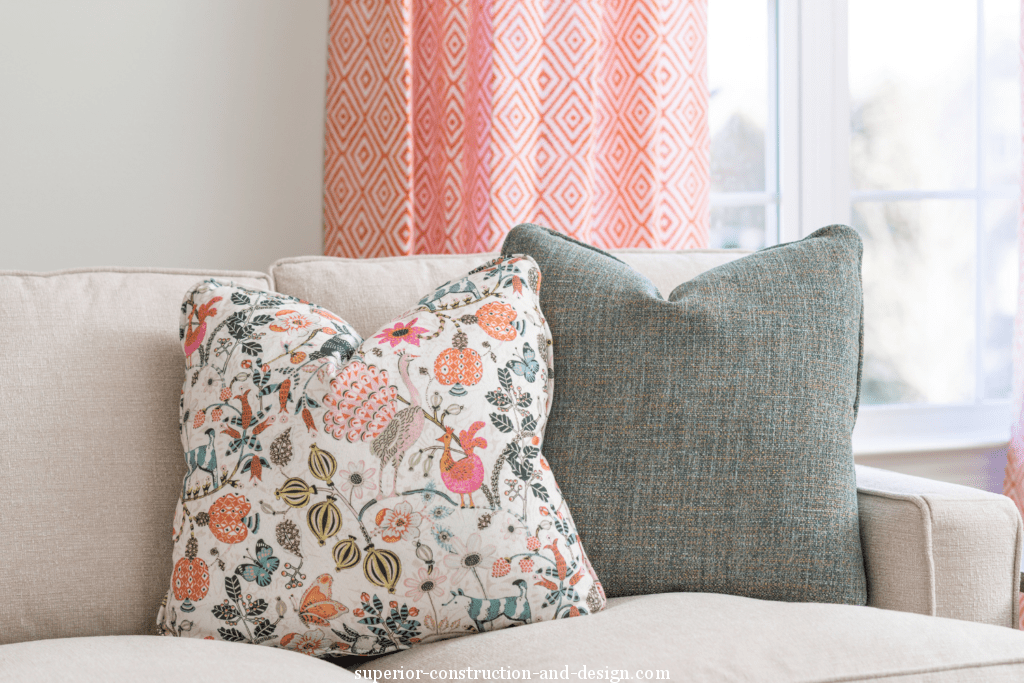 Alright, NOW we're done touring this crazy-good home transformation. From start to finish, this project took around a year, which is pretty darn good for a whole home renovation these days. The construction alone took only 3 months, which is practically unheard of!
All that to say, a project of this size takes a lot of coordination, patience, and hard work — and we're happy to do it all for you if you'd like. If you're ready to get started, or at least start looking at your options, I invite you to book a call with me here. Why not make this the year you bring your family's dream home to life?
Xo,
E