To Paint or Replace Kitchen Cabinetry
July 19th, 2023 | by Elizabeth | Posted in remodeling

I originally wrote this post several years ago, but since we've had several calls from clients lately asking this very question, I thought it a good idea to post it again.  Although it is several years old, the information and questions you should ask yourself remain the same.
Welcome to my friend's beautiful kitchen; I'll walk you through the process- here we go:

I get this question often, and it was one of the main concerns of my sweet friend and her husband when they called me to help with their kitchen renovation.  When they decided to encapsulate their crawl space, the installers found some water damage and a leak under the house.  After further investigation, it was found to be from the second story HVAC unit which had been leaking down through the wall for quite some time.

So…insurance was called.

Out came the remediation team.

And out came their walls.

When she called she told me what all happened and how they had set out to complete the necessary renovations themselves…but it wasn't too long before they came to the conclusion that it was a bit more than they wanted to tackle on their own.  They were kind of at a standstill and didn't know what to do next.  This was the state the kitchen was in when I went over to visit and see what they had going on.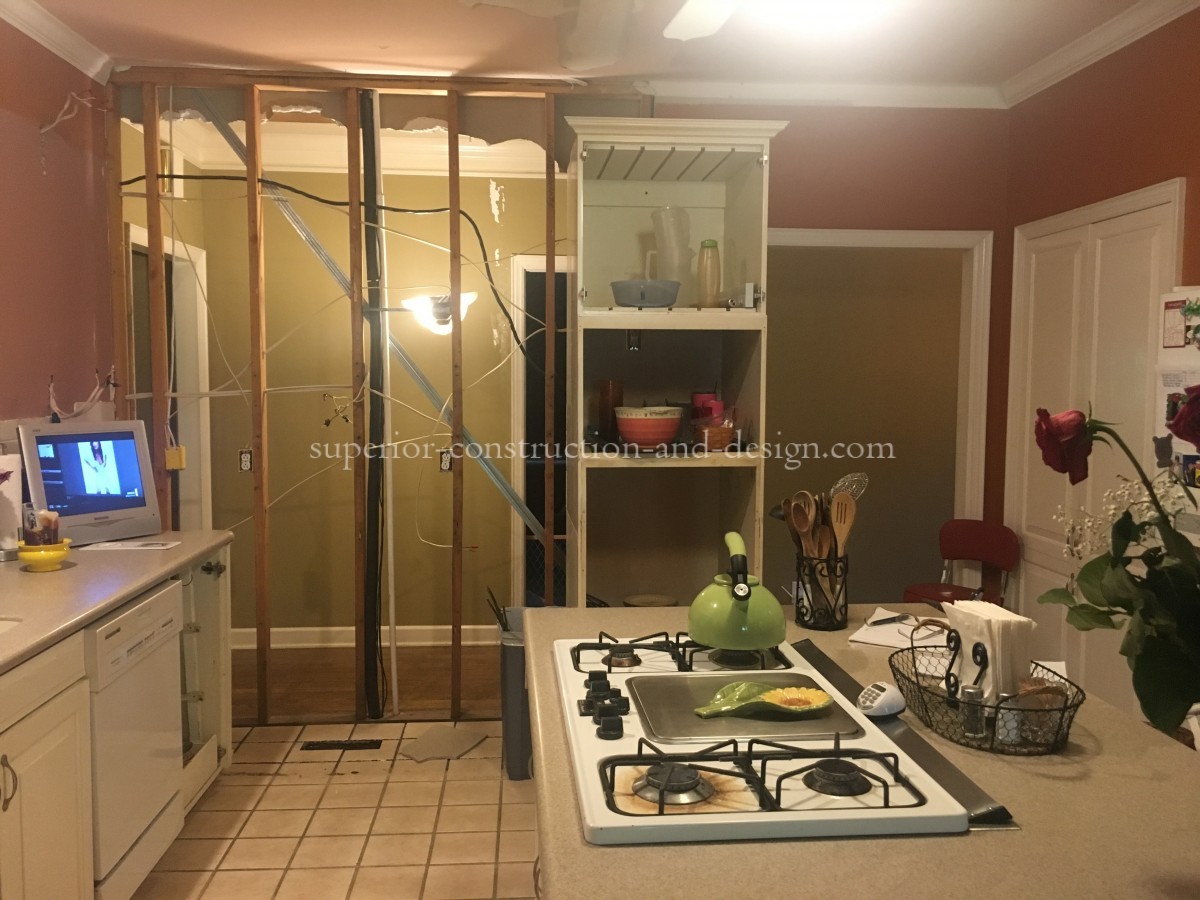 It's a wonderful thing when the insurance company is fast and takes care of everything in a hurry, but when the dust settles and walls are gone, it only adds to the stress of what happened when you realize you have to figure out what to do next.  And if you've not remodeled or built in the last several years, it is overwhelming  realizing JUST HOW MUCH product there is on the market now, and all the minute decisions that have to be made.
One of the first decisions that had to be made was whether or not to replace the cabinetry.  Where the wall is missing was actually the back wall of their kitchen which housed a bank of upper and lower cabinets, a warming drawer, and a single oven.  When the remediation company came and removed the wall, they also had to remove the upper and lower cabinets, which resulted in losing the countertop and backsplash in that area also.
My clients' cabinets were original to the home and they have lived there about 30 years.  They were solid, well made, and custom built cabinets with a painted finish. They had re-painted the cabinets twice (I believe that is what she told me) during the years they have lived there.   But over the years, the paint had begun to chip and she had a few drawers that needed a bit of work.  So the decision to be made was this:  have a new bank of uppers and lowers built for the back wall, and then repaint ALL of the cabinets to match- which would also necessitate trying to match up the existing countertop which was solid surface Corian…or do we just rip out the rest of the cabinets and tops and get new ones?
In this scenario the choice was fairly simple.  By the time I would have had custom cabinets built for the back wall, and then had them painted, we would be around the cost of new cabinetry.  Because to have cabinets painted CORRECTLY, (and did you see I have that in all caps so you would know that that is the key word in this run-on sentence?) the cost would be considerable.
This is a large kitchen with lots of cabinets.  Painting cabinets, correctly, is NOT inexpensive.  If someone gives you a quote and it seems cheap to you-  IT IS.  Don't invest the money because they will be chipping in no time.  Painting cabinets, especially on-site, is a process- and not for the faint of heart.  And most especially if you are living in the house.
So, given the fact of the cost, the state of the current cabinets needing some minor repair already, and the fact that ever since I've known my friend she has talked about how she hates the painted finish on her cabinets- we opted to replace all the cabinetry.
oh, and the Corian.
Couldn't match that.
Don't even know where to get it.
So of course one thing leads to another right?  My friends had no plans of gutting their kitchen before the water leak happened, however, to do just part of it without doing it all did not make sense either- that would just leave them with a space that looked trapped between one decade and another.  They plan on being in this home a while longer, but wanted to make a wise investment in the kitchen to appeal to buyers at a later date when and if they do get ready to sell.  So I designed a plan with classic fixed elements that will stand the test of time should they decide to sell in another 10 years or so.
My clients' home and style is very traditional, so we went with an antique white cabinet on the perimeter, a dark coffee island, a classic beveled subway tile, and of course some AH-MAZING Cambria quartz tops.  We updated the lighting, got some beautiful hardware for the cabinets, added an apron front sink, sparkling polished nickel Delta faucet, and new flooring throughout. We used all stainless GE appliances, and can I tell you how awesome the fridge is??  Hang tight, and I'll show ya!
Once again, here is the back wall where all these shenanigans began: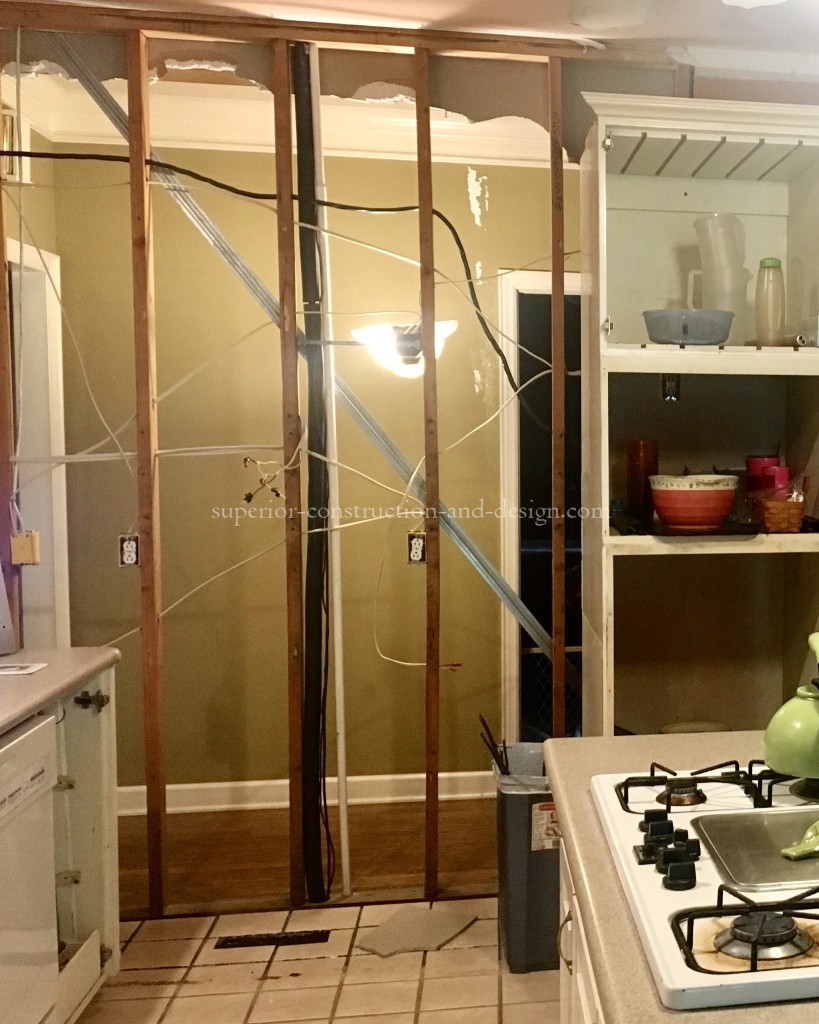 And now- a crisp, bright, classic kitchen: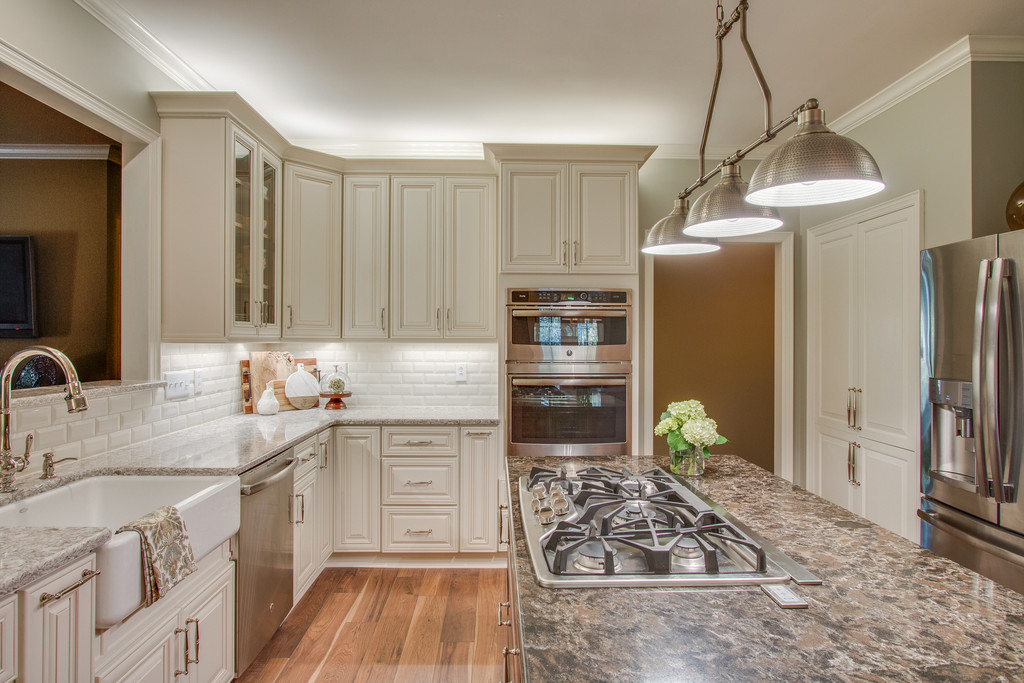 Before, to the left of the wall with the damage:
  and after, with a new apron front sink: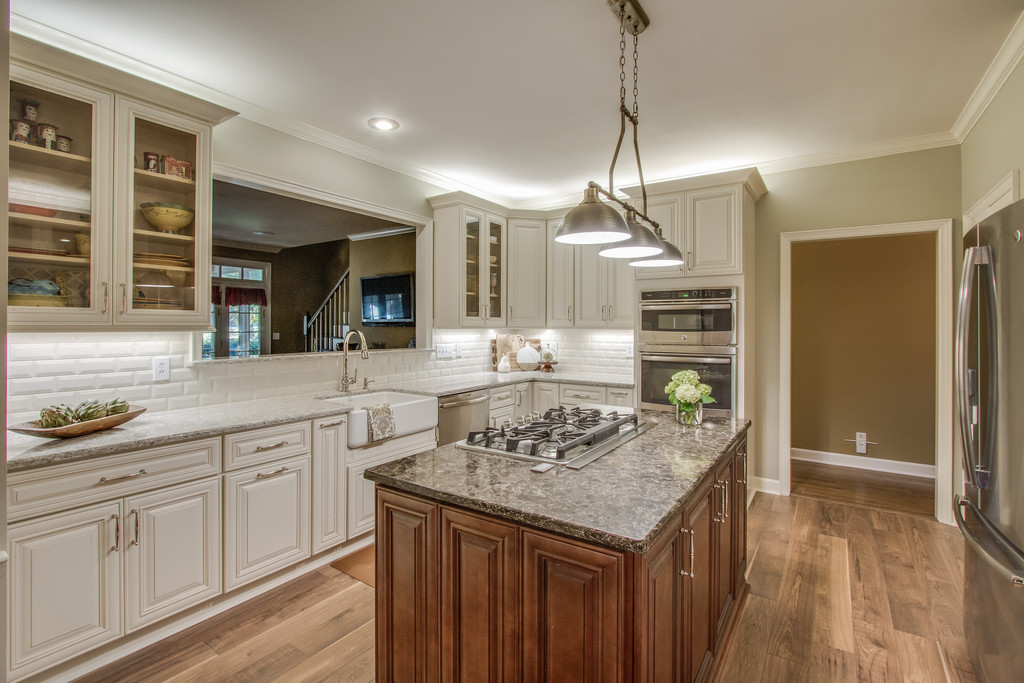 before:  turning again to the left of the sink wall, you look into the eating area of the kitchen which leads out onto their porch- and let me just go ahead and note that my friend's kitchen never looks like this- of course you realize their home was in disarray because of the leak- but I know she would want me to note this because I can hear her apologizing for the mess now!  she's so silly!!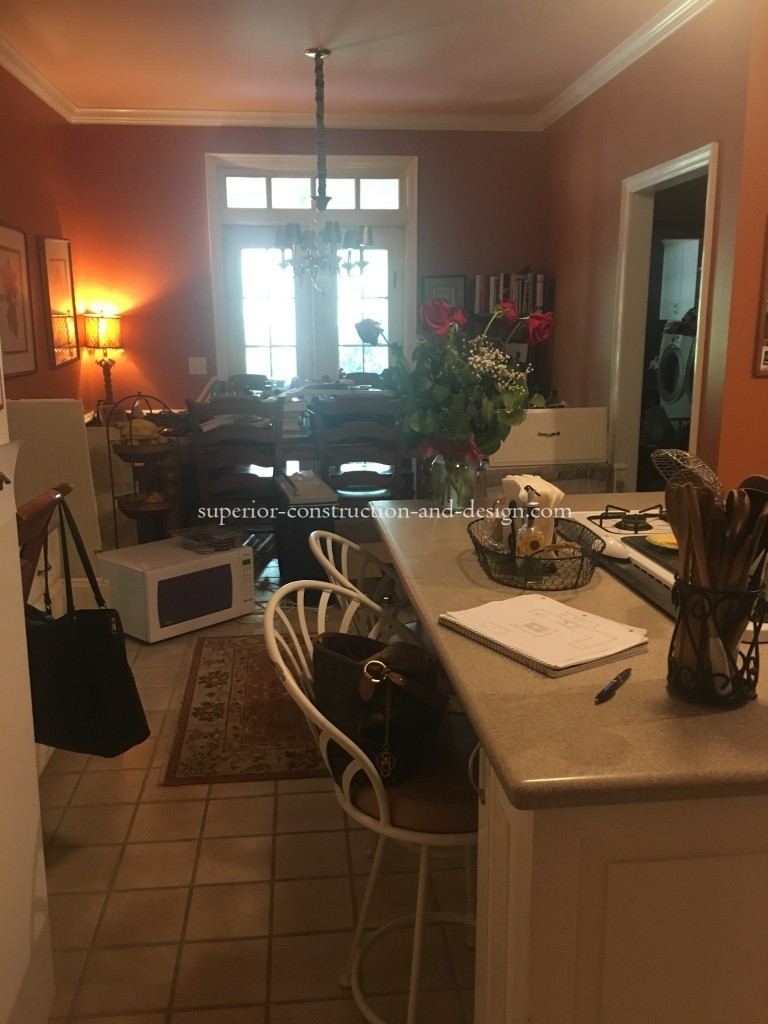 and after with new lighting: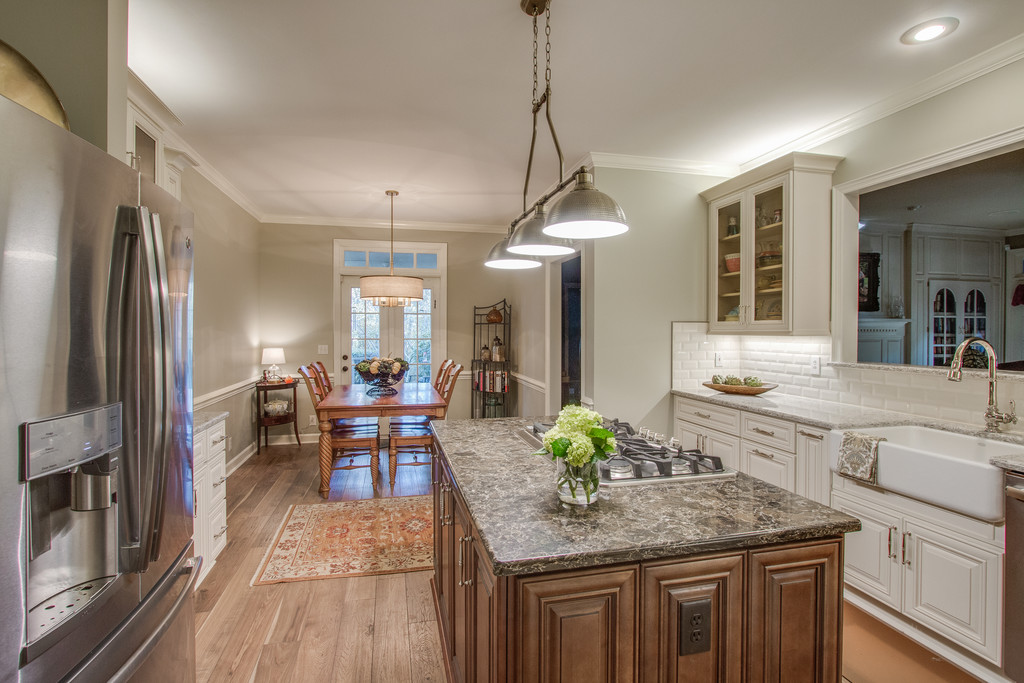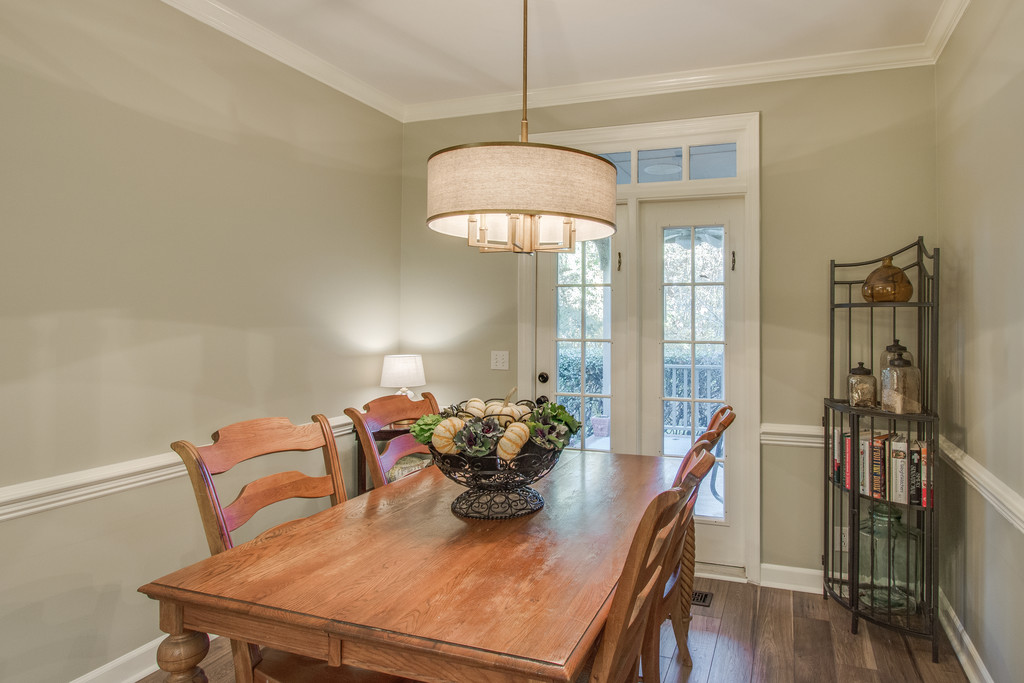 before:  as we continue to the left around the kitchen, you will see that there was a built-in desk as was commonplace for the time this home was built-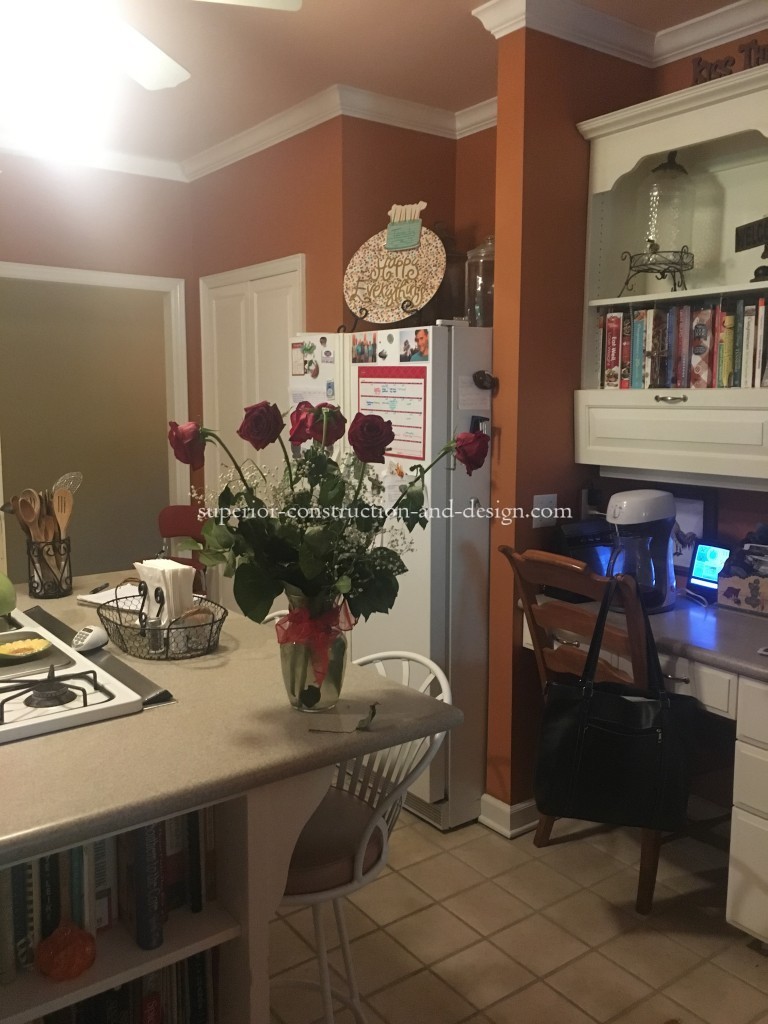 after:  many times this space becomes just a catch-all and not really used for it's intended purpose- so I designed a coffee/ wine bar which will serve them much better in this space, and gave them additional storage as well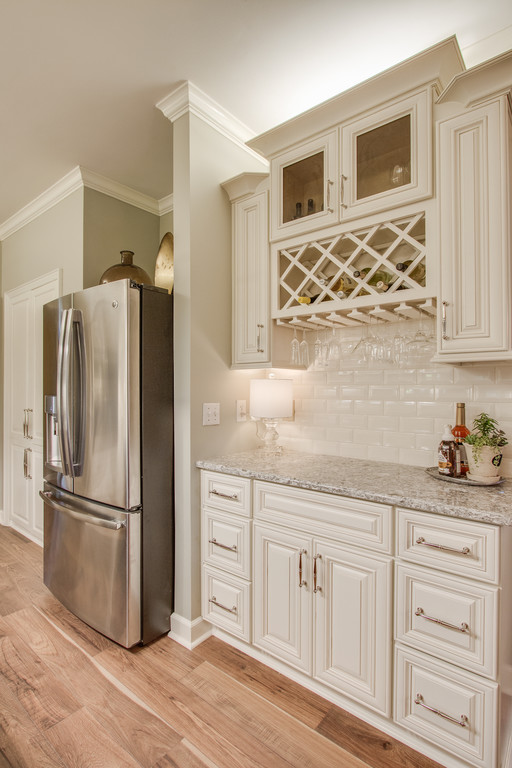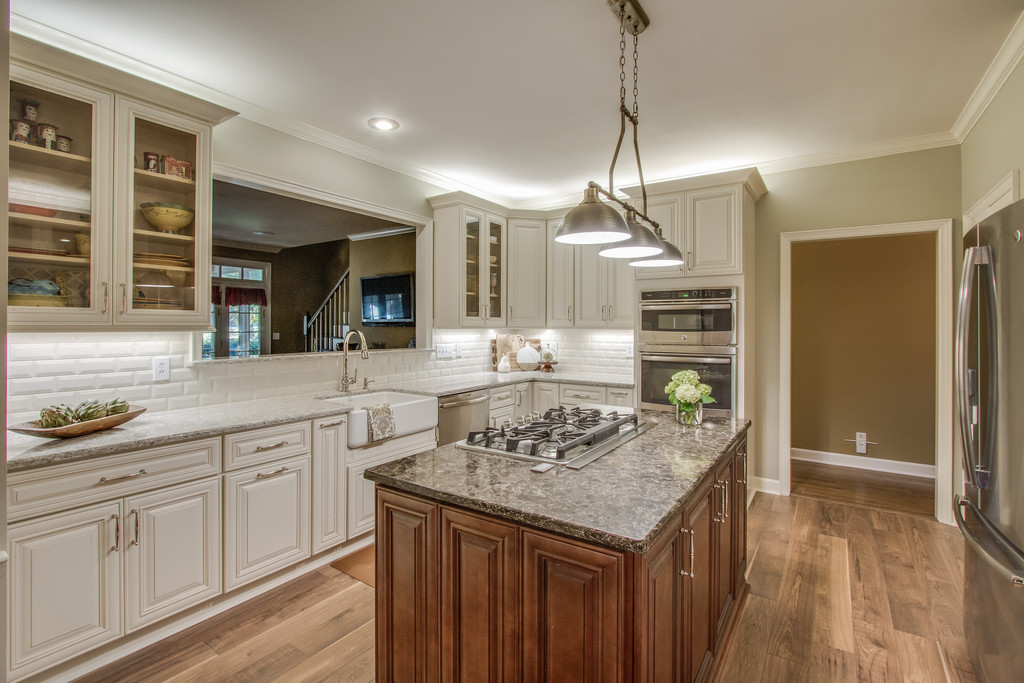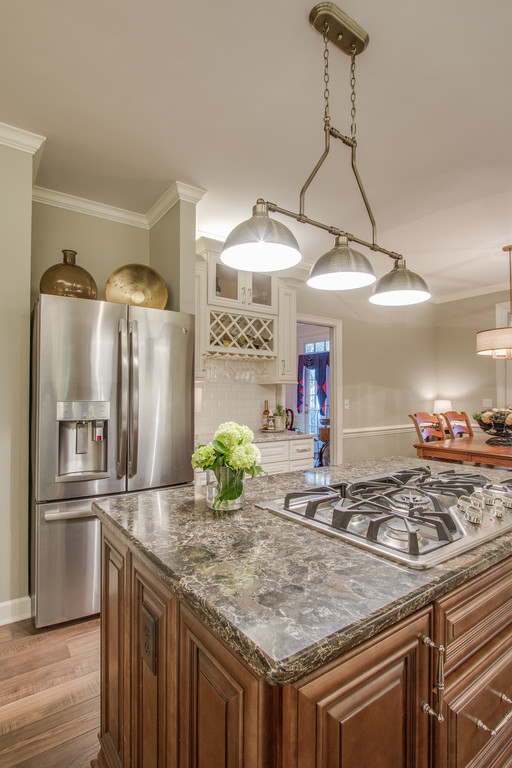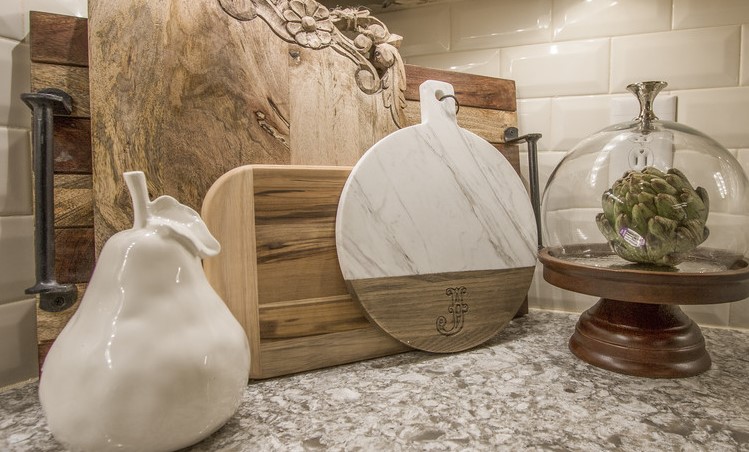 So, if you're trying to decide whether to paint or replace kitchen cabinetry- these are the questions you need to answer:
how long am I going to live in the home?
are the current cabinets in good shape with no needed repairs?
can I live through the kitchen being unusable for several weeks?
do I have the budget to replace everything else that will be needed if I replace the cabinetry?
When replacing this cabinetry, there was demo to be done, electrical that needed to be re-run and added, and plumbing to be done.  Take all of these costs into consideration before ripping out your cabinetry…or, just do what my friends did, and call me!
Now, remember I told you about that incredible refrigerator we got for her kitchen?  Well coffee lovers…check this out!  It has a Keurig coffee maker built in the front door!!!  The entire thing can be controlled by an app on your phone!  My client told me that they didn't get the door closed to the fridge last week and it actually alerted her husband on his phone, and they were able to call their son and get him to run and close it- how cool is that?  It's amazing what is available these days!
I'll be back soon to update you on some other projects we have going on.