1970s Ranch Reno: A Night-and-Day Living Room Transformation
November 28th, 2023 | by Elizabeth | Posted in Before and Afters, built-ins, Cabinets, construction | #70s remodel, #mt. juliet, #ranch style home, #redesign, #remodel, #renovation, #tn
Do y'all remember when we went behind the scenes of this 1970s Ranch Home Transformation in progress?
In case you missed it, our clients are the lovely Mr. and Mrs. C and their 3 boys (ages 10-14). Mr. and Mrs. C purchased their home 4 years ago. It's a typical 1970s ranch home with 3 bedrooms, 2 bathrooms, and a full basement.
After 4 years of living in their dated space, Mr. and Mrs. C had a laundry list of ideas and must-haves for us…
Open concept space
Storage everywhere!
A social kitchen
Work spaces for the whole family
Spacious laundry room
Updated and personalized bedrooms
Since this project was a full first-floor renovation and fairly extensive, I'll be sharing the Before & After reveal of just the entryway, living room, and work spaces today. Stay tuned for the kitchen, laundry room, and bedrooms in another post.
Alright, we're ready! Come stand with me at the front door, and let the tour begin…
Before & After: Entryway
Before, we had a decent space with double-doors, a closet, and what was formerly the game room to the left (and is now a home work/office space… but more on that in a bit!).
When we discussed function with Mrs. C, we wanted to make sure her family had a place to drop all their things right at the door to avoid clutter (or lost items) in the rest of the home. The solution was this custom built-in with drawers, hangers, cabinets, and seating.
The color palette also feels brighter, more fresh, and with the updated touches this 1970s home needed! Next, let's turn right around in this spot…
This is the entryway before and after… can y'all believe it?!?! This is the wall that Mrs. C had her heart set on removing, and we made it happen! Now, she has an incredible open concept space that leads to the living room, kitchen, and home office space.
P.S. Remember what the 3D rendering looked like? Pretty darn close, right?
Let's talk another step into the living space…
Before & After: Living Room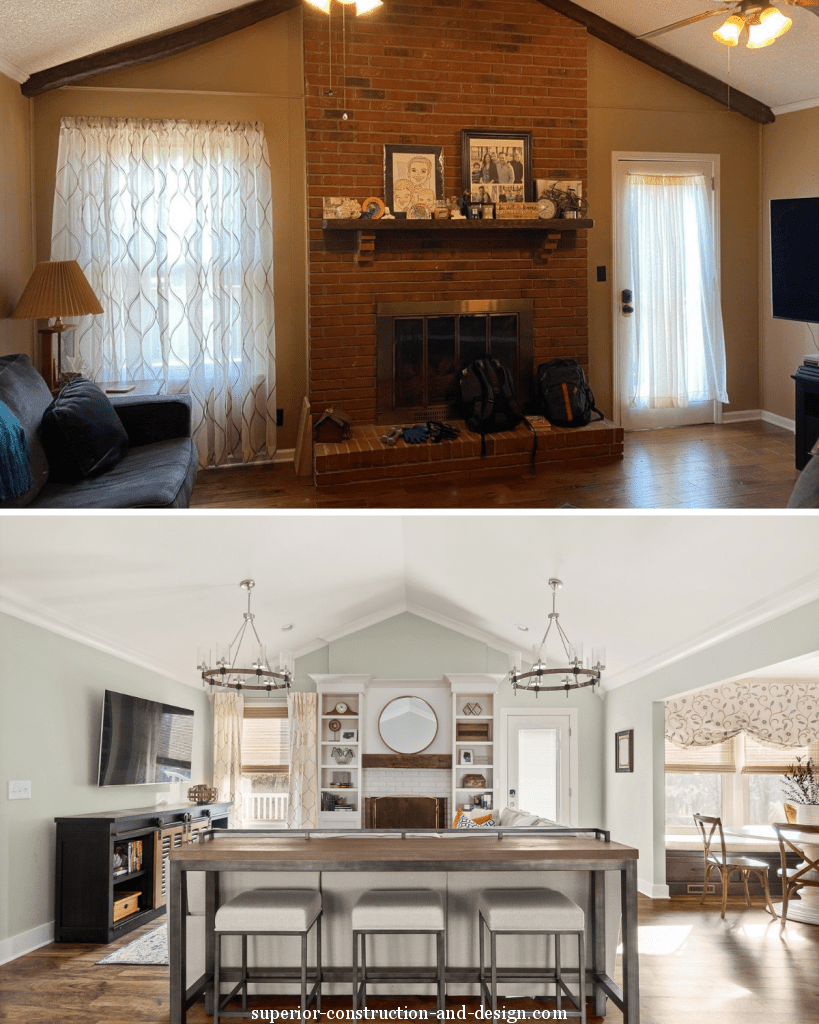 The look and feel of this space has completely changed. We painted the brick fireplace in a crisp white and added more modern touches with built-in bookshelves, a reclaimed wood mantel, two oversized chandeliers, and this fresh sea foam color on the walls.
Now, turn to the left…
On this side of the home, the floor plan didn't change. The living room leads to a hallway where the bedrooms are located. (More on that in another post!) However, we did make the space more functional by mounting the TV here and adding some great storage.
Now, turn 180° to the other side of the room, and you'll see a change that's a bit more dramatic!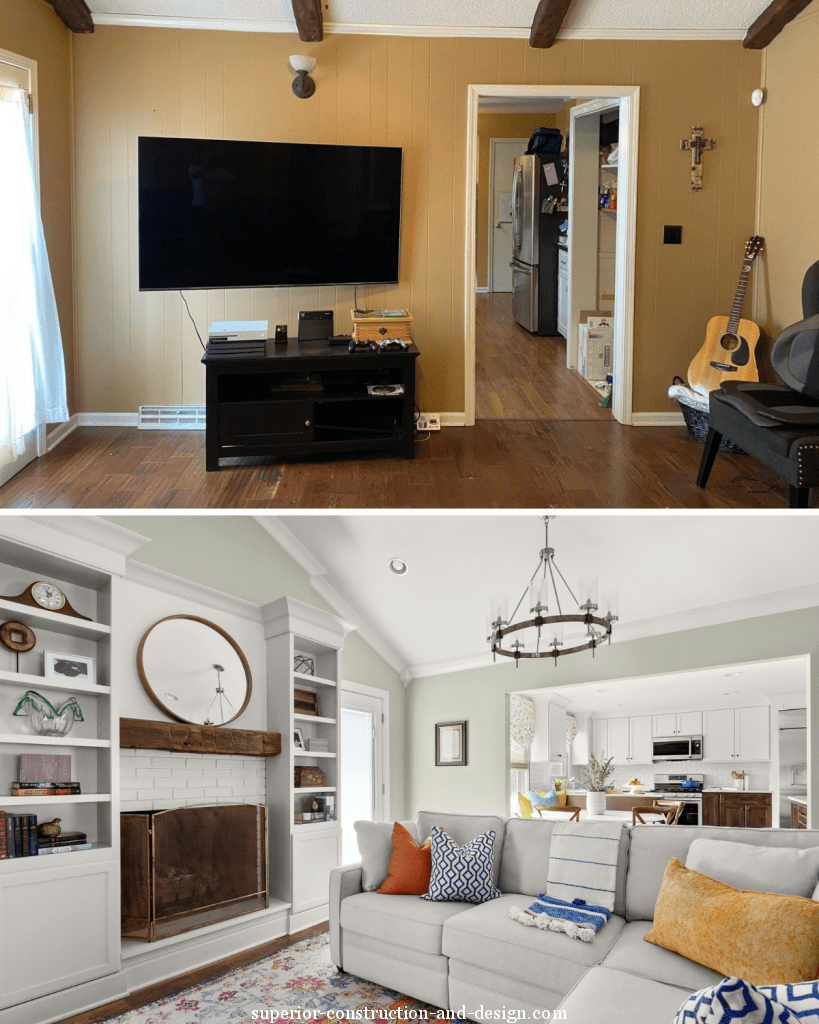 As is characteristic of a 1970s ranch home, the floor plan was very compartmentalized. In the Before photo, you can see that a wall separates the living room from the kitchen. Mrs. C was adamant about this space opening up too… so open, we did! The result feels fresh, cohesive, and oh-so-inviting.
Alright, now turn to the right and…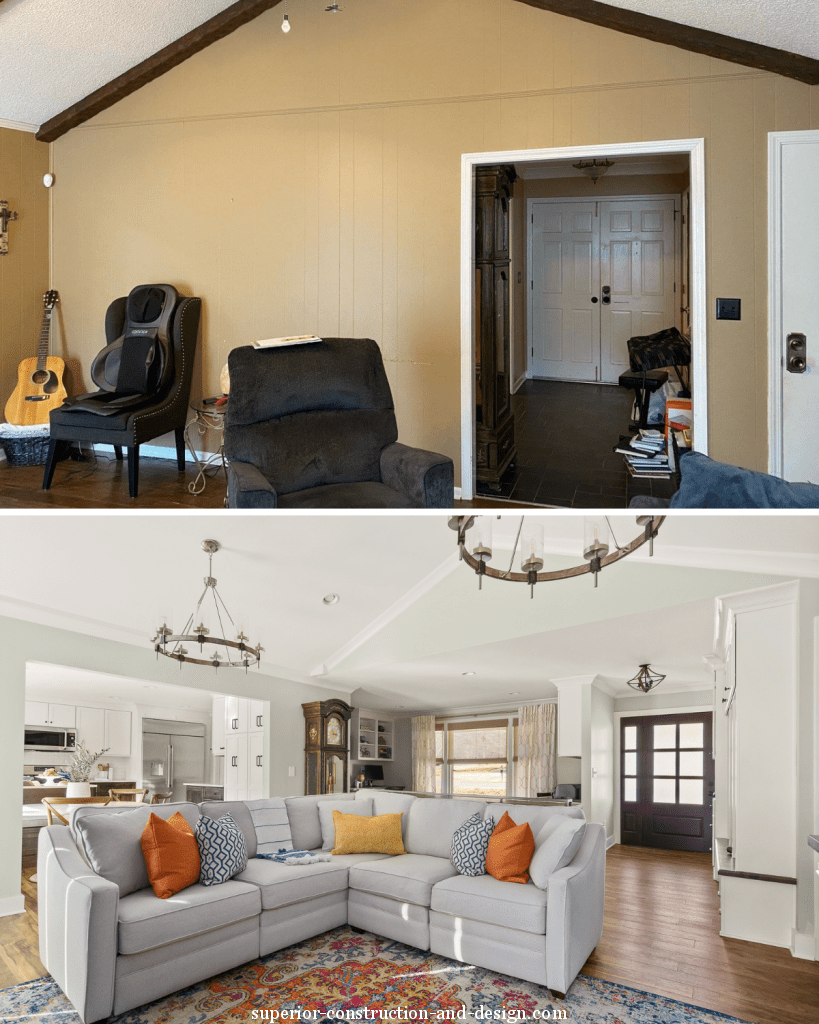 BAM! — another wall. This is the same wall you saw in the entryway, but from the other side. Removing it made a HUGE, HUGE difference, right?? Now this space is open, spacious, inclusive, and ready for all the kids to run around to their hearts' content.
We kept most of the furnishings light, with the exception of this beautiful, multi-colored rug and some orange, yellow, and blue pillows. The perfect balance of relaxing yet social.
Flashback to the rendering we created — it's spot on! Alright, now let's walk toward the family's grandfather clock…
Before & After: Home Office Space
Before, this space was used by kids and adults alike for working from home, exercising, and playing video games. We decided it would be smart to give everyone their own little work space and plenty of storage. 
We created a wall that serves as a workstation for 3 (the other side became real estate for the new laundry room), opened up this window to provide more natural lighting, and created a fourth workstation on the opposite wall. These kinds of details are useful in a pandemic and highly functional in normal times, too.
And we're back at the entryway! I know y'all saw a teensy glimpse of the kitchen, but I promise, it's worth a post all of its own. 😉
So, what do you think? What was your favorite part? I'd love to hear!
'Til next time,
E
P.S. Feeling inspired to renovate your own home? If so, let's chat, my friend!
---