Why I Chose Revel Woods Flooring for My Own Home
August 12th, 2019 | by Elizabeth | Posted in Before and Afters, construction, remodeling

Hey y'all! How's it going? My goodness, has it been an absolute whirlwind over here! If you've been catching us on Facebook, you'll know that fixing a water leak in my kitchen has expanded (as projects do) into a wider renovation… and we're now into month two!

We had to take the walls out, dry the area with fans running day and night, and when I finally took a look at the subfloor… it was in a questionable state… (we also just found water damage under the tile in our master bathroom)… *Deep, deep breaths* 

I'll be honest, I about died when I saw all that damage, but when you're working on your home and you find these unexpected surprises, it's just better to get it handled right then and there. 

First stop, new hardwood flooring. Because there's no stopping point from our back entrance all the way through the kitchen, den, hallway, my son's room, my bedroom, and my office, we had to replace ALL OF THE FLOORS. 

This is where Revel Woods swooped in to save the day in providing our beautiful new hardwood —  these floors are DIVINE y'all!

So divine, in fact, that I'm having Revel Woods give me a quote for some more wood for our dining room and foyer! These areas weren't damaged by the water leak, but it is purely a want for me now. 🙂

So, let me tell you what I love about these floors and why I chose Revel Woods. Apologies in advance for the less than spectacular photos — it's a hot mess over here! I'll have some better photos coming your way in a future post… promise!

Disclaimer: This post is sponsored by Revel Woods, but all of the thoughts are purely my own. 
hardwood flooring before & after
---

Before, we had ⅜" engineered and prefinished wood. It came at a lower price point way back when, and I didn't really like the shine of it, but that's how it came. It also splintered pretty easily when we started taking it out, which is characteristic of this type of flooring. (See bottom half of the picture below.)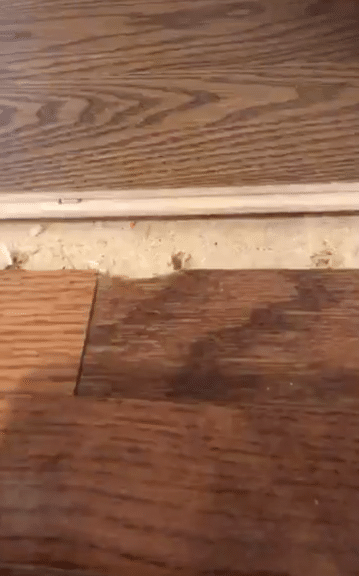 Revel Woods up top, engineered hardwood below.
Our NEW flooring is a 3" wide plank,  ¾" cut ash wood called Beacon from Revel Woods' Hidden Trail Collection, and I love it. Love it.
It looks more elegant and high-quality in my home, but the bigger difference is how it feels. It feels like comfort, support, and being spoiled all at once. (Seriously, if you're a friend nearby, call me, and you can come over for a walk on these beauties.)
Not to mention how excited I was to get my hardwood flooring care kit. I knew that Revel Woods sends these care kits to every purchaser, but having it in my own hands was like Christmas!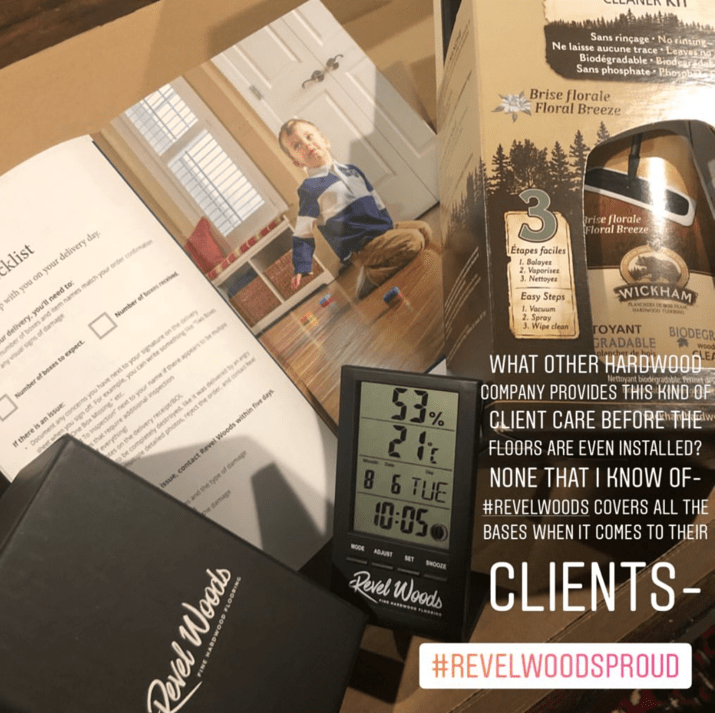 what's in the Revel Woods hardwood flooring care kit?
---

All the good stuff…
a wood floor cleaning kit

an information booklet that tells you how to prepare for the delivery of your new floors and use the cleaning kit

a digital hygrometer to test the humidity in your home
Did you know hardwood must sit in a space and acclimate to the humidity before it's installed in a home?? 
That's why they send a digital hygrometer. The National Wood Flooring Association recommends that relative humidity be between 35%- 55%.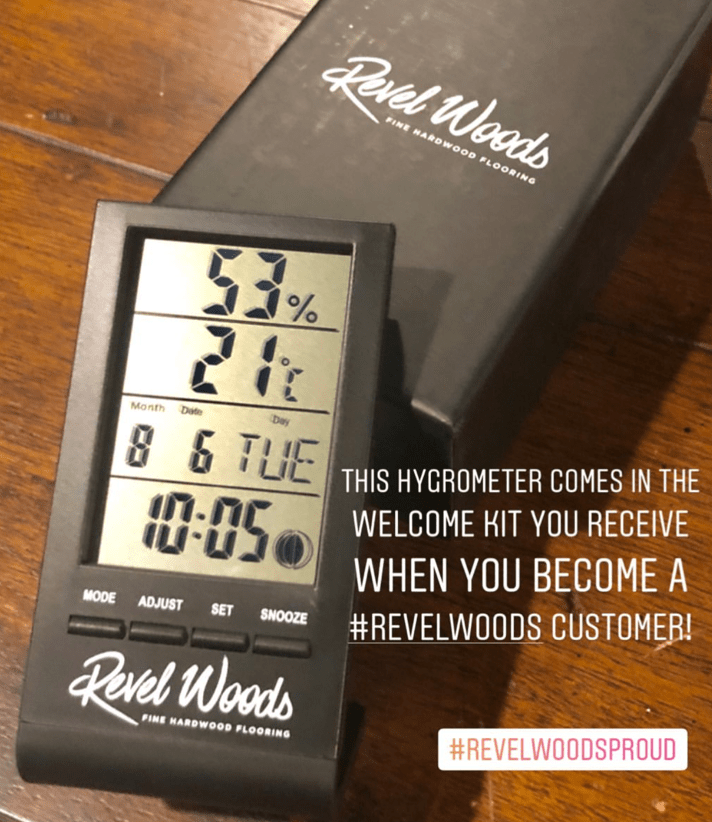 Which brings me to my next point…
how Revel Woods customer service goes above and beyond
---

Another reason I absolutely love Revel Woods as a company and will continue to use them for clients (and my own home) is their customer service.
If you buy through a designer, you'll be sure to get hardwood floors that are perfect for your living condition, location, etc. (and you'll get a designer discount!!). But. If you buy on your own through their website, no discount, but they will take just as good of care of you.
First, they make sure you select a flooring that will actually work for you home. Other flooring providers will let you buy any hardwood you like — even if your climate will eventually cause the wood to swell and buckle! (That darn humidity again.) Not with Revel Woods.
If you go on their website, they'll ask very specific questions that will help you pick the BEST floor for your situation. Questions like:
What kind of project are you working on?

What's your zip code? 

What type of home do you have?

Is your home on subfloor or slab foundation?

Is there radiant heating?
You will not have to do hours of research and still feel lost and confused at the end. You won't have a salesman in front you trying to push a product that may or may not work in your home. And you won't have to blindly select flooring from a big box retailer that looks okay but is it?
You'll have confidence that the hardwood will be ideal for your space, plus the peace of mind that the floors will last a long, long time (and save on costly repairs in the future).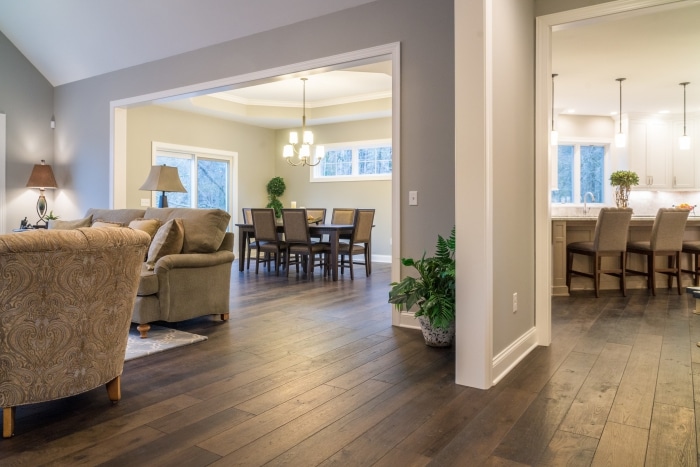 Photo from RevelWoods.com
Photo credit: Steven Rearden Photography
From their standpoint, of course it makes sense — they want their flooring to look incredible in every home and have a reputation for quality and integrity. (Which I can certainly attest to!) 
But the fact that they do this by caring for the customer is #1 in my book.
where can you find Revel Woods hardwood flooring?
---

Revel Woods flooring can be purchased online at RevelWoods.com.  However, because they feel strongly about the designer/client relationship and want a knowledgeable professional to guide you through your project from beginning to end, you will receive a discount if you work with an interior designer in your area and purchase through the designer.
They also only use VERY select and VERY few vetted mills for their products, like this wood flooring mill we toured right here in Tennessee!
If you have any questions about their floors, what you can expect, the process, etc., I'd be happy to answer. (And in case you missed it, I had new kitchen countertops installed with my favorite supplier, too!)
I'll be back again soon with more for you + a full before and after of the Scruggs renovation… you know, if it ever gets finished! 
Until then, a shout-out to my girls, Lenneke and Amy, for working among the renovation madness — our office is in my home and it's loud up in here. You girls are my rock! 
And a big thanks to YOU for hanging out with me and keeping me sane on this crazy journey. 😉 
See y'all soon! Xo,
Elizabeth
P.s. Looking for more inspiration? See our roundup of 15 Home Transformations that will Inspire You!