Before & After: Master Bathroom Refresh with Traditional Roots
May 3rd, 2021 | by Elizabeth | Posted in Before and Afters, color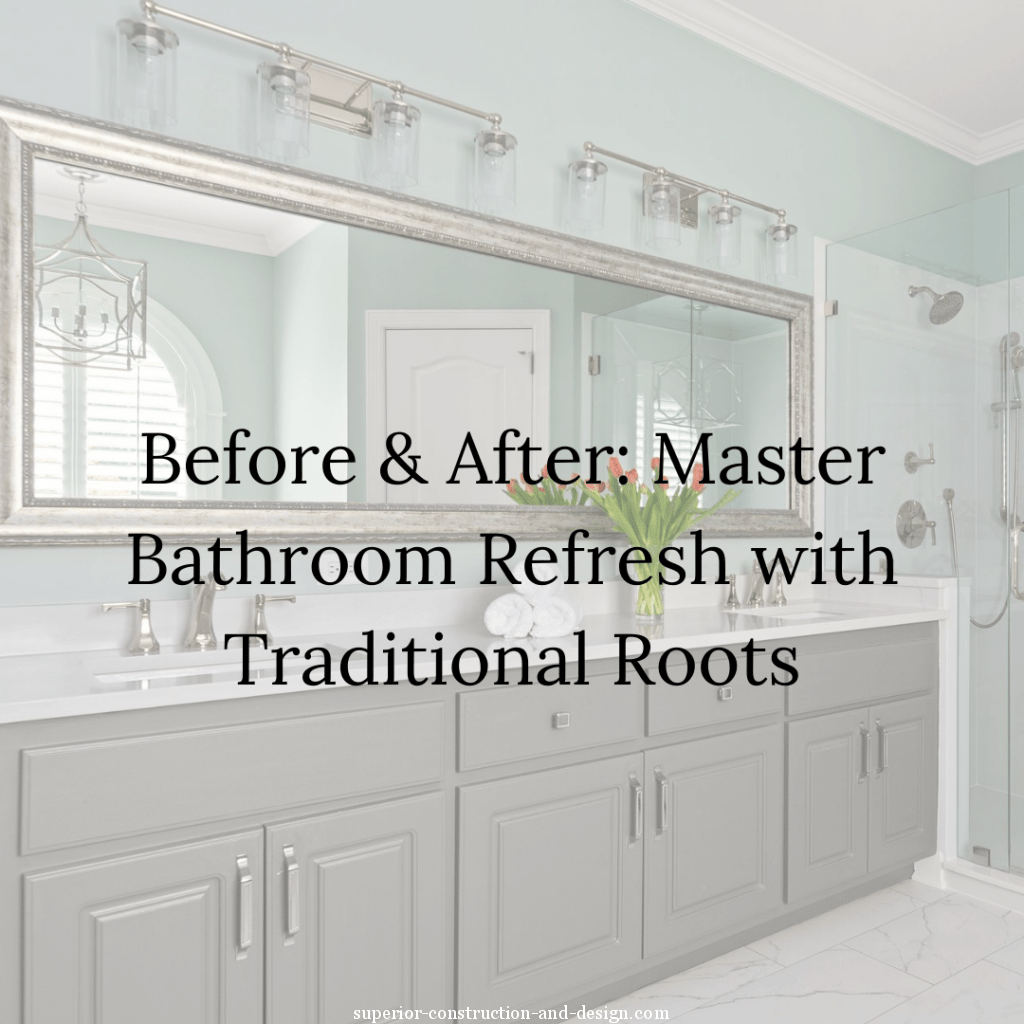 If your bathroom is dated, dysfunctional, or you're just plain tired of it, you might be tempted to throw up your hands and say "Gut it!"
Believe me, I've felt the exact same way (especially when we had the Watergeddon of '19 in the Scruggs house). Sometimes starting from scratch IS the right way to go, but… you don't always have to completely gut your space to get an amazing new look.
The bathroom refresh I'm sharing with y'all today falls into that latter category. Gut-free, beautiful, and a far cry from where it started. If you're looking for an easy yet transformative refresh, this is it!
Meet Our Clients
Our clients are a delightful couple we'll call Mr. & Mrs. R. They're empty-nesters, with grown children and grandchildren living nearby. Mrs. R is retired and enjoys working a few days per week at a local school, and Mr. R runs his own business. They both lead an active lifestyle and were ready for their spaces to join them in this decade.
As for their home, they built it themselves 30 years ago! Mrs. R told me that several of the choices she made at the time looked very different once they were installed and it was too late to change.
This reasoning is precisely why they decided to hire us this time around — they had a lot of ideas and spaces to update, and they wanted professionals to help them prioritize their goals, balance their budget, and do the job right. Y'all know I love that!!
Bathroom Refresh Goals:
Aesthetically, Mr. & Mrs. R love traditional style and wanted their spaces to feel classic yet new and fresh
They wanted low-maintenance materials for easy cleaning and durability
With a whole home to update, they wanted to invest wisely in the bathroom to stretch their investment and not break the bank
We've got y'all covered!
Before: Dark, Dated Master Bathroom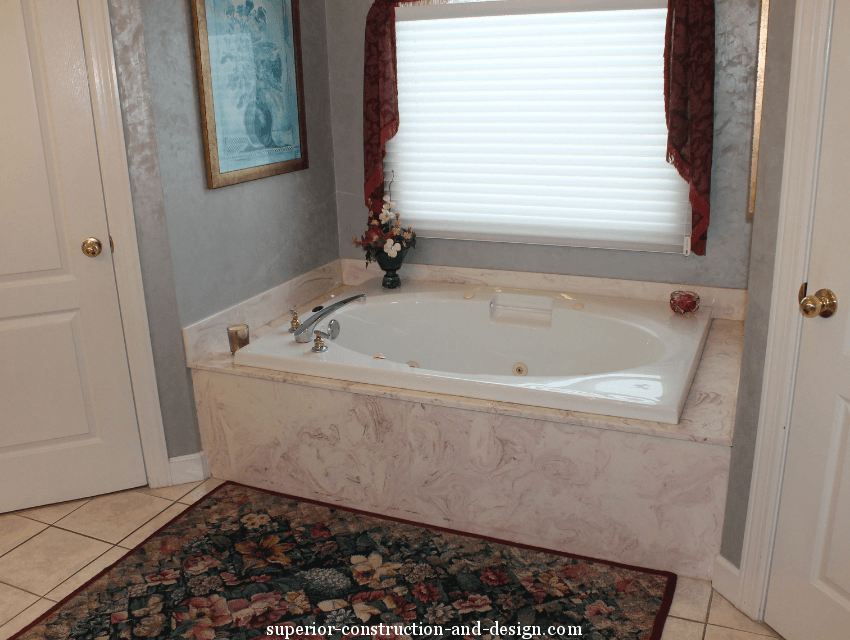 To keep costs low, we decided early to leave the bathroom's footprint alone. This meant keeping the plumbing and the walls in the same space. Big money saver. However, to refresh the space, we knew that this jacuzzi-style tub would have to go. Same with the outdated wallpaper, Tuscan-esque tile, and…
…1990's vanity top and lighting. We talked to Mr. & Mrs. R about color and decided that the rosy walls would go and we would bring in some fresh, relaxed blue-green hues instead. Y'all know I love blue!
Speaking of, once we had a general plan for updating certain aspects of the space, we were ready to create the design plan…
Fresh Traditional Master Bathroom Design Concept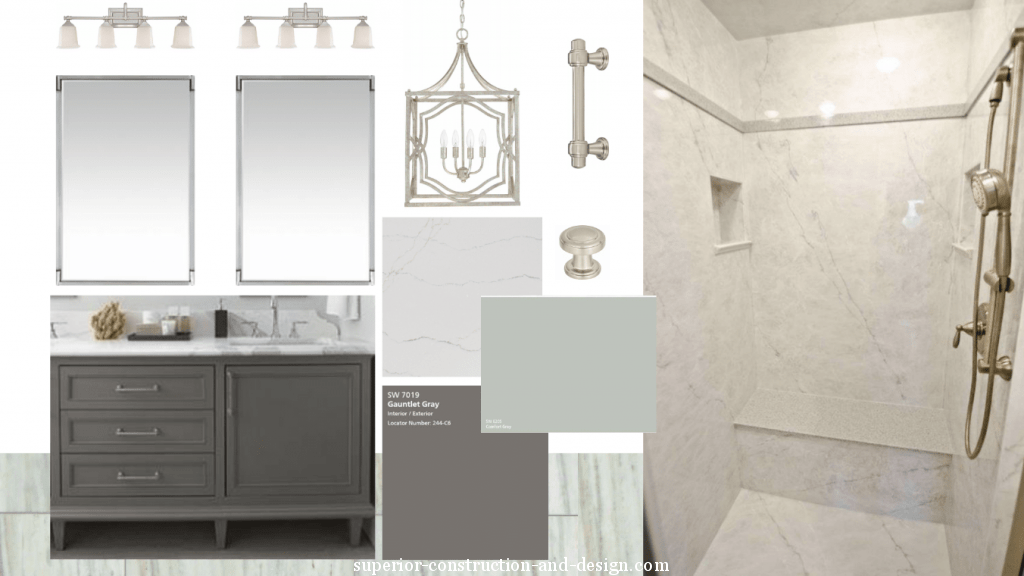 The right colors create freshness: a mix of crisp white, sea salt, and grounding darker gray. We picked out a marble LVT our clients loved, and the chandelier and over-mirror lighting bring in some traditional detailing. 
We showed our design concept to Mr. & Mrs. R, and they were on board! Next, we hopped to it…
Before & After: Master Bathroom Refresh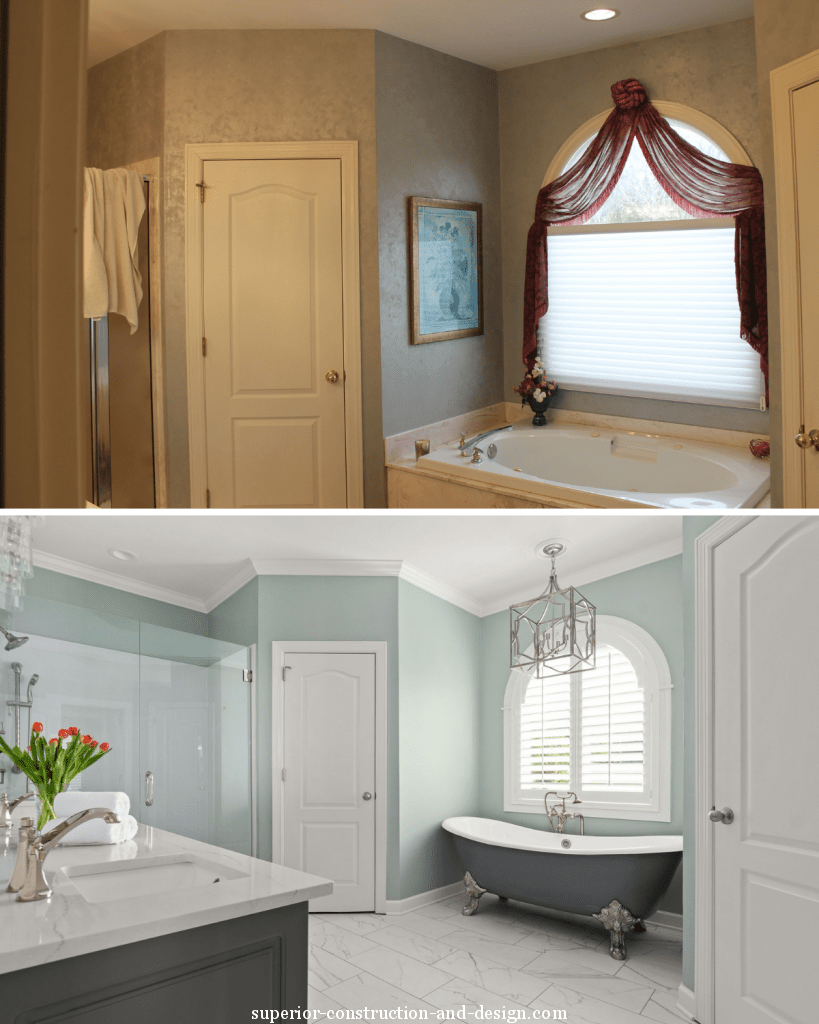 Ta da! So much better, right?! The space feels bright and fresh, yet completely classic. The marble LVT feel luxurious and elegant, and the darker tub and vanity help bring out those gorgeous grey veins. We punched up some traditional character with this stunning modern-traditional chandelier, molding, a clawfoot tub, and plantation shutters. 
Bonus: As a fixed element of the home, plantation shutters actually add to home value! They're great for privacy and light control, too.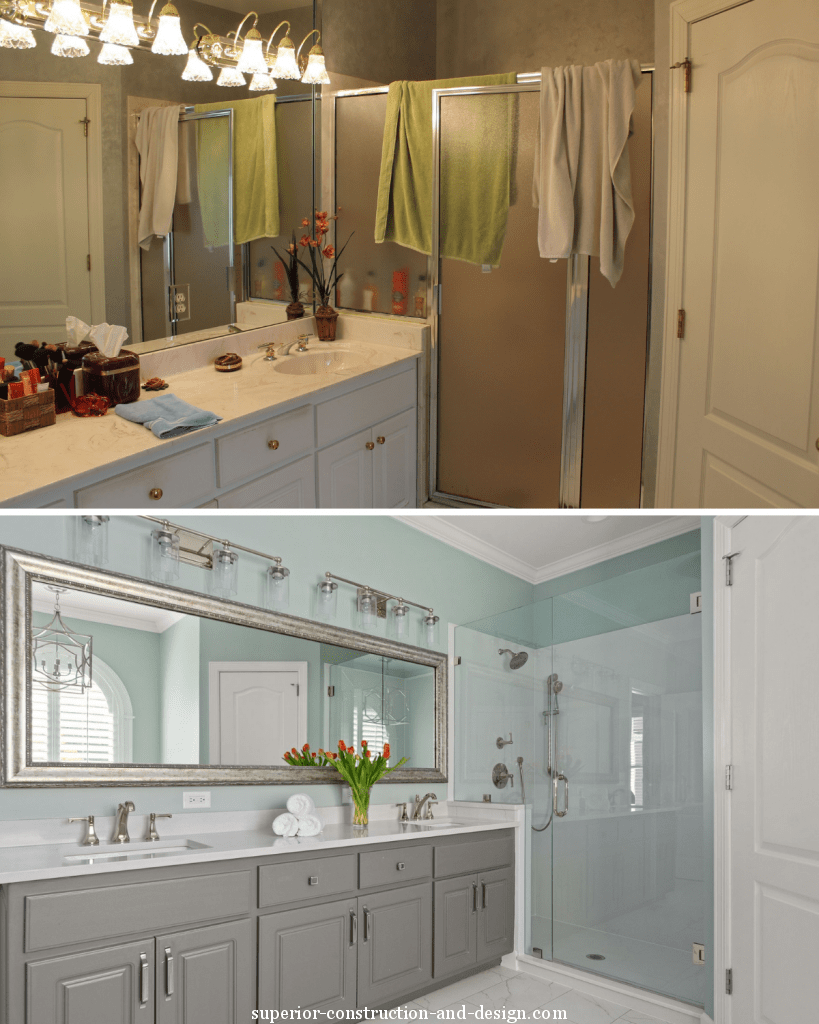 The other side of the master bathroom includes the vanity and walk-in shower. We cut some costs by keeping the original vanity, painting it, and adding new hardware and a new top with square basins! Bet y'all didn't recognize it. 😉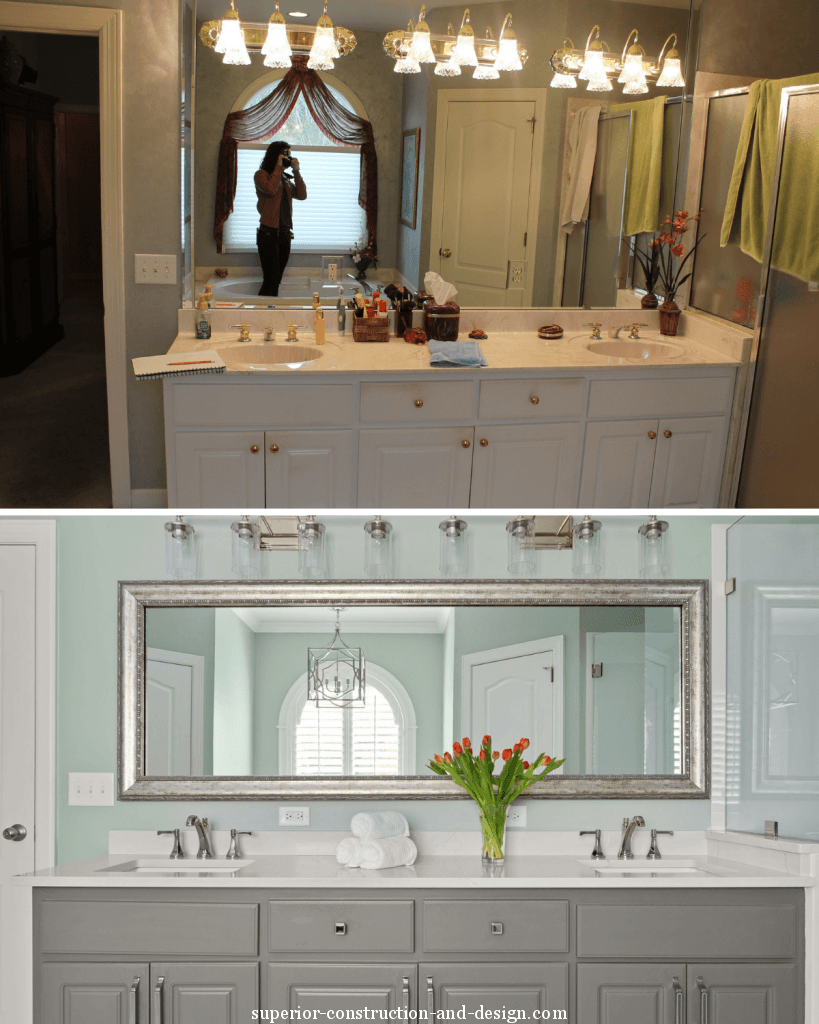 Here's a close-up… can y'all see the resemblance now? Contemporary light fixtures, and hardware in brushed nickel amp up elegance and shine in this space, making it feel brand new. For the mirror, we had a piece of glass installed to fit the vanity, and then used our vendor Mirror Mate to create a custom frame. The thick frame is a showpiece all of its own. Last but not least — fresh tulips for a burst of color!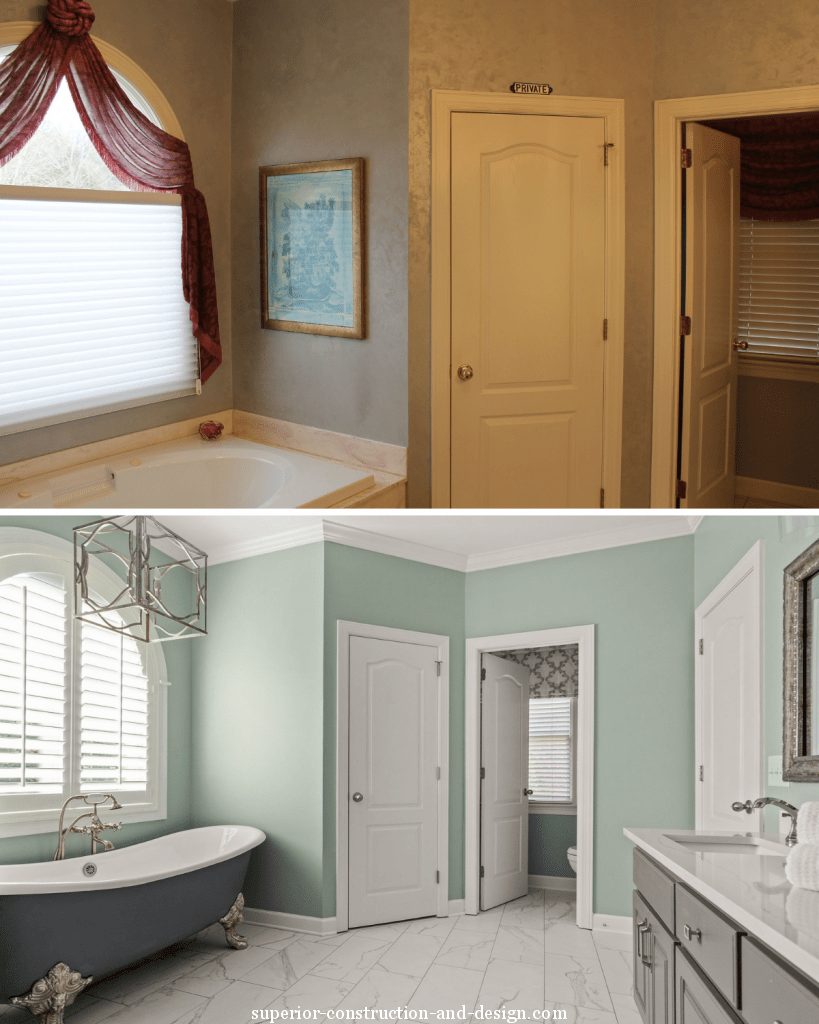 And the final view… I love how this updated colorway ties everything together so beautifully. Our clients love it, too!
Last but not least, we have this little hidden gem of a space…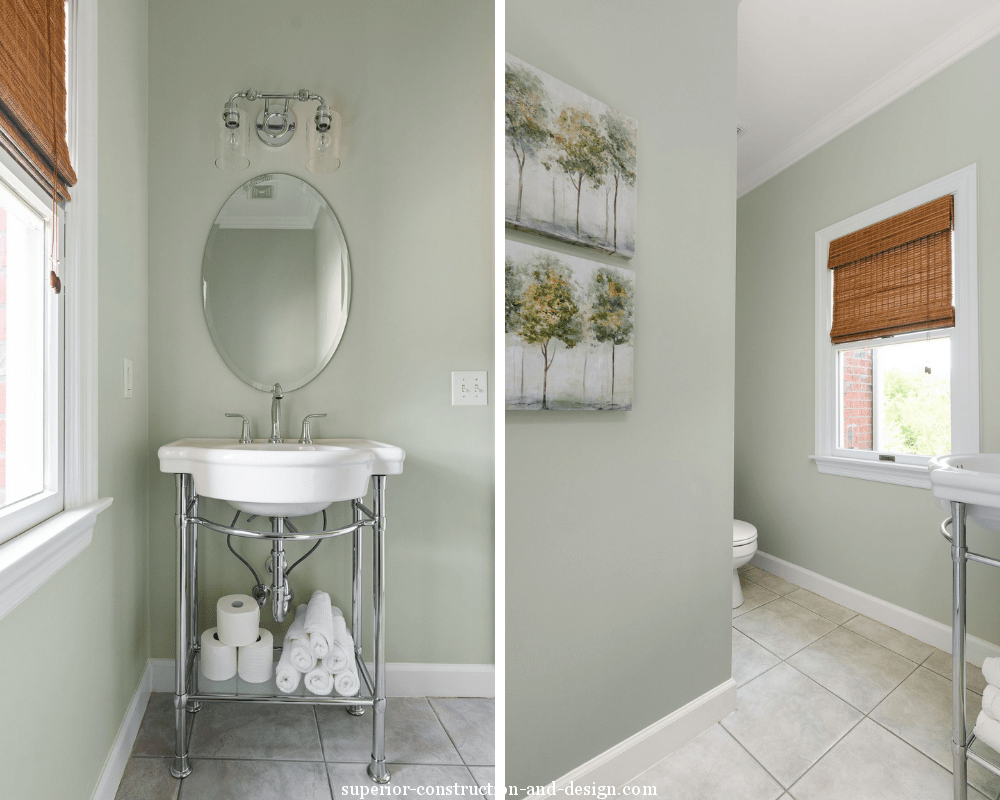 It's a water closet! Minus the closet. 😂 This is the half bath in the same home that needed a huge update as well. Before it was dark and heavy. Now, it has a simple basin and mirror. Woven wood shades for a touch of warmth. Soothing art that brings out the green tones of the walls. It's functional and cute!
See? Y'all don't necessarily need a full gut to refresh a space. A little creativity, some color, some new metals and features — these can add up to a cosmetic refresh that is just as transformative.
So, what do you think? Is there a space in your home that could use a little love? Or are y'all still convinced that a full gut is in the cards?? It's totally up to you, but there is one thing I know for sure — talking to a professional first will help you plan your project for success!
If y'all need me, you know where to find me. 😉 Let's chat and get to know each other.
xoxo,
E
P.S. Don't forget to sign up below to get our Guide to Creating Focal Points with Lighting — and get notified about our newest blog posts each month!