How to Plan Your Bathroom Remodel for Success
May 17th, 2021 | by Elizabeth| Posted in design, remodeling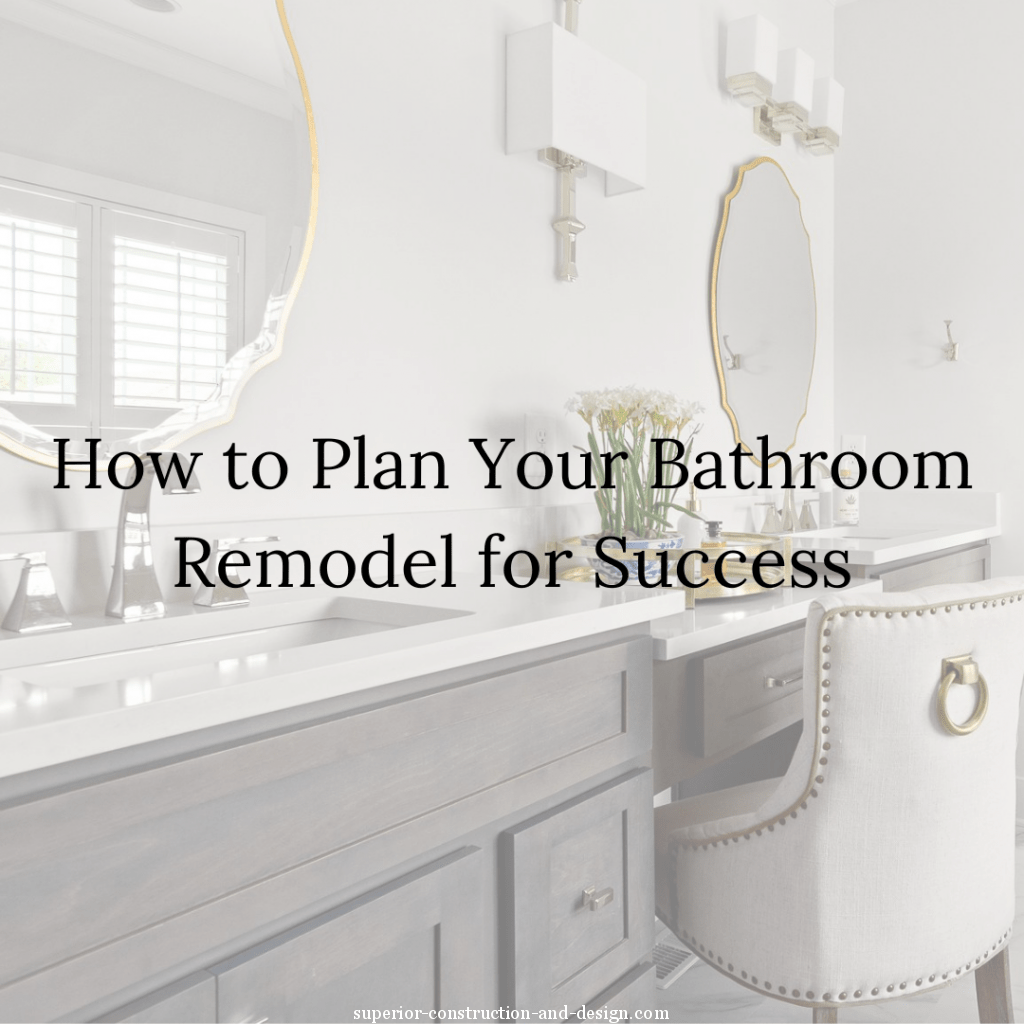 Two weeks ago, I shared this bathroom transformation that was mostly cosmetic and didn't require a full bathroom remodel. No changing floor plans. No moving walls or plumbing. Just some fresh updates that made a world of difference. However…
…maybe you've been dreaming of gutting your bathroom (out with the old!), and you just won't take No for an answer. It happens, and y'all have my full support. Sometimes, a full gut and remodel is exactly what the designer ordered!
So, where do you start? What don't most people know when beginning a remodel? How can you create a smart plan that will set your whole project up for success?
Today, I'm letting y'all "pick my brain" by sharing the 7 steps of any successful project. Whether you're doing these on your own or working with a professional, they are essential.
P.S. Be sure to check out Step 4 for one of the biggest misconceptions homeowners have before remodeling!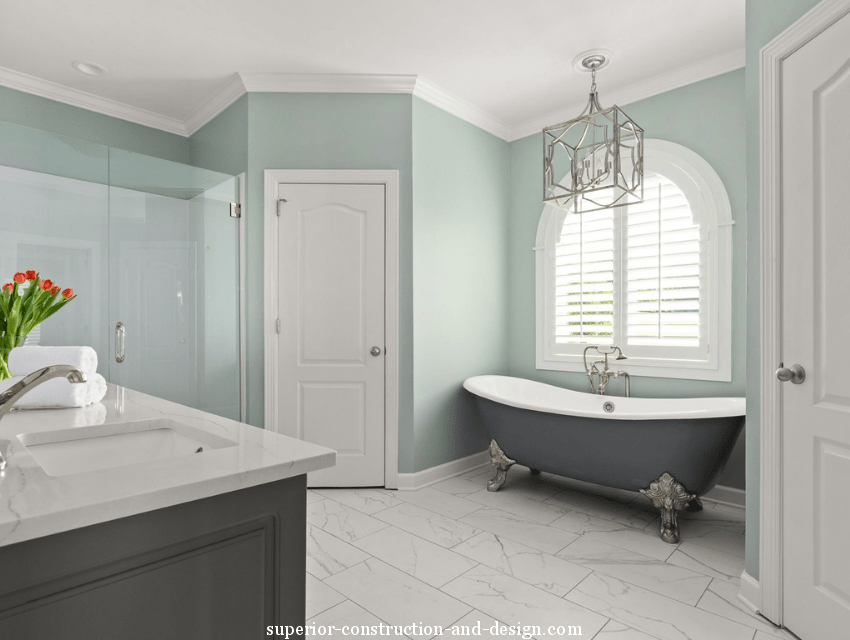 Step 1: Set Your Bathroom Remodel's Scope
The first step in any project is defining what that project will include. If you know that you want your bathroom to be bigger, but you're not sure whether it's smarter to add a tub or a shower, this is where a professional can help.
Where a professional can't help is in telling you what you want. You are the captain of this ship pointing the way toward the space and lifestyle you want most! We're the crew who make it happen in the most efficient, effective, and beautiful way possible. 🙂
What to do:
Consider your current lifestyle and the one you want: what does it look like? Feel like? Function like?
Make a list of the improvements you would like to see in your space (e.g. lighter, brighter, bigger, more storage, updated, etc.)
Next to each of those improvements, write down the updates that will need to be made to achieve them. If you aren't sure, book a consultation with a pro. It is well worth it!
When we discuss scope together, we'll also talk about important details like timeline and, of course…
Step 2: Set Your Bathroom Remodel Budget
The next step is to create your budget, and I'd like to emphasize, not just any budget, but a REALISTIC one! (I know this is harder than it sounds.)
For context, our bathroom remodels start at $15K and go up from there. This is the minimum for a project that requires construction, potentially moving walls and plumbing, and will include quality materials that we can stand behind.
How can you create your budget? First, remember that a budget is not your total investment. A budget is how you allocate your overall investment to various aspects of the project. I suggest starting with the number you are comfortable with and then working backward to better understand what that number can get you.
Again, this is where a professional will be a HUGE help. We can look at your budget and say, "Well, we can save here, splurge here, etc." to stretch your investment in the best way for your goals and lifestyle. We have been doing this for a loooong time and are pros at it!
What to do:
Decide what number you are comfortable spending on your remodel
Work with a professional to balance your budget and scope
If you're not working with a pro, I suggest doing some deep research into what everything will cost so that you're not caught off guard after you've started
Step 3: Get to Know Your Style
When we have our initial consultation with you before starting your project, we'll go through the first two steps together, and then we'll get to this one: discovering your personal style. However, this is something you can easily explore on your own!
What to do:
Pinterest is great for this. I always invite our clients to make Pinterest boards of style they love, or rooms that "feel" the way they want their bathroom to feel.
Then, go through the photos you've pinned and try to look for themes, things they have in common. Is there a specific color you gravitate toward? A type of tile, flooring, or stone? An overall feel?
If you're working with us, this is a fun step that we'll do together.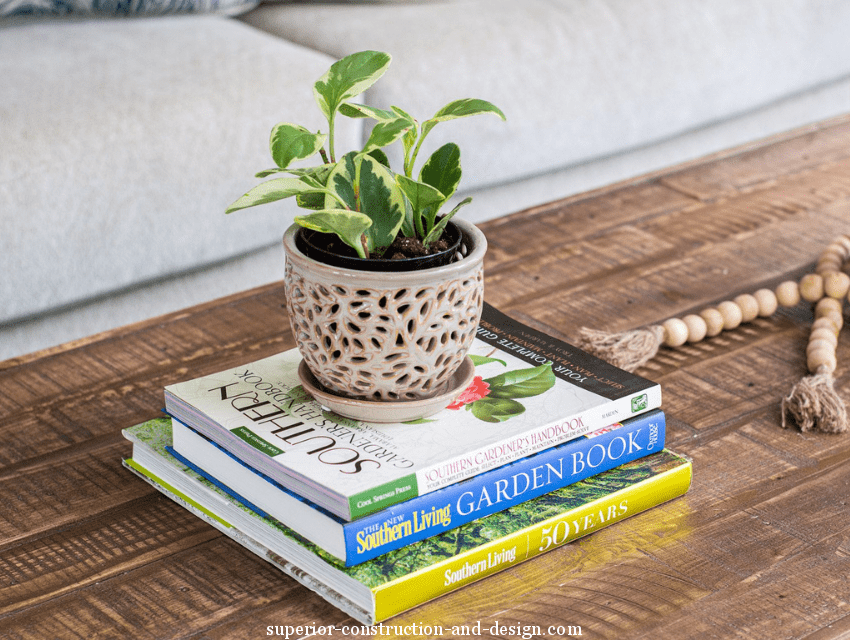 Step 4: Make Materials & Finish Selections
Alright, we've arrived at Step 4… the one that most people do not expect when remodeling for the first time. Most people think that when you're ready to remodel your space, you simply need to reach out to a General Contractor and they can give you a quote for your project.
Not so fast!!
Most GCs (those who are not Interior Designers) cannot give you an accurate quote for your project without knowing which materials and finishes are going into your home. Let that sink in for a moment…
This means you need to know what type of flooring, which countertops, the specific vanity, the exact shower tiles, etc. — and how much of them — will be going into your space before you can get a quote. Essentially the whole design!! This is because different materials will change the amount and level of work required.
As a Design-Build Firm (Interior Designer and GC), we have the advantage of being able to do both at the same time. Designing your space and giving you quotes. We'll also make sure that the materials we select for you are within your desired budget.
(Note: I believe in transparency, so I'll dedicate an entire future post to how we charge. Stay tuned!)
What to do:
If you're not working with us (no judgment here), I do suggest working with an Interior Designer to make your materials selections, or make those selection in their entirety yourself. THEN, go look for your favorite GC, or better yet, get a trusted recommendation from your designer. Much easier than Googling, I promise you!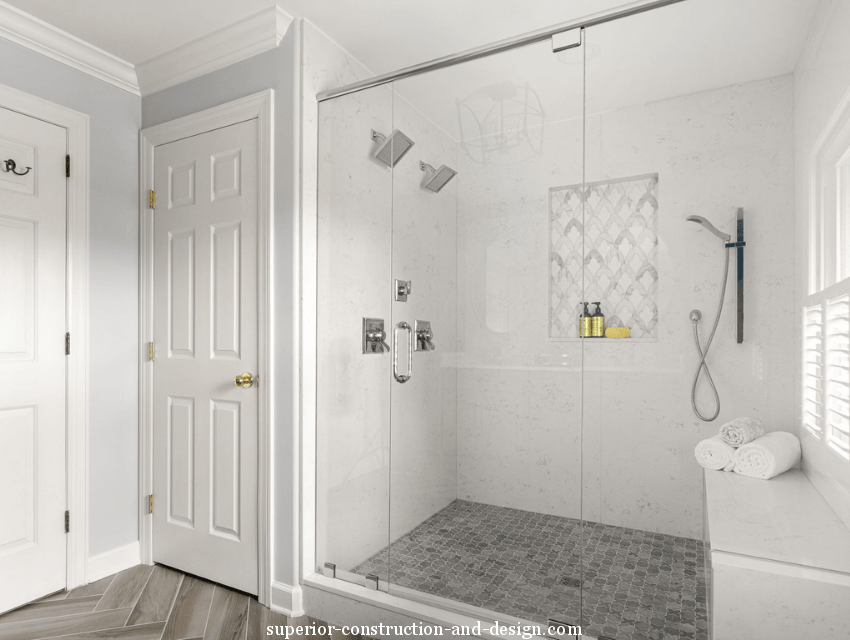 Step 5: Get a Quote for the Scope of Work
Okay, NOW you're ready to get a quote for your bathroom remodel's scope. Combine this with the quote for materials and finishes (estimated in Step 4), and you have yourself a pretty well-defined budget. It should match up with what you discussed in Step 2. If you're working with a pro, it will!
At this point, we'll also map out the phases of construction in more detail. Here's another blog post I shared on calculating your remodel timeline — worth a look!
What to do:
Reach out to your desired professionals if you haven't already
Get those quotes!
Step 6: Construction & Ordering
And now the work begins! This is the step when construction starts, and orders are placed for materials, fixtures, finishes, the works — everything that is going into your bathroom remodel.
Again, having a professional do this is really worth its weight in gold. I know you're seeing a theme here, but I mean it. Most people assume that designers are playing with colors and fabrics all day, but that is far from the truth.
At least 80% of our job is high-level project management: purchase orders, change orders, coordinating and managing labor and trades, avoiding problems before they start, trouble-shooting and solving problems after they arise (like finding mold behind old showers and tubs), receiving and inspecting deliveries so you don't have to be on-site 24/7, etc.
Of course, this is my job, so you know I have to LOVE this stuff, and I do. But most of our clients don't! They're happy to hand off the stressful stuff to us so they can just enjoy the fun parts — like watching their new bathroom come to life before their eyes!
What to do:
Let a pro do all the work! LOL.
If you're managing the project yourself, I suggest being meticulously organized in order to keep your eye on all the details. Use spreadsheets, make reminders for yourself, and be sure to inspect all materials/items for quality before the delivery folks leave!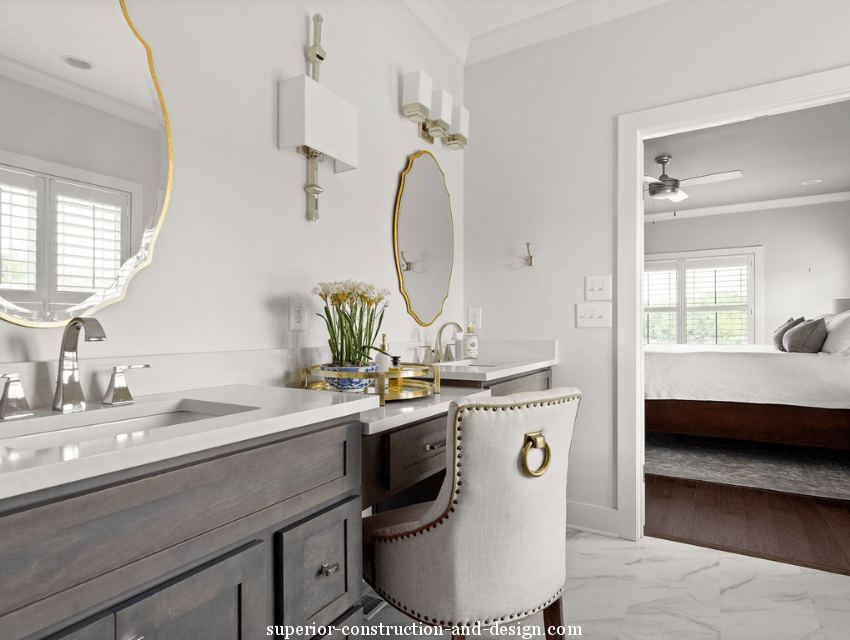 Step 7: Installation and Final Styling
The final step is putting the final touches on your space. This means installing any last-minute items (an oversized mirror, chandelier, etc.) and styling. Bathrooms don't typically require a lot of styling, but it's the thoughtful touches that take it from new-and-improved to inspiring all the warm fuzzies that make you feel right at home.
If you're doing this on your own, you can find various styling tips here:
And that's it… you've successfully completed your bathroom remodel and you're ready to sail off into the sunset!!
So, which camp are you in? Team Let-a-Pro-Do-It? Or Team DIY? Lol. ? Either way, I would love to help your project get off on the right foot!
If you're in the planning stages (or maybe in the "mayday!" stage), reach out to me here and let's see what we can do to help! Until next time…
xo,
E
P.S. Don't forget to sign up below to receive my Guide to Creating Focal Points with Lighting. It's the jewelry of your home!