The Lake House Tour: Master Suite & Living Spaces
August 9th, 2020 | by Elizabeth | Posted in bedrooms, Before and Afters, color, construction, design, guest room | #farmhouse, #lake home, #lebanon, #new build, #new construction, #tennessee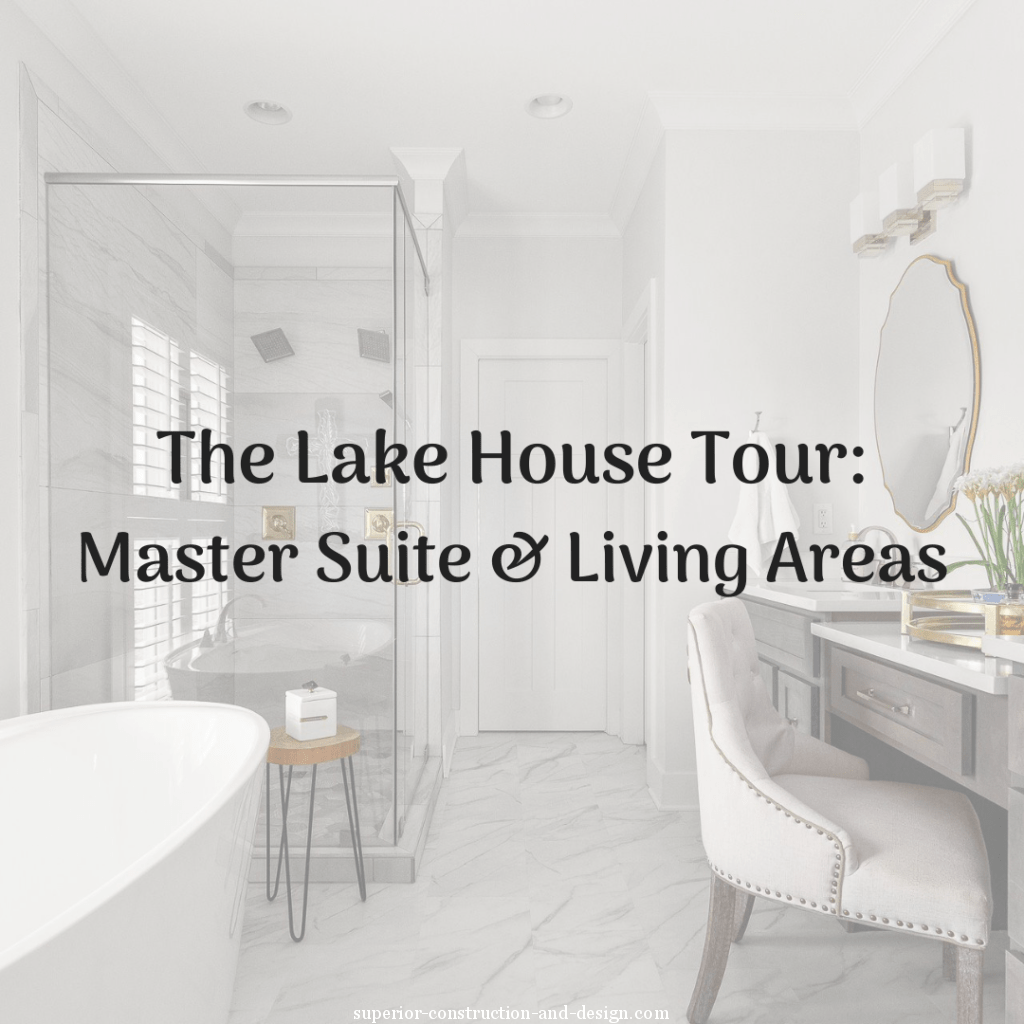 Hey, y'all! How's it going? We're still trucking along over here, making it through this Tennessee heat with grins on our faces, because hey, it's SUMMER, right?
As promised, I have the second part of our Lake House Tour ready for you. This was a home we designed and built from the ground up for these special clients. If you didn't see the first part, you're missing out! Get yourself all caught up here, and yes, if you're sweating in this humidity, it will be like a fresh, cool breeze for ya. 😉
Today, I'm sharing the living spaces of the home, which include the master suite, guest bedrooms and bathrooms, and a flex space that serves as laundry room, mudroom and home office.
Come take a peek!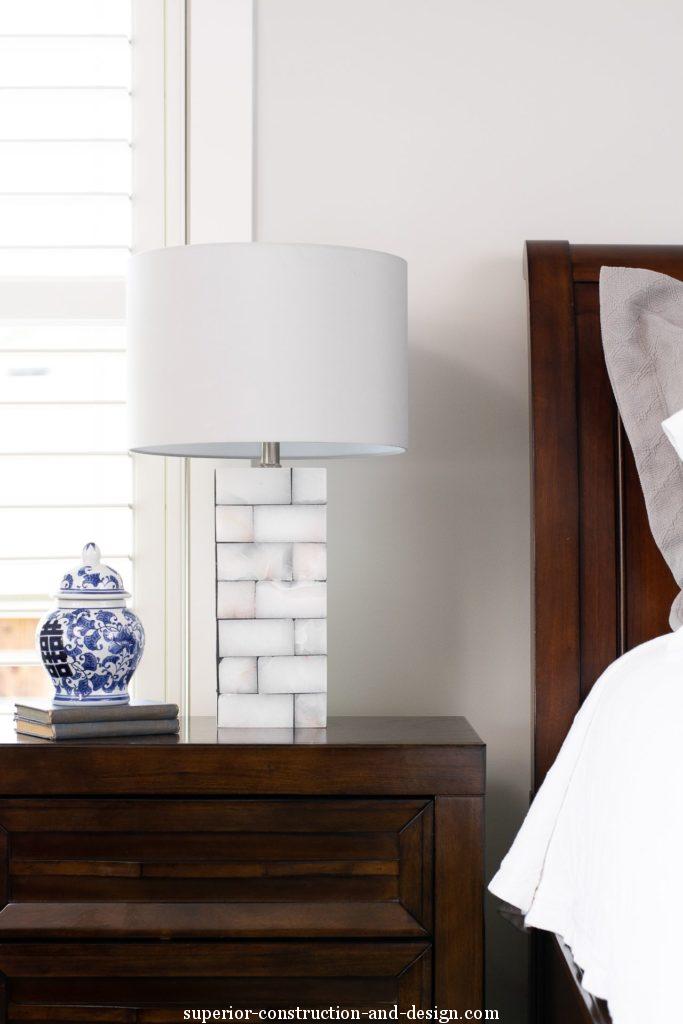 Master Bedroom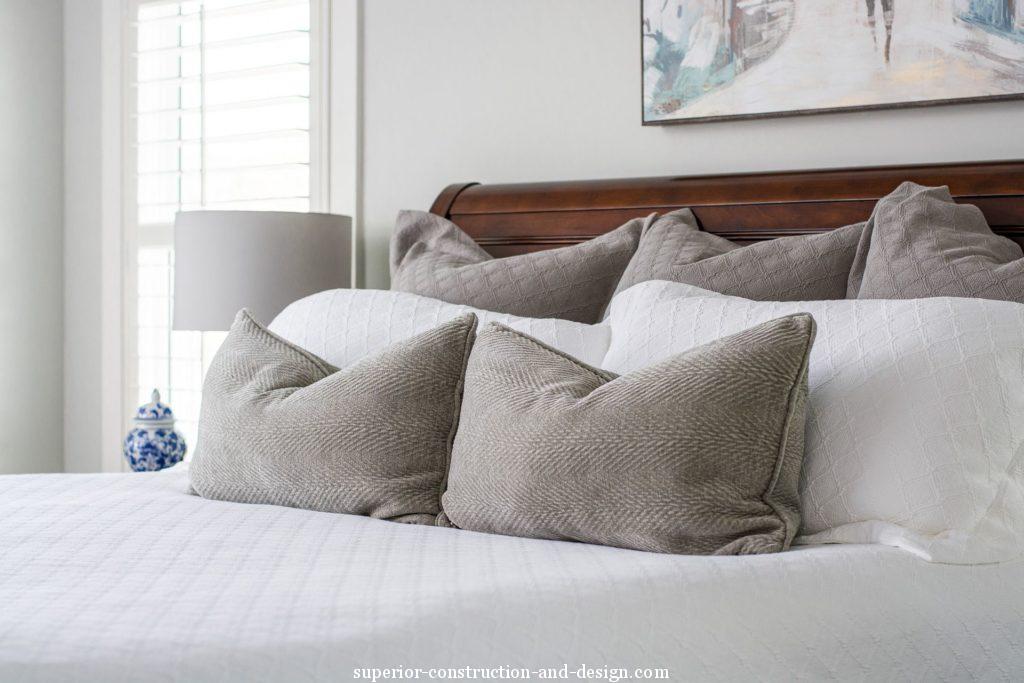 Our clients already had large furniture pieces, so we used accessories and bedding to bring the design together with the rest of the home. But instead of bright blues and greens, we opted for more muted tones, like these soft and textured pillows.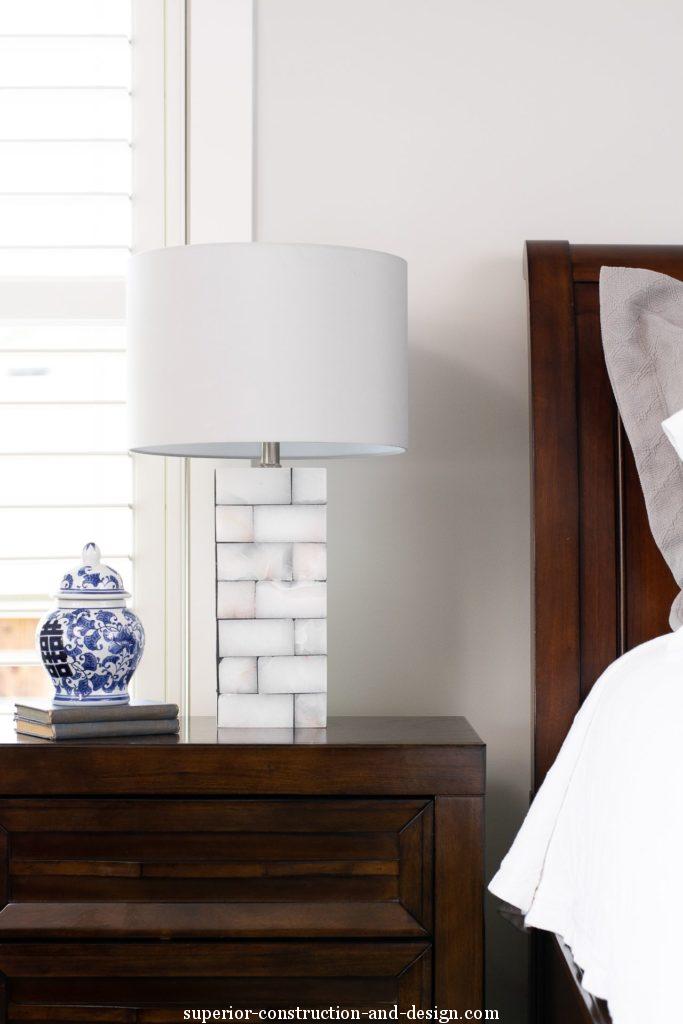 We layered soft whites, and added a touch of luxury with the subtle shimmer of this white abalone lamp.
We used a light-colored rug with a subtle shimmer to create harmony between the muted nude tones and the whites. The ceiling, we painted one of my favorite Sherwin-Williams colors (Unusal Gray), a restorative color great for bedrooms and a good night's sleep! (Remember this post on designing for health and rest?)
And in the corner…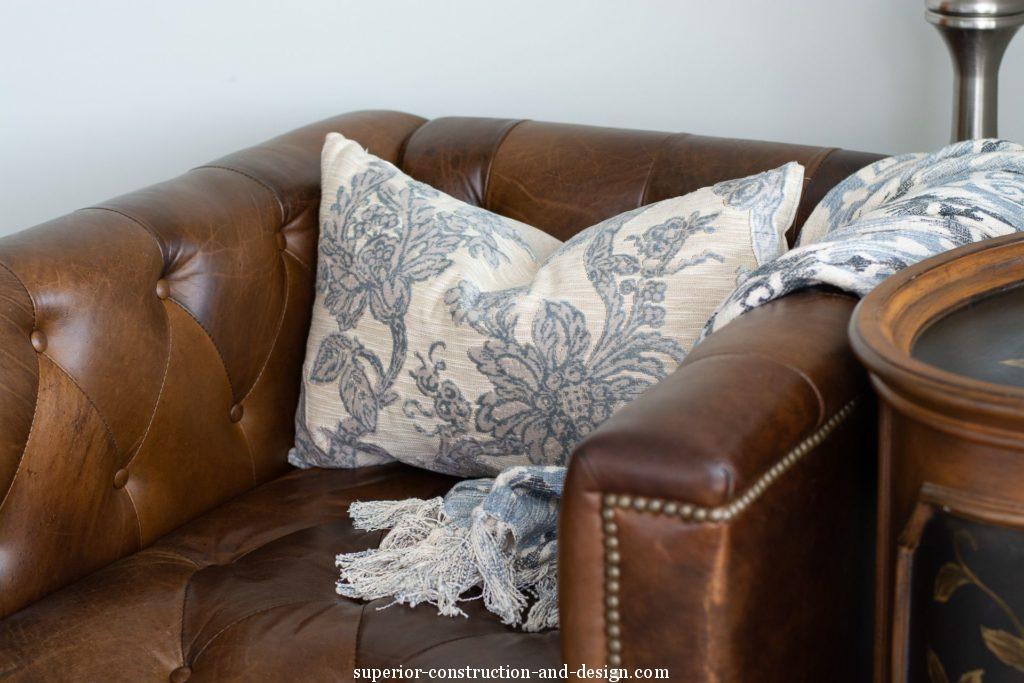 A beautiful little nook, complete with button-tufted leather chair (mmm, look at that detail) and a side table. Perfect for curling up with a warm beverage or a good book!
Ensuite Bathroom
Attached to the master bedroom is an ensuite bathroom and a whole lot of magic…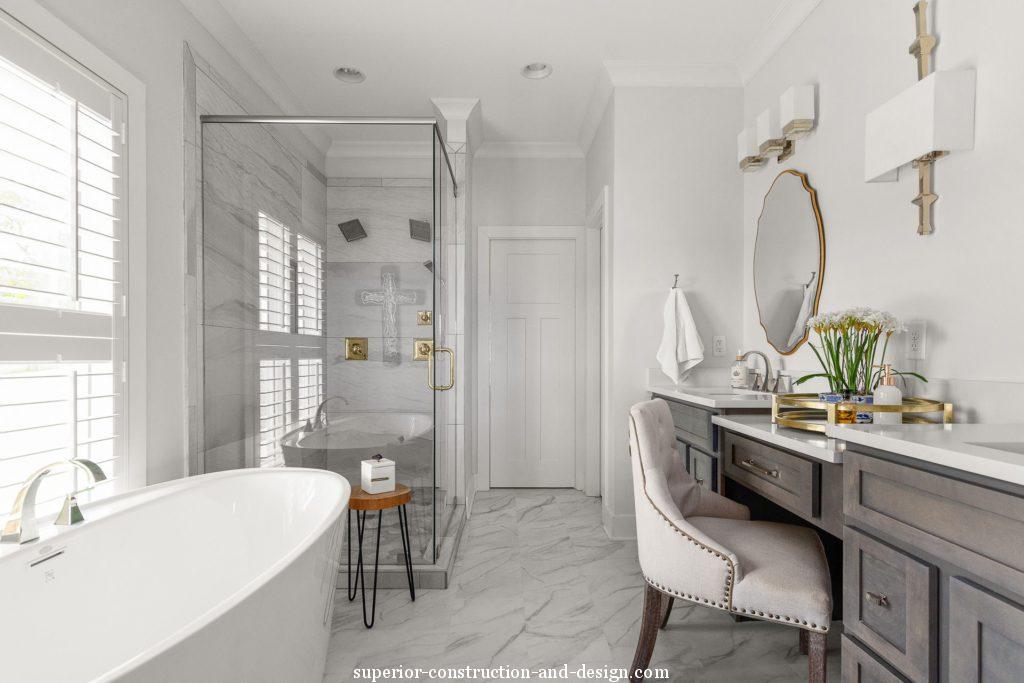 A mostly white palette makes the dark veining in the flooring stand out, effortlessly elegant and timeless all at once!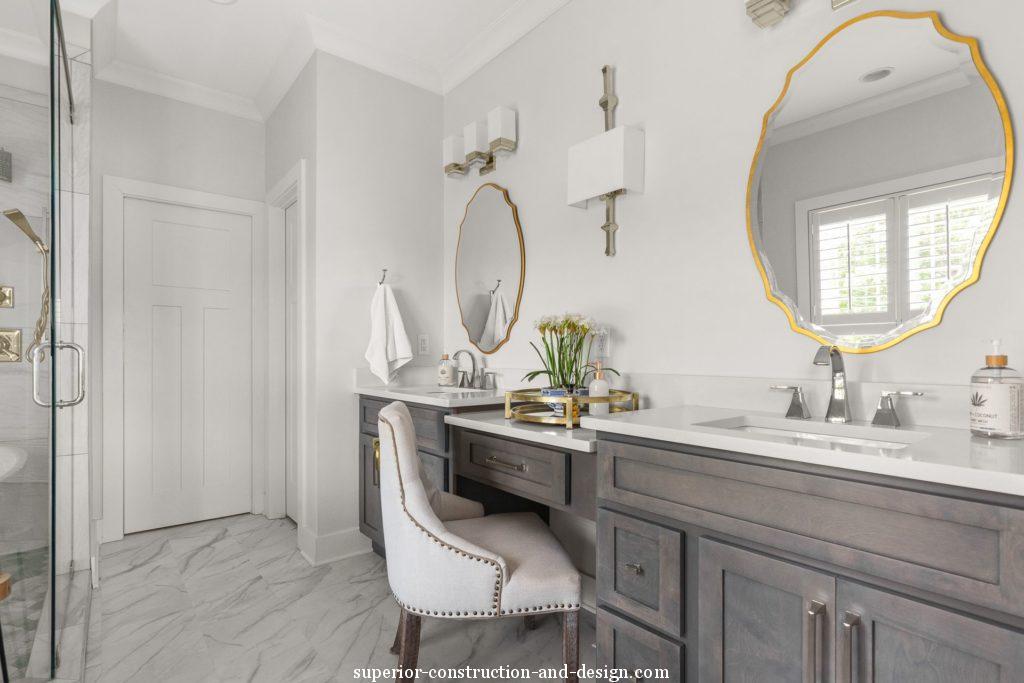 This custom vanity and cabinetry includes a cozy spot to sit, warm brass details in these modern traditional mirrors, and a stunning sconce!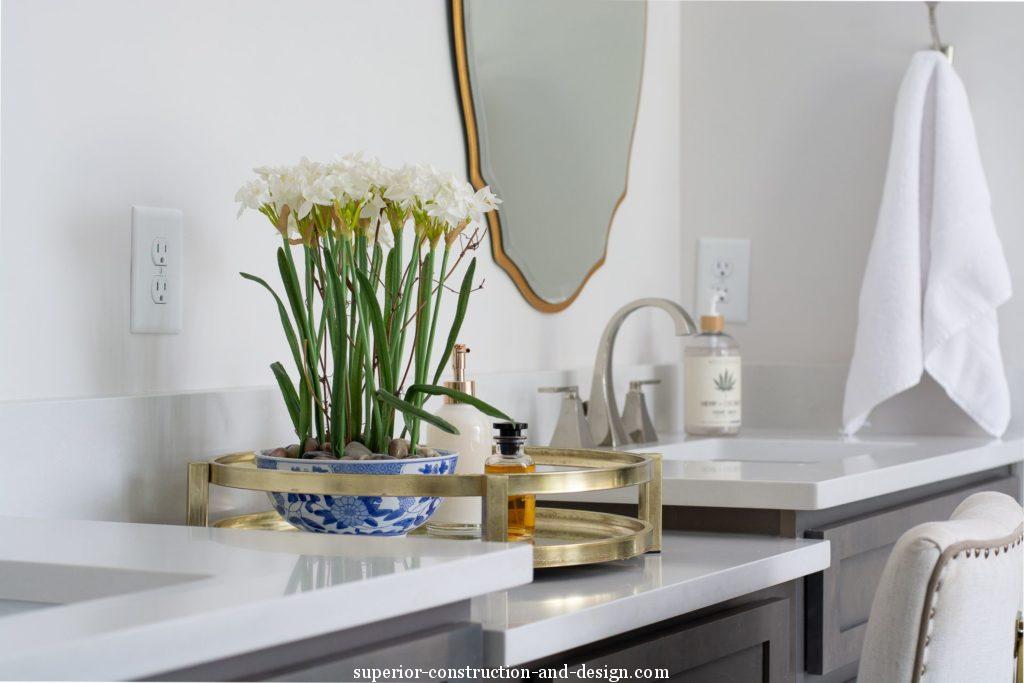 You know I love small hints of brass to add warmth to a space! And more beautiful blue chinoiserie for a touch of color. 🙂
The veining continues in this stunning shower, with a mix of large tiles for the walls and hexagon tiles for the floor. Polished nickel hardware accentuates (not competes) with those beautiful gray veins!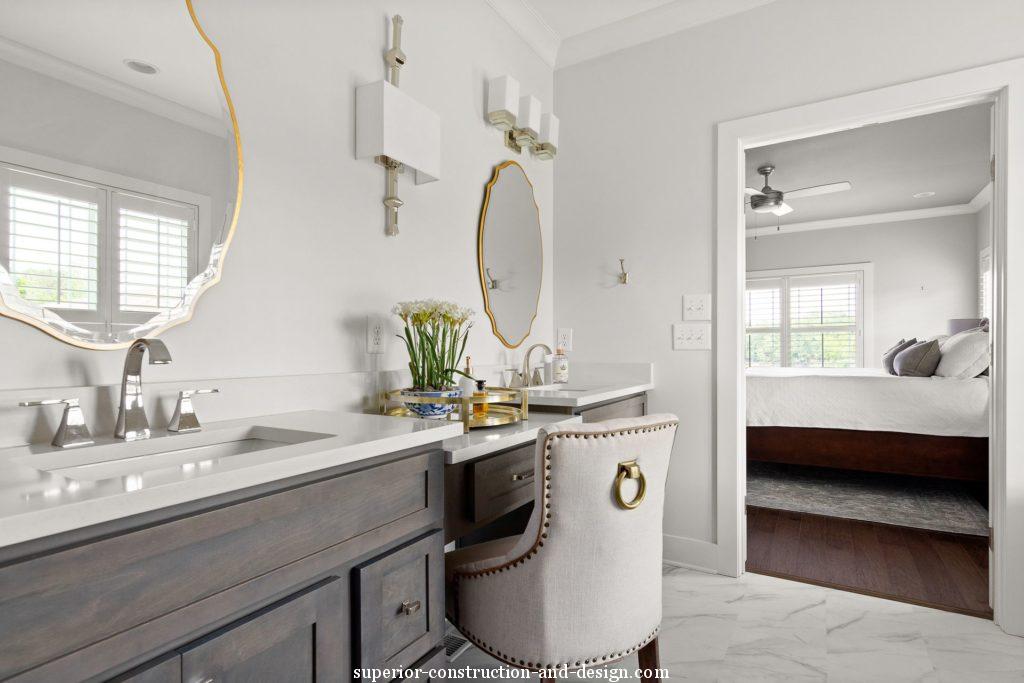 And here it is again in all its glory! Not a bad place to wake up or wind down each day, right?
His & Hers Bedrooms
For the other bedrooms, we dedicated one to "His" and one to "Hers." Mr. W has two older kiddos who are with them often, so we wanted to make sure the each had a place of their own.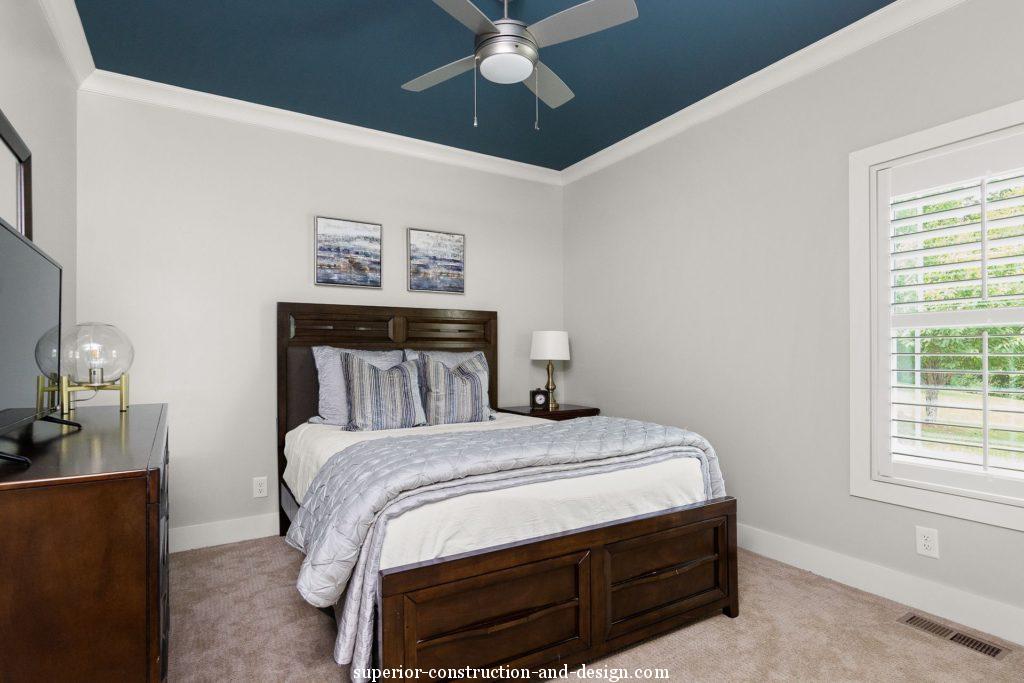 For His, we used a lake-inspired navy for the ceiling, to help it recede and feel more spacious. Light colored walls, art, and a window with a view complete the space.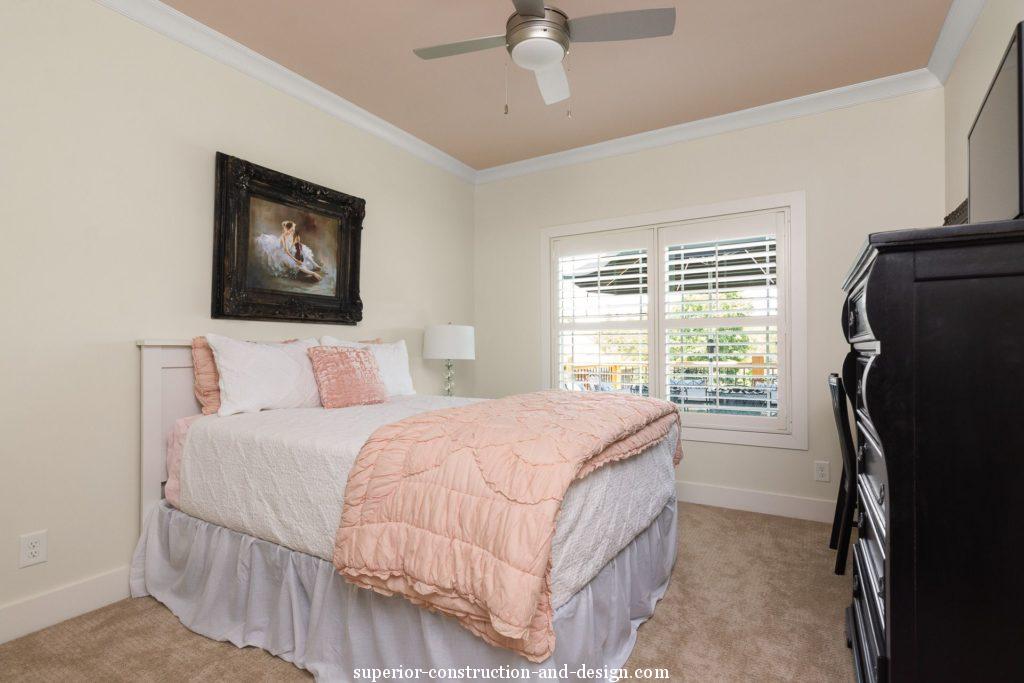 For Hers, we chose a more muted tone for the ceiling, which also helps it recede but in a softer way. It fits well with the rosy bedding, beige carpet, and cream-colored walls.
Guest Bathroom & Powder Room
The guest bathroom is another treat… if I do say so myself! Isn't this mirror stunning??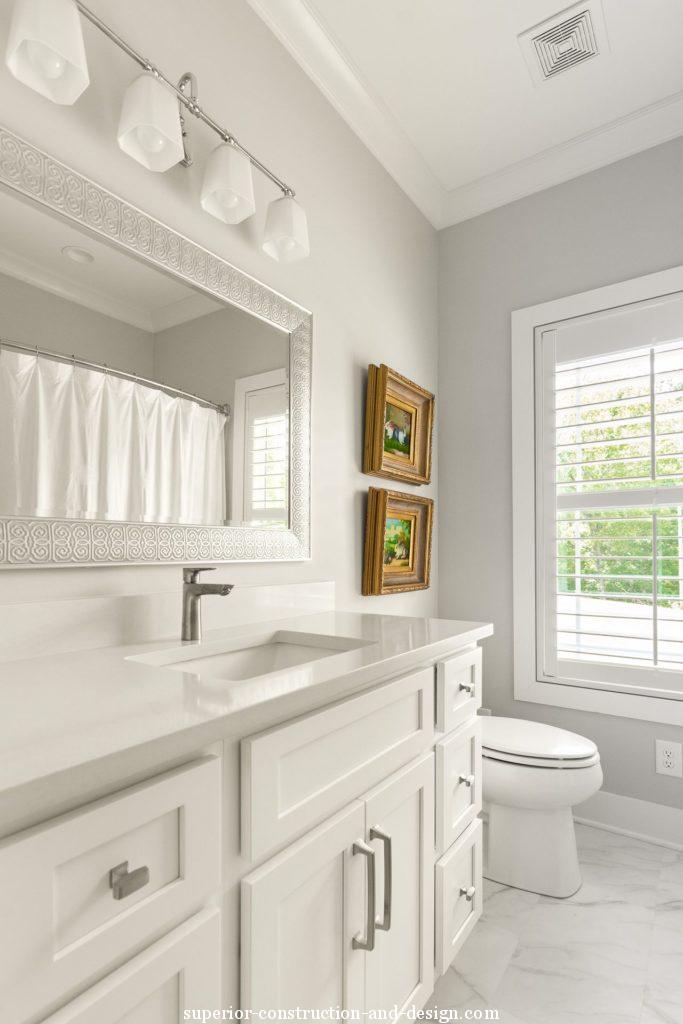 I just love the almost Greek-like details around the frame. It's subtle and elegant, traditional and creative. It also helps this bathroom feel more spacious! We used the same flooring in here as well, to help the design feel holistic throughout the home.
And now for the powder room…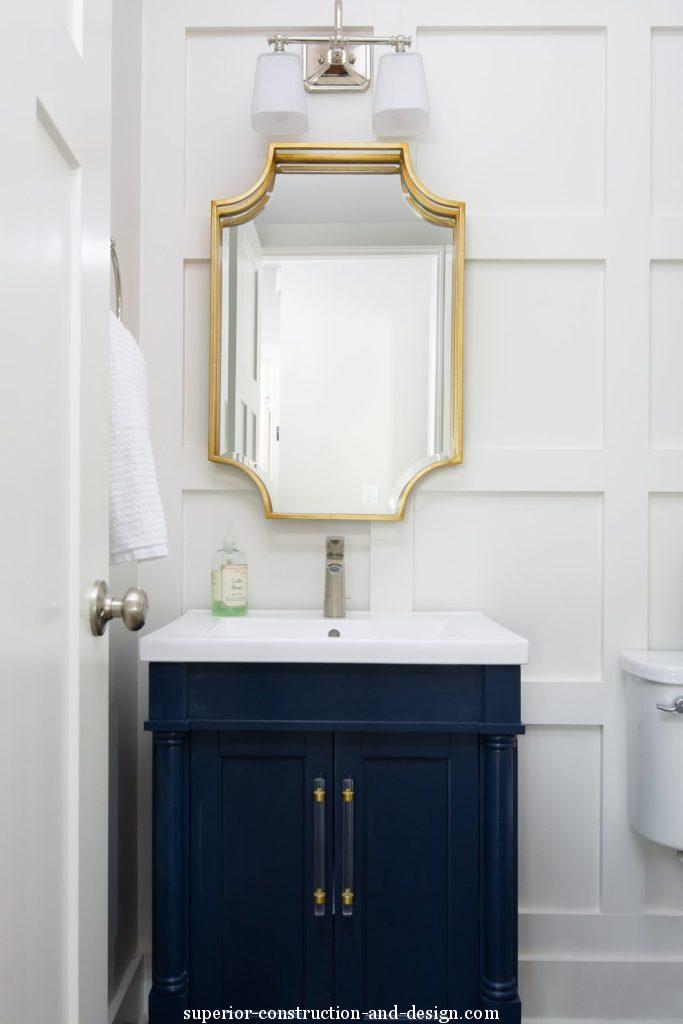 A deeper shade of blue feels restful in this powder room, backed by exquisite millwork! I love making a small powder room special, and custom millwork and a pop of color are just two ways to do it! Of course, I couldn't leave this space without a touch of warm brass… you know, for good luck. 😉
Flex Space: Laundry Room, Mudroom & Home Office
Okay, who doesn't want a room that does it all for them?? This one certainly fits the bill!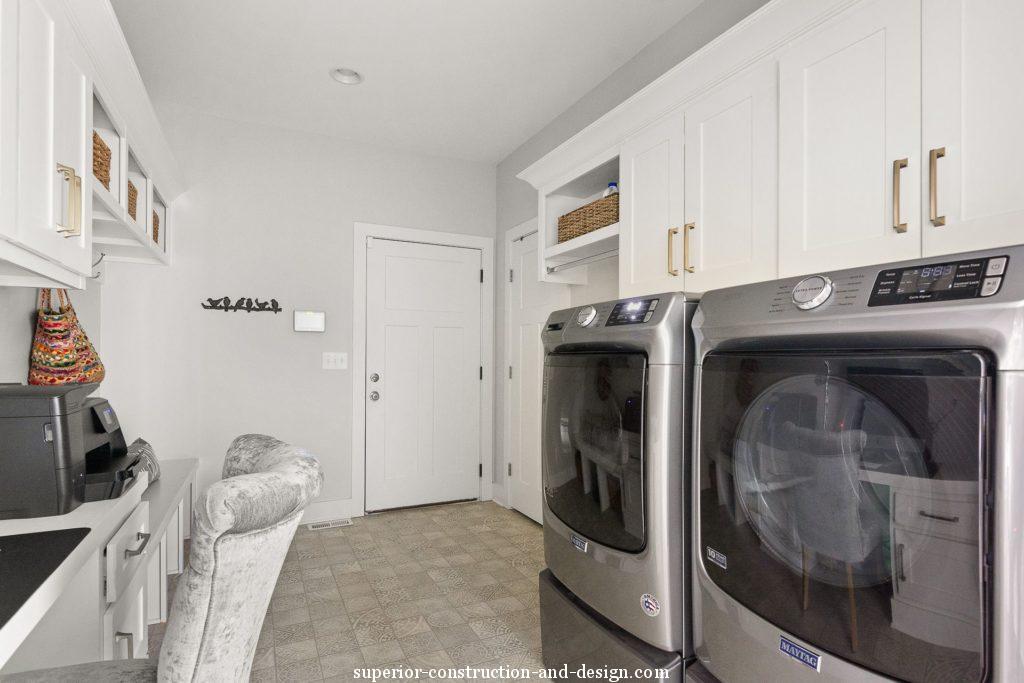 Lots of storage space. A washer and dryer. A place to sit, work, print, and file any papers. And floors that are up to the task of handling those muddy shoes and thick coats!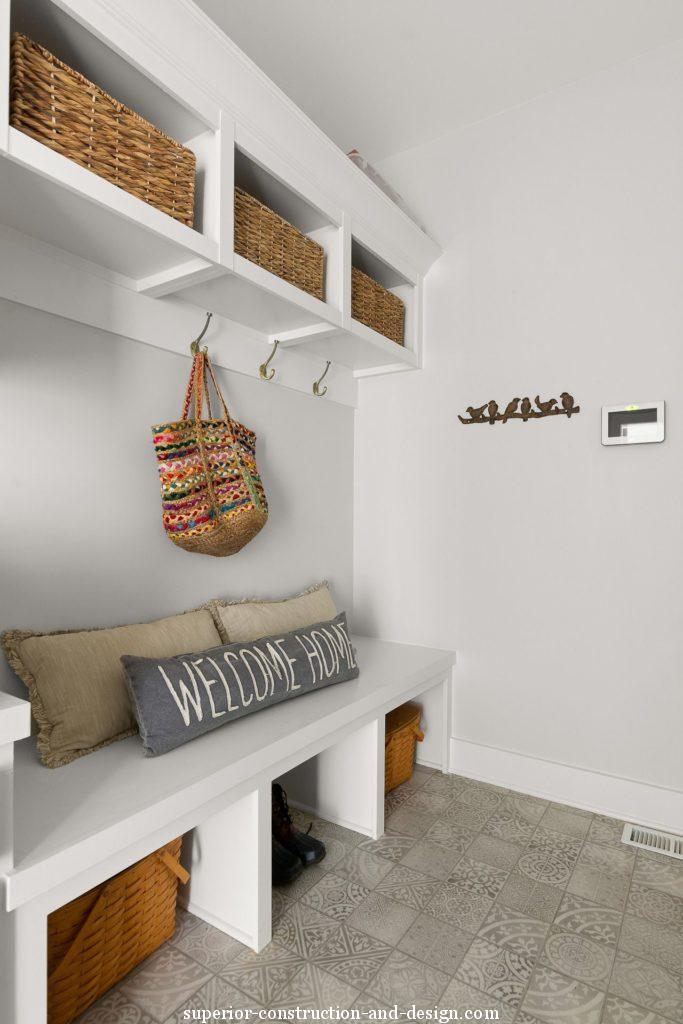 Baskets are a great way to make storage look more beautiful and feel more inviting (and more likely to be used, lol). We installed hooks for jackets or bags, and we couldn't resist adding this Welcome Home pillow as the final touch… after all, if this is where our clients will be entering their home, they should feel immediately embraced!
In case you missed the video tour in my first post, here it is in all its glory…
Whew! We made it, y'all!! Okay, how beautiful is this home? I know it sounds like I am tooting my own horn here, but designing a home is never one-sided. We always take our clients' preferences, styles, functional desires, and even existing furniture into account when we create a design.
The final result is an expression of these wonderful people, who are also our dear friends.
Lastly, I want to thank YOU so much for following along. I hope you'll join me in wishing this loving and tenderhearted couple so much happiness in their future at home!
Until next time, y'all!
Xo,
E
Looking for more inspiration? See our roundup of 15 Home Transformations that will Inspire You!