The Scruggs Bathroom Remodel & Secrets to a Happy Marriage
March 30th, 2020 | by Elizabeth | Posted in Before and Afters, built-ins, design, remodeling

Well friends, it's been another crazy week in our world, but I am committed to spreading some sunshine to y'all with another Before & After. (Do y'all like seeing these??)

The client for this bathroom remodel was… ME! And my hubby, although he didn't have too much input, lol! I'm sure it's hard being married to a designer, but the only "requirement" he's ever verbalized was right after we got married (29 years ago this year) when he said, "I don't care what you do, I just don't want flowers on my bedspread."  

I've honored that request, but have learned that with most of the design and construction related things when it comes to our home, it's better to ask forgiveness than permission. 😉

Like the time he walked into our bonus room much earlier in the morning than he's used to (he had been woken up by the sound of saws). He had his coffee in hand, eyes squinted with sleep still in them, and walked right into a view of clouds and sky when he hit the top of the stairs. 

I had told him that we really and truly needed windows in our bonus room. He didn't think so. So when he topped the stairs and saw the hip roof torn open about 15 feet wide from the ceiling to the floor — he just shook his head, took a sip of his coffee, and turned to go back down the stairs.

This, my friends, is the secret to a happy marriage. 😉
Before: Our Master Bathroom
So, let's talk about this master bathroom remodel. I'd been wanting to redo this bathroom for several years, but it just kept getting put on the back-burner because it wasn't a necessity. Isn't that how it always goes? Especially since my kiddos are getting older and expenses keep getting larger! But since I knew that I would redo it "someday," I had been planning on exactly how I would design it for a while.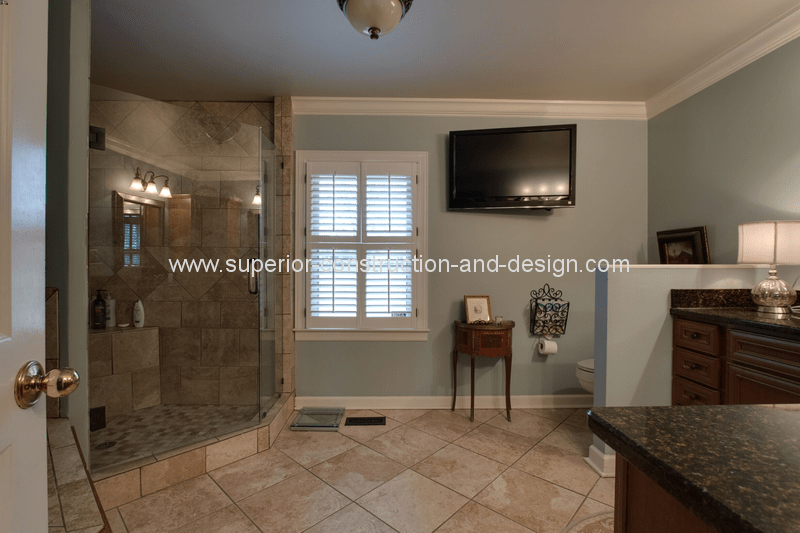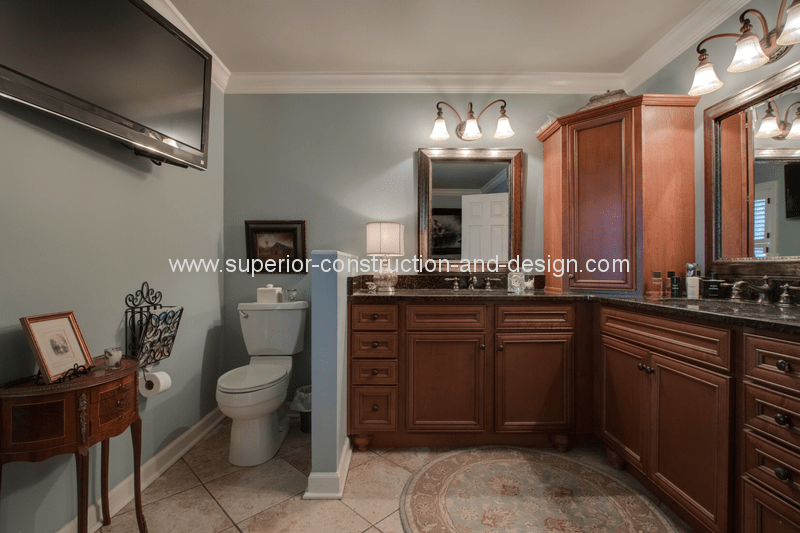 before: master bathroom
Needed an update, huh?! The first time we updated it 12 years ago, it was way too trendy. And I realized that about a year after we did it, and trends started changing in design… RIGHT after I finished the space.
That's when I realized it is so much better to design classically, at least in the fixed elements of design. However, I still believe that you can decorate a space in a classic way, while adding a few personal elements of taste that you gravitate toward. 
A Blast Back to the Waterpocalypse
But to really share the full story of the bathroom remodel, we have to go back in time to the Waterpocalypse of last year. We were at the tail-end of the repairs (or so I thought), they were installing our beautiful Revel Woods flooring, and they were at the back of our bedroom tearing the original flooring out. This was the last room, and we were thrilled. The light at the end of the tunnel.
Then Oscar comes into my office and says, "Uh, Mrs. Elizabeth… I think you need to see something." He had this look on his face like he was half scared to show me. When we got back to our master bedroom, he was in my husband's closet tearing out the old flooring — and that's when he found it.  
MOLD.
Every homeowner's nightmare.
My husband's closet shares a wall with the master bathroom, and the tub was on the other side of the wall.  (You know, it was one of those
gargantuan corner tubs that we never, ever got in. Not once.)
Well, then our son came along. He felt the tub was his own personal swimming pool for the past few years, and because no one ever used it, I didn't care if he played in it every night. Well. Apparently he knocked a line loose at some point, and every time said tub was draining its zillion gallons — most was going under the house, but LOTS was going under the floor.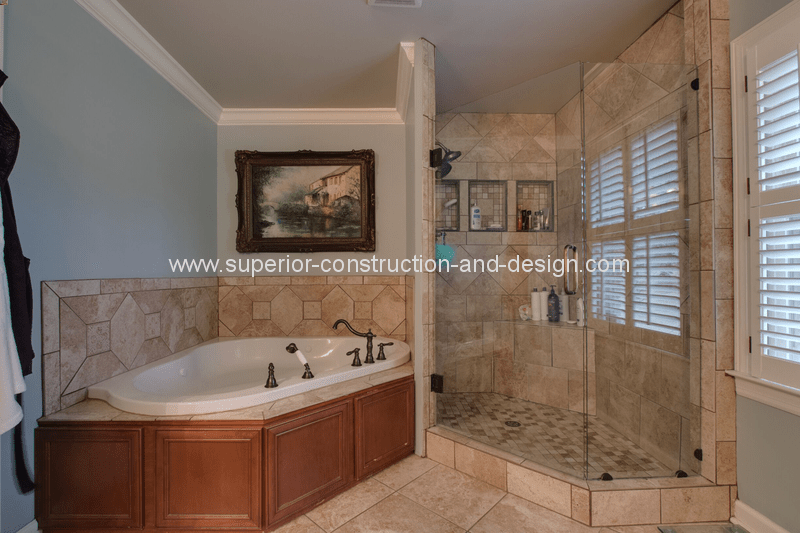 before: the culprit!
It had been going on long enough to start mold, but not long enough to get out past his closet where we would have noticed it. So there it sat. Waiting for us. Dun-dun-DUN!
At this point I knew I couldn't turn the damage in to my insurance because I was scared they were going to cancel me because of the aforementioned waterpocolypse (though they have canceled me now anyway… thanks so much for being a good neighbor!)
So I turned to Oscar, knowing I had to bite the bullet, and said… "Rip it all out!" And so it began…
After: Classic & Bright Master Bathroom
On the bright side, I basically LOVE everything about the bathroom now! I had so many years to think about it, and then months to do it.  (My house is always last on the list because my clients come first!!)
And here she is…!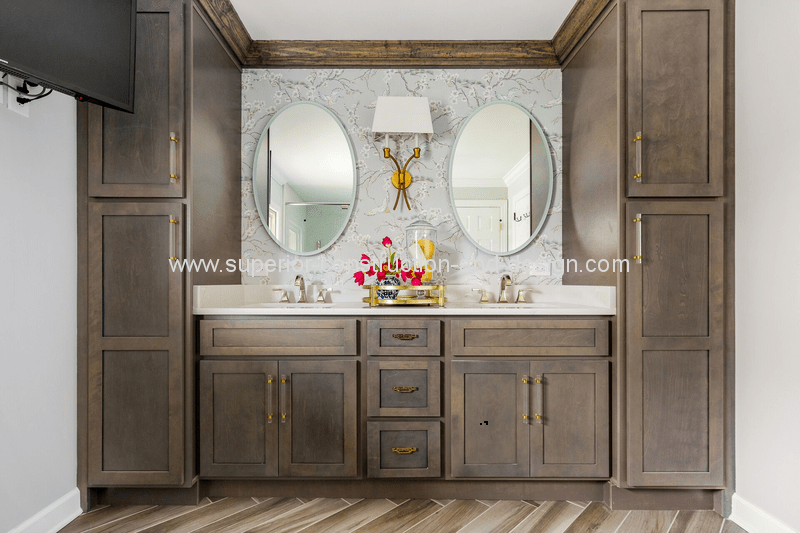 after: cool woods, a gorgeous scone and chinoiserie wallpaper!
Ta-da! I love how much cabinet space we have in the new design — the room appears so much larger, yet I didn't add a square inch. Proof that when a space is laid out correctly it functions better. 
And would y'all look at these details!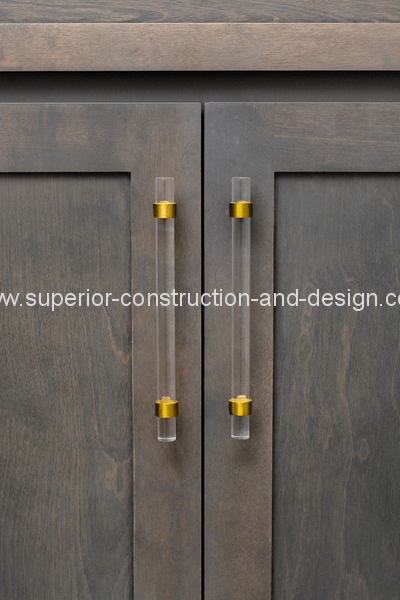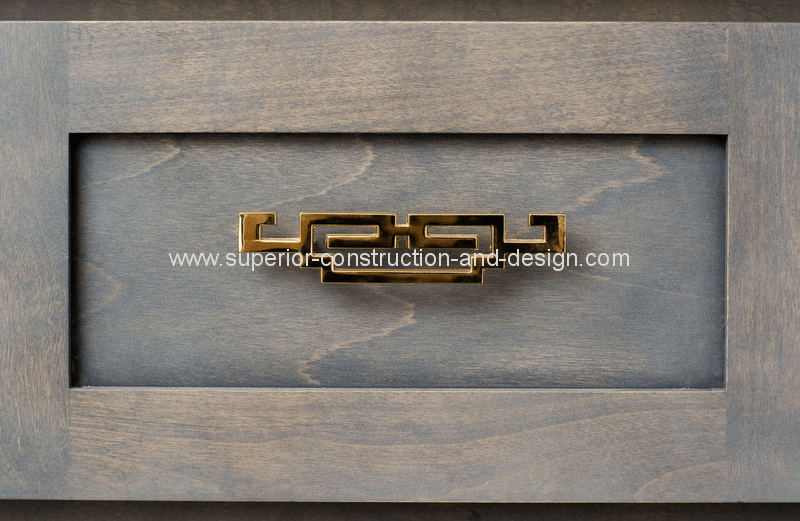 SO GOOD.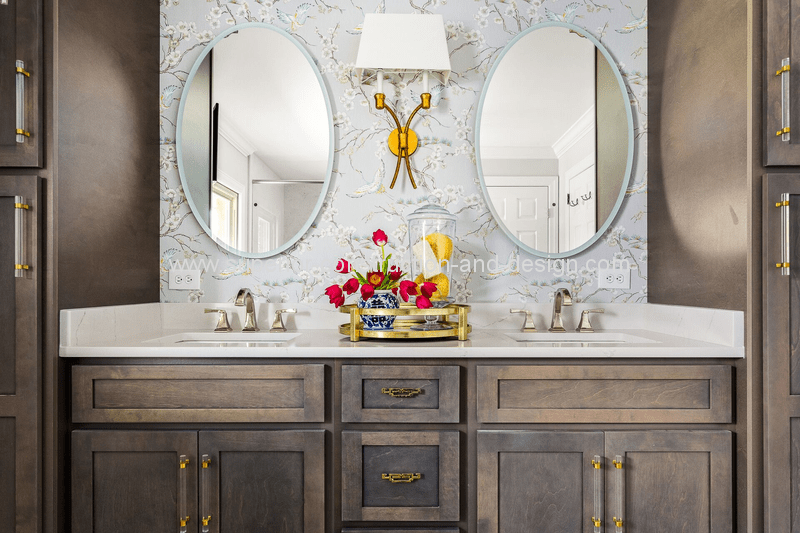 Y'all also know I love all things chinoiserie and of that era of design — which became popular around the 17th and 18th centuries, when Europeans became fascinated with Asian design and culture, and it began to make its way into everything from fashion to architecture.
That's where the chinoiserie wallpaper behind the vanity comes in for me. I'm not quite sure what it is that I'm drawn to about this style, but I'm like a moth to a flame when it comes to chinoiserie!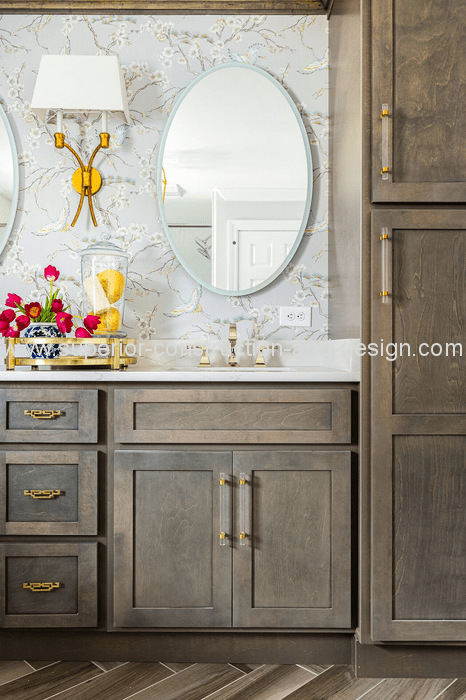 I love our back-lit mirrors that are hands-free (24×36 frameless mirrors from Miseno). One swipe with your hand and they're on! Oh and I LOVE my little sconce between my mirrors (Generation Lighting Westerly 2) which I keep on all the time as a night light. I'm pretty much a lamp-tramp, the more lamps the merrier!!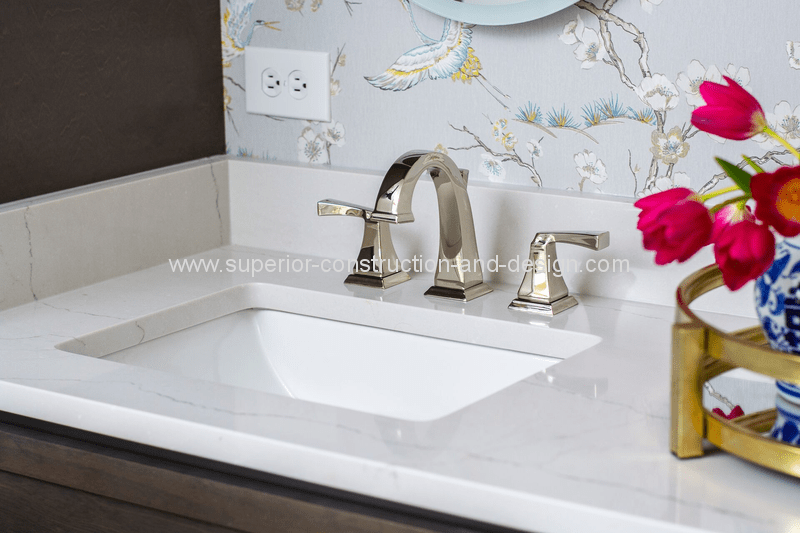 Delta Dryden widespread faucet in polished nickel.
And my very favorite! Cambria quartz tops in Ella.  You may remember where I told you all about Cambria here and why I love them SO!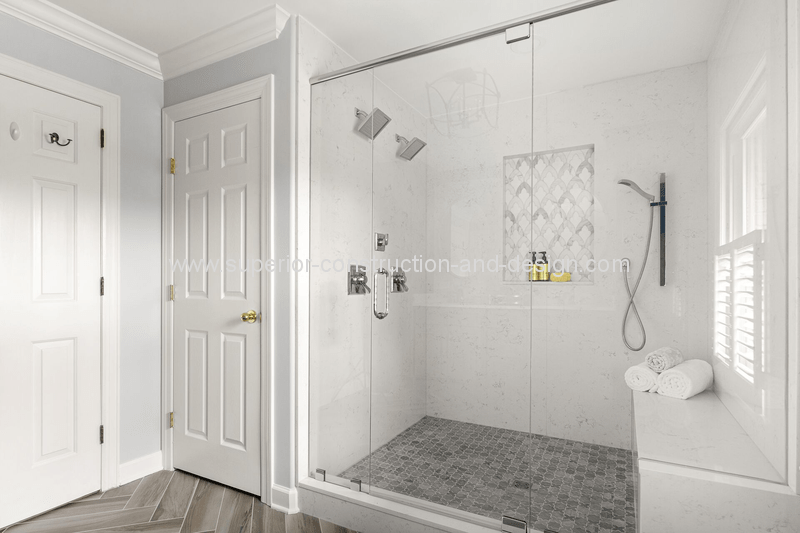 Goodbye tub, hello shower! To keep it classic but interesting, we used quartz wall slabs and a mosaic tile flooring. Plus, who doesn't want a bench to relax on?! I am also loving these Delta Dryden shower heads and hand shower!
And yes, I know that I've not changed the hinges and hooks out on the door leading to the bedroom.
I'll get to that. One day.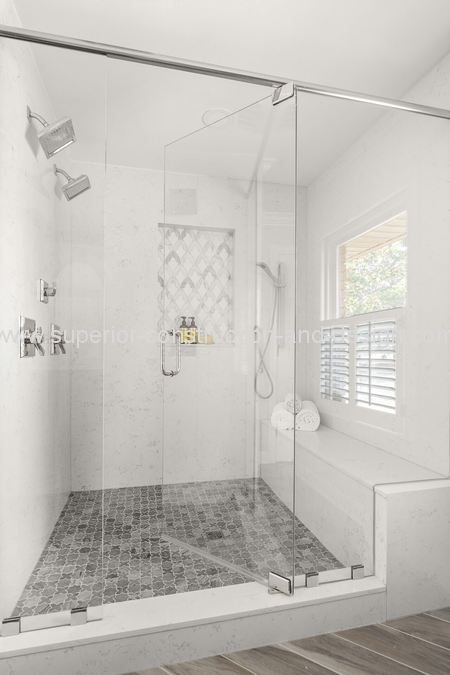 SO much better.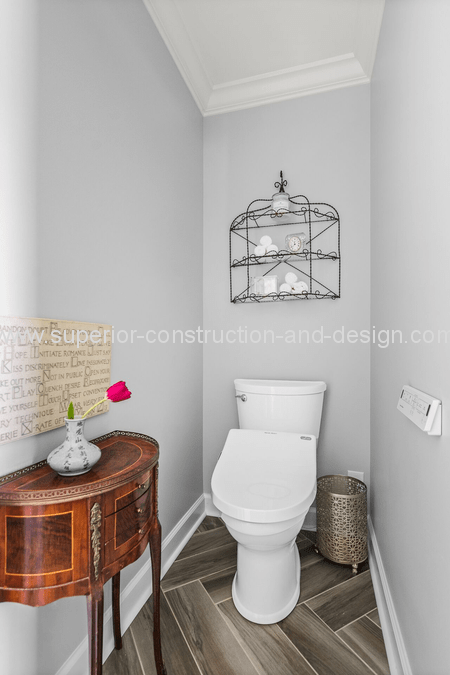 And the one I can't wait to introduce you to… the American Standard bidet seat! This one was a gift for my hubby (see how romantic things still are after 29 years???!!!)  In the first house I built over 25 years ago I installed a real bidet, and he's wanted one ever since. This is the perfect solution because you don't have to have a separate fixture, only access to a plug!
This bidet lid, it's SO cool! It is heated and has all different kinds of settings. 🙂
American Standard Champion PRO 4 Elongated Two-Piece Toilet with Champion 4 Flushing System, Right Height Bowl, and EverClean Surface.
Plus, tiles from Happy Floors! 
Settings! I'll be honest… I find bidets fun and really hygienic!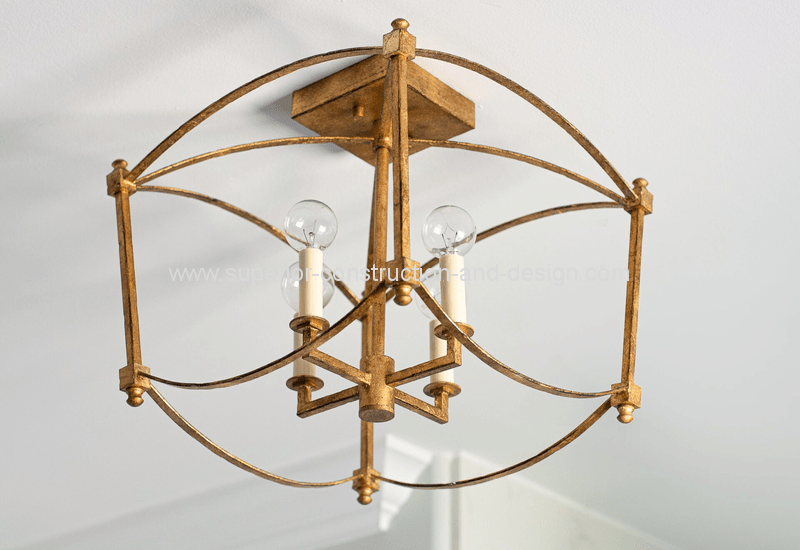 And last but not least, the cherry on top of the cake… Flush mount lighting! This is Generation Lighting's Thayer 4 model. It's perfectly slim, a fresh update on traditional curves, and uniquely elegant!
And here's a few more b&a's for comparison…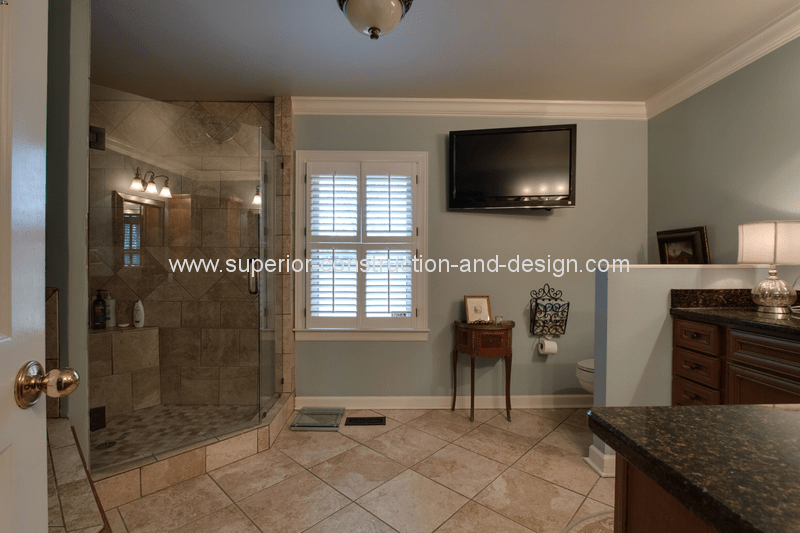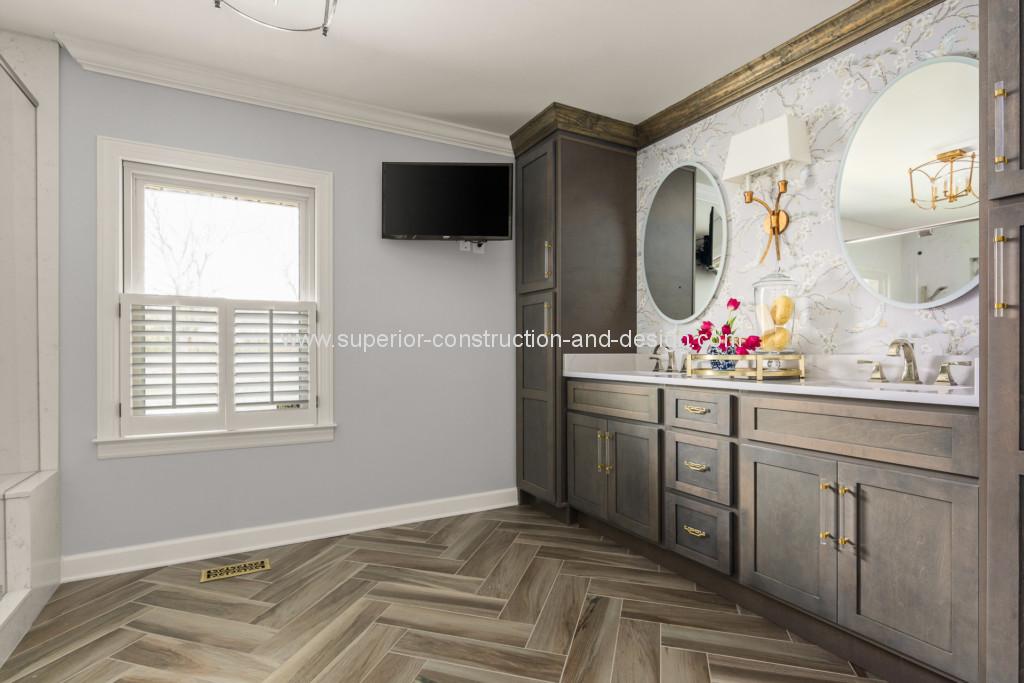 the only thing that changed location in the room was the toilet, and bringing the vanity all the way across the back wall, instead of wrapping the corner.  I always hated how the toilet was out in the open- even though it had a knee wall.  And removing the large tub gave us room for a water closet, which I completely love. Making the vanity straight, instead of a corner vanity, helps me keep my sanity when we are both in there together getting ready.
Have I mentioned how I hate ANYTHING on a diagonal??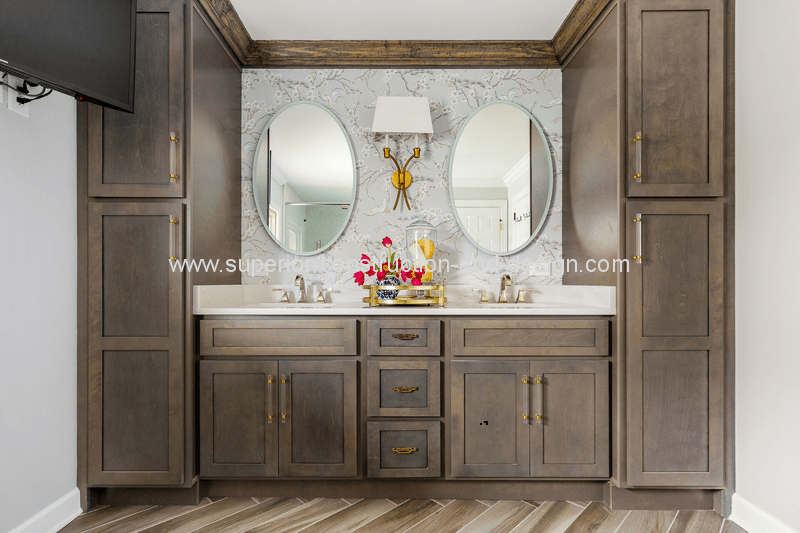 Ahhh, I could spend all day in here! And my kids would not miss be a bit because this homeschooling (and, let's be real, parenting) thing is no joke. Let's just say there's a reason I don't have a career in teaching!
So, how are y'all doing? Feeling inspired? Wondering how your home could support you better than ever in the future? Because it can! This is the perfect time to give your home a thorough eye and start dreaming.
And if you need some help making decisions or planning the space, you know who to call. 😉 We're taking social distancing seriously, but our video design consultations can give you the support and direction you need… Not to mention give me a break from all this algebra! (Save me, lol!)
In any case, I hope y'all are healthy, social distancing to keep our community safe, and remaining positive that we can flatten this curve and live beautifully… together!
Don't forget to PIN the image below to find this easily next time!
Xo,
E
P.s. Looking for more inspiration? See our roundup of 15 Home Transformations that will Inspire You!