How to Style Your Coffee Table Like a Pro
March 22nd, 2021 | by Elizabeth| Posted in home & garden, real estate staging, tips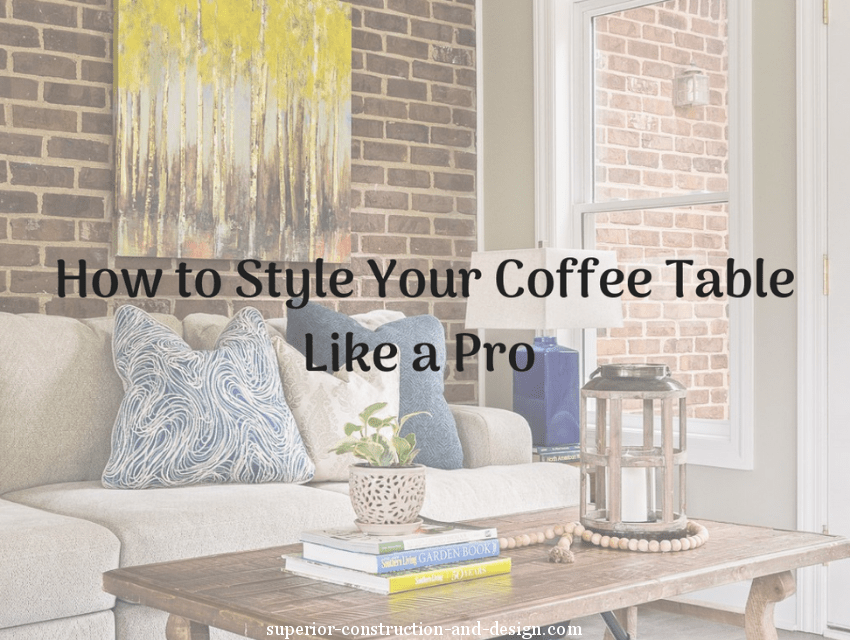 You've seen the beautifully styled coffee tables on Pinterest, HGTV, and splashed across the colorful pages of Southern Living. But maybe you've been eyeing your own coffee table lately and wondering… how can I transform this piece of furniture from drab to fab?
Styling looks easy at a distance, but if you've ever tried it yourself, you may have discovered that there's a bit more to creating a photo-worthy vignette than plopping some items on top and calling it a day.
Though it takes some practice, there is a method to styling coffee tables and other tabletops! Today, I'm taking y'all through my very own 3 steps to styling coffee tables, along with some tips, styling rules, and of course, when to break those rules. 😉
Bonus: These tips can also be applied to styling consoles, credenzas, buffets, and even the tops of your bedroom dressers. Let's go, y'all!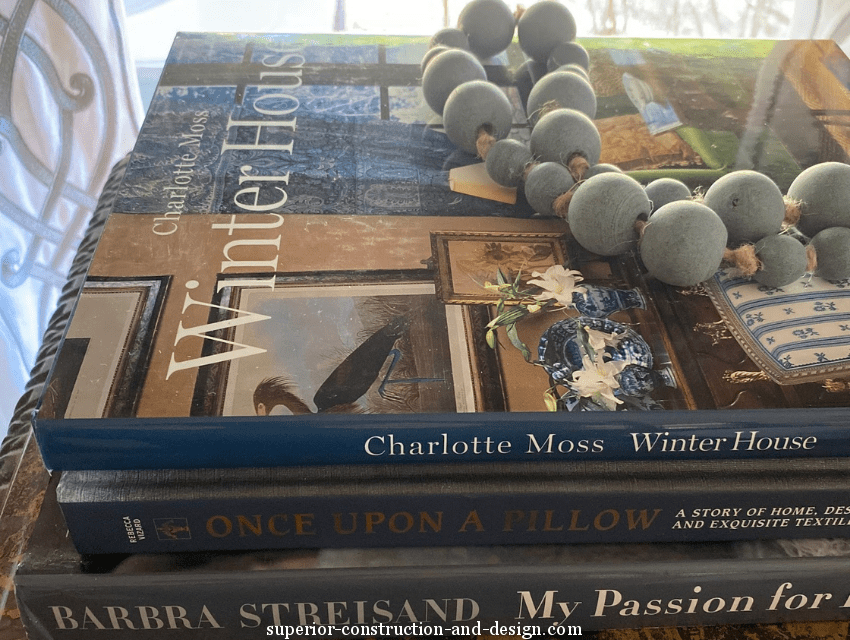 Step 1: Start with Your Foundation
When it comes to styling, it all starts with the foundation. In this case, that's the surface of your coffee table. I typically divide the surface into "styling areas" depending on the shape of the table.
For example, I'll segment a round table into thirds, and a rectangle or square table into fourths, etc. However, if the table is fairly small, I'll reduce the number of styling areas by 1 or 2, so that the space doesn't end up looking cluttered.
Here's a quick guide to help y'all visualize what I mean: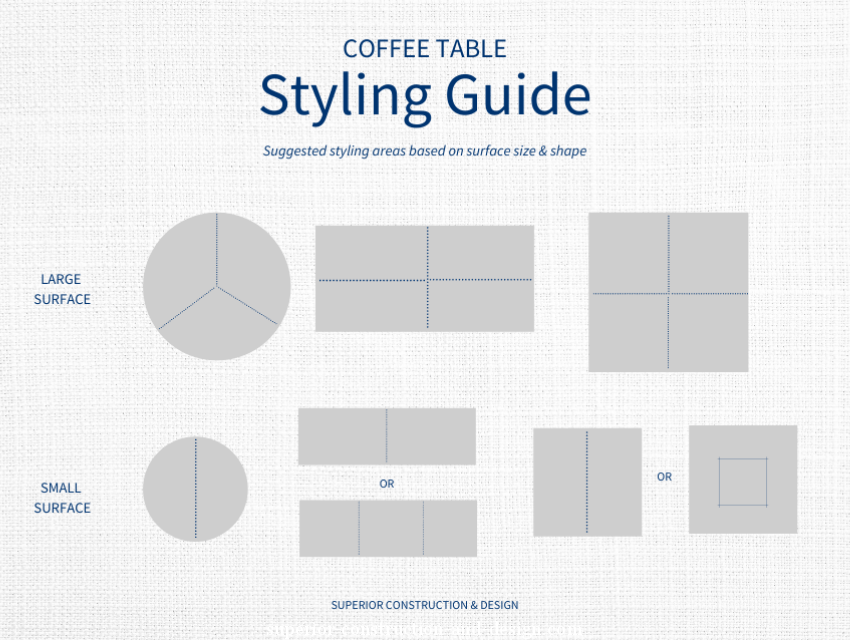 Within each of the available areas, we'll group together a small set of items. Which brings me to Step 2…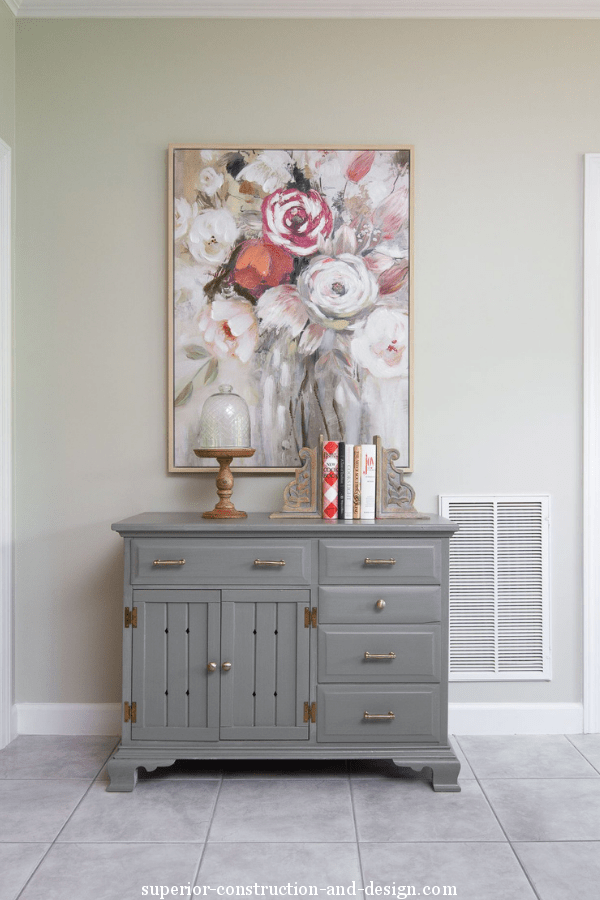 These same steps and tips can apply to styling case goods like this one! Just be sure to give it a beautiful backdrop, such as art or a mirror.
Step 2: Gather Your Items
Now that you have an idea for the space you have to work with, it's time to rally up some items that might make the cut. Such as…
Books! I will always, always, always have books. Large books are great. Books with interesting spines are even better.
Plants
Framed photos
Ginger jars. Y'all know I can't resist a little chinoiserie… or a lot!
Candle holders
Clocks
Wooden beads or a beautiful rock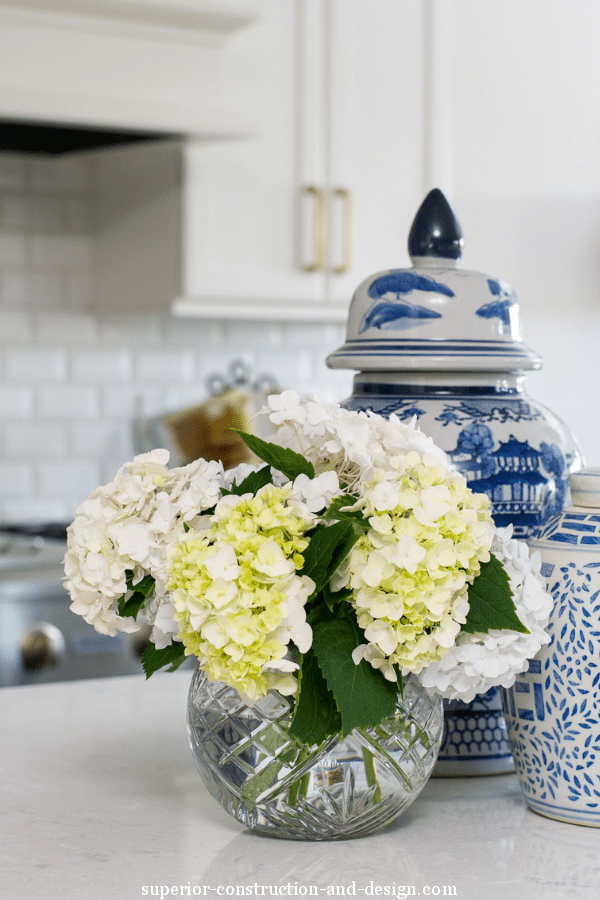 No such thing as too much chinoiserie, if you ask me! 😉
A few more tips on your selections…
Variety is key! Be sure to have items in varying sizes: small, medium, and a few items with height.
Keep the color of your items aligned with the palette of the room. (Accessories are a great place for adding in a pop of your color!)
A play of different textures will give your coffee table styling interest and depth.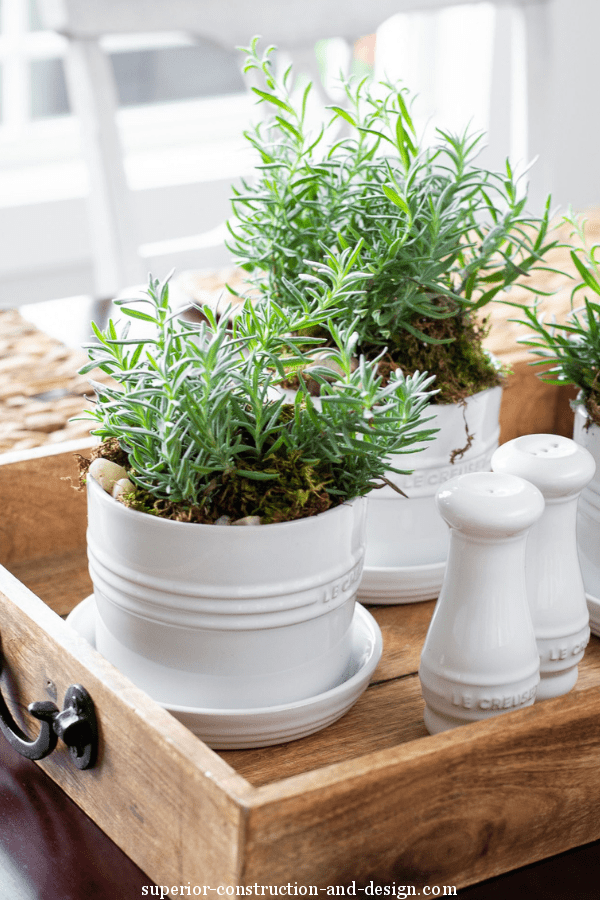 Green herbs, ceramic dishware, and a rustic-style tray with wrought-iron handle are the perfect mix of natural and man-made, smooth and textured.
Step 3: Assemble and Style!
Okay, this is the tricky part. Now that you have your full inventory of items in front of you, we're going to create item groupings for each of your styling areas. These areas usually include 1, 2, or 3 items, depending on the size of your coffee table and what else is going on in the room.
I suggest using a tray for up to ONE of your styling areas, and almost always suggest some greenery in one area, as well. However… remember when I said that we sometimes have to break our own rules? This is the part where guidelines help, but it's also important to use your intuition for what looks "right" or "wrong" to you. Your eyes will know!
Let's look at 3 examples to get your creativity flowing…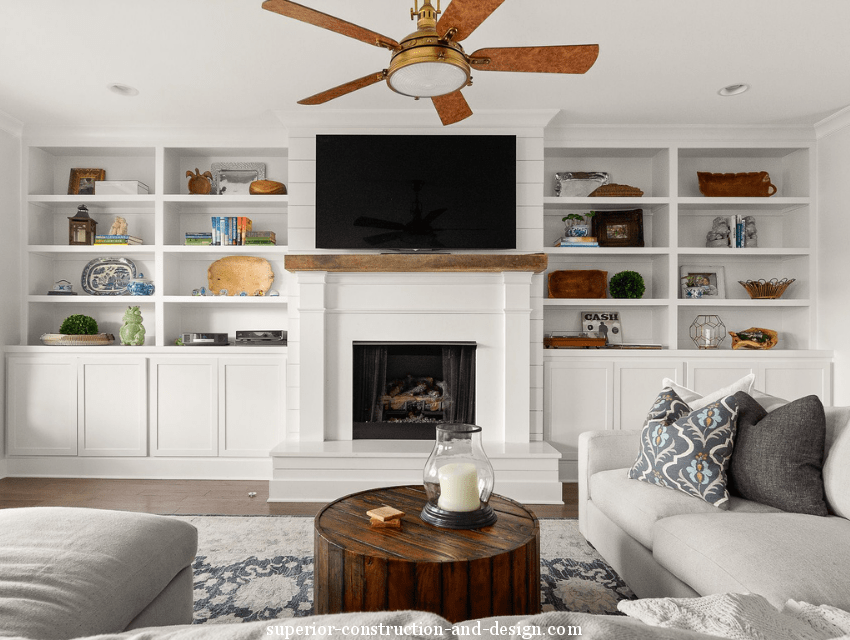 Because this living room (from the Lake House Project) has a fully-styled built-in (let's save that How-To for another post!), it was important to keep the coffee table more open and minimal. I created two styling areas and paired a tall item — the candle and holder — with a short stack of books.
By contrast…
This living room we decorated also includes styled shelves, though not nearly as full as the previous built-in. This gives us more freedom to style the coffee table. In this case, I split the small, rectangular coffee table into halves and styled it with two candles in varying heights alongside a tray, vase, and tulips. It's the perfect mix of height, color, and texture.
And our final example…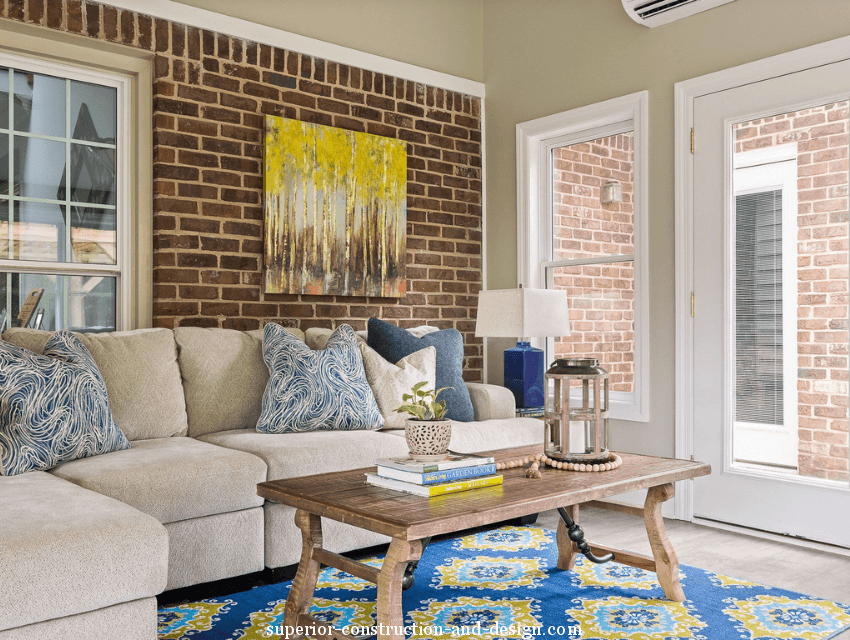 This small, rectangular coffee table sits in this spacious sunroom and isn't competing with any styled shelves… which means it has the freedom to stylistically carry the room!
I created two styling areas and filled it with a few more items: a stack of books and a plant paired with another lantern-style candle and a string of wooden beads. All heights, visual weights, colors, shapes, and sizes are present and accounted for!
Now, the moment is here… it's your turn. 😉
Share your styled coffee table with me!
I would absolutely love to see how your coffee table styling (or other tables) turns out! Leave me a little note below, or share your vignette on Instagram and tag @superiorconstructionanddesign.
And in case you need to expand your accessories collection — or get your hands on a coffee table tray — I've put together a few of my favorite finds for coffee table accessories and decor! Come take a look…
[show_boutique_widget id="1034108″]
Xo,
E
Disclaimer: Some of the products shared in this post may include affiliate links that will earn me a small portion of any sales at no additional cost to you. Thank you in advance for your support!