The Lake House Tour: Kitchen & Entertaining Areas
July 28th, 2020 | by Elizabeth | Posted in Before and Afters, built-ins, color, construction, home & garden, kitchens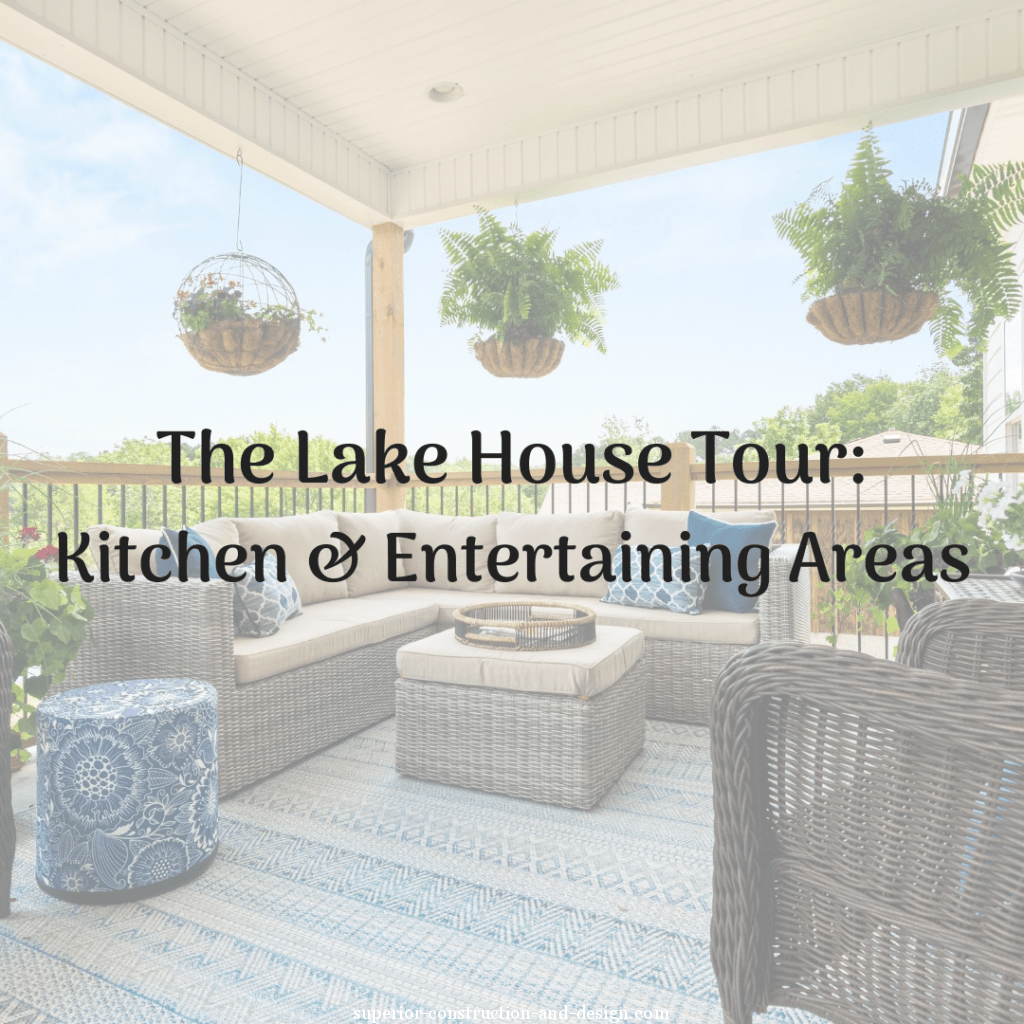 It's here, it's here, it's here!! Y'all, this is one project I have been eagerly waiting to share!
Our clients moved into this stunning new build — a lakeside property on Old Hickory Lake — right before we all had to shelter at home.
I am so grateful that our clients had a finished home to relax and feel safe in (not a mess of construction!), and I'm more excited than ever now that we've been able to photograph it…
…because that means I get to share it with all y'all!
Friends, this home is such a beauty. We got to design it from the studs up, making it exactly how our clients wanted it.
Meet the New Build
Our clients, S & A, are huge lake people. They spend most of their free time on the water, and — as accompanies all good southern homes — several of their closest friends live just around the corner!
It's safe to say this is an extra special place where memories are just waiting to be made.
From the very beginning, S & A worked with us to design a home that would fit their needs and bring them joy every single day.
Here's how…
P.S. There's a video home tour (full of spoilers!) at the end of this post.
Design Goals
Maximize the lake views wherever possible… you could call the lake our "inspiration piece" 😉
Have the main areas of the space open for entertaining
Create an outdoor entertaining space
Design with an aesthetic that brings the outdoors in
Leave room for a possible pool in the future!
BIG Design Challenge
A narrow lot! This lot boasts the best views on the lake but was very narrow in shape. We had to help design a plan that was deeper than it was wide — easier said than done, but I think you'll agree that we succeeded!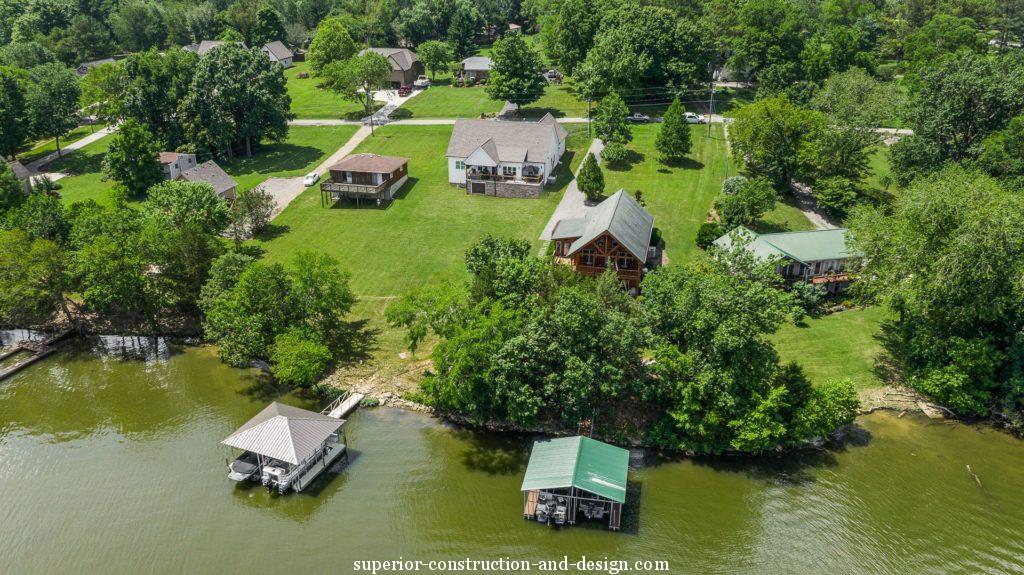 The Lake House Reveal
Since this home was a new build, I don't have any before pictures for you… unless you count construction photos, but let's be honest, y'all are probably familiar enough with those by now. Lol.
So let's head right into the reveal, starting with the view from the curb…
Exterior: A Fresh Take on Farmhouse and Craftsman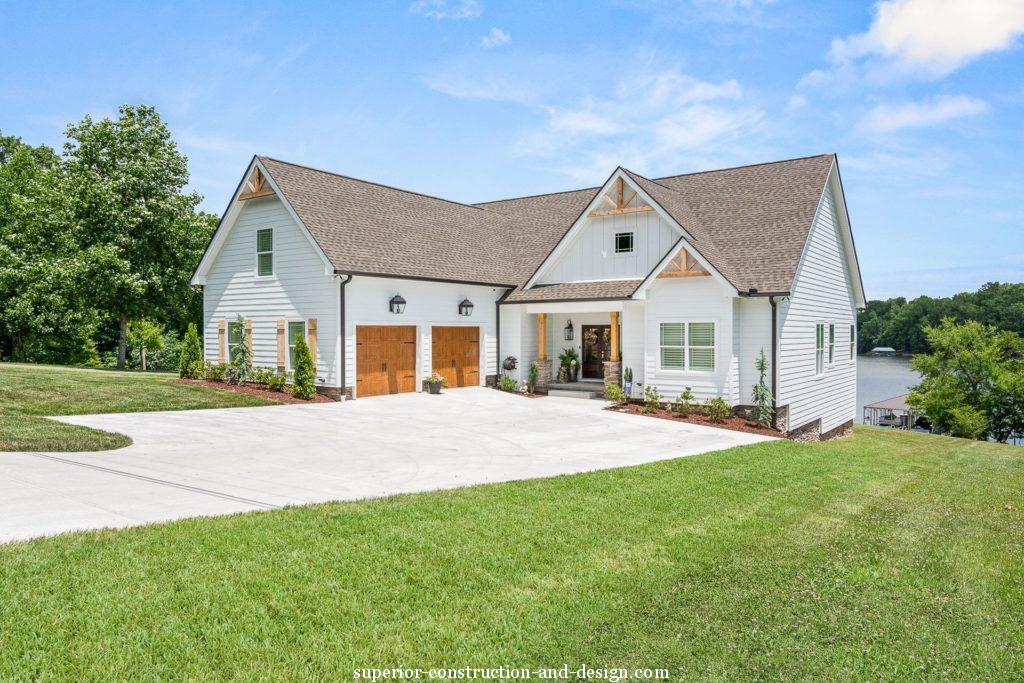 The exterior of this home is a fresh take on farmhouse and craftsman styles, with exposed wood, traditional lanterns, eggshell white siding, and slimming black accents, like the downspouts — whoever said downspouts couldn't be decorative?!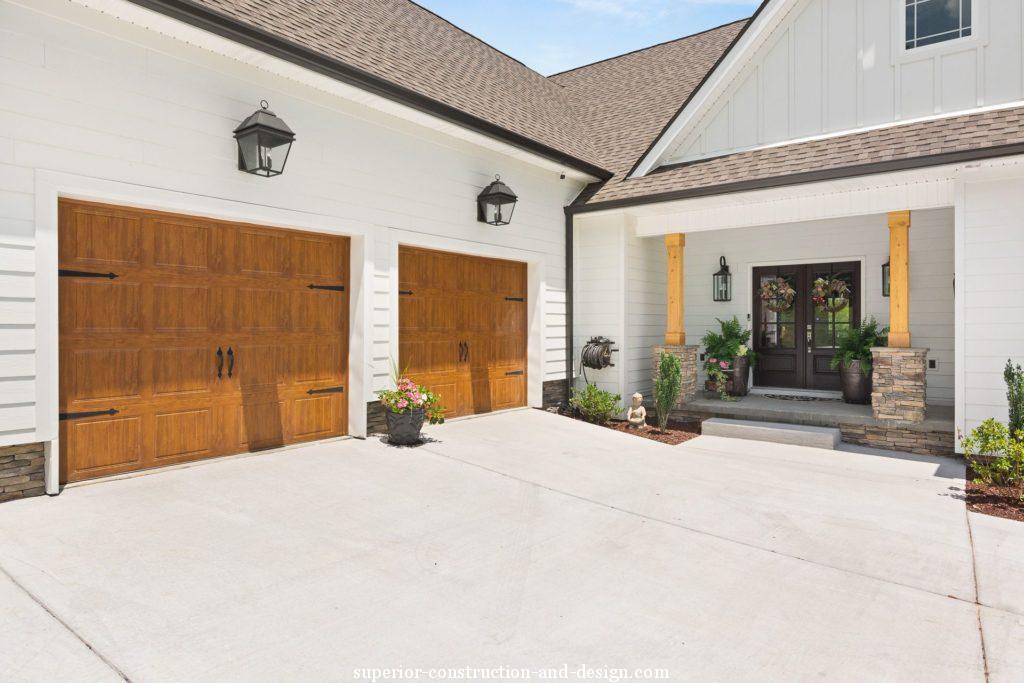 Take a closer look, and you'll also see wrought iron details, stacked stone, and additional millwork on the exterior of the second level. All small details but big in character!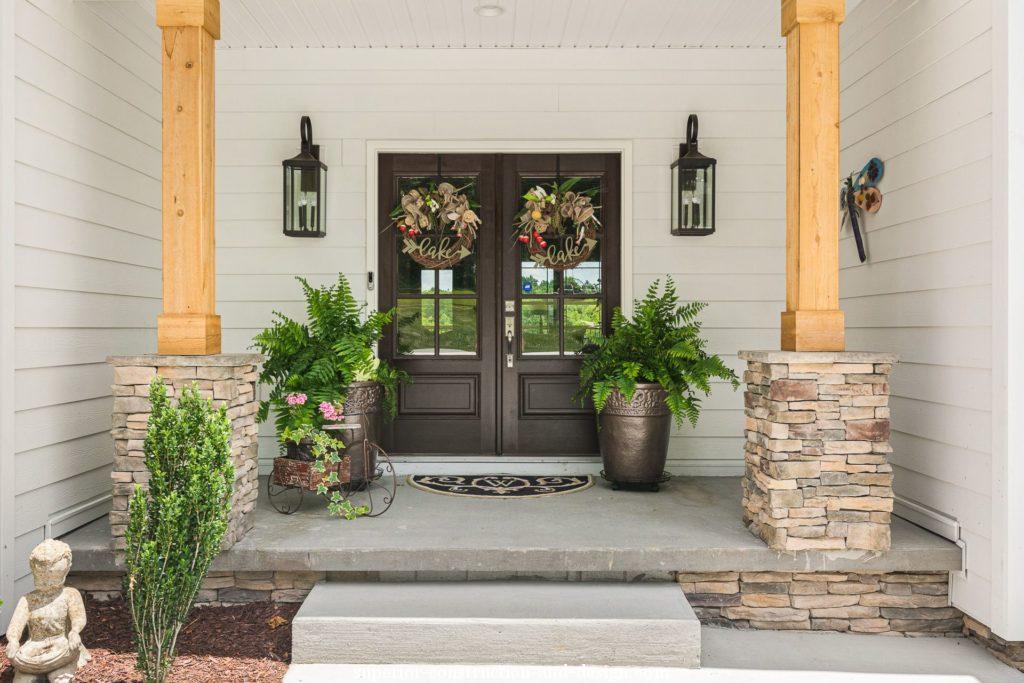 On the front porch, we have dark chocolate brown doors to harmonize the black accents and two more lanterns — these have a sleek, more modern design to help draw the eye up and make the ceiling feel taller. (Design tricks at their finest!)
Let's go inside, shall we??
Entryway & Open Concept Floor Plan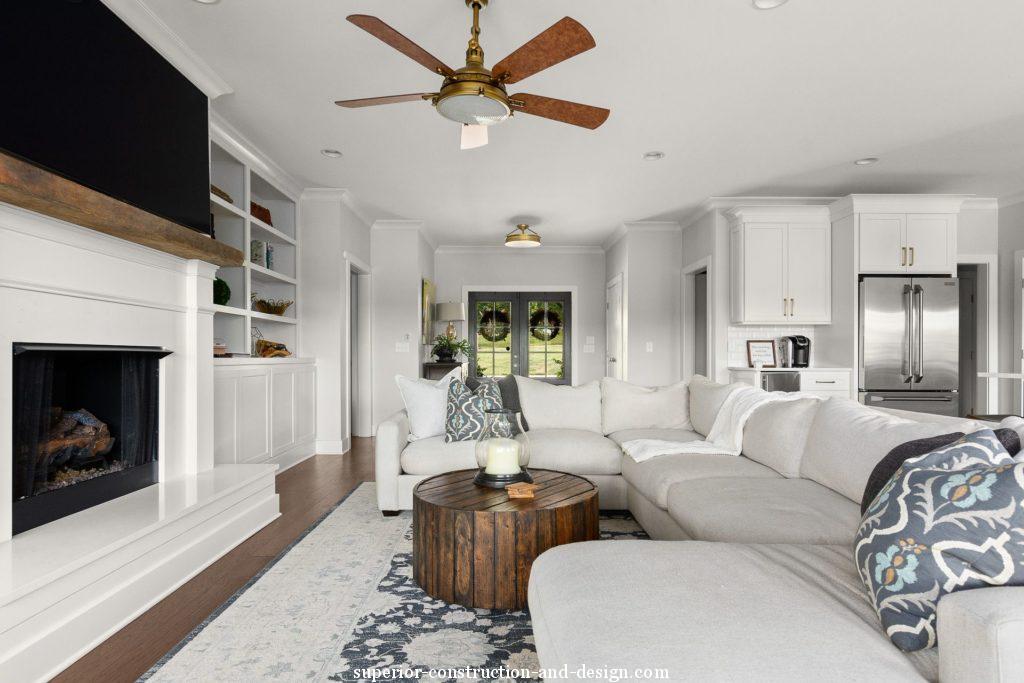 Head through the double door entry and you have this stunning space — an open concept entryway, living room, kitchen, and dining area.
Perfect for entertaining and just like S & A asked for.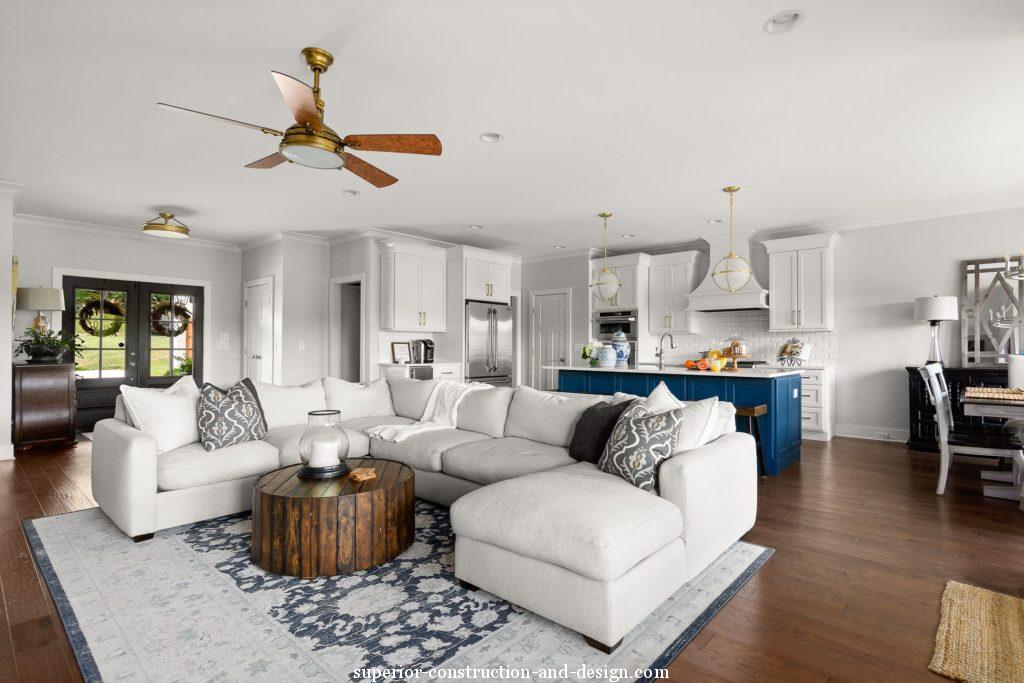 Design-wise, I wanted to give our clients a design that would be classic and not trendy — one that would grow with them and not be decade-defining years from now.
As I mentioned in our previous post about our sunroom remodel, I love to design as much as I can taking the outside into consideration on the inside. 
So, we brought in timeless blues and greens, natural woods, and placed all of these on a relaxing backdrop of fresh white and cream.
Lake House Living Room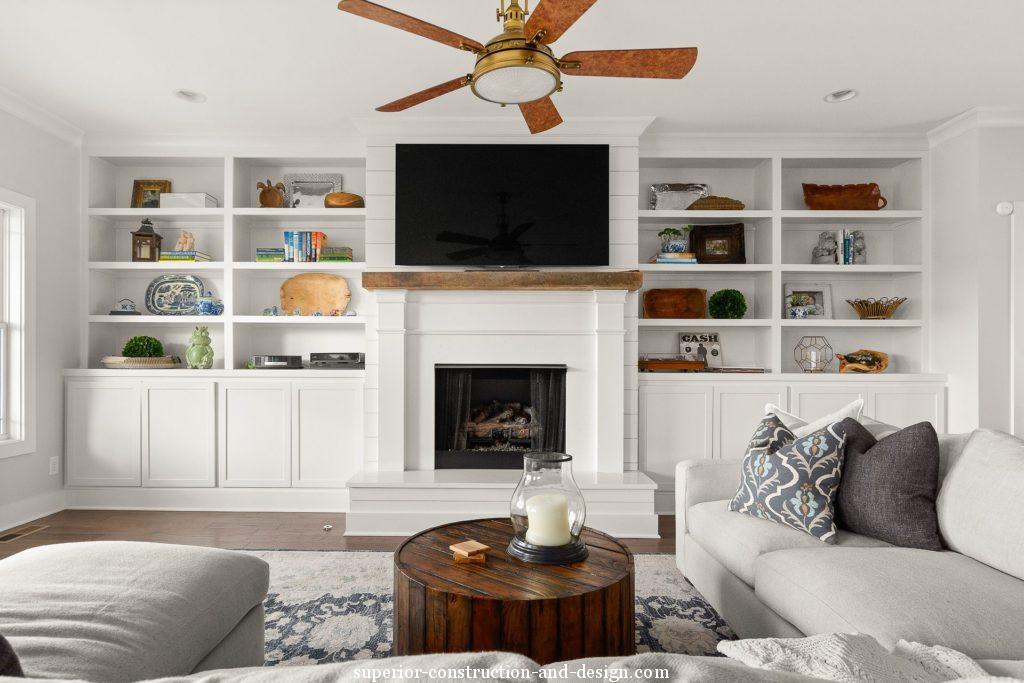 In the living room, we built our design around their light furnishings, such as this cream sofa and vintage-inspired rug, and accented the space using the rich wood tones of the coffee table, ceiling fan, and mantel… plus colorful accessories for the built-in. (You know me!)
Fresh White Kitchen with a Colorful Surprise
We took a similar approach in the kitchen, but mixed things up just a bit so that it would feel like its own room within the open concept space.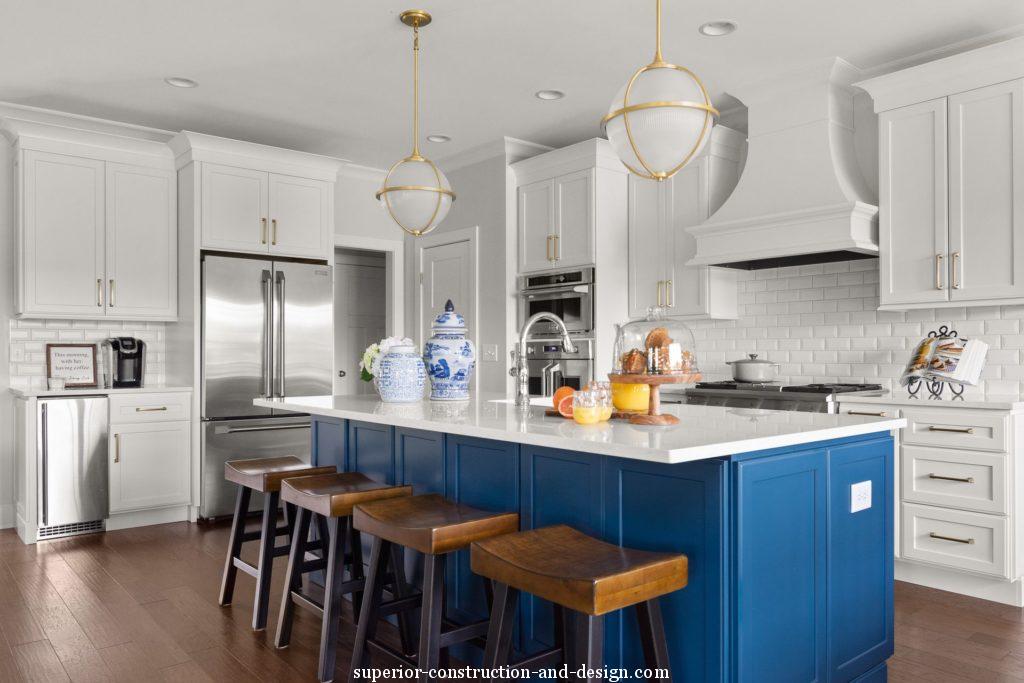 Here, this playful cobalt blue island makes a statement! It adds joy and liveliness to the kitchen, while gold accents (in the hardware and light fixtures) invite warmth and elegance into the space.
It's undeniably classy but doesn't take itself too seriously either — a great approach to life, if you ask me. 😉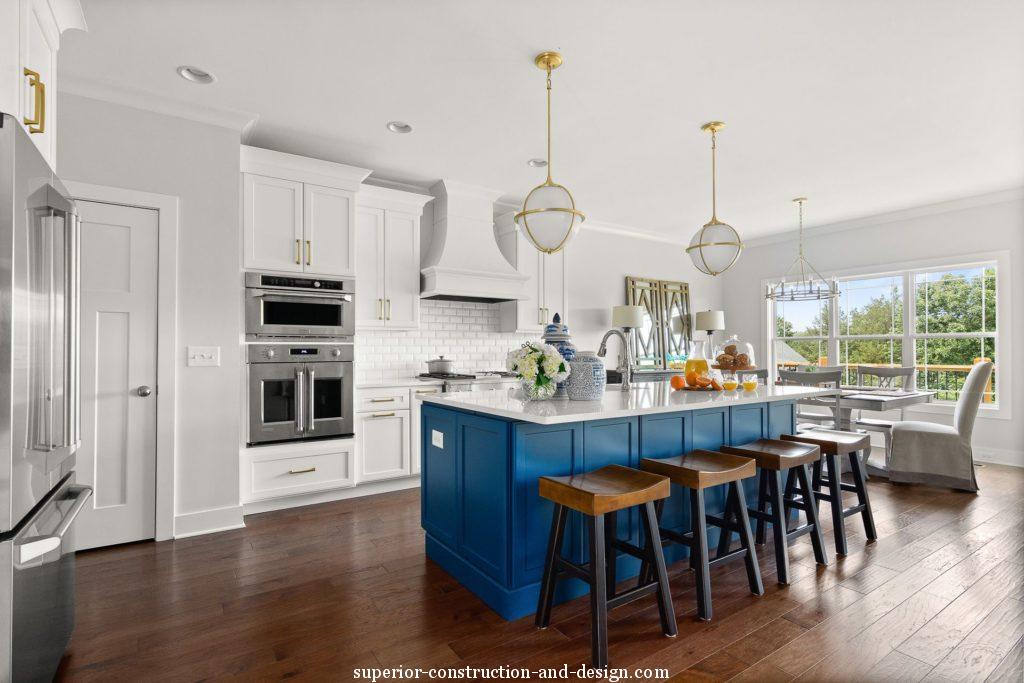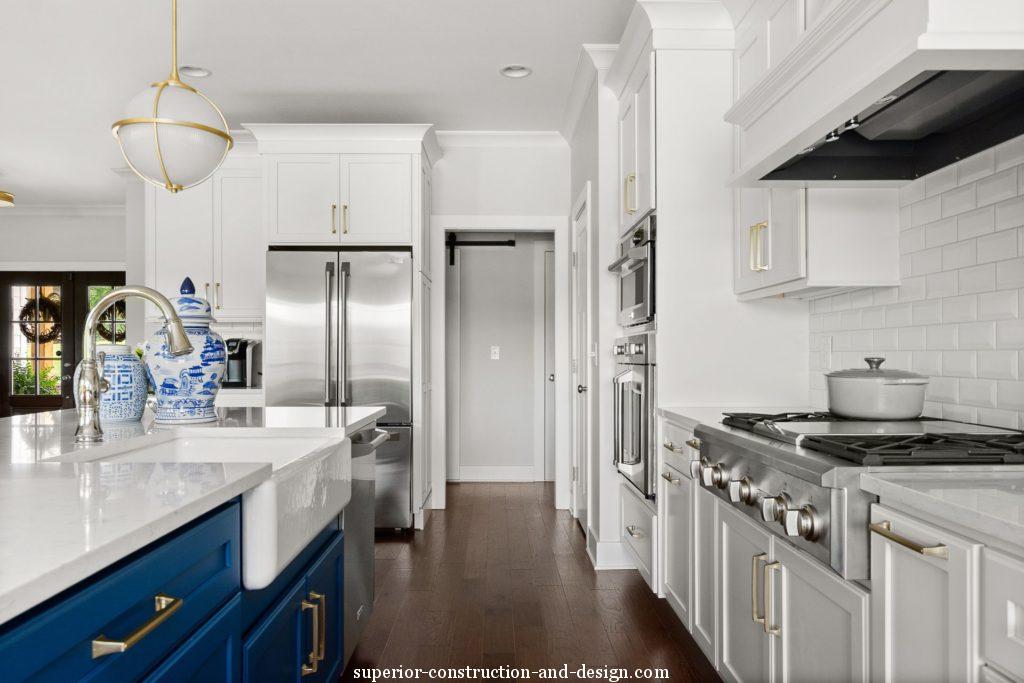 We opted for timeless dimensional subway tile for the back splash and used their wooden stools at the island keep the kitchen looking cohesive with the rest of the home.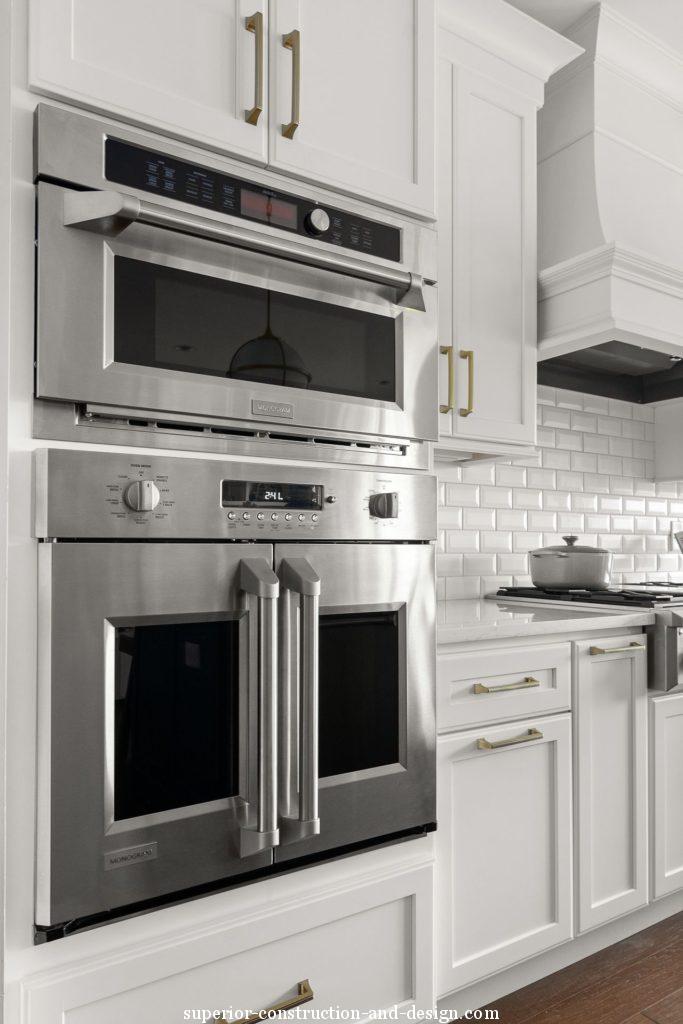 We also installed Monogram appliances (I mentioned these high-end functioning beauties in this post)… and you better believe those Cambria quartz countertops are my most highly recommended material.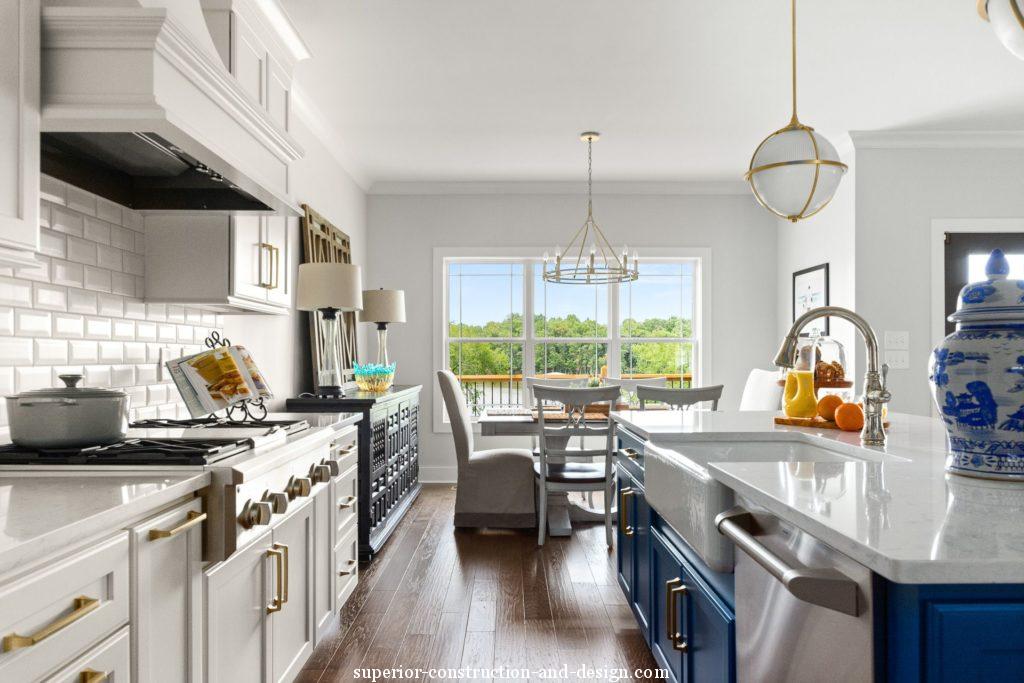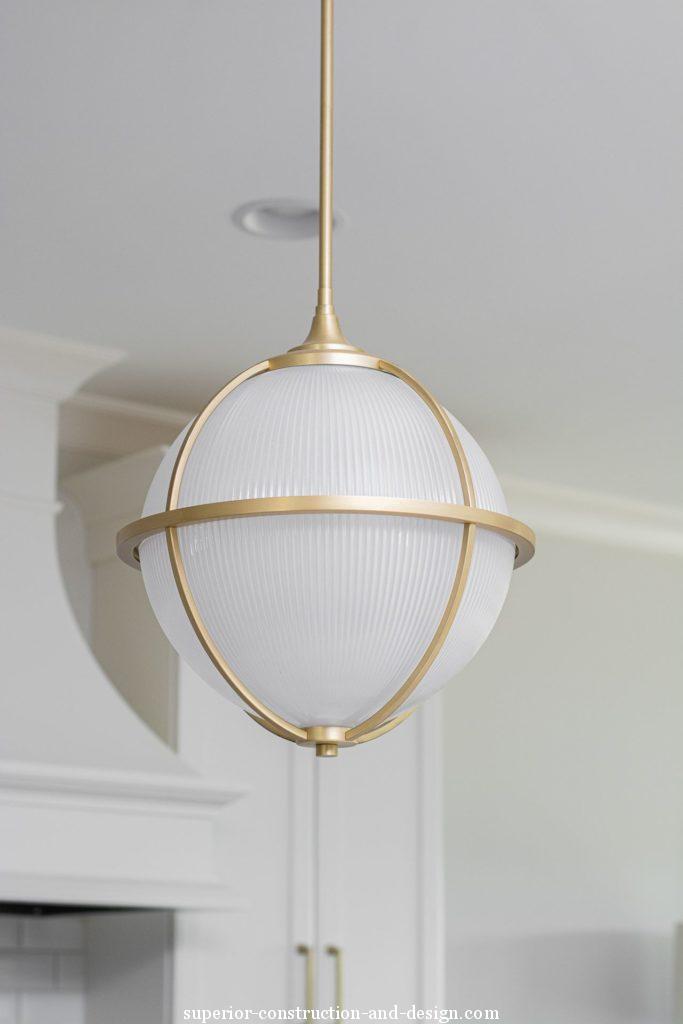 Will y'all take a look at these pendants… Stunning! I've always said lighting is the jewelry of the home — why not make the most of it??
Elegant Dining Area with a View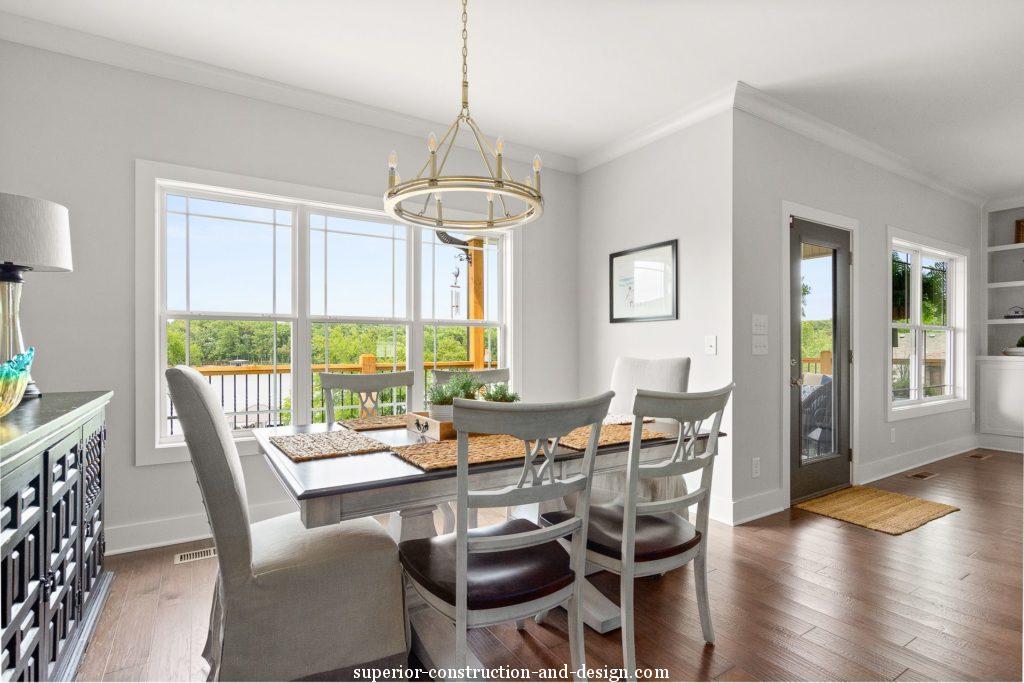 Next, we come to the dining area. Slip-covered chairs at the heads of the table are paired with four open-backed wooden chairs with rich wood seating.
I love the way mixed seating creates interest, and (design tip) open-backed seating makes the dining area feel just a bit more spacious — and you can still see the view from across the room!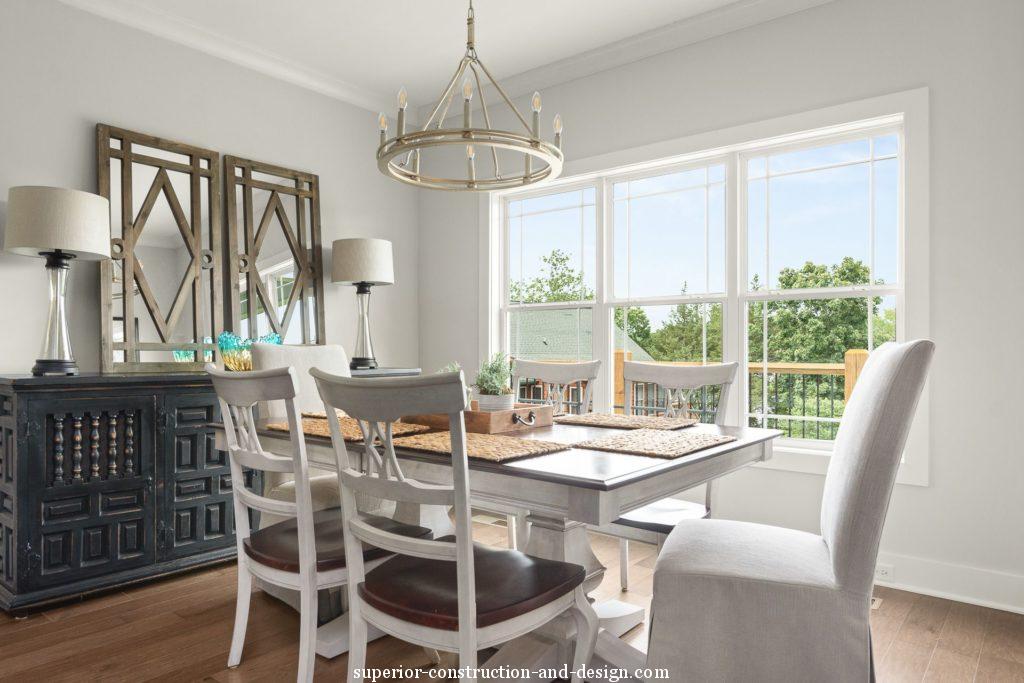 We placed this large cabinet near the table for easy storage and serving, and this brushed brass chandelier adds a sense of grandness to the space. Gosh… isn't it stunning??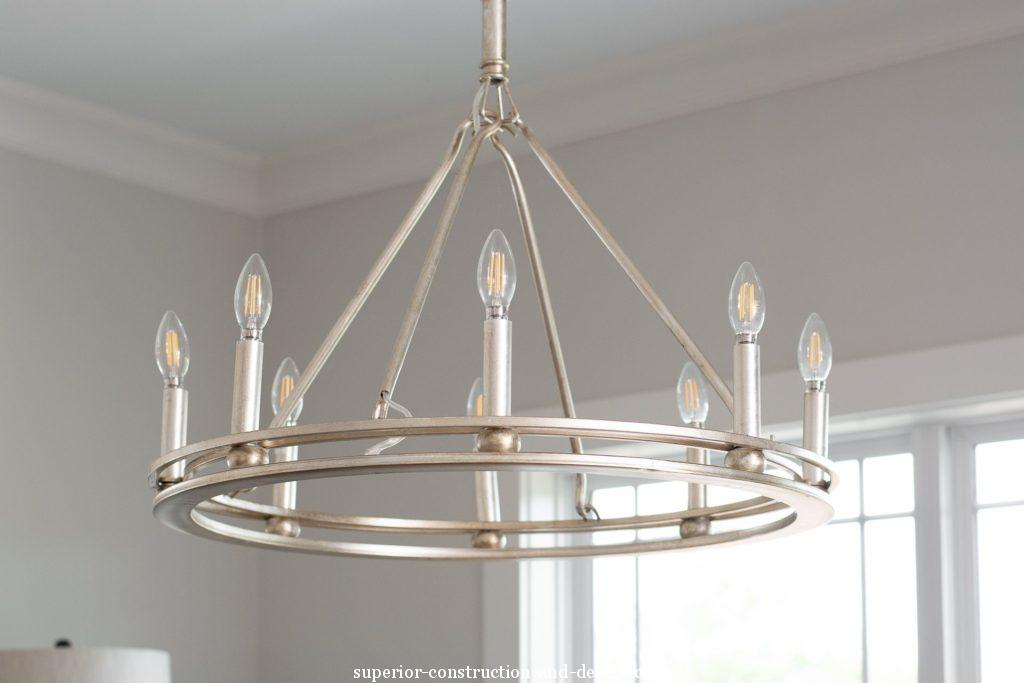 Okay, last on our list for this little tour… through that breathtaking glass paned door and to the suspended porch…
Suspended Porch with a Lake View
Y'all, this porch… is it not the most perfect Tennessee oasis you ever did see?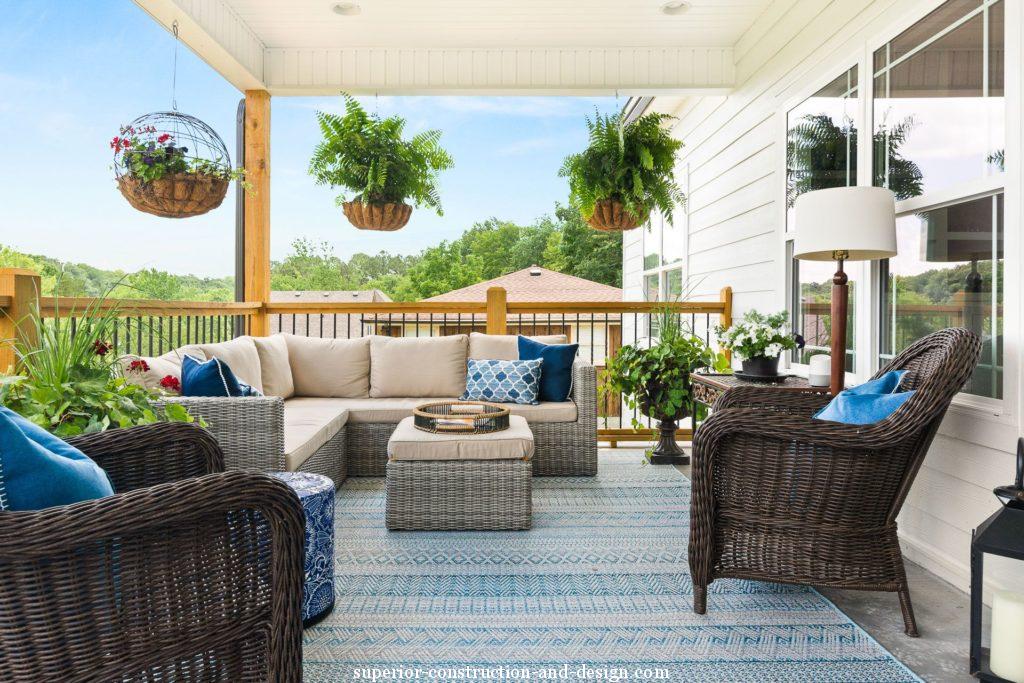 Here, we took even more liberties with merging the indoors and outdoors. Wicker furniture and an outdoor rug set the foundation, we played up the blue tones (pulling from our kitchen island!) and livened up the space with bright green plants. It's a dream!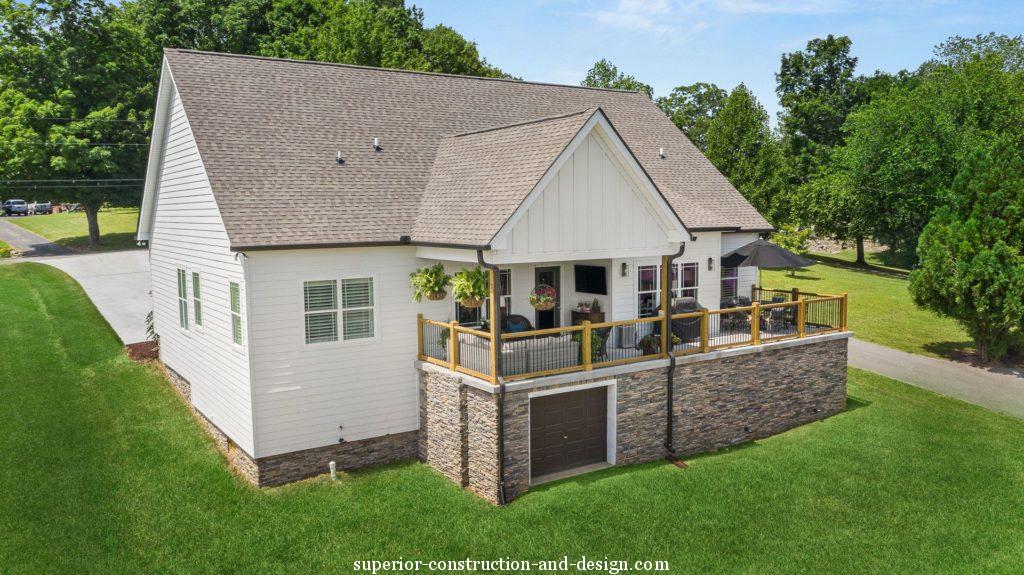 Here's another fun view from afar — you can see the entertaining area on the left side, the grill in the middle, and a dining area on the right.
Ideal for entertaining a crowd, enjoying as a family, or simply watching the sun rise with a cup of coffee.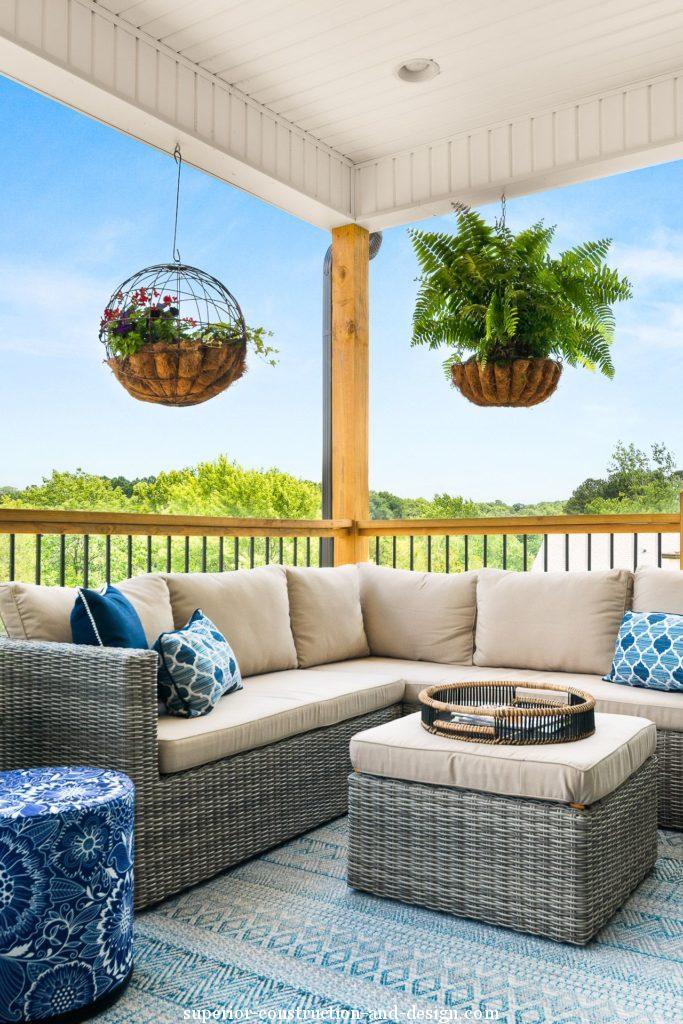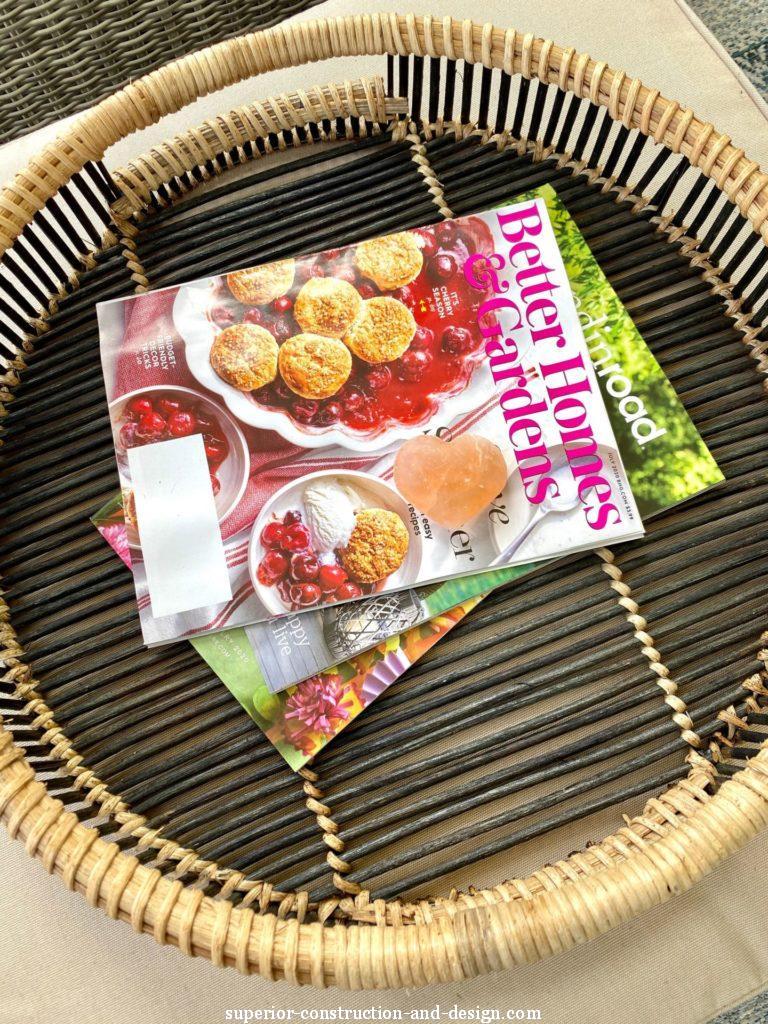 Isn't this outdoor table neat, too? Fun story, in the middle of those mags is an orange heart shaped stone Mrs. W gave to me not long after we met and became friends.
She said she wanted me to have the stone because it had "good energy" and it was in the shape of a heart. That was many years ago!
Well, the day we went to stage the house for photography, I took her client binder, a frame for the house, and gave her back this stone.
I wanted it to come "home" and bring all it's good energy to her and Mr. W and their life together.
The next day when we went back to shoot the house, she had placed it outside displayed on the porch coffee table tray!
She and her hubby spend most of their time there, so I knew she had placed it there to keep it close to her.
So sweet. And I think it's a beautiful symbol of how things always come full circle. ♥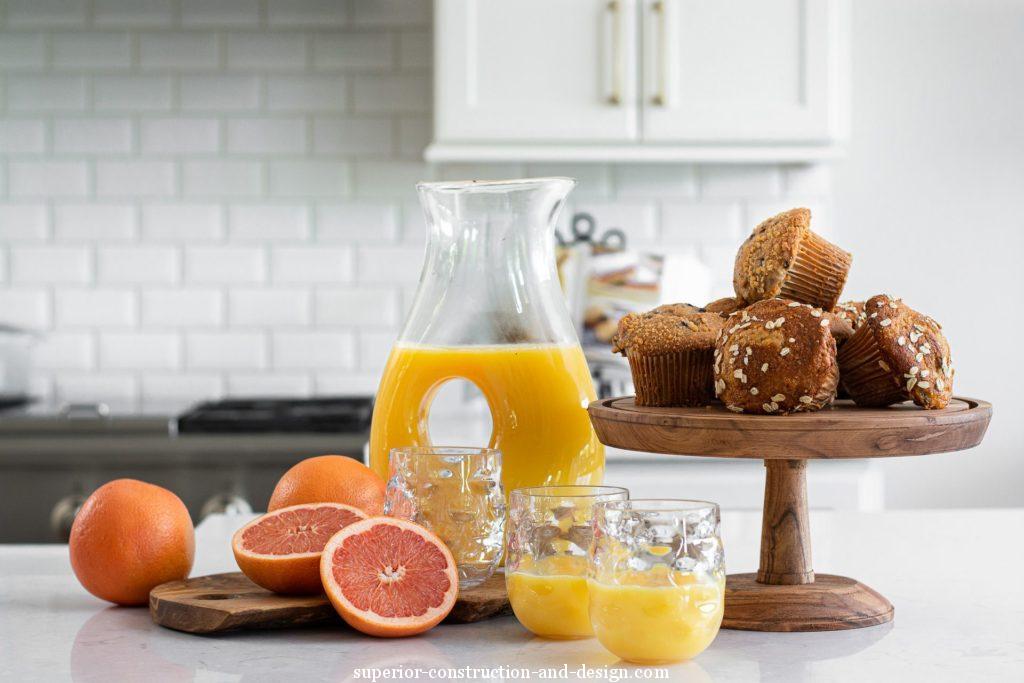 That about wraps it up, so take a big gulp of fresh OJ, because if you made it this far, you earned it!
I confess… I still have quite a few spaces to show you, but let's not turn this blog post into a novel, am I right?
SAVE FOR LATER BY PINNING THE BELOW IMAGE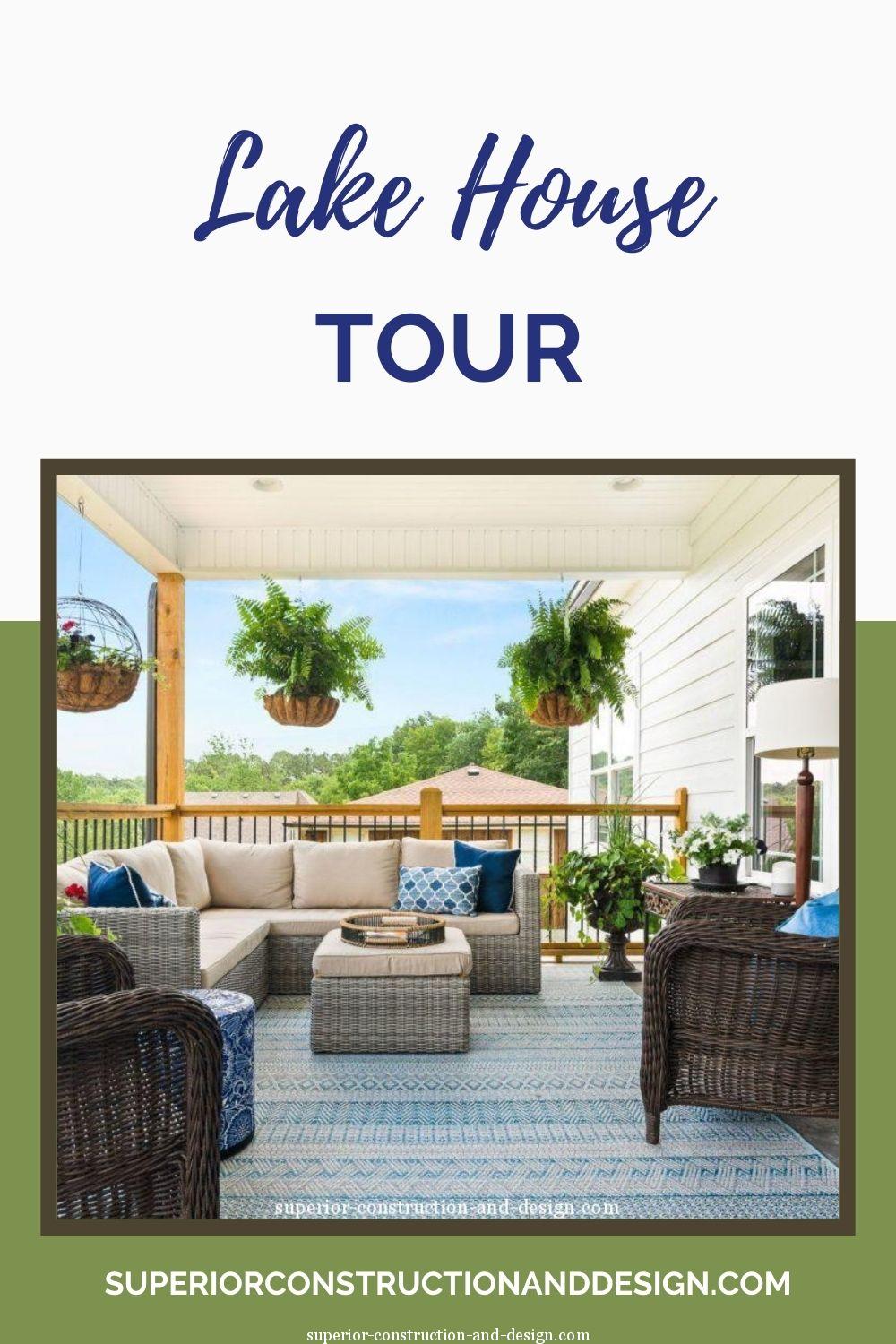 In my next post, I'll be showing you the master suite, two bedrooms and bathrooms, and a laundry room/ mudroom/ office. I promise they're all well worth the wait!
Until next time, what was your favorite part of this project? Is there anything you'd love to see incorporated into your own space? Other than the lake view, of course. 😉
See y'all soon,
E
P.s. Looking for more inspiration? See our roundup of 15 Home Transformations that will Inspire You!
VIDEO TOUR OF THE LAKE HOUSE ON OLD HICKORY LANE