Before & After: A Kitchen Remodel with Unexpected Twists
September 7th, 2020 | by Elizabeth | Posted in Before and Afters, construction, kitchens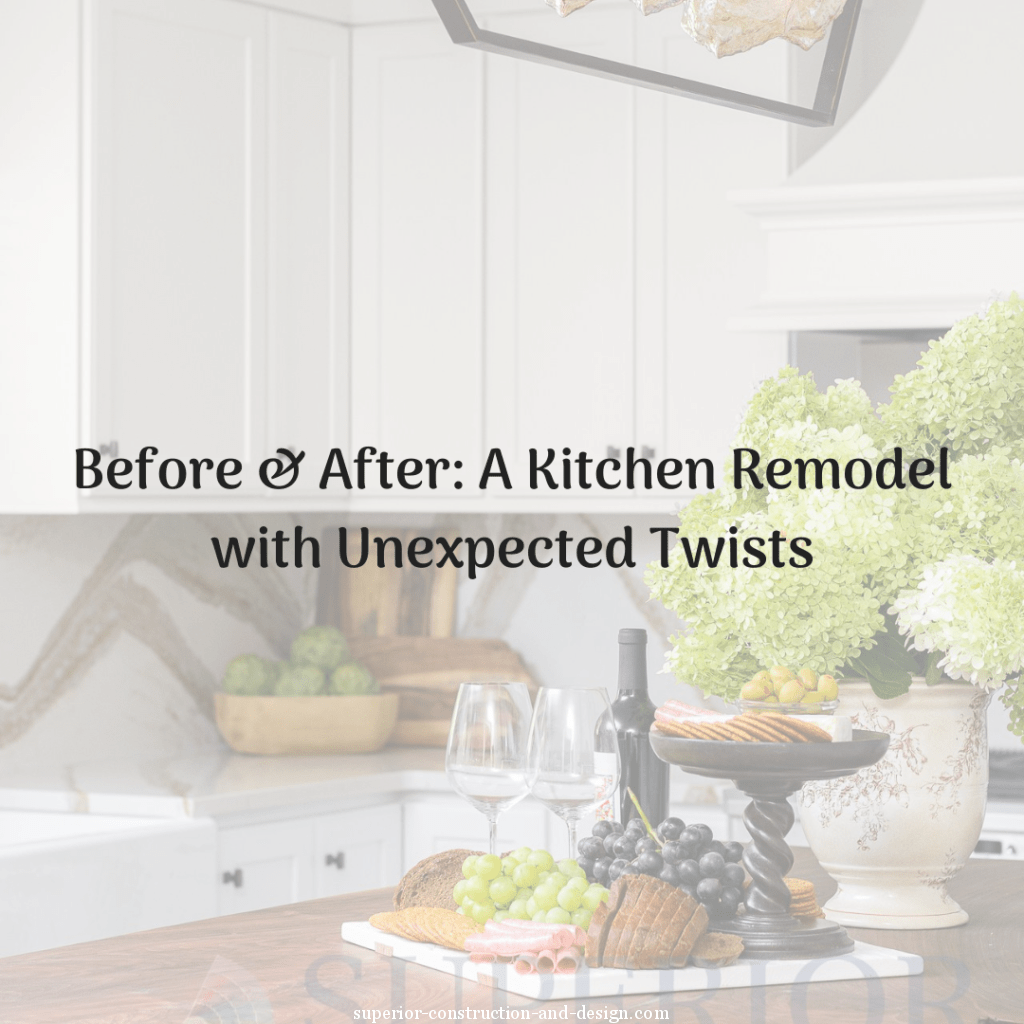 Today's Before & After story starts with Basset Hall Gold and popcorn ceilings… and ends with stunning Cambria quartz, a live-edge walnut island top, and lighting that I bet you've never seen before!
But I'm getting ahead of myself, aren't I? Let's start this story at the beginning…
Meet Our Clients
Actually, you've already met these clients! Remember the blog post I shared a couple months back with these 3 heartwarming stories? Well, the clients for this kitchen are Mr. and Mrs. R, the same lovely couple from story #1.
To remind you, they were the ones who put this heartfelt message in a special wine bottle from 1990, as a celebration of their 30 years together and a message of hope to future generations! It's still sitting between the walls as we speak…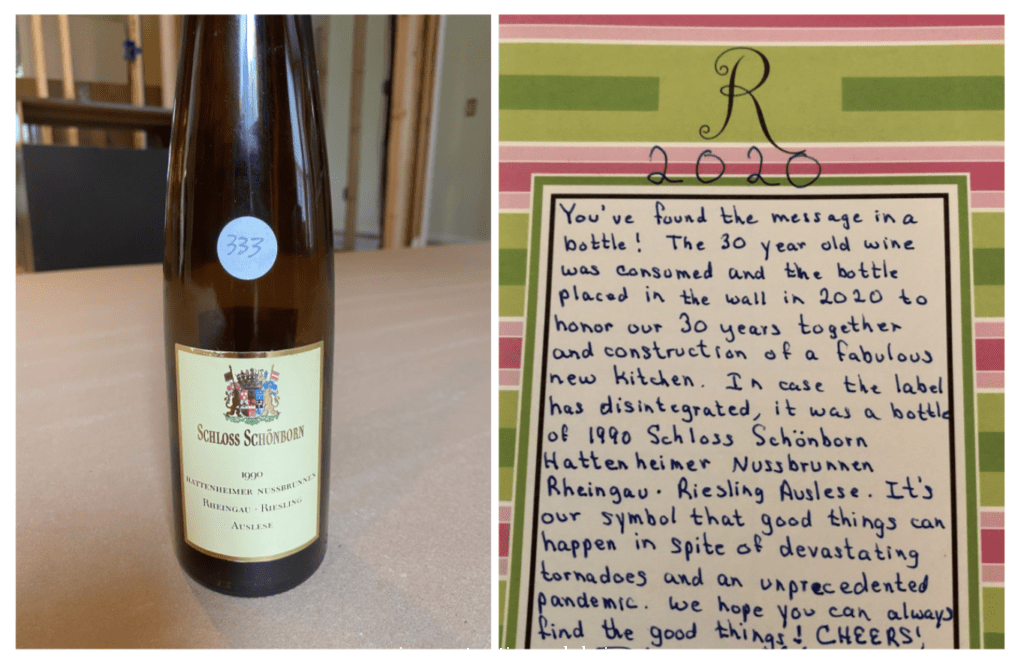 These two are an amazing couple whom we have grown to love and cherish, personally and professionally. They are philanthropists as well as avid travelers (until COVID, of course) and everything in their home has a story to tell. Every single piece of art they can point to and tell a story about. And over the course of the year, we were privileged to hear many of them.
You might also remember Benjamin Buttons, Mr. & Mrs. R's precious fur-baby. His health was declining when we met, and every single person on the job site fell in love with him. Sadly, he didn't get to see the project completely finished, but almost. I like to think of him as our little reno angel, who watched over things to make sure we took care of his mama's kitchen. When he knew all was well, then he could rest.
We love you, sweet Ben.
Mr. & Mrs. R are also both super busy – Mr. R is an attorney (now working from home) and Mrs. R is recently retired. When they called us in they needed guidance with the overall design concept and they wanted us to oversee the project management of the renovation.
They originally asked us to design a plan for the kitchen and master bathroom, but when they realized how much this would affect how they live, we all ultimately decided one renovation at a time would be best.
So, first up… the kitchen.
Before: A Kitchen with Bassett Hall Gold & a Popcorn Ceiling
Aesthetics of their kitchen aside, Mr & Mrs. R are huge foodies, wine buffs, and entertainers. They love hosting gatherings and craved more space in the kitchen for prep and just for hanging out. Here was our starting point…
To give Mr. & Mrs. R the additional roominess they craved (and an island to gather around!), we knew that space would have to come from somewhere. We decided to take 3 feet out of the dining room to accomplish this, and while they were initially concerned about losing space in the dining room, they soon realized they still had plenty of room in there.
Also, they actually use their dining room!! Most people don't these days- I thought I was the only person left in the world that did!
Renovation Challenges
What's a renovation without its challenges, right?! One of the main challenges on this project was removing part of the load bearing wall. I had our engineer come out and he confirmed that we could remove part of it, but it would require a steel beam to be installed.
In case you're ever thinking of moving walls, here's what that entailed…
Admittedly, that held us up a couple of weeks as we had the beam designed and installed, but the end result was SO worth the wait. Come take a look…
After: Bright, Spacious & Full of Character!
Ta-da!!! So much better, right?? And look at all those beautiful details! Let's zoom in…
The first things you probably noticed are the wood island top and the Cambria quartz counters and backsplash. I love the warm tones of both and they really stand out against the white cabinets and hood!
We took the cabinets all the way up to the ceiling to help make the room feel taller and brighter. (If you look at the before photo, there was a lighting soffit painted in gold above the cabinets making the spaced feel squashed. Those were the first thing to come out! )We also said goodbye to the popcorn finish and smoothed out that ceiling.
Have I ever mentioned that I love Cambria quartz? (It's the same countertop stone in my own home!) Also, who doesn't love a deep apron sink? Zooming back out…
Here's a look at how much more space this kitchen has now — the extra 3 feet on the right side is definitely noticeable. It gave us room for this custom island with live-edge walnut top and several appliances (and another small counter!) on that wall. Gorgeous and so functional!
As requested, Mr. & Mrs. R got their island seating, and who wouldn't want to pull up a seat to this beautiful scene? And above…
This DROP-DEAD STUNNING light fixture! Seriously, have y'all seen one like this? I have never put a fixture like this in a home before, but when Lenneke showed me what she had sourced for the island, I knew it would be perfect for this space! So unique, organic, elegant, and with the perfect touch of black to balance the space. I think I'm in love, y'all. 😉
Not to be missed… we chose GE Cafe Appliances with copper handles to not only set this kitchen apart but to keep the feeling of warmth alive! (P.s. GE is one of my suppliers — more on how to select kitchen appliances here.)
And last but not least, we knew that Mr. R liked to work downstairs in the window area of the kitchen sometimes, and although this was originally the "eating area" of the kitchen, they really didn't want a kitchen table. So…
We sourced a bar height table for working and built in some beautiful bookshelves along the side wall…
It's such a cheerful and inspiring space now!
Because I can't resist, let's look at the Before and After photos one more time…
Before
After
Quite a transformation, right? Our clients think so, too!
Alright, that's it for today, y'all! I hope you loved this kitchen renovation as much as I do, and I would love to hear your favorite feature… the Cambria quartz? The live-edge wood top? The unexpectedly gorgeous lighting? Let's hear it!
Much love,
E
P.s. Looking for more inspiration? See our roundup of 15 Home Transformations that will Inspire You!