Before & After: Fresh Palette, Elegant Look, and TWO Nooks
October 22nd, 2018 | by Elizabeth | Posted in Before and Afters, design

i'm back from High Point Market in North Carolina and finallyyyy getting caught up on the many projects we've got going on over here…

…one of which is sharing this Mt. Juliet Before & After I promised you in my last post!

If you remember, all of the fixed lighting (not lamps) that you'll see in these photos were generously donated by Hudson Valley Lighting… but the selections and creative freedom were all ours!

I want to thank Hudson Valley Lighting again for helping us thrill our clients with these selections. (You put up a great showing at High Point Market too!)

Alright, let's see the transformation!
master bedroom makeover
---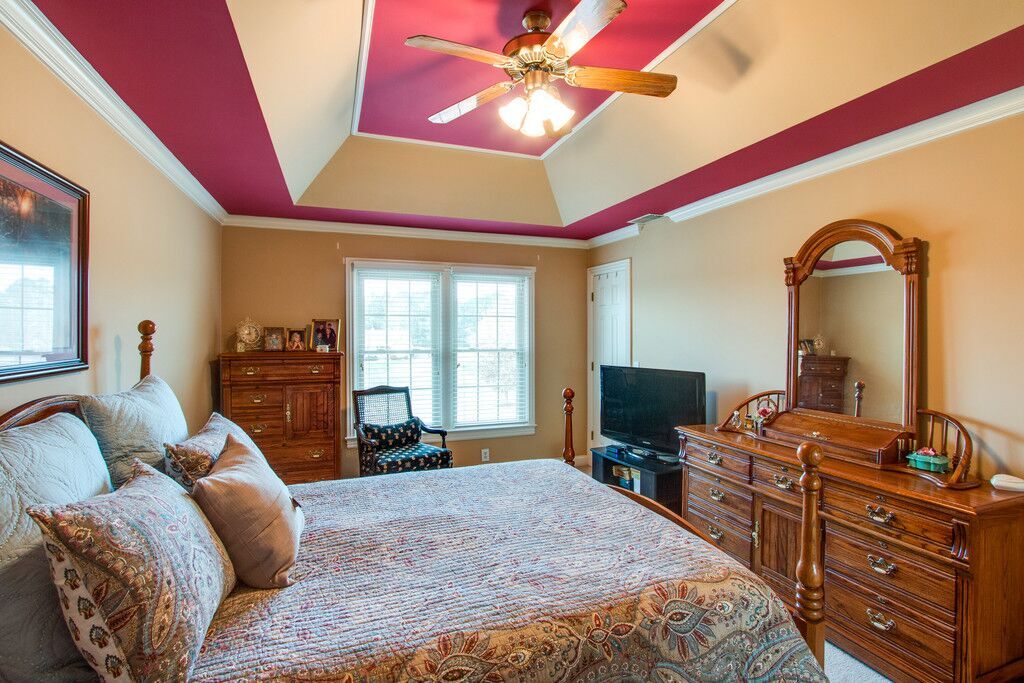 Before
Our clients wanted to update their master bedroom with some modern touches, a relaxing palette, and a designated lounging space…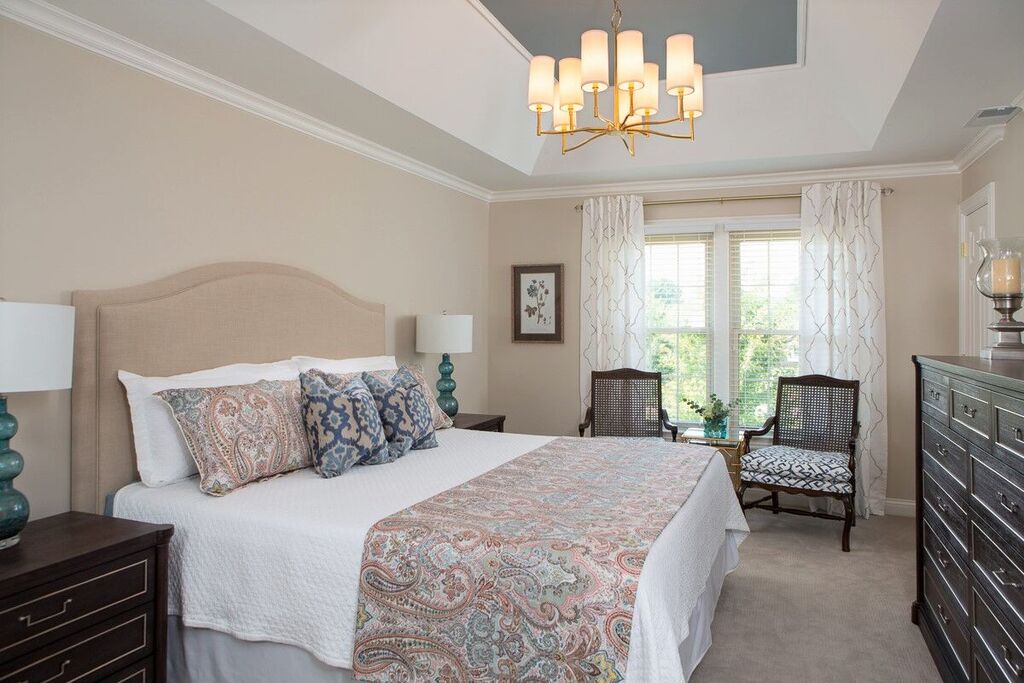 After (Dillon Chandelier in Aged Brass, Hudson Valley Lighting)
Ta-da! Okay, I know you've already seen this space, but let's soak up the full design for a moment.
New dark furniture offsets the light palette and flowy curtains. Paisley print adds texture and interest to our focal point: the bed. This sleek upholstered headboard is a dream. Plus, the two-toned ceiling visually raises the height of the room. (I never say no to more space!)
The window-side table and chairs also create the perfect nook for enjoying the morning paper and a cup o' joe. 🙂
master bathroom gets refreshingly stylish
---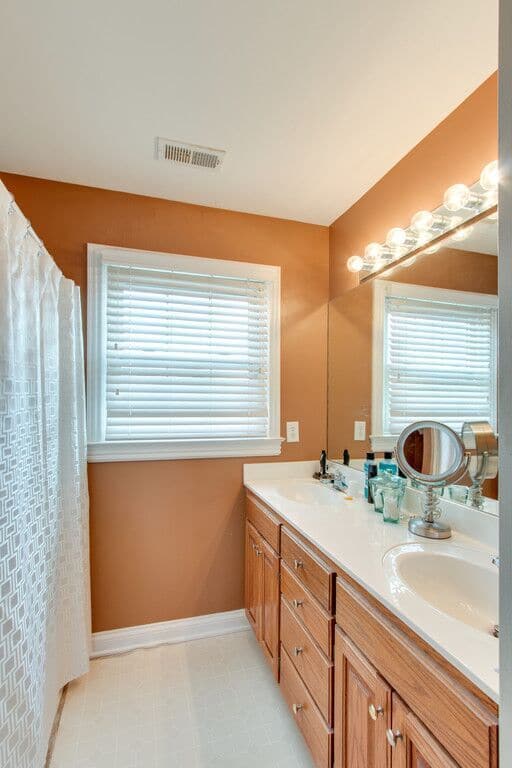 Before
The master bathroom wasn't too worse for the wear, but our clients had grown tired of the wall color and harsh yellow vanity lighting.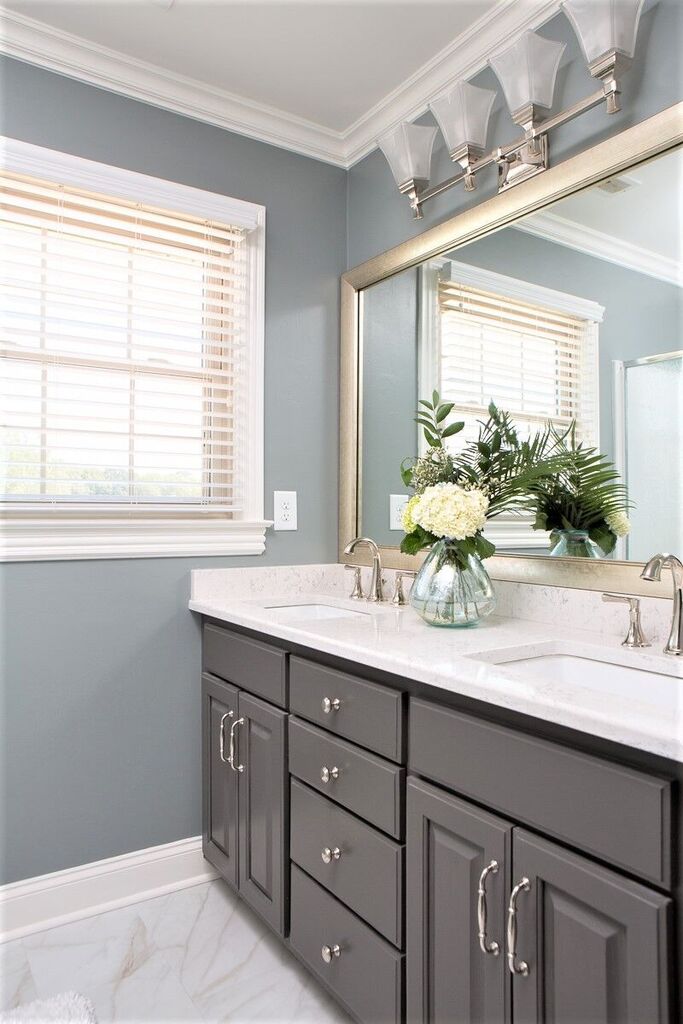 After
Updated! The bathroom's palette now matches the master bedroom with cool refreshing tones and dark furniture. The vanity lighting is elegant but innovative. Meanwhile, the brushed silver of the mirror frame adds some good ol' fashioned drama!
P.s. Won't you take a look at that gorgeous floor?
spare bedroom is calm but lively
---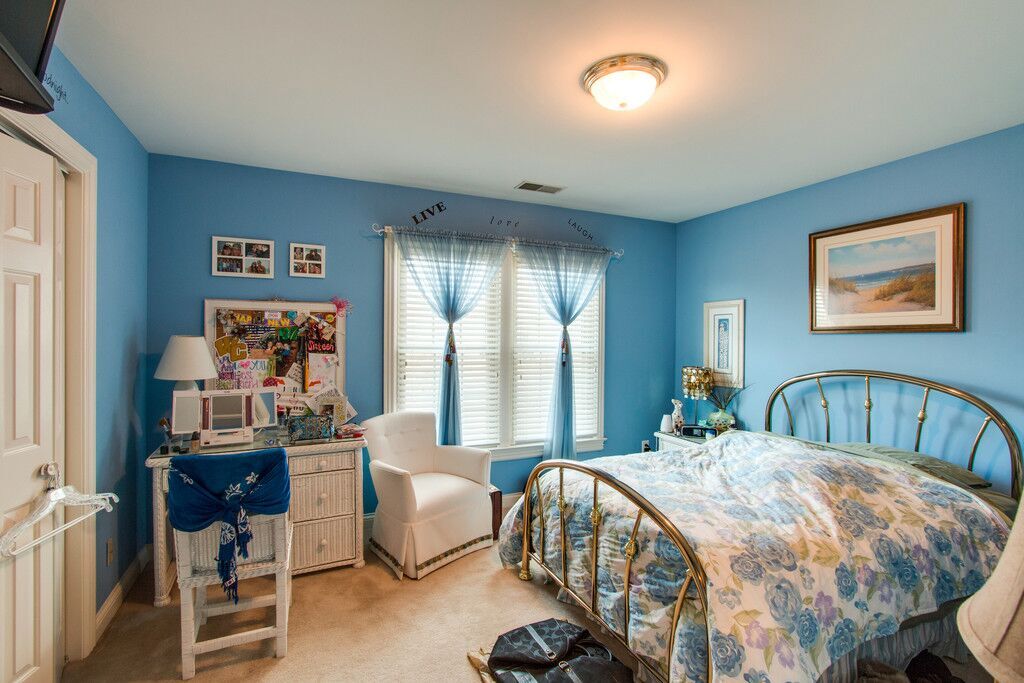 Before
This bedroom was occupied by the couple's daughter before she left the nest. Now that she's out on her own, they wanted to freshen up the space, keep it cohesive with the rest of the house, but still keep some of the blue touches she loved.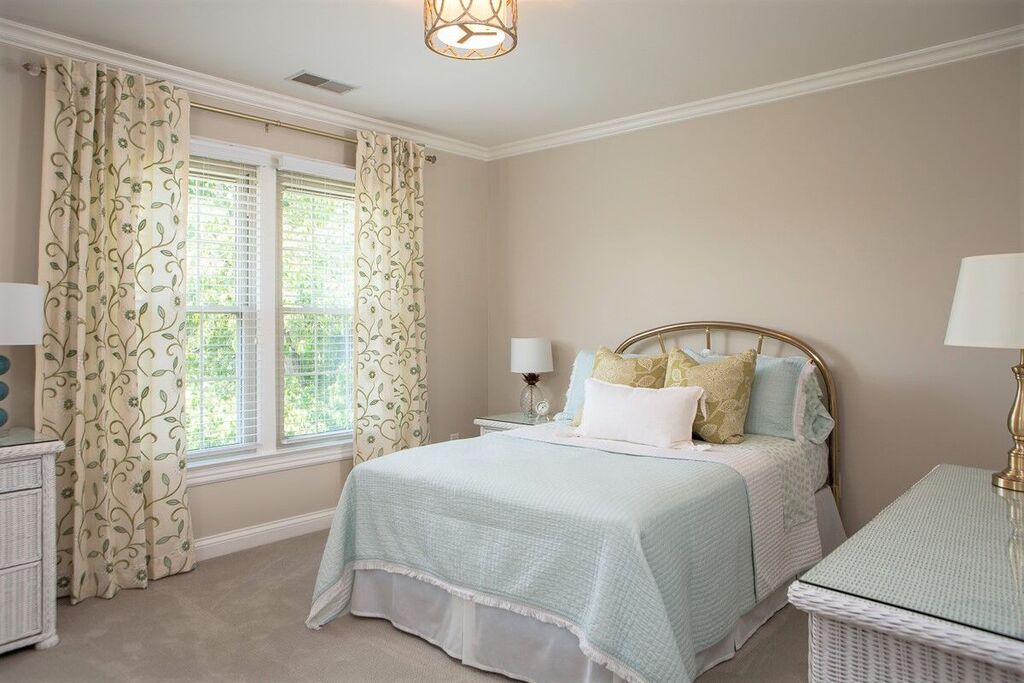 After
Dreamy. 🙂
The curtains are light, colorful, and playful, and I just love how the white trim beautifies those natural cream walls! We added more touches of gold to this room to play up the warmth in the cream. The flush mount sconce is the perfect pop of glam.
living room gets new character with a built-in
---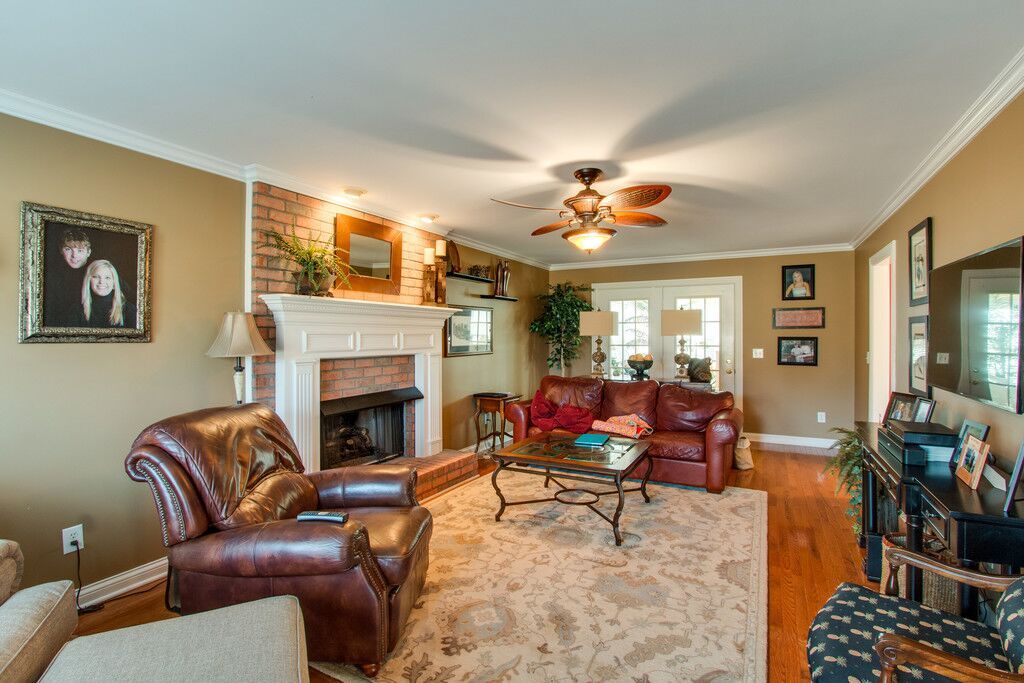 Before
Our clients wanted to bring more light into their living room and update the space in general.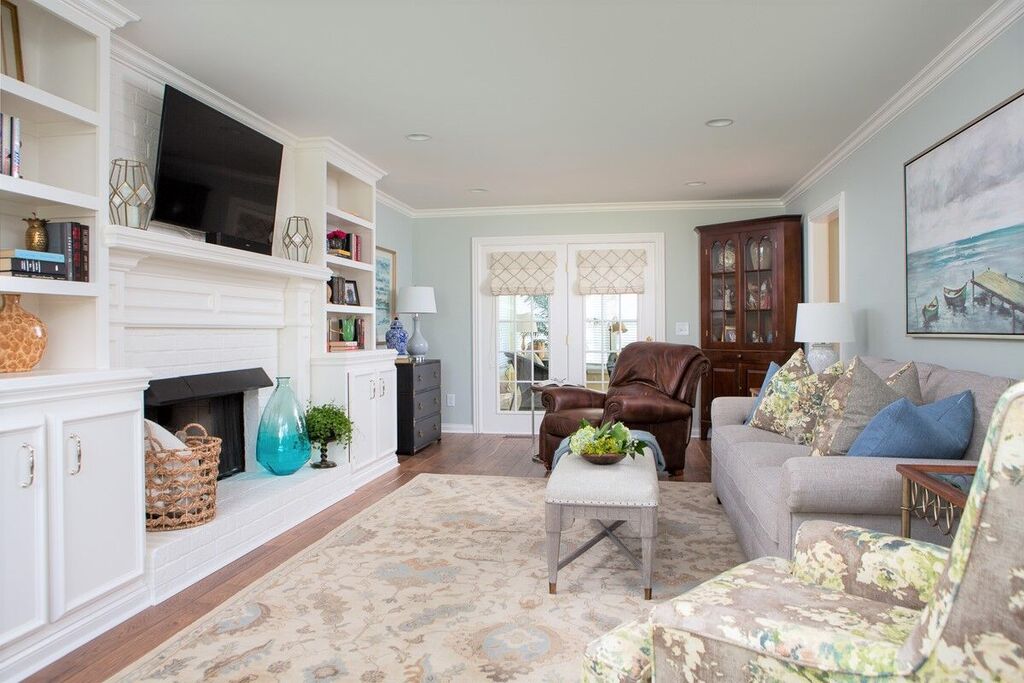 After
We kept the area rug and took some of the colors from it to inspire the rest of our palette. Isn't it amazing how the furniture, walls, and flooring around the rug completely change how it looks in the Before and After photos?
We also decided to paint the fireplace surround completely white and used some beautiful millwork to create this custom built-in. (We love millwork!)
Here's another view: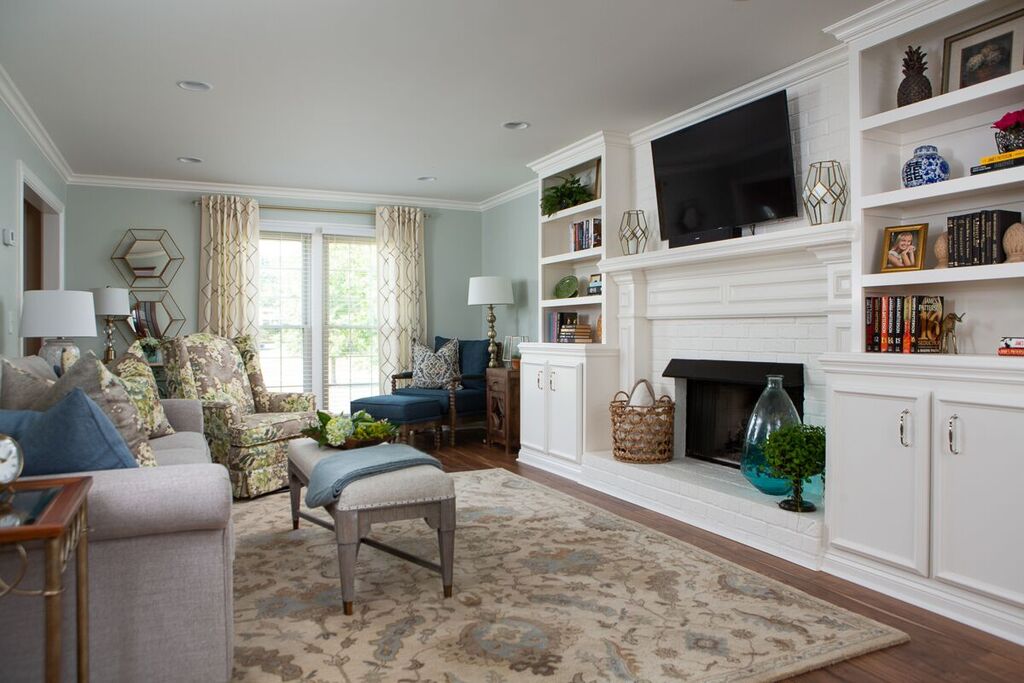 After
The space is fresh, lively, and ready to be enjoyed!
opening & reviving a traditional kitchen
---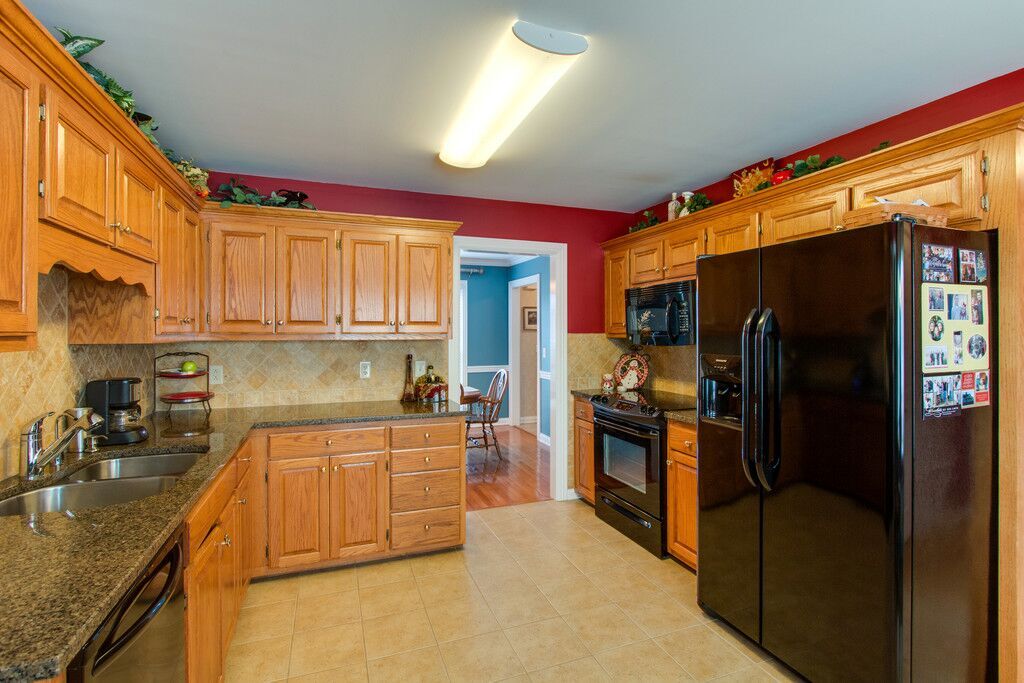 Before
I love me a kitchen reno! See that tiny little speck of blue beyond the kitchen? That's the dining room. Instead of being closed off, our clients wanted more of an open-concept feel.
Originally, this meant they would lose some cabinet space, but we decided to remodel the new cabinets to go to the ceiling instead. A worthy solution!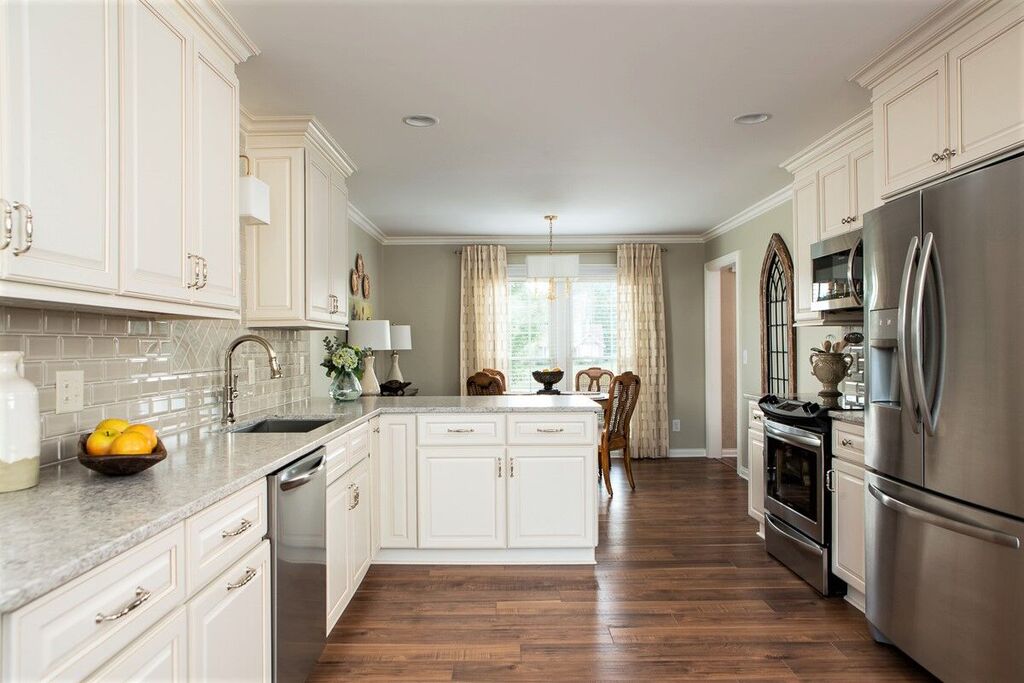 After
And… the wall's gone! (If only it was that easy.) You can see that we removed the entire wall, added some counter space, and swapped out the tile floors for dark hardwood.
You may also have noticed a HUGE palette shift from the warm red-orange pairing to crisp white cabinets and grey subway tile. Feels more spacious and breathable, right?
dining room upgrade
---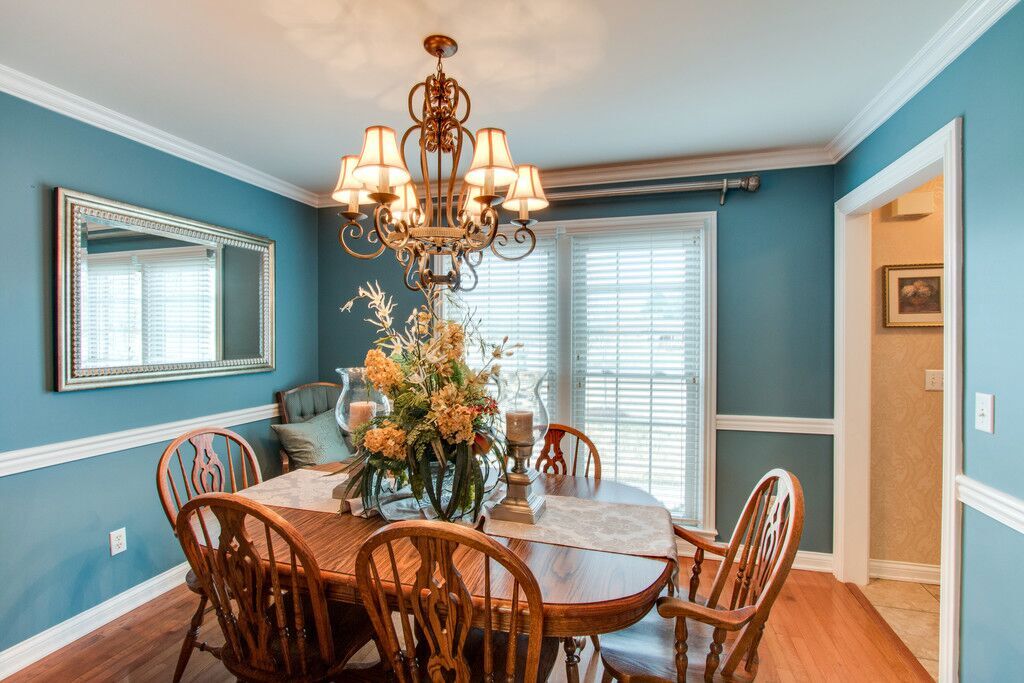 Before
These blue walls weren't too bad, but our clients wanted something more elegant and timeless for day-to-day meals and entertaining.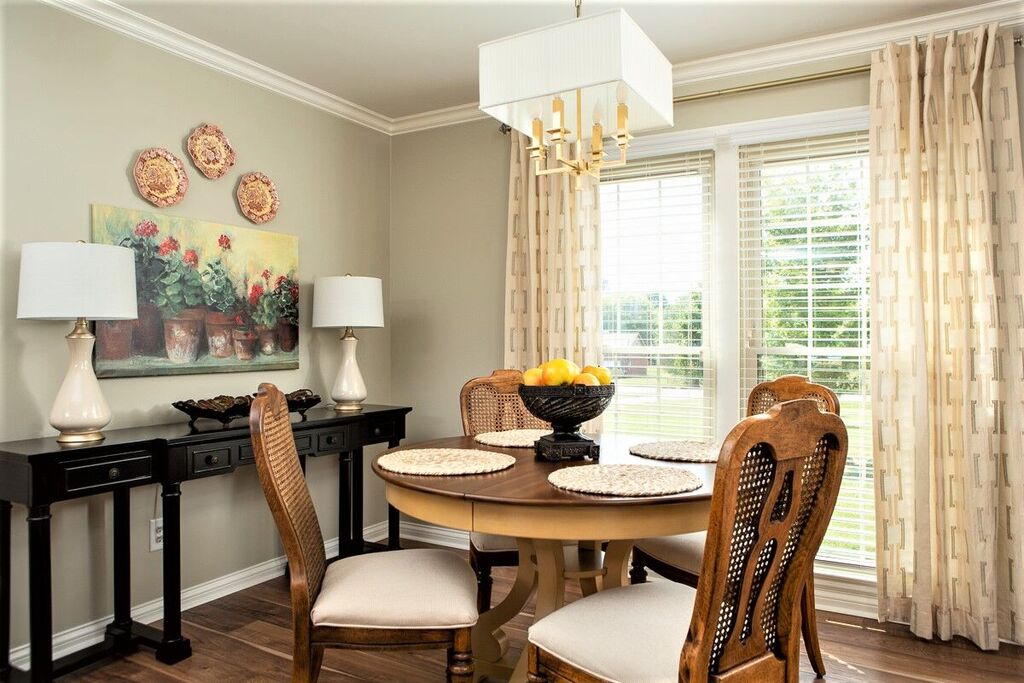 After (Berwick Chandelier in Aged Brass, Hudson Valley Lighting)
In this space we opted for "greige" paint. Notice how the shade of grey in this space is just a little different from the others? We wouldn't want all of our greys to be identical or there wouldn't be any space separation. (For our guide to picking whites/greiges, read here.)
Finally, the crown of the space is this modern traditional chandelier from Hudson Valley Lighting. Creative, clever, stunning.
a kitchen nook comes to life
---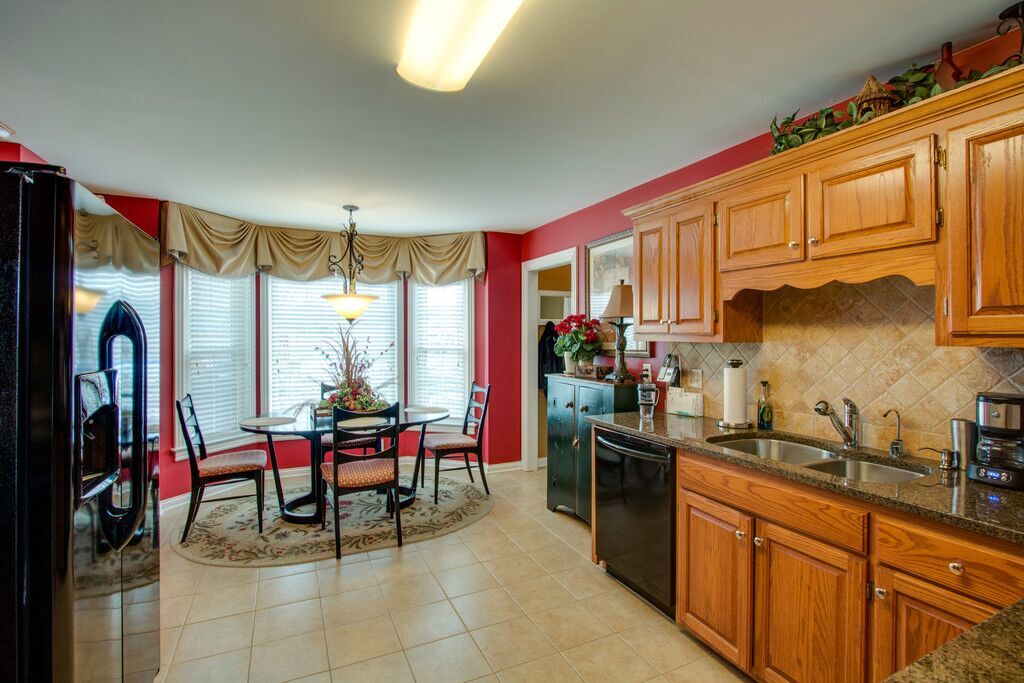 Before
As with most kitchen tables, this one got a bit more use than the formal dining room. Since we opened up the existing dining room to become part of the kitchen, this space didn't need to stay! Instead…

Patterson Flush Mount in Aged Brass, Hudson Valley Lighting
It became a nook! (Who doesn't want a nook??) The window and view were too lovely to go to waste, so we used a side table, comfy chair, and flush mount lighting to create a nook experience.
Now, all our clients need for the perfect afternoon is a cup of tea, a nice book, and a lapful of Slugger.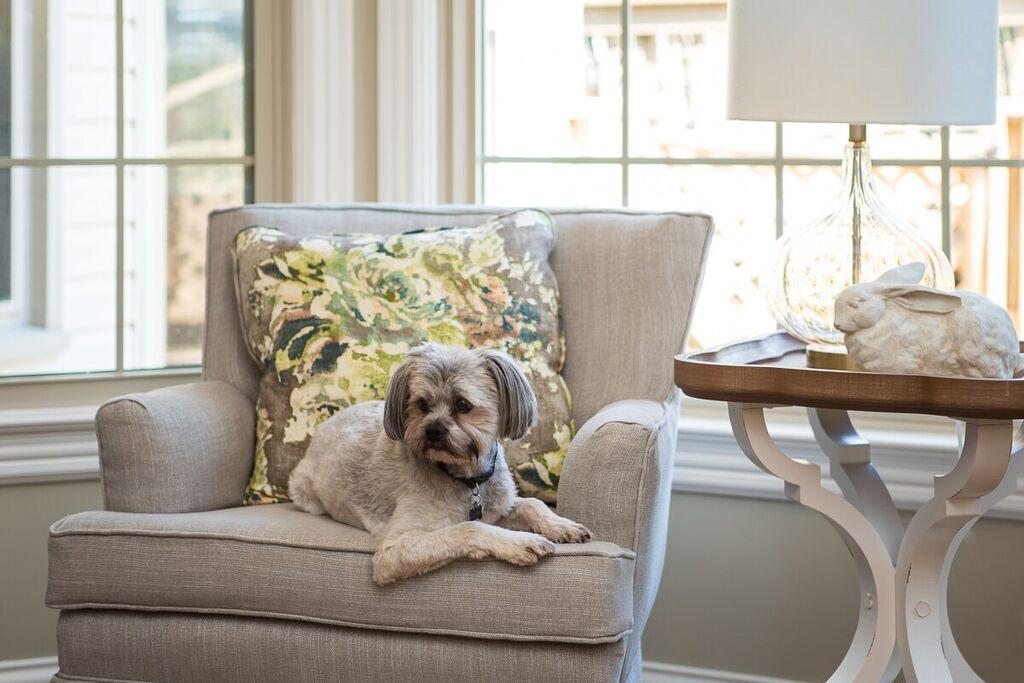 Any questions about the process of this home renovation? Ask away!
Coming up next, I'll have some great tales and finds for you from High Point Market! I'm still gathering my MANY thoughts from the event, so stay with me and I'll get those to you real soon.
Happy fall, y'all!
Psst! Subscribe to our newsletter at the top of this page for our free guide to selecting the perfect lighting for your home!
P.s. Looking for more inspiration? See our roundup of 15 Home Transformations that will Inspire You!