9 Things I'm Grateful for as We Close Out 2022
December 20th, 2022 | by Elizabeth| Posted in construction, design, remodeling

Well, that's another year in the books, y'all. As I sit down to reflect on 2022 and write this for you, I've realized something. Every item on my gratitude list this year — from our achievements to what I'm most grateful for — has people at its center. Profound, right? I know I shouldn't be surprised, but it's so easy to get caught up in the day-to-day busyness of life and forget what it's all about.

Today, I want to share the 9 things on my list, but more importantly, I want to shed some light on the incredible people, like you, who have made this journey possible.

Above all, I hope this list inspires you to give a little extra love to the people in your life, too. (After all, if we can't show our love around the holidays, when can we?) Here's what I'm grateful for this year…
1. A business that supports real life.
Last month, I drove my babies to tour the college they'll be attending next fall. It was a surreal experience and not without its tears, but it made me so stinkin' grateful. I feel completely blessed to have a career that allows me to be present for my girls and their senior year.
Feels like yesterday and a lifetime ago at the same time.
If you have ever run a company, you know that some days are harder than others. But as a whole, building a business that supports my deepest values — family, connection, and faith — has been worth every hard day, month, and year. I wouldn't trade a second of it, and I know my girls (and my son) have had a better childhood with their mama around. I will be forever grateful. Which brings me to…
2. Clients who are incredible human beings.
To every client who has trusted my team and me with their homes, thank you. We love creating homes that support your values, and in turn, you are what makes our dreams possible, too. Y'all are the best!
This year, we were booked solid and even had to turn some projects away out of sheer busyness. Among other completed projects, we shared:
3. Lenneke's 4 years with SC&D.
As of 2022, I've had Lenneke by my side for a full 4 years. Y'all, THIS GIRL. She is a rock. She is wildly creative, isn't afraid to get her hands dirty (construction sites aren't as pretty as they look on Instagram!), and has a heart of gold. My life would not be the same without her, and our clients love her, too. Thank you, Lenneke. For being you.
I am also super grateful for the other team members, trades, and partners we have in this industry. There is no world where a home renovation or new build can be pulled off by just one person. It takes a village, and I feel so blessed to have a village that CARES and delivers time and time again.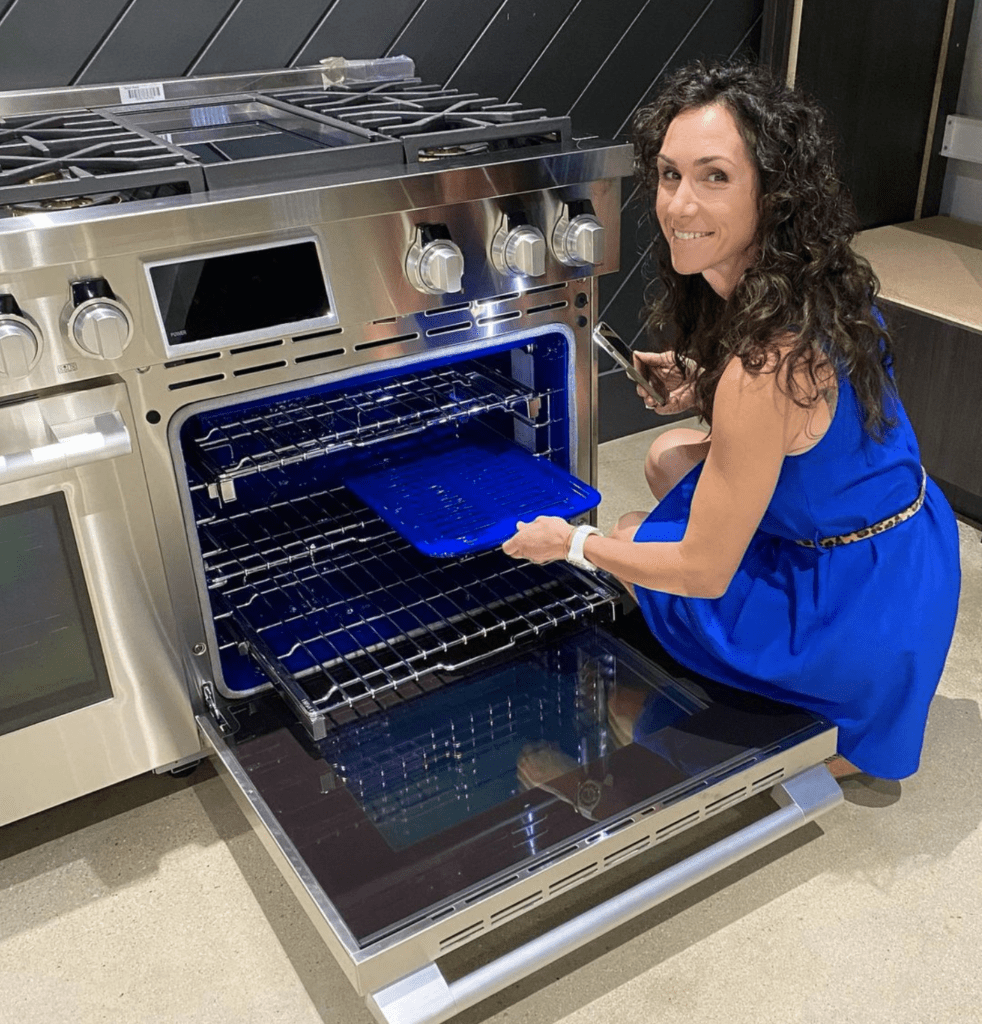 The fabulous Lenneke, matching her dress to the oven!
4. Building an addition and new home for my Mama.
Finishing my mama's addition was one of the highlights of the year. Now, she's closer than ever, my kids are always at her house, and dinners together have been an almost nightly tradition. I also feel SO much more at ease knowing that she lives in a place that is safe and designed for her. (No more steep and narrow stairs!)
I shared a tour of my mama's house earlier this month, so be sure to check it out if you haven't yet. Spoiler: Y'all will see our first ever elevator installation!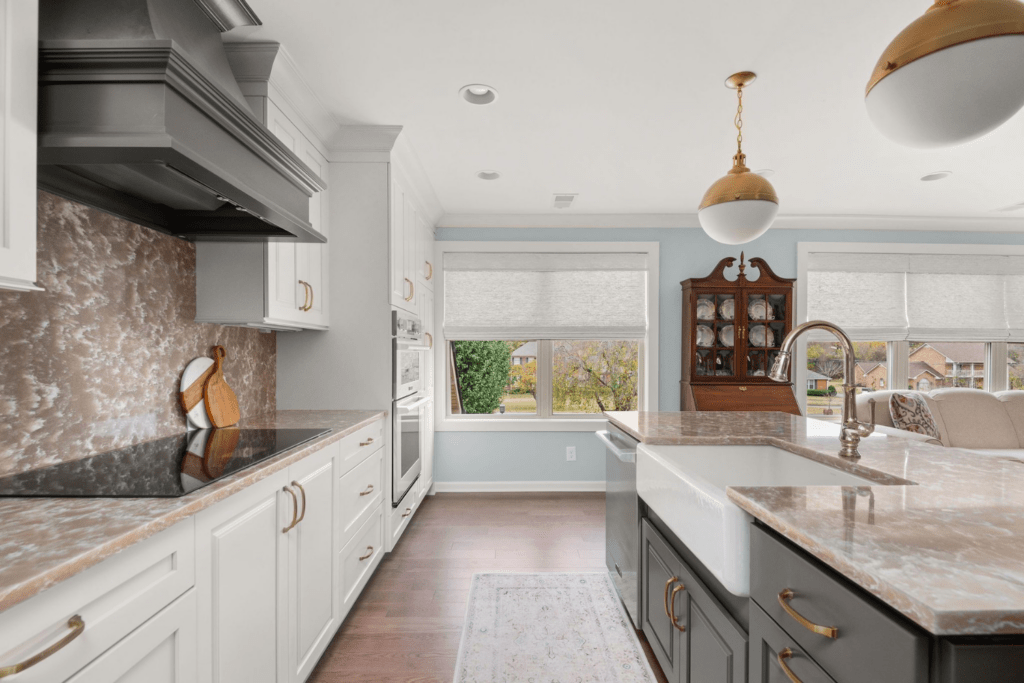 5. A full-circle moment & paying it forward.
More than 20 years ago, I joined the national Interior Design Society (IDS). It was the first pro organization of my career and a great place to meet other designers, stay knowledgeable about the industry, and grow as a business owner, designer, and person.
Well, this year, I've come full circle. I began my term (I was elected at the end of 2021) on the National Board of Directors for IDS, and I am floored! Just like driving around my girls' future college campus, it was a true pinch-me moment, and I can't help but ask, How did I get here? How lucky am I? I can't wait to pay it forward, helping other young designers find their way in this incredible industry.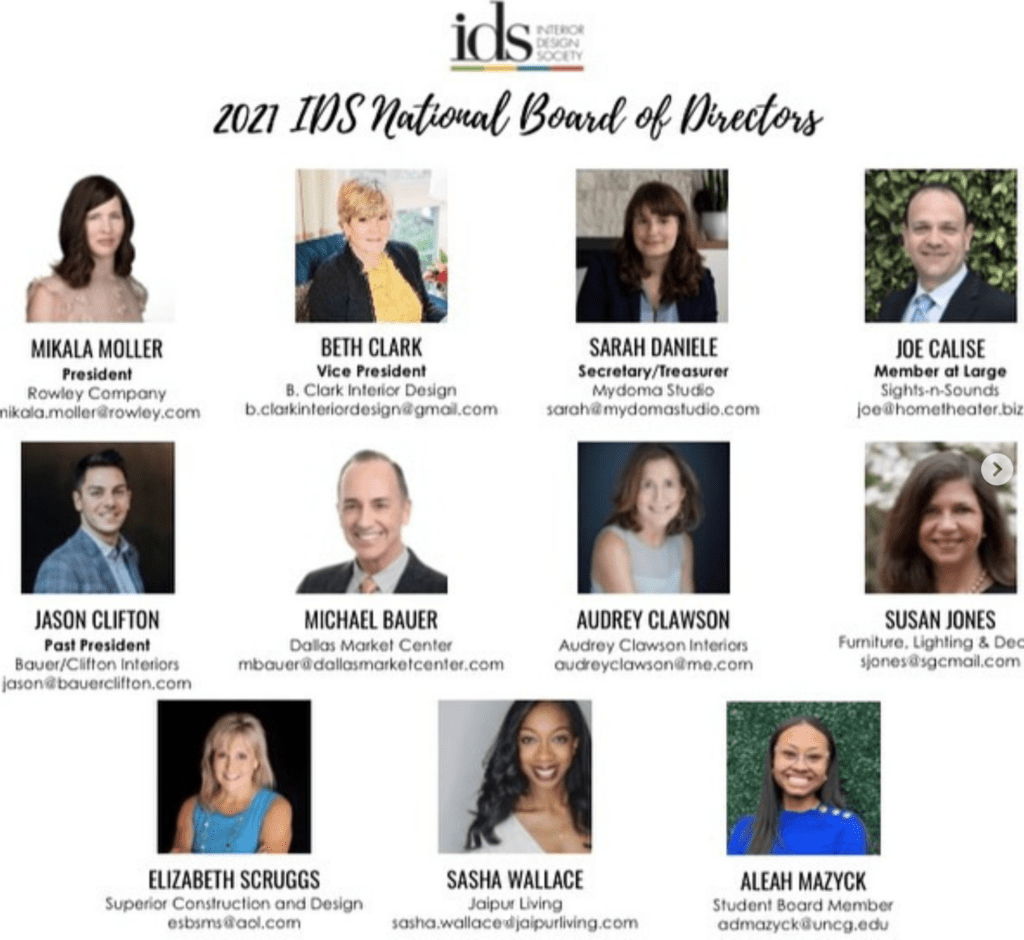 6. A gift from the wonderful people of Wilson County.
Superior Construction and Design has won the Lebanon Democrat's Best Contractor and Best Interior Designer awards for almost 10 years now. I say this not to brag, but because it means far more to me than most people know. These "Best of the Best" awards are not sponsored by a company or decided by a small panel of electors. They are voted on by the people in our town, city, county.
To receive their votes means they have seen our work, know us, and love us — and that gets me right in the heart. I'm tearing up just thinking about it. We work SO hard for the people in our community, and this is a true honor that makes all of our efforts worth it. If you're one of those people, thank you. Truly. We couldn't do it without you.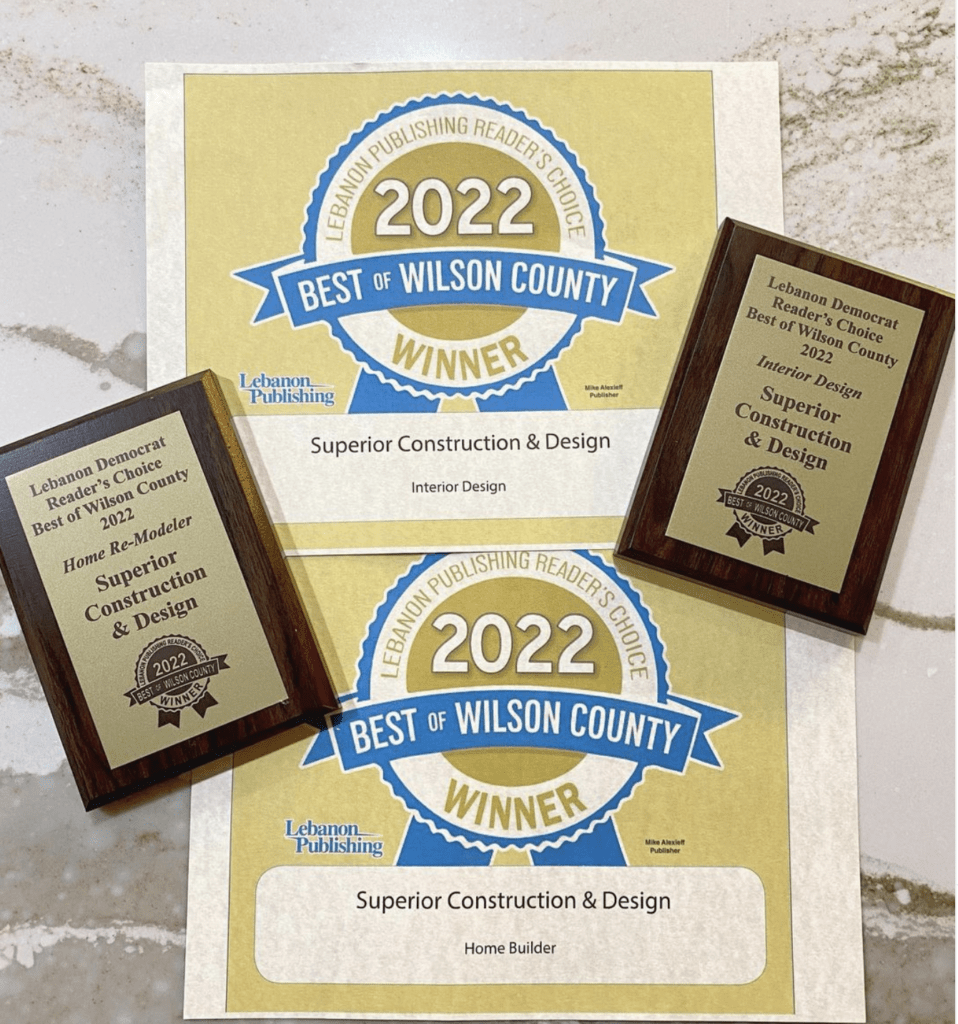 7. A request to host the High Point Market Insiders Tours.
This year, I was asked to co-host one of 5 Insiders Tours for High Point Market Authority and Esteem Media. This was an unexpected honor and doubly fun, as I was joined by my dear friend and business bestie, Jessica Duce of JDuce Design.
Last spring, our sweet friends and design duo Kandrac & Kole out of Atlanta could not host their tour, so they offered my and Jessica's names as a duo to cover their tour. Together, we took over a dozen designers under our wings and guided them around our favorite market showrooms and vendors. It was a lot of fun! And then, Jessica and I were completely honored when the market authority and Esteem Media asked us back this fall to host our own tour. (You can see a recap of the event and the 2023 trends we spotted.)
8. Press features to write home about.
I admit, this is the only item on my list that isn't really about people, but it is too exciting not to share. In January 2022, we were published in Southern Living's online magazine. Toward the end of this year, we were also interviewed by another editor for a national shelter magazine.
This is another big honor for us and a true tribute to our whole team. It's also a reflection of you (yes, you reading this right now), because your ongoing support is part of what makes these national publications pay attention. In their eyes, if you love us and stick around, their readers probably will, too. So thank you for being here and following our journey from month to month. You're our people. 😉
9. Optimism for 2023
Aside from two of my three babies leaving the nest, I feel very optimistic about next year. We have been working hard behind the scenes to streamline our processes for greater efficiency on our projects. It often feels like we don't have enough time in the day (though who doesn't feel like that as a working parent!), but I know that systems are going to be big for us and our clients in 2023.
We also have several more projects that will be wrapping up next year, and as usual, I am chomping at the bit to share them with you! (They only exist if we have pictures of them, right?? Lol.)
Anyway, I'll keep y'all posted when we get that far, but until then, I hope YOU have an incredible end of the year and start of 2023. Make time for the people you love. Hold each other close. And remember that this life is less about what we do and more about who we do it with.
With love,
E