My Favorite Interior Design Books & Coffee Table Magazines
January 10th, 2023 | by Elizabeth | Posted in bathrooms, bedrooms, bonus rooms, Books, built-ins, color, construction, design, home & garden, home office, kitchens, remodeling

If y'all know me, you know I love to read. Give me a rainy day, a book, and a window seat, and I'll be content for hours! In fact, there are several areas in the Scruggs home that are dedicated solely to my love of books…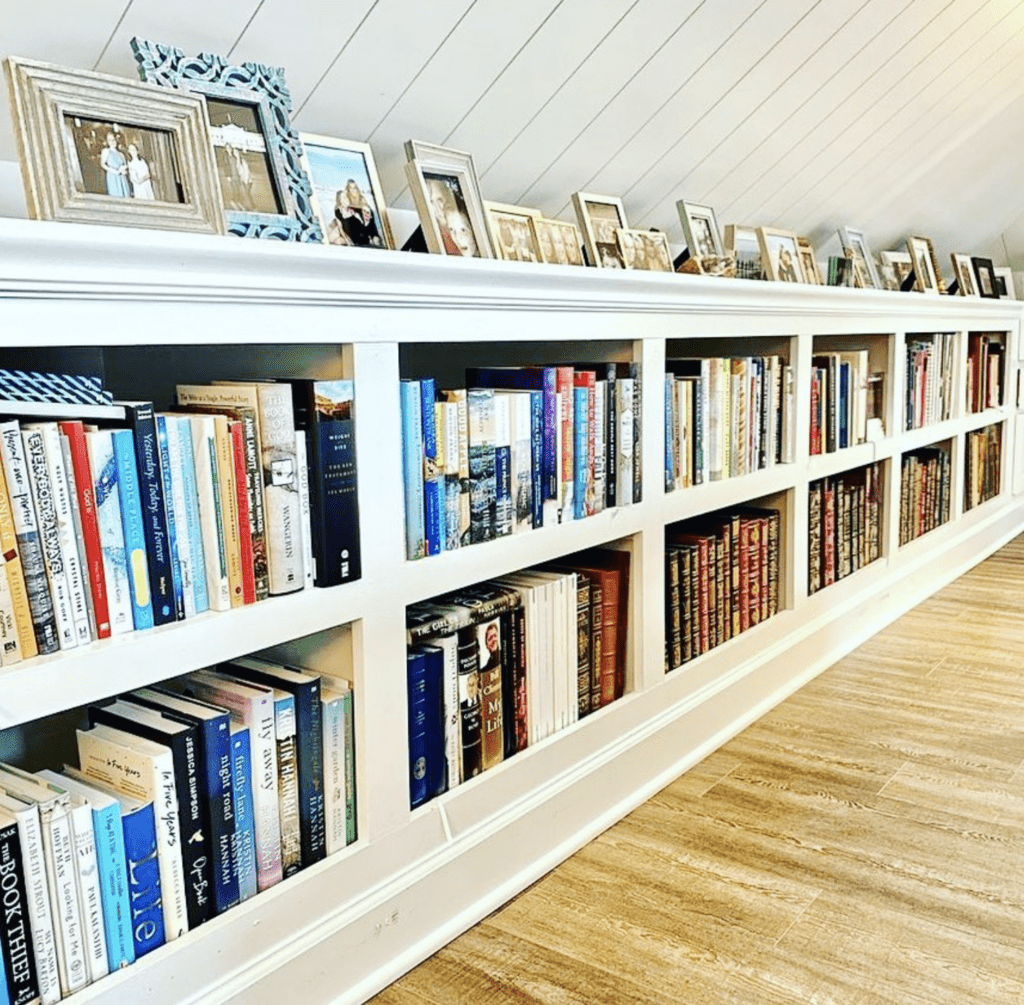 This is our bonus room. When we moved in, I envisioned these walls lined with bookcases, but truthfully, they stayed empty for years. It felt a bit selfish to invest in something that we didn't really "need," but I'm so happy we finally did! Turns out, I actually did need these bookcases, and they make me happy every time I'm in this room. Worth it. Another area of our home that makes me smile…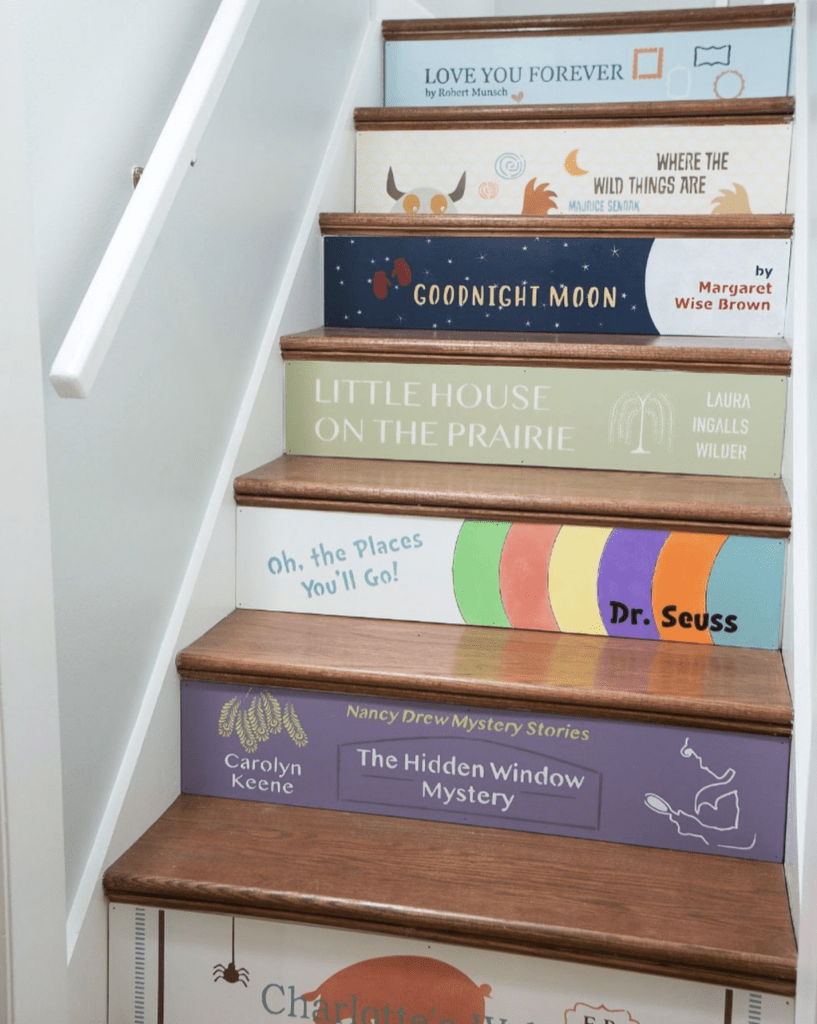 This creative stairway that leads to my room! I had these risers hand-painted with the books that we read and loved when my children were younger. Things like this are what makes a home special. They make it yours and tell your family's story. And last but not least…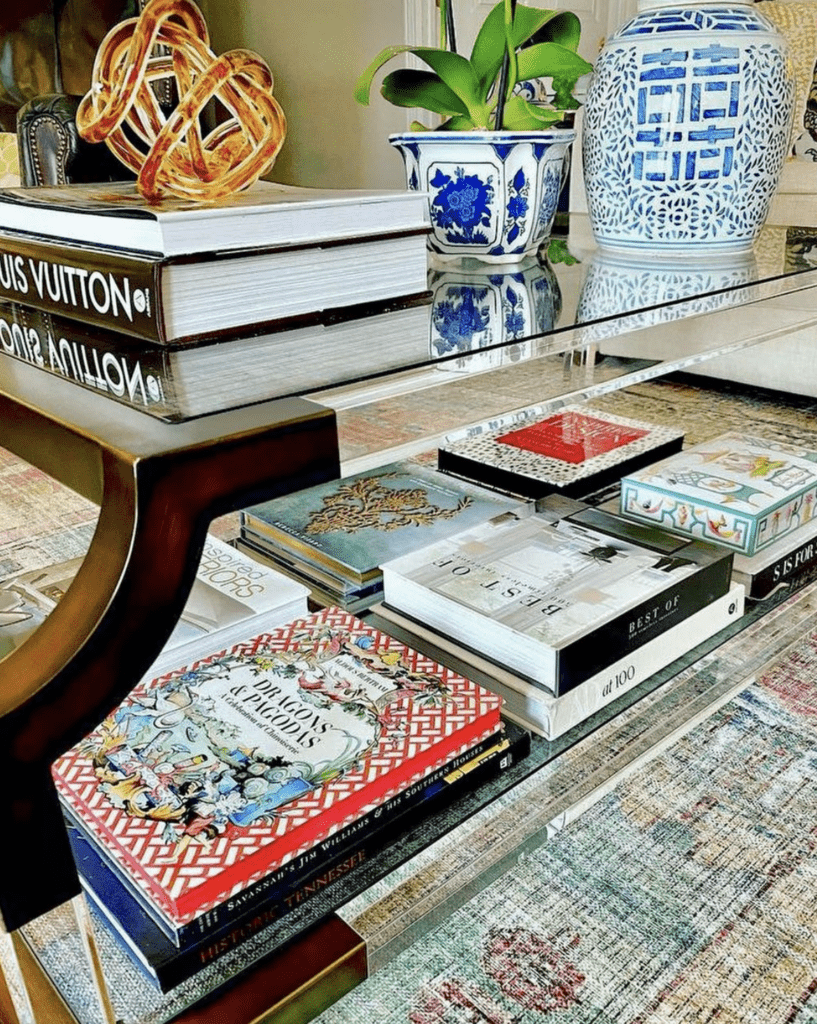 What kind of designer would I be if I didn't have coffee table books?? Our living room is another area where you'll always find design books and magazines. I add one or two to my collection every year, and guests seem to love them too!
Which brings us to you… If you're looking to expand your library and include some design books on your shelves or tables, too, you deserve the best. Here are just a few of my personal favorites…
My Favorite Interior Design Books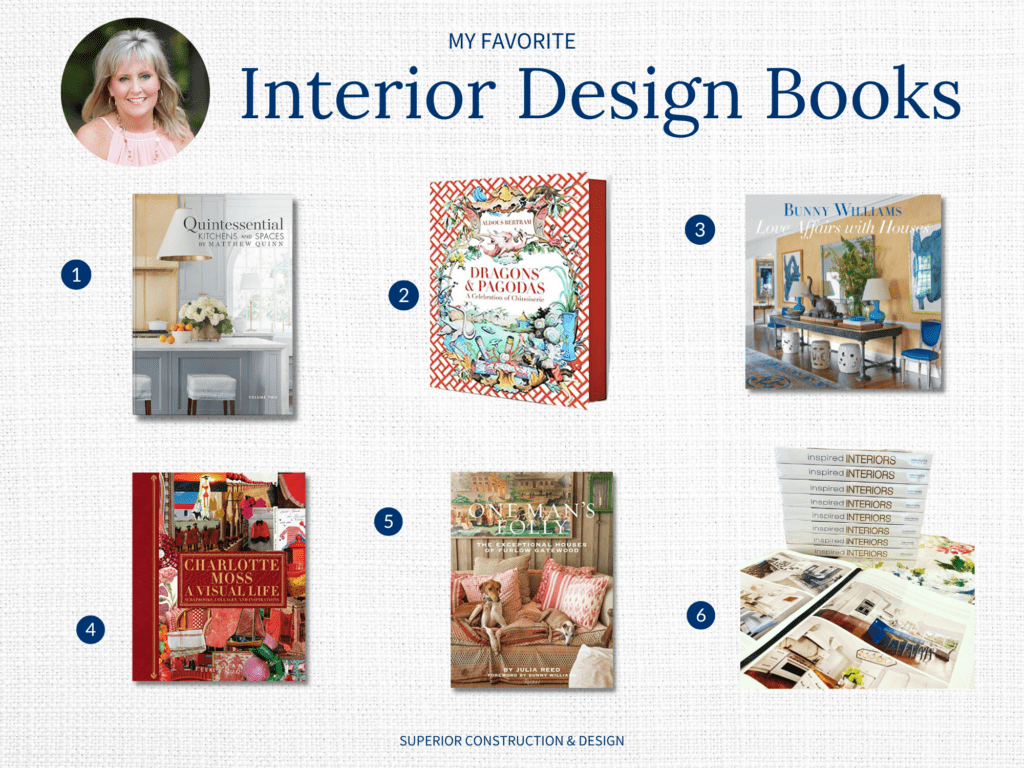 1.) Quintessential Kitchens and Spaces by Matthew Quinn is a beautiful volume of his well-designed kitchens and other spaces. Matthew is one of the most gracious and kind designers I've met throughout my career, and his transitional style is fairly similar to my own. A beautiful book to add to your collection.
2.) Y'all have probably heard about Dragons and Pagodas by Aldous Bertram. I mentioned it in this post about the history of chinoiserie. Dr. Bertram is an interior designer with a PhD in Chinoiserie from Cambridge University. You read that right…he has a doctorate in chinoiserie. (Who studies that?!) If you love chinoiserie as much as I do, this book will delight you for years and years.
3.) I can't get enough of Love Affairs with Houses by Bunny Williams. I love Bunny, and just the name of this book alone will draw someone like me to it. She talks about her complete love of home, its meaning, and the story behind 15 of her most iconic home designs. It's an incredibly beautiful volume.
4.) A Visual Life by Charlotte Moss is a visual documentary into the design scrapbooks she has kept over the years. I keep design scrapbooks, as well, and love that Charlotte and I share this. The book is organized by theme (home, garden, travel, entertaining, and fashion) and includes excerpts from the scrapbooks of other great women, such as Jacqueline Kennedy Onassis, Elsie de Wolfe, and Gloria Vanderbilt. It's a visual treat.
5.) One Man's Folly by Furlow Gatewood is a gentleman designer's testament to Southern life and design in the south. He died last year at age 101 and will remain a design icon in his own right. The book takes you through his beautifully designed estates, antiques, and sage advice. If you love all things southern, this book will deeply resonate with you.
6.) Inspired Interiors is a compilation of beautiful interiors and design advice from designers all over the country. I have to admit — we're in it!! I was SO excited to be included among the designers featured in this new coffee table book last year, and the magic still hasn't worn off. You can open to our page in the kitchen section, which features two of our favorite projects. Enjoy!
My Favorite Design Magazines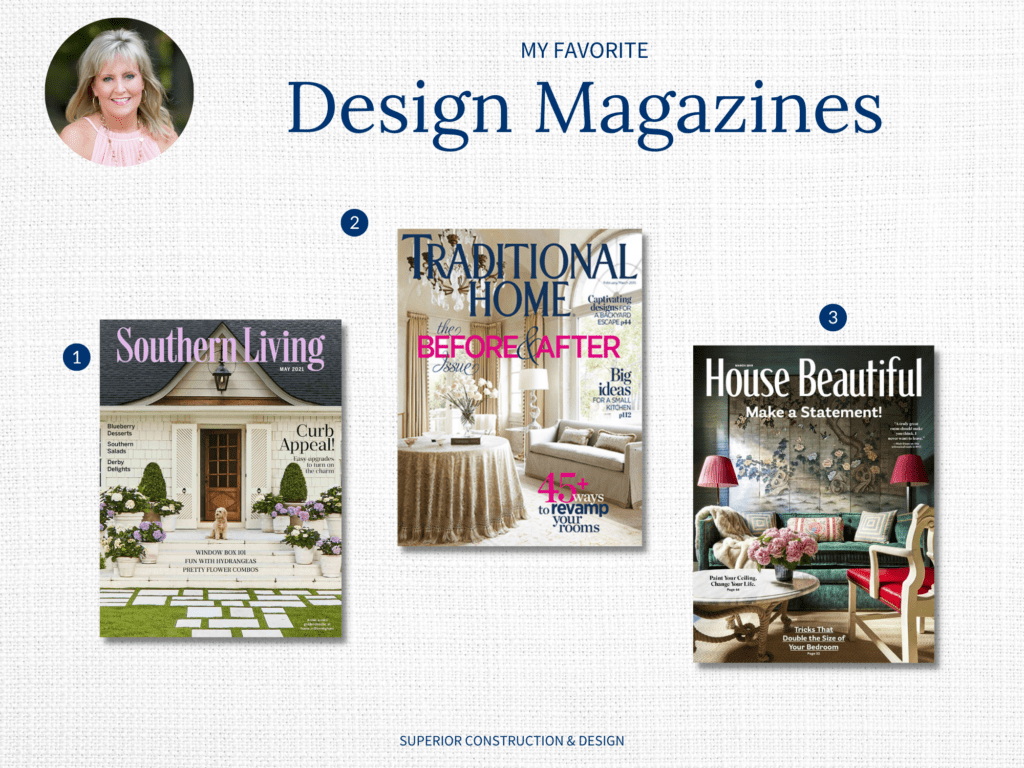 1.) Southern Living is a magazine I've subscribed to longer than any other. It's about my home, my people, and my food. I love it. I am also a big fan of Southern Living's cookbooks, which also find their way onto our coffee table. There is not a single bad recipe in any of them.
2.) Traditional Home fits me as a designer. Although SC&D specializes in what I call "fresh traditional," the classics never really go out of style. The same elements that were being used 100 years ago — paneling, wallpaper, molding, detail work — are still timeless today. Traditional Home sets the standard for classic taste.
3.) House Beautiful is a magazine I have always loved and always will. There's something so easy and unpretentious about it. Every issue, even those from a decade ago, are still full of inspiration that can be applied to your home. (Plus, they always look great on the coffee table!)
What do you think? Did any of these catch your eye? Do you have any personal favorites that you would suggest to me? I'm always looking for good recommendations!
Xo,
E
oh and, P. S.- this post does contain affilliate links. Shopping through them costs you nothing extra, but does help me with the cost of maintaining this blog.
Thank you!
---