Speakeasy-Inspired Wine Room, Revealed!
August 23rd, 2022 | by Elizabeth | Posted in bathrooms, Before and Afters, bonus rooms, built-ins, construction, design, remodeling

I have something really special to share with y'all today… I know, you're surprised, right? Two weeks ago, I shared the project preview for our speakeasy-inspired wine room, and I promised I'd share the reveal next month. Well, here's proof that sometimes we have to eat our own words, because this beauty is ready now, and y'all know I can't leave you in suspense!

To recap, this is the same Mt. Juliet home where we completed this top-to-bottom kitchen transformation for Mr. and Mrs. R:
I mention it, because you'll see some parallels. As you know, every room in a home should be unique, but they should also feel like they belong to the same home. When you see the finished wine room, you'll notice similar natural wood tones, earthy browns, crisp whites, and touches of aged and polished brass for some shine. So, what are we waiting for? Let's walk on over to…
The Secret Entry
The speakeasies of the past were usually hidden, and we saw no reason to break with tradition. Instead of putting their wine room out in the open, we went the extra mile…
This innocent little corner has a secret… Distinguished by markers only our clients would notice, this custom bookcase-style door opens right into their new, stunning space. Don't worry, this space isn't off-limits. Come on in…
Wow, right? You can practically hear the music, smell the wine, and feel your spirits lifting. This is such a unique and intimate space. From the coffered wood ceiling to the leather-and-wood bar stools to the unique light features, the mood is sultry, inviting, and irresistible.
Other key features of their new wine room include durable flooring (which is actually their old garage floor which we had sealed and stained for an old look), our favorite Crystal Cabinetry for storage, a sink for rinsing and prepping, and this focal point shelving where other noteworthy spirits have space to shine. Speaking of shining…
How neat is this lighting?? We custom-designed this beautiful focal point to attract the eyes and call attention to this beautiful vignette. Oh, and if you saw the initial renderings and thought there was too much wall space, guess again. This baby is PACKED with wines from around the world.
Not to be missed, our clients also have lounge-style seating facing the bar area. These warm leather Hooker chairs are incredibly comfortable and backed by custom niches, where we've displayed some of their favorite saved bottles, framed photos, and a wine chiller. There's even a Jack Daniels wine barrel "end table" in the corner!
Here is the same corner of the wine room, before we began our work. That window by the refrigerator is now the window in the seating area, right behind those comfy leather armchairs. Quite a difference, isn't it?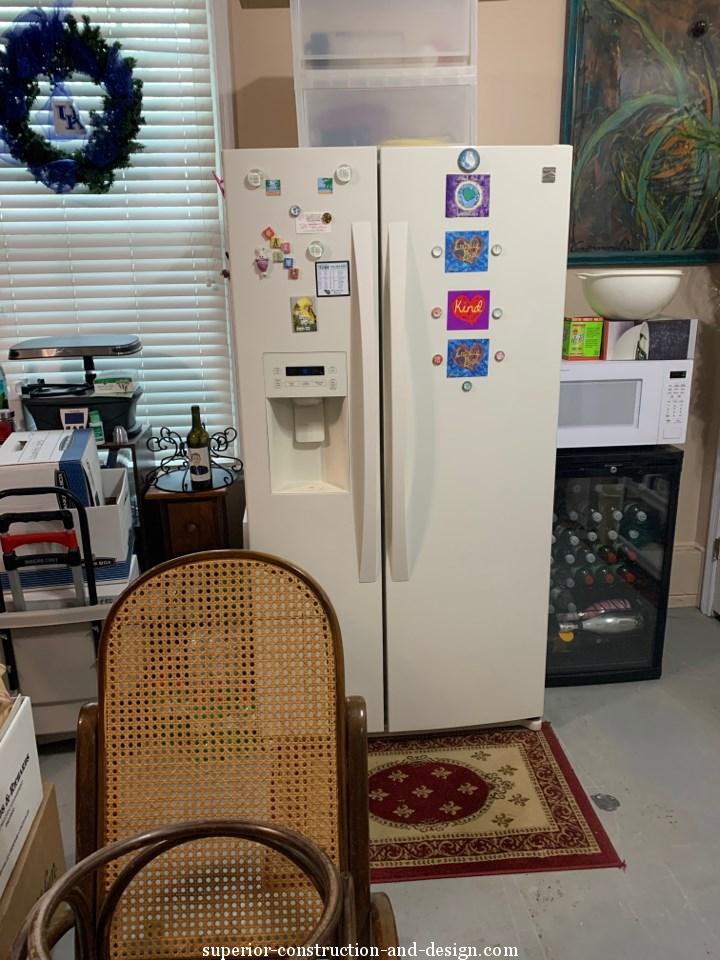 Okay, I have one last surprise for y'all…
Powder Room Design
It's no secret — if you have a wine room where you entertain, you'll need a powder room close by. We re- designed this beauty along with the wine room because our clients needed an exterior door here so it could also serve as the pool bath for their beautiful exterior space.
It's simply decorated, aligned with the rest of the home, and this wallpaper has personality! Let's take a closer look…
Makes you want to travel, doesn't it? After a visit to this space, I guarantee guests will be eager to dive back into the speakeasy for another glass full of flavors that transport them around the globe. Does it get any better than that??
Here are a few photos (below) of the powder room before our major transformation. It was dark, dated, and not very functional. We took out the window and replaced it with an exterior door, which created easy access from the back yard pool. The door also brought more light into the space, making it feel brighter and larger.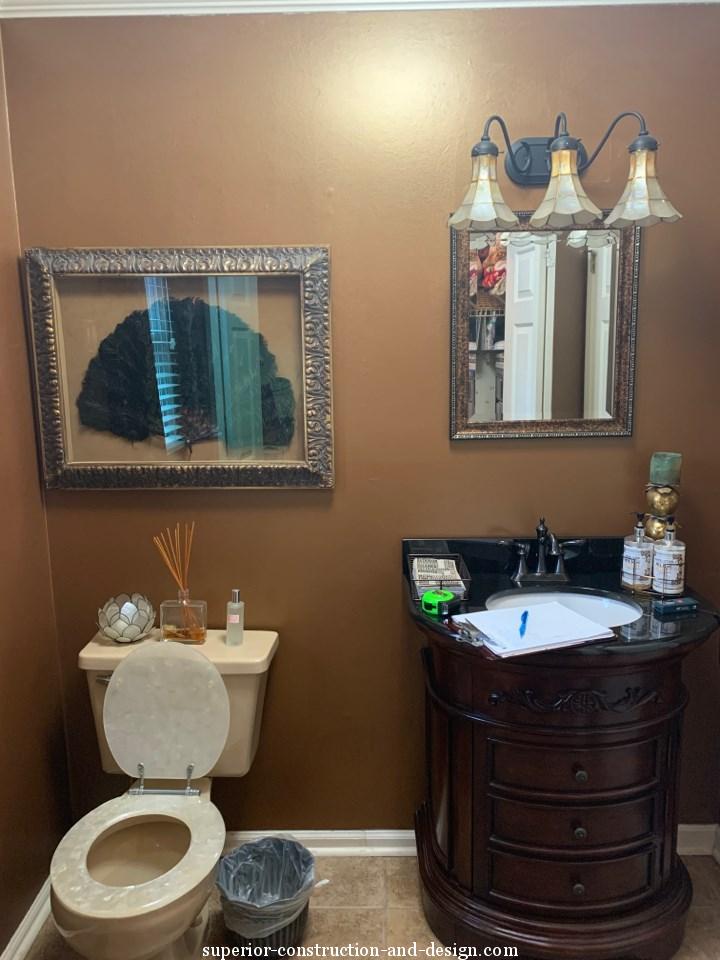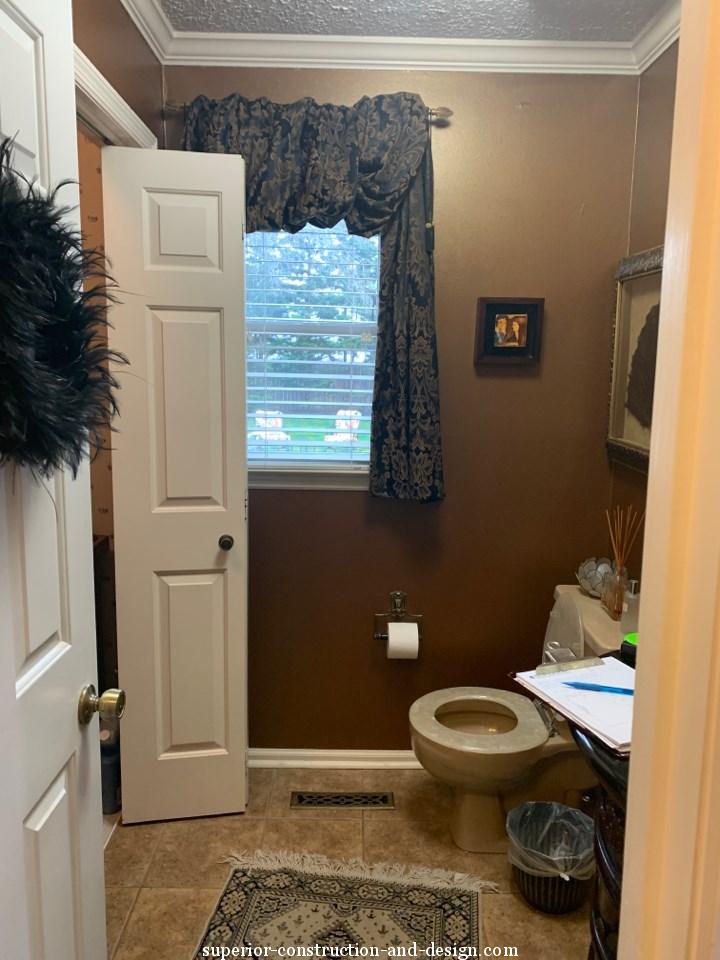 Well, I'm sad to say that our tour ends here, but this has been a project for the books. We absolutely loved getting creative with Mr. and Mrs. R, and I couldn't be more grateful that this amazing, well-deserving couple was rewarded with such incredible results.
And also, I want to share that this wine room has been Lenneke's baby. She has spent many hours on the design and implementation of the space- she even assembled those beautiful wine racks herself. And after being here for years, she still amazes me with her talent everyday. There is nothing this gal can't do. She is an integral part of SC&D, and I'm so grateful for all her hard work.
We're shooting videography of this space soon, and can't wait to walk you through it, so be watching for that on our socials.
Until next time…
Xo,
E