Great Room Design and Kitchen Nook for an Active Family
June 14th, 2022 | by Elizabeth| Posted in Before and Afters, built-ins, design, home office, kitchens, remodeling

When this family hired us in the spring of 2021, they asked if we thought we would be complete by the holidays. This seemed reasonable, even given the extended lead times we were seeing. However, as things have often done these last few years, it changed.

Now almost a full year later, their home is finally complete! And we have the photos to prove it. But first, let's look at what they were starting with…
Before: Living Spaces for an Active Family
Mr. and Mrs. F lead an active family life. Between Mr. F's business, Mrs. F's career as a CPA, and their daughter's dance and son's sports schedules, the weeks and weekends are full to the brim. For them, home is a place to rest, gather with friends, and spend time together.
However, their beautiful new construction home left a little to be desired…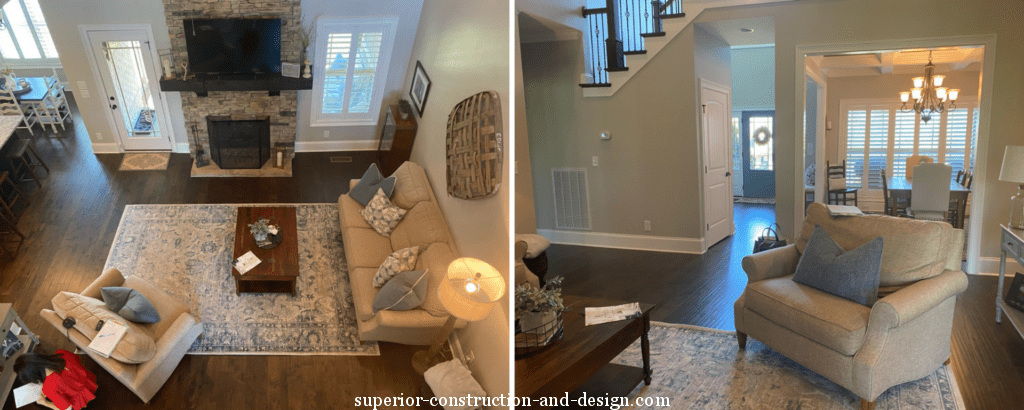 Mrs. F said they loved the layout, but their living spaces had never felt pulled together stylistically. She wanted an intentional design that would speak to their style, fit their family, and of course, offer plenty of seating for everyone.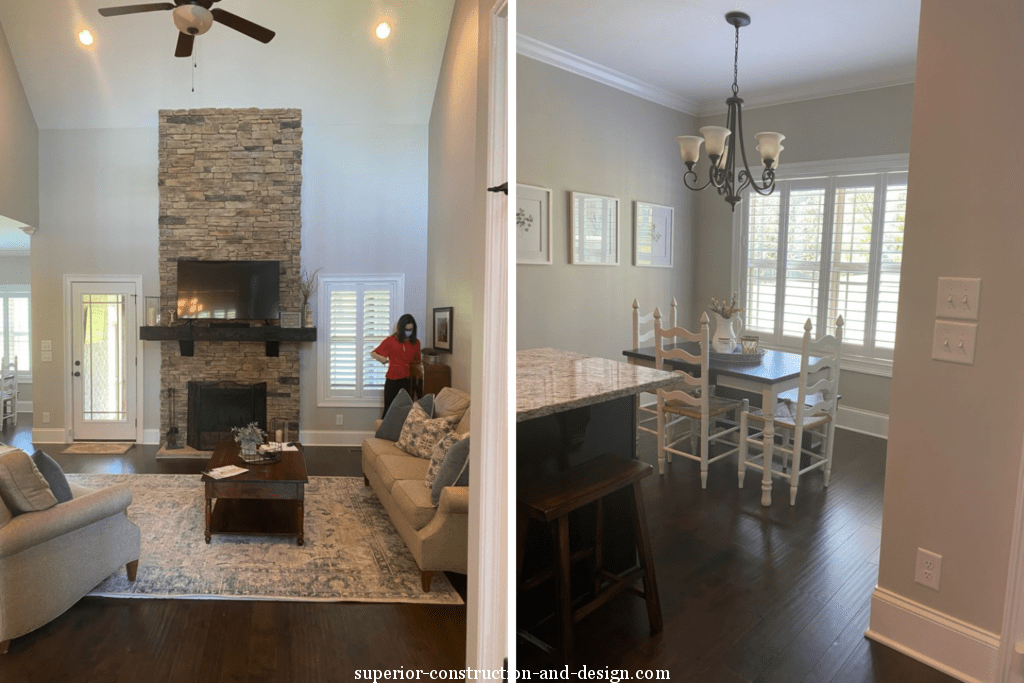 The other big challenge of this home was increasing the amount of light in the space. Their 20-foot, 2-story great room had only a ceiling fan to light the space at night. During the day, they only have two small windows for natural light, and both are located under a covered porch.
Mrs. F also pointed out this dining area (above right), which she admitted they didn't use very often. She said they would love to make this space more functional, as overflow for guests mingling in the kitchen and with storage for special occasions. I told her we could do both…and give it some style while we were at it. Would you expect anything less? Come see how it all turned out…
After: Great Room Design with Seating for a Crowd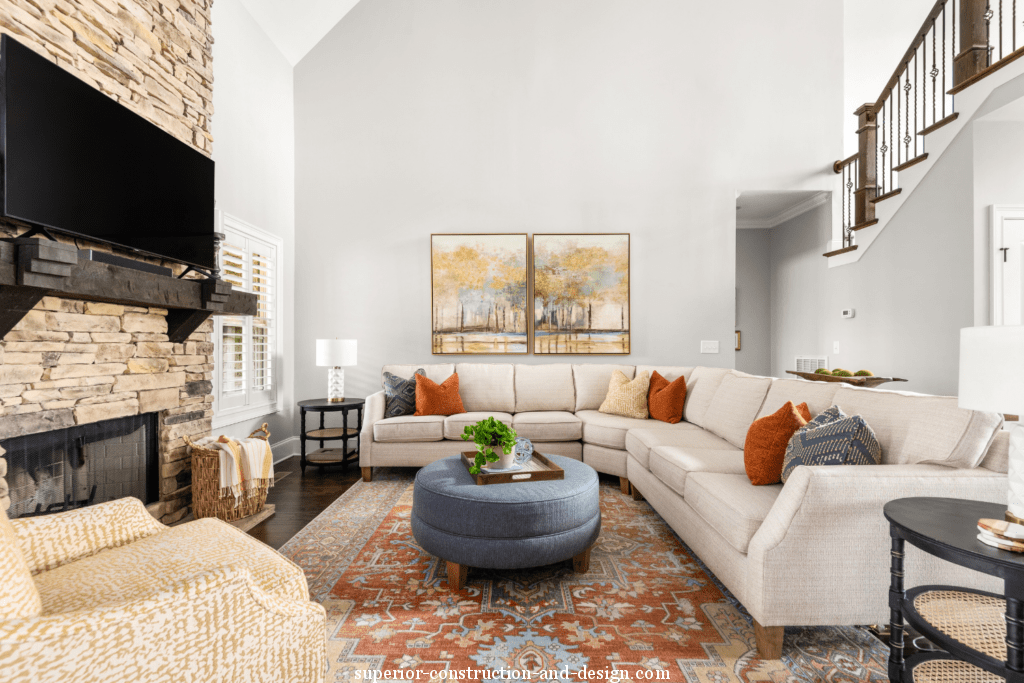 Y'all know I love a family-friendly sectional! This gorgeous sofa is the highlight of this great room design. It keeps the space feeling bright and offers enough sitting room for their family, the dance team, Mr. and Mrs. F's friends, and whoever else might ring the doorbell.
We also added these two end tables with caning (LOVE), an oversized ottoman for drinks and plates, and a patterned gold-print chair that can face the living area, or the kitchen behind it. Last but not least, we gave Mrs. F the focused lighting she requested with these table lamps.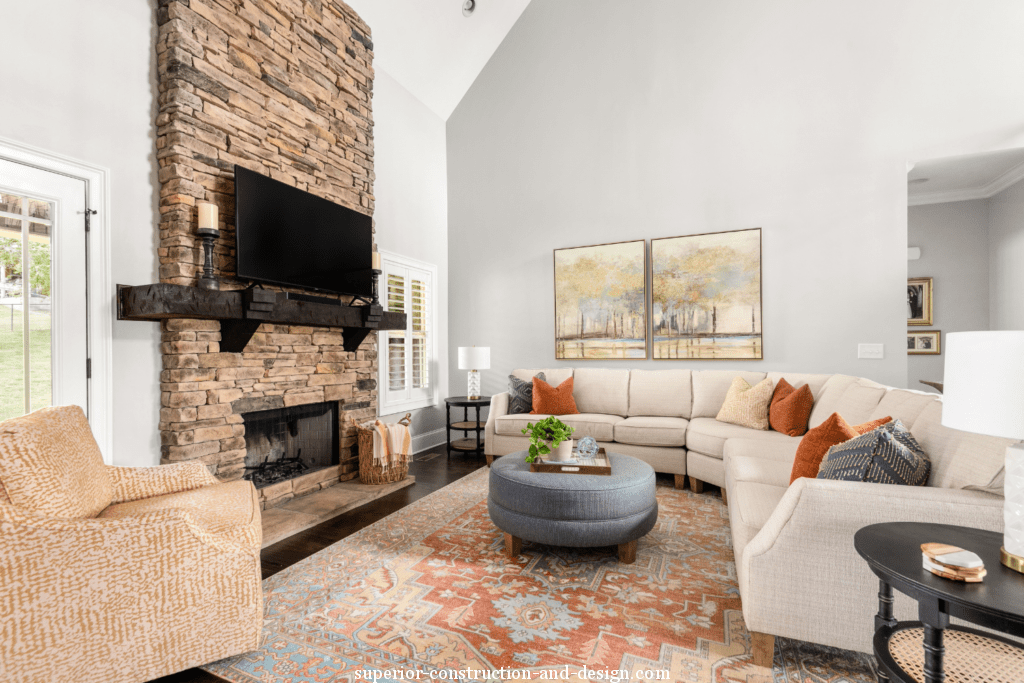 With light gray walls, dark flooring, and a warm-toned stone fireplace already in the room, we had to be very intentional about the color palette. The sofa's cream color is the perfect in-between shade, and we used tones of cinnamon and navy blue to balance warm and cool. Of course, y'all know I love a good area rug for bringing a palette together, and this one excels at it. Now, this great room design feels fresh yet classic.

Never underestimate styling and accessories — they are the final layer that brings a space to life! I love these pillows for their beautiful textures and patterns. And what ottoman is complete without a tray, greenery, and books or magazines?? Exactly. (P.S. You can get my favorite styling tips here if you're curious.)
Built-In Bench & Hallway Storage
Okay, y'all…this space comes with a story, and it's one you've heard before. Diagonals. Y'all know how I feel about them, and this home had its own "fun" version to contend with…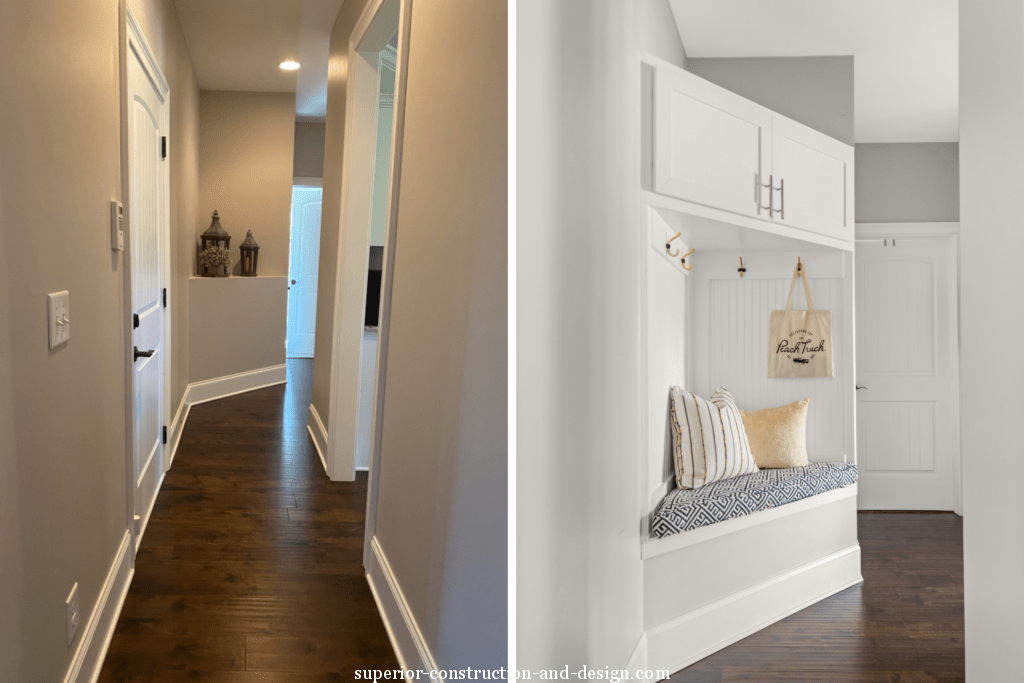 Can you see what's wrong in the first picture? Yep, that's a random ledge built into the hallway. At first, we thought surely it must be hiding something. But no. They really and truly just built this decorative ledge on purpose. (I can't make this stuff up.) No, Mr. Builder. Adding a random ledge is not character. It's just ridiculous, and no homeowner will know what to do with it.
Fortunately, we were able to cook up a new design for this odd corner, giving Mr. and Mrs. F some extra storage, a place to sit, and a beautiful style that fits the rest of their home. That's how it's done.
Dining Area Turned Cozy Nook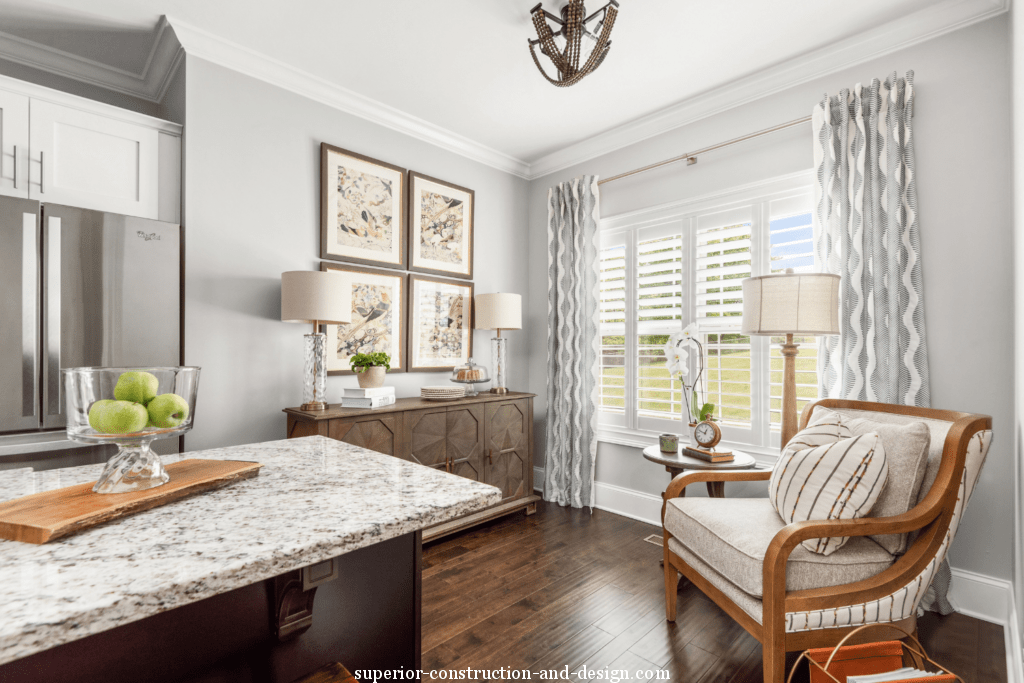 To make this space the kitchen extension Mrs. F craved, we knew that seating and storage would be a top priority. We commissioned this beautifully upholstered chair in two fabrics (details make the design), and added lighting and an end table to create a functional nook. We also brought in this buffet to store serving ware and to give the family a place to set out drinks or hors d'oeuvres for any self-serve occasions.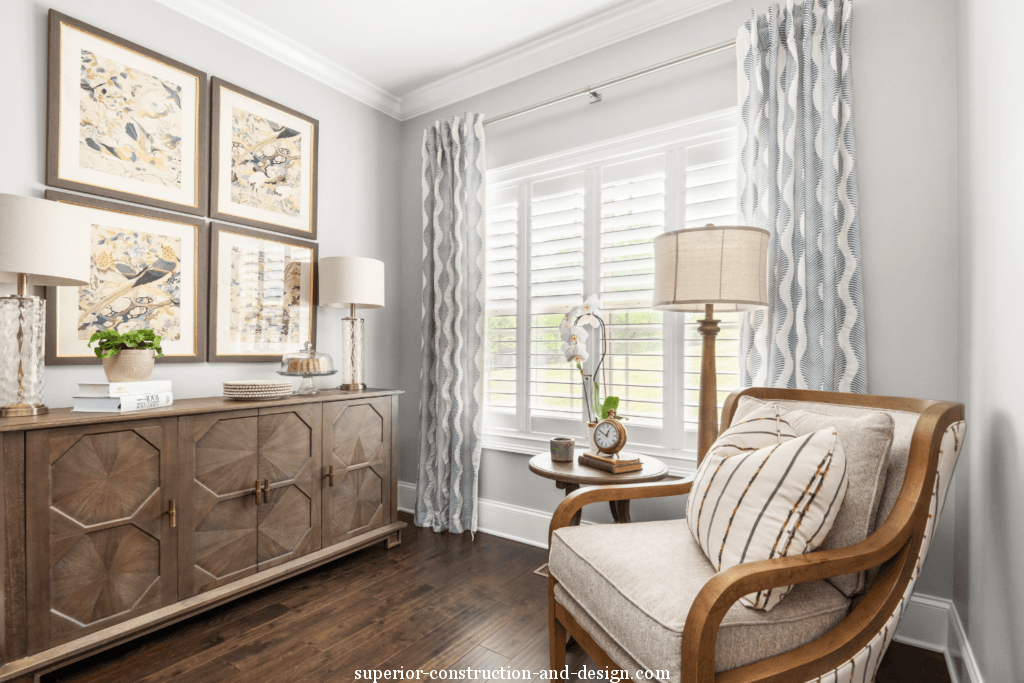 The biggest design challenge ended up being the buffet we had ordered for the kitchen area. Mrs. F fell in love with the first one we sourced, but while everything had arrived by October, the buffet wasn't set to arrive until November. Then December. Then January. Then February. You know the story.
We finally made the decision not to wait any longer, because, at this rate, we were unsure if it would ever come before they just eventually canceled the order. So we found an alternative, and it was worth the wait. In fact, we all love it even more than the original! Would you just look at this stunning detail??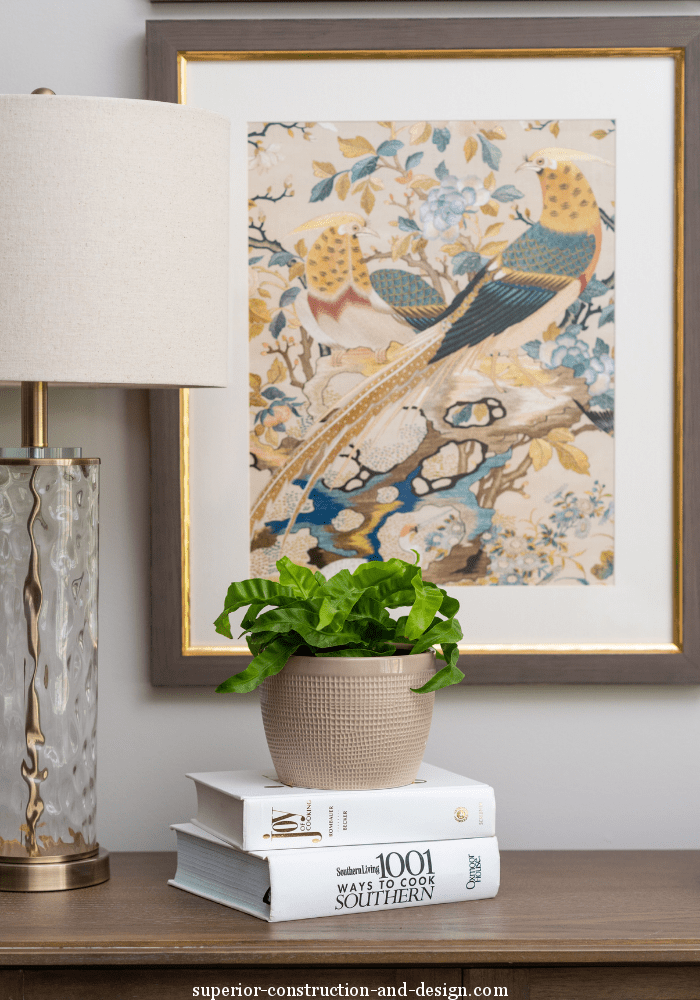 Last but not least, after our photoshoot, Mrs. F sent me a wonderful email. She had noticed this Joy of Cooking recipe book that we used to style the buffet. By sheer coincidence, she shared that Mr. F had proposed to her by giving this very cookbook to her as a Christmas gift and hiding the ring box in a hole he had carved in the pages. What are the chances?!
She said our styling inspired her to get out her own Joy of Cooking book again (even though the recipes have a big ol' hole in them) and display it in their home. Now, they can enjoy those beautiful memories each day in a home designed just for them. That is so special!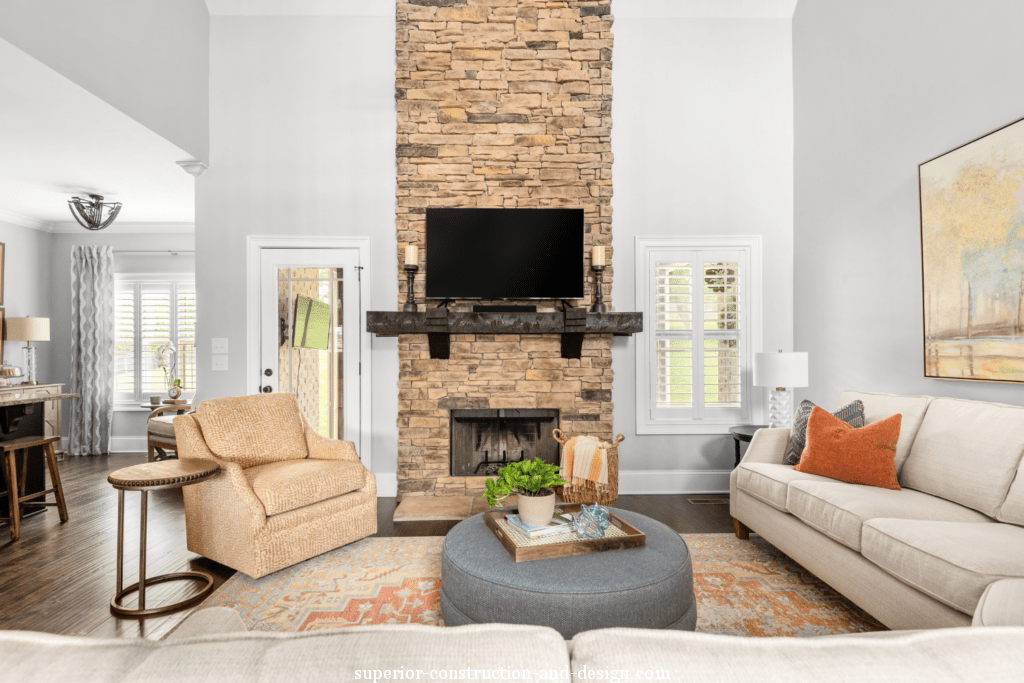 Mr. and Mrs. F have been the most fantastic couple to work with and their patience has been stellar. We are so grateful for clients like them, as it's what makes our work truly meaningful and rewarding. Creating beautiful homes for beautiful-hearted people is why we do what we do.
If this sounds like you, and you have a renovation, new build, or home decorating project to tackle, I hope you'll reach out to us too.
Until next time y'all,
E
---