A Home for Mama
December 6th, 2022 | by Elizabeth| Posted in bathrooms, bedrooms, built-ins, color, construction, design, guest room, kitchens

It's finally done — my Mama's house is complete! She has officially moved in, gotten settled, and we are already making fun memories.. Located right next to our own home, this addition is destined to be the gift that keeps on giving throughout the years. Today, y'all finally get to see it!
The Backstory
My mama had lived in her home for 20 years, and she loved it. However, it was built over 50 years ago, and the layout just wasn't right for her anymore. The laundry room was in the basement, and the stairs leading down there were not at all to code — very steep and narrow.
She also had an upstairs space where she kept her computer, and getting up those stairs was just as dangerous. I was so scared she would fall and we wouldn't know! Last year, with the real estate market being the highest ever around Wilson County, she realized it would be the best time to sell. So we did. But where to go next?
This is when I decided that we would love to build an addition for her. That was over a year ago. Like any design-build project, it took time and perseverance. (If you remember, I shared the planning and construction phases here last summer.)
There's my mama! Isn't she beautiful? Fortunately for us, there were no real challenges with the building process in general. We moved all of her belongings into storage, and we were so fortunate that our best friends (and across-the-street neighbors) let her move into their beautiful pool house, which kept her close. It was truly a blessing.
Now, Mama has finally moved in, and I get to invite y'all inside, too! Come on in…
The New Addition: Exterior & Entryway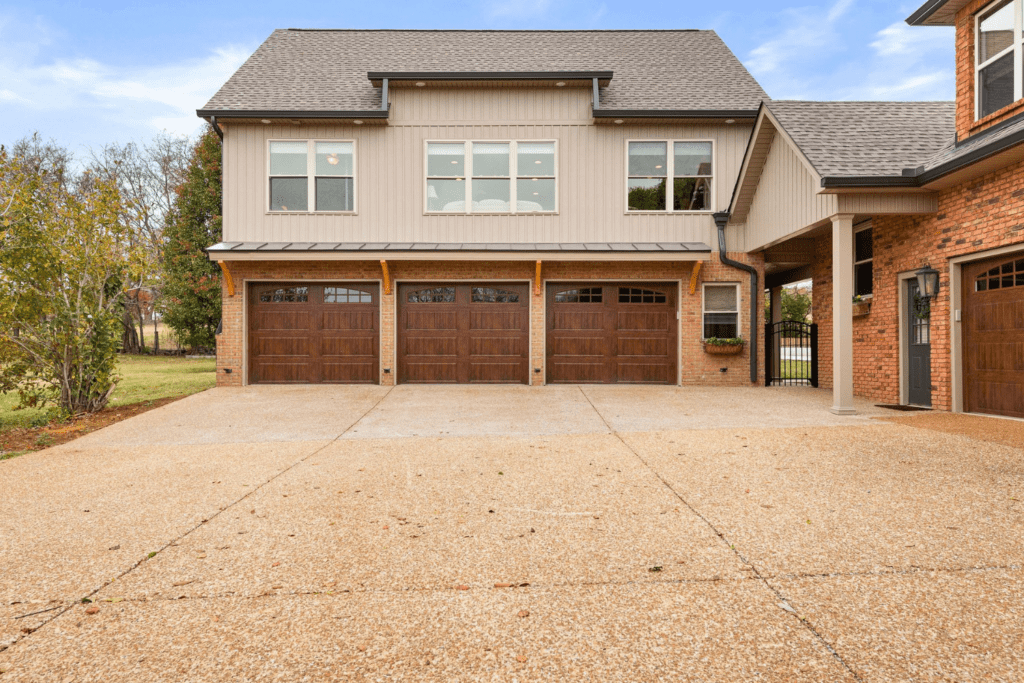 Walk up the driveway, and you'll see that this entire section of our home is brand new. We put a 1400 square-foot addition here, with a 1400 square-foot 3-car garage, and a pool addition out back (the pool is a story for another day, though. And make no mistake, you will hear about it. Have mercy.)
My mama has never had a garage to pull into in her entire life, so that has been an awesome thing for her! That little black gate there is the one that leads to her front door…
Is it darling?? She has her own front door, welcome mat, flower wreath, and backyard access. Just inside the door, you'll see one of my favorite spots — this little bench with coat hooks for safely removing shoes, dropping jackets, or setting down groceries. That door directly across from the bench is also a fun surprise…
Elevator & Staircase
It's an elevator! (Y'all see the buttons in the left-hand photo below?) When planning her new home, I knew I wanted to put in an elevator. After all those scary stairs in her previous home, it just felt like the right decision. She, on the other hand, said she had no need for one, and that she would never use it.
At first, I thought I'd just put the shaft in, close it up, and it would be there later if we needed it. But then, I remembered the advice I always dole out to clients — it's always easier and less expensive to install things while you are already under construction. I listened to myself and went ahead and installed it.
It was my first time installing an elevator, and it was a fun process to learn. We trimmed out the interior walls in simple board and batten millwork, and painted it in Sherwin-Williams Pure White. It looks beautiful! And I bet you can guess who has never once used the stairs… 😉
Open Concept Floor Plan
Okay, step out of the elevator (or climb up those stairs), and you'll be met with these beautiful, open concept living spaces: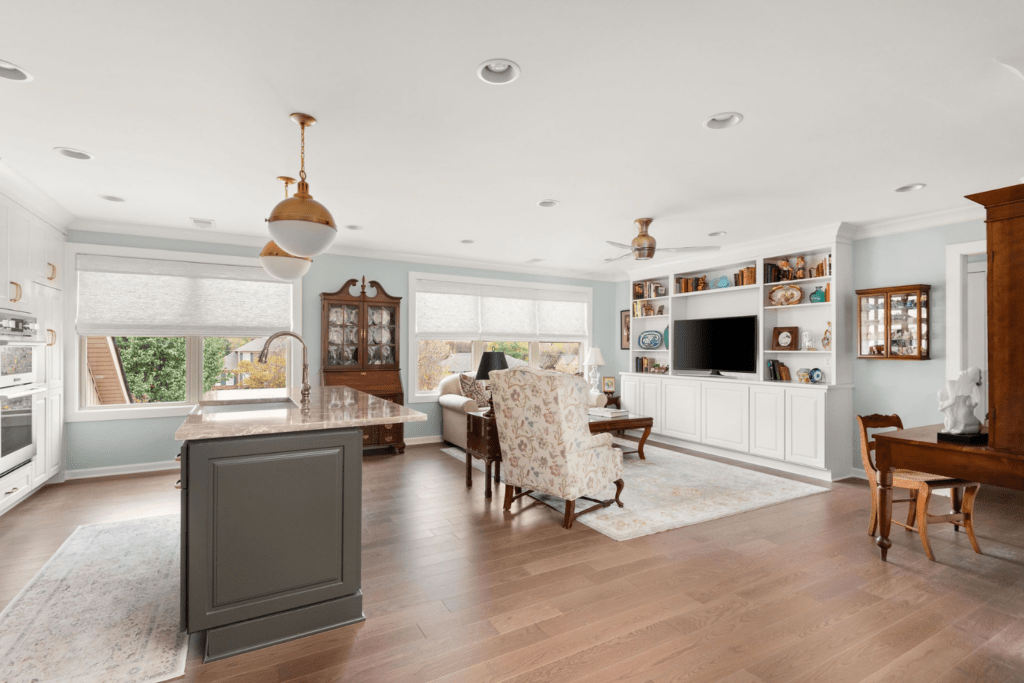 Even though we live "next door," we knew we'd be spending a lot of time here, and that an open concept layout would be the best way to keep the kitchen and living spaces social. (Turns out, my kids are here all the time — so it was a good decision!) Let's take a closer look…
My Mama's Kitchen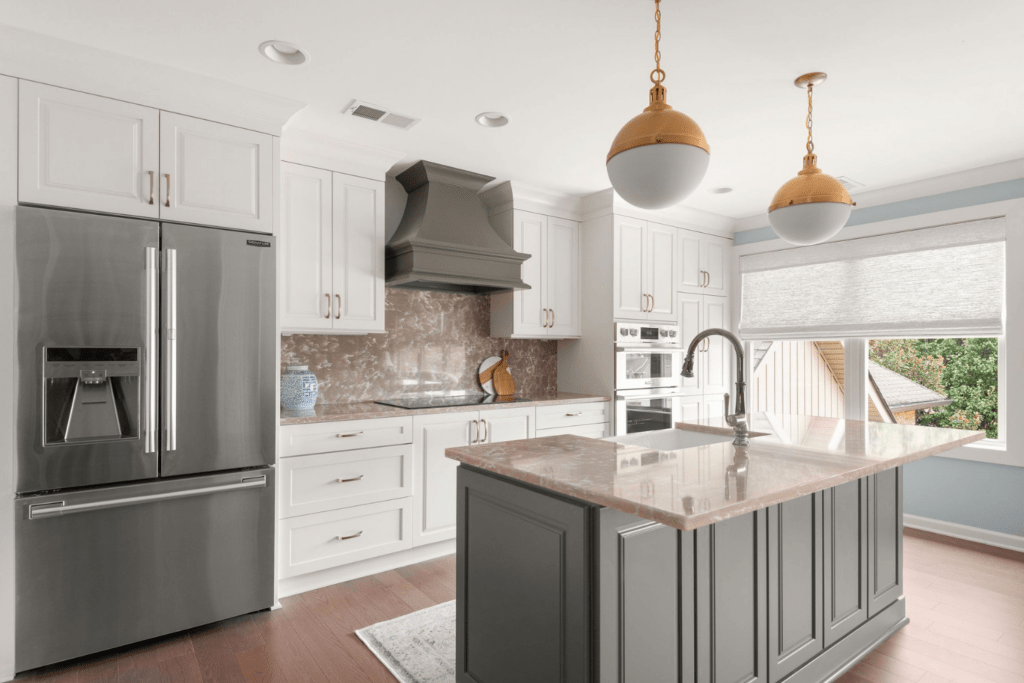 Warm yet fresh, modern yet traditional, and with everything my mama needs to feel right at home! I partnered with Signature Kitchen Suite (SKS) to bring in these luxury appliances: the refrigerator, ovens, dishwasher and induction cooktop. (If you remember, I visited their Education Design Center in Napa several years ago — and I've loved them ever since!) If I specify a product for your home, rest assured it is something I would use in my own.
And more importantly, my mama's.
There's also a beautiful dark range hood, plenty of counter space for cooking, and room for my three kids to sit and chat with Gigi.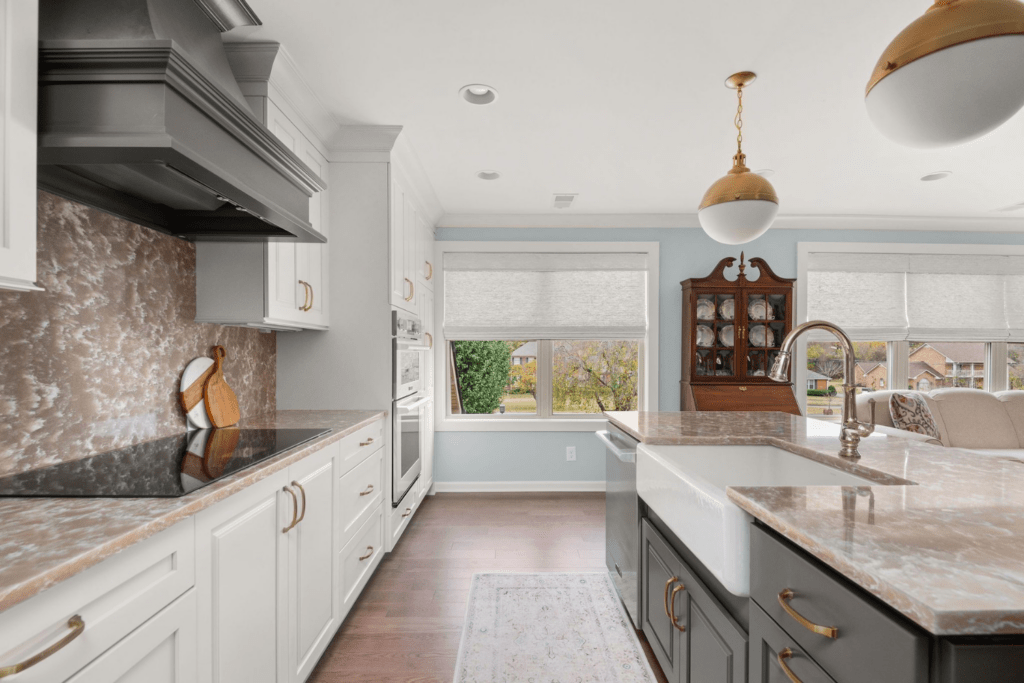 There are so many features I love about my mama's new house, but hands down, one of my favorites is the full Cambria Quartz backsplash and tops. Would y'all look at that beautiful color and texture?! I also love that Cambria quartz requires no maintenance, has a lifetime transferable warranty, and was made right here in the USA.
In fact, back in 2016 I visited the Cambria quartz plant in Minnesota, and it was an incredible trip. Beautiful materials, knowledgeable people, and true design professionalism and service. We've partnered with Cambria to design several clients' homes, and they were thrilled to play a part in this one, too! It's really the show-stopper in the room, isn't it?
Other beautiful kitchen features include these stunning brass pendants from Savoy House Lighting, the Kohler whitehaven apron sink, and Amerock brass hardware with large pulls for easy access. Next, let's turn 90 degrees, and step into the living room.
Living Room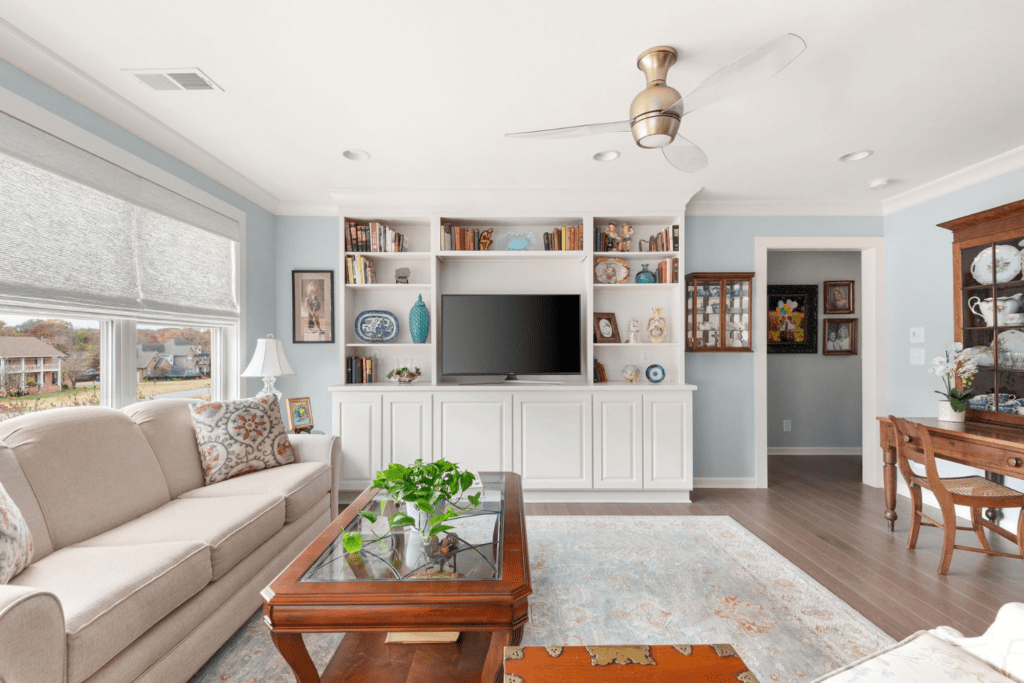 One thing we were very conscious about when designing my mama's interiors was the fact that she owns several beautiful antique pieces. These were passed down and very special to her. Yet, she needed some new pieces as well. Throughout her home, but in the living room especially, we achieved a balanced mix of both. And of course, you know I had to add a built-in!
For this, I turned to our trusted partner, Crystal Cabinets, who specializes in fine cabinet design and construction. They worked with us to create the living room built-in, the kitchen cabinets, and the kitchen island. Seriously, scroll back up and look, because their craftsmanship is second to none! LOVE them.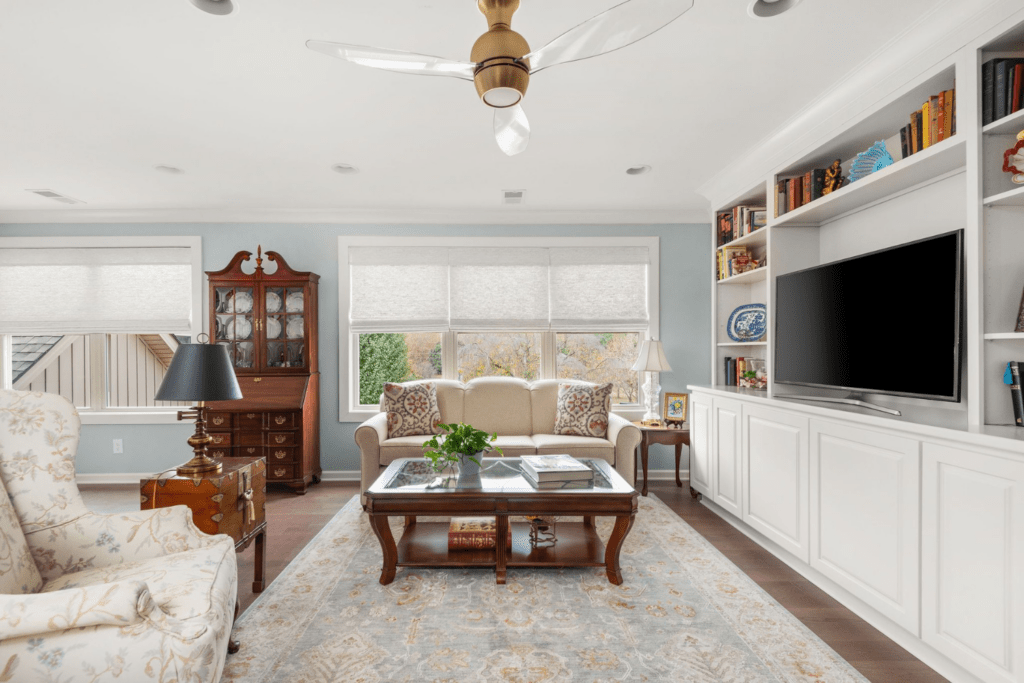 The chest-like end table and secretary are pieces my mama had before. We incorporated a new sofa from our designer line, Southern Roots, and this cocktail table from Hooker Furniture. Both of these work perfectly with the other traditional pieces in her space. We pulled it together with a transitional rug and simple, classic wovens for a complete space. Beautiful!
Next, let's step out of the common areas and into the first bedroom…
Bedroom & Bathroom #1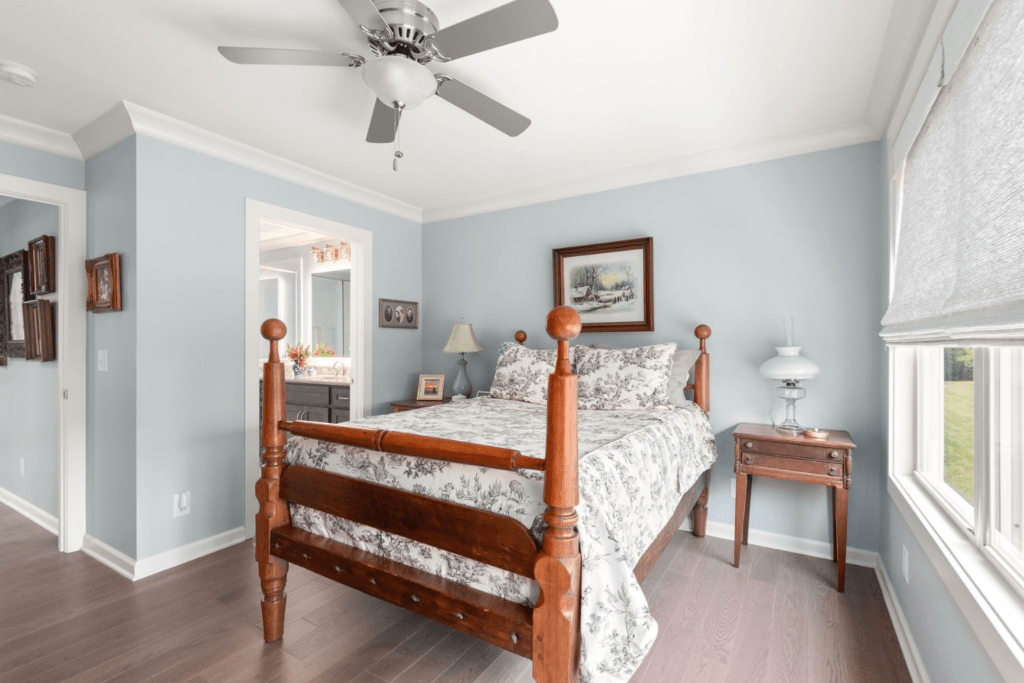 Both bedrooms maintain our fresh traditional design aesthetic and our color palette of light blues and warm woods. Y'all will also notice that there's a lot of my mama's art and photographs throughout the house, which I think goes a long way toward making this new house her home.
We used Cambria quartz again in the bathroom to create a cohesive design, and of course, added brass lighting to warm things up. I also love this backlit LED mirror, and the zero entry shower is perfect for my mama's safety. (Though if you ask me, a zero entry shower is good for safety at any age. I think we've all tripped before!)
Bedroom & Bathroom #2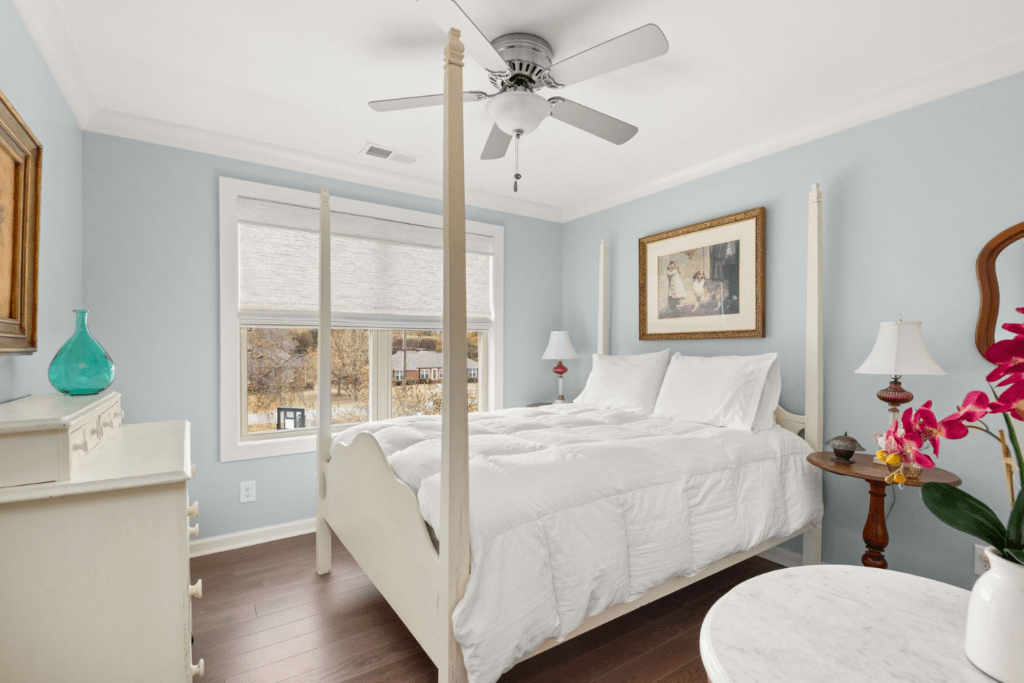 Bedroom #2 is for guests. It's similar to the first, but with more white painted wood than cherry tones. We added my mama's art to this room as well, along with an extra table for belongings. The views in both of these rooms are beautiful, as well.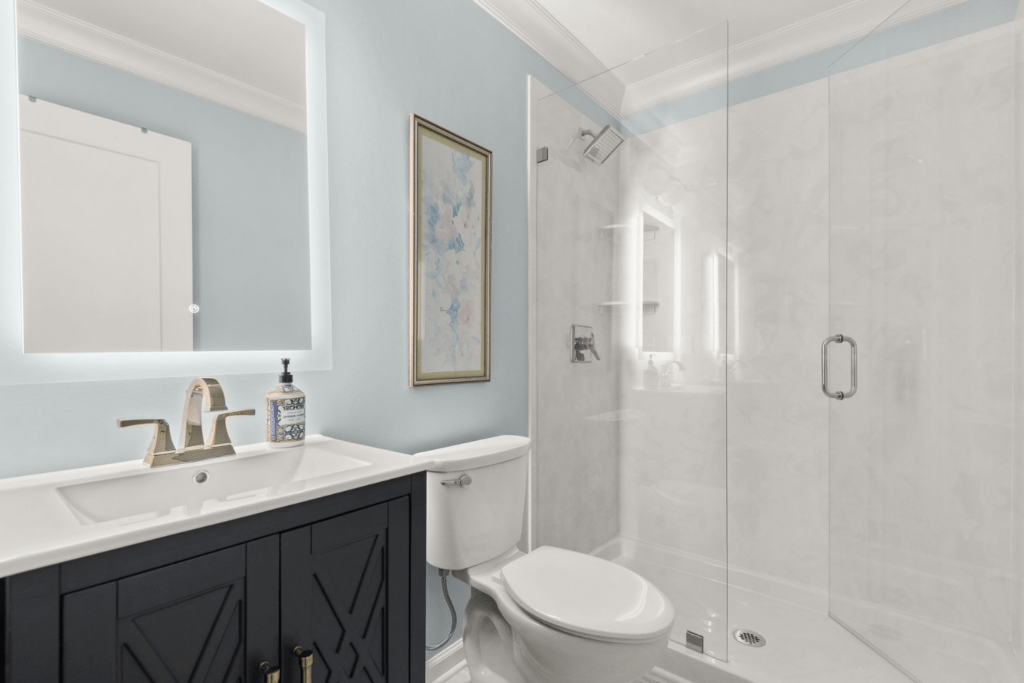 The guest bathroom is also lighter and brighter than the first, with more white and nickel. I also love the design on the doors of this vanity. The beautiful millwork adds traditional style to the room that just fits the rest of the house.
Outdoor Living Spaces & Mama's Reaction
We don't have photos of the outdoor spaces just yet — there's a story there — but we just got the fence installed around the pool, and it's created a nice spot for a garden in the back. I'm looking forward to the spring and giving Mama a place to plant and tend however she likes.
P.S. Y'all can view the video tour of this home here.
So, what does my mama think about her new home? She loves it! Although she still talks about her old house some, that's natural after 20 years. I believe, all in all, she is very happy here. She eats dinner with us whenever we eat at home, our kids are always at her place, and we've even started decorating for Christmas.
Have you ever considered building an addition for a family member? If you're curious, I talk about the planning and logistics of my mama's house here. Or, feel free to reach out and talk to us. It's a big decision that requires coordinating a lot of large and small details, and we would love to help.
Until next time, I hope y'all enjoy this special season with the people you love most!
xo,
E
---