Why, Where & How to Use Wallpaper in Your Home
January 24th, 2023 | by Elizabeth| Posted in bathrooms, bedrooms, design, guest room, High Point Market, home office, remodeling, trends

Can you guess how old the concept of wallpaper is? Over 500 years. 500! Wallpaper (as we know it today) was invented as early as the 16th century. However, some historians argue that wallpaper's roots came from the use of rice paper on walls in China as early as the Qin dynasty, which was around 200 B.C… that's over 2,000 years!

And throughout this long history, wallpaper has seen the best of both worlds. It has had a place in royal palaces and humble homes. It has risen to the height of fashion and fallen out of it. Best of all, it has evolved with the changing times…which is why we have it in our lives today. Fascinating, right??

Don't worry, the history lesson stops here. (If you want to know more about the history of wallpaper, I suggest reading this article and this one.) For now, let's stick to wallpaper in the present…
Why is wallpaper a great idea for your home?
Wallpaper may be ancient, but it doesn't have to look old. There are so many options available these days, from understated and elegant to unique and creative. And when you select the right pattern for your space, it can do a lot for you:
Infuses an instant designer-feel to a space, elevating the space
Creates a one-of-a-kind look you won't find at your neighbor's house
Adds visual depth, making a room seem larger
Invites texture and coziness into a room
Gives you a chance to showcase your own personality
Can hide irregularities or small cracks in walls
Offers durability, such as vinyl wallpaper, which is perfect for kid's rooms and bathrooms
It's easier to clean than painted walls… and who doesn't want that??
I love this playful wallpaper from our Wine Room Project, inspired by their travels.
Where can you use wallpaper in your home?
Wallpaper can be used almost anywhere in a home, but that doesn't mean y'all should use it everywhere. A little goes a long way. Some great areas to add wallpaper could include:
A statement wall in a bedroom
A mural wallpaper in a more formal room, like a dining room
Powder room (a great place to be a little braver with your selection, since it's mostly hidden)
The back wall of a bookcase
On a ceiling to create perceived depth
Wallpaper panels trimmed in panel molding to create instant art
Here are just a few examples from High Point Market, Fall 2022 and past projects to help you get inspired….
Wallpaper for Real & Perceived Texture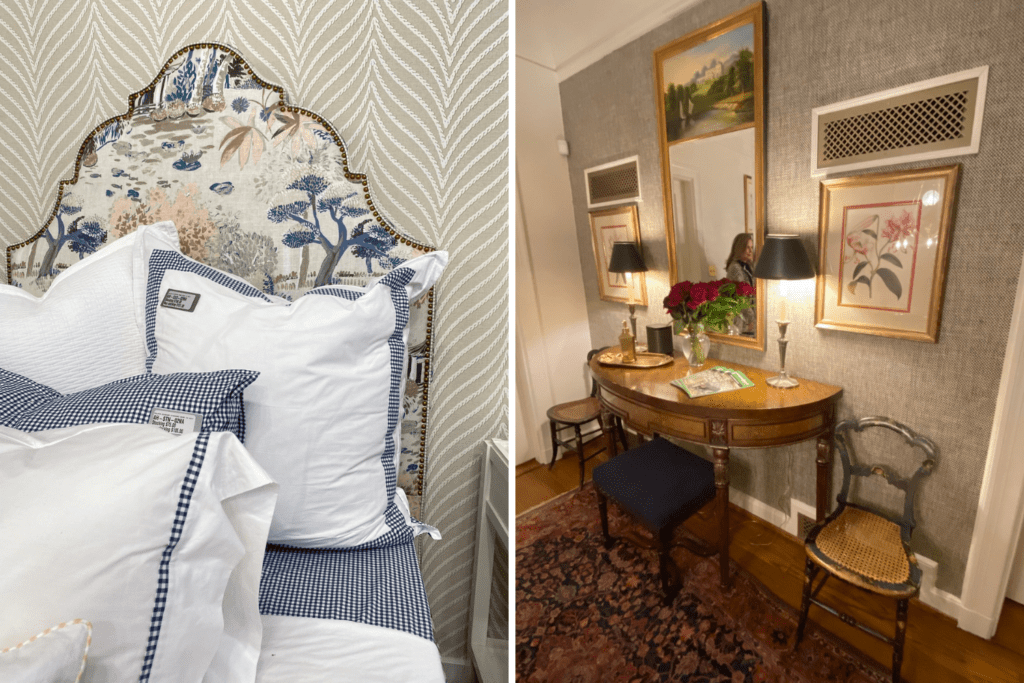 On the left, the wall looks textured, but it's actually just the pattern! With a little shading under the stitching, it looks real, adding depth and dimension. On the right, this is textured grasscloth wallpaper, and I love the warmer palette, too. It creates a feeling of classic comfort. Give me allll the grasscloth.
Wallpaper as Naturescapes

According to wallpaper historians, printed and painted naturescapes were one of the earliest styles of wallpaper, from depictions of exotic animals to foliage and countrysides. If you ask me, there's something naturally calming about bringing the outdoors into your home this way. In fact, I chose this heron-printed wallpaper for my own bathroom, and I still love it years later!
Unique Wallpaper Designs
Then, there are the truly unique patterns, like chinoiserie and townscapes. The powder room on the right is the perfect example of wallpaper chosen to reflect our clients' personalities (they love travel), their home (this powder room is right off their wine room!), and their home's color palette (warm neutrals). It's unique, but it fits!
On the left, this chinoiserie-inspired wallpaper (which I spotted in the Thibaut showroom) is one of my favorites. This beautiful scene adds immediate interest, and in my favorite colors — blue and green. And did you know that we're the only local source where you can purchase Thibaut wallpapers and fabrics? Yep, even if we aren't doing a project together, you can still order whatever you need through us.
Large & Small Patterns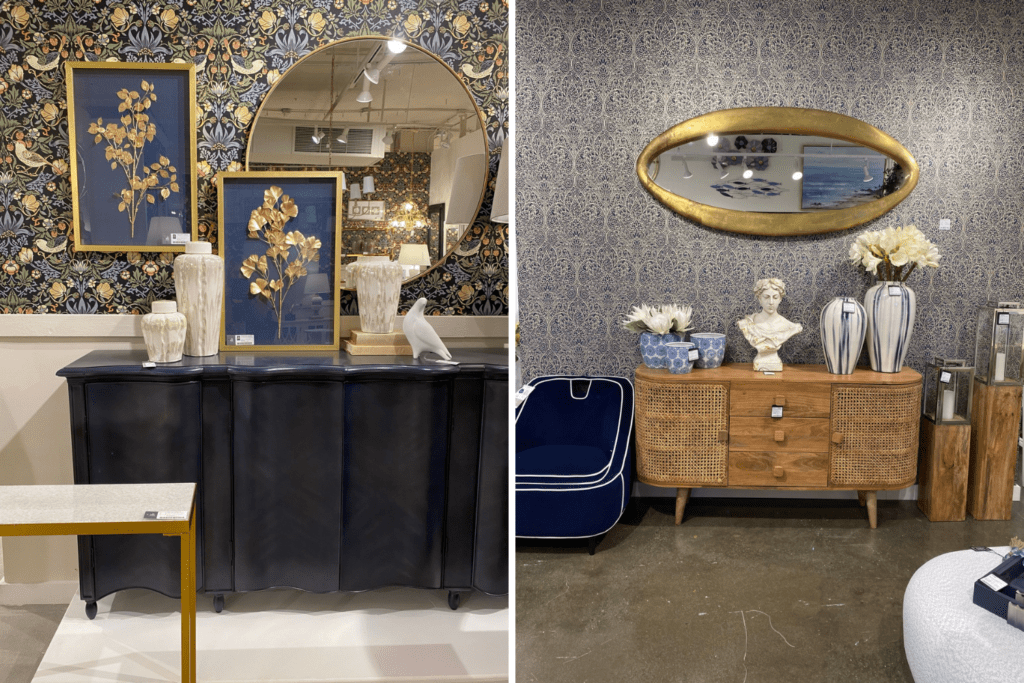 When it comes to wallpaper options, there is a wide, wide variety of patterns out there, from floral to damask, toile to geometric. For the most part, your choice will be based on your home's style and your personal preference, but it is important to pay attention to a pattern's scale…
A smaller pattern, like the one on the right, will usually recede visually, helping add depth to the room. A medium scale pattern, like the one on the left, makes the wall feel closer. This is even truer for a large-scale pattern, or any pattern that includes two colors with high contrast. But we'll talk about that next…
How to select the right wallpaper for your space?
Okay, y'all know why I love wallpaper and you've seen the potential. Now, how do you select the right pattern for your space? Or better yet, how do we select the right pattern for you during a renovation? Here's our 3-step process:
1. Consider functionality. Yes, wallpaper has a function. Do you want it to add depth to a wall? Create feelings of warmth with texture? Be moisture-resistant and easy to clean? Once we have these needs identified, we've eliminated several options and started to narrow in on the right ones.
2. Determine the right scale. The size of the space will usually determine the scale of the pattern we're looking for. A small space will often look even smaller if we choose a large-scale pattern, and likewise, a large space with a small-scale pattern could feel off as well. We have to find the perfect balance.
3. Explore styles. With the first two prerequisites defined, we can now explore the style options. You'll want wallpaper in a style that feels aligned with the design of your home — the general aesthetic of it (is your home traditional, modern, etc.) to the color palette. It always takes some digging to find the perfect fit, but when we see it, we know!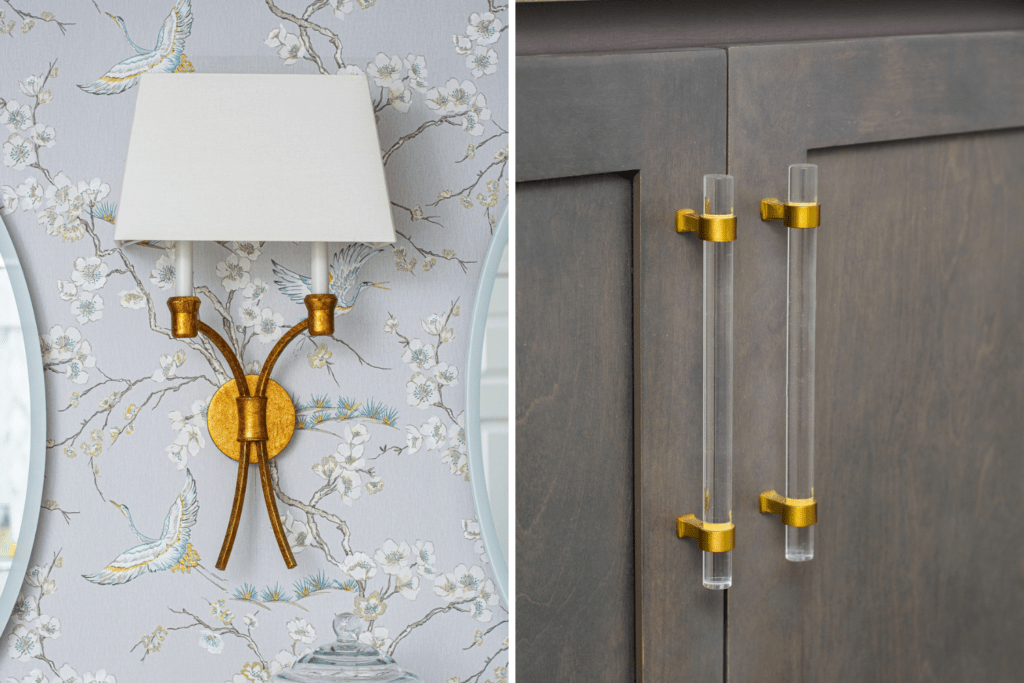 The final step is to make sure that your wallpaper's design blends with the rest of the room. For example, in my bathroom, I used the wallpaper as the jumping off point for the color scheme with cool brown woods, warm brass accents, and pops of white. Perfection!
So, what do you think? Would you ever consider wallpaper in your home? What might be holding you back?
Either way, if you're looking to transform your home this year (with or without wallpaper), we'd love to help! Reach out to us here to book a discovery call and see if we're the right fit. Until next time…
Xo,
E
---