My Favorite Long-Term Trends From KBIS 2023
April 11th, 2023 | by Elizabeth | Posted in bathrooms, bonus rooms, built-ins, construction, design, home & garden, home office, KBIS, remodeling, trends

It's already April. Where has the time gone? We have been extremely busy since returning from the Kitchen and Bath Industry Show in early February. I have just recently had enough time to catch my breath and gather my top trend take-aways from the event. There was quite a lot to take in but I managed to whittle it down to my top 5 trends that we will be seeing in 2023 and beyond.
#1 – Statement Backsplash
There's nothing I love more than a dramatic backsplash! While most people think of the island as the centerpiece of a kitchen, the backsplash is fast becoming the place to pull out all the stops and make a statement!
One way to do this is to use your countertop material as your backsplash. The look is very high-end, creating a sleek, seamless surface that makes cleaning easy! I did this in the home I designed and built for my mama.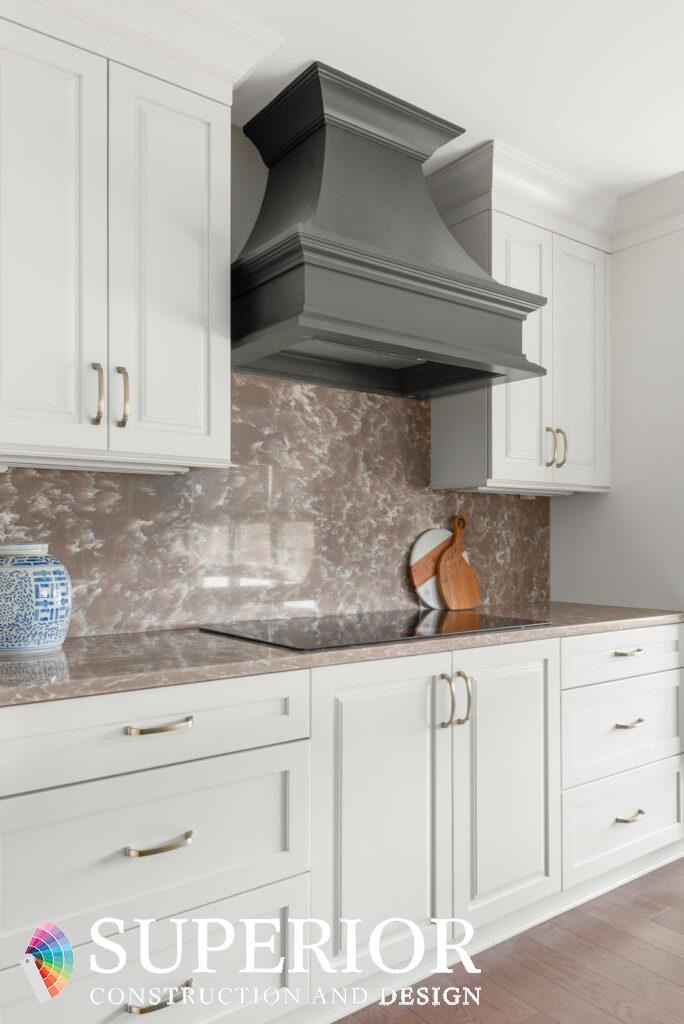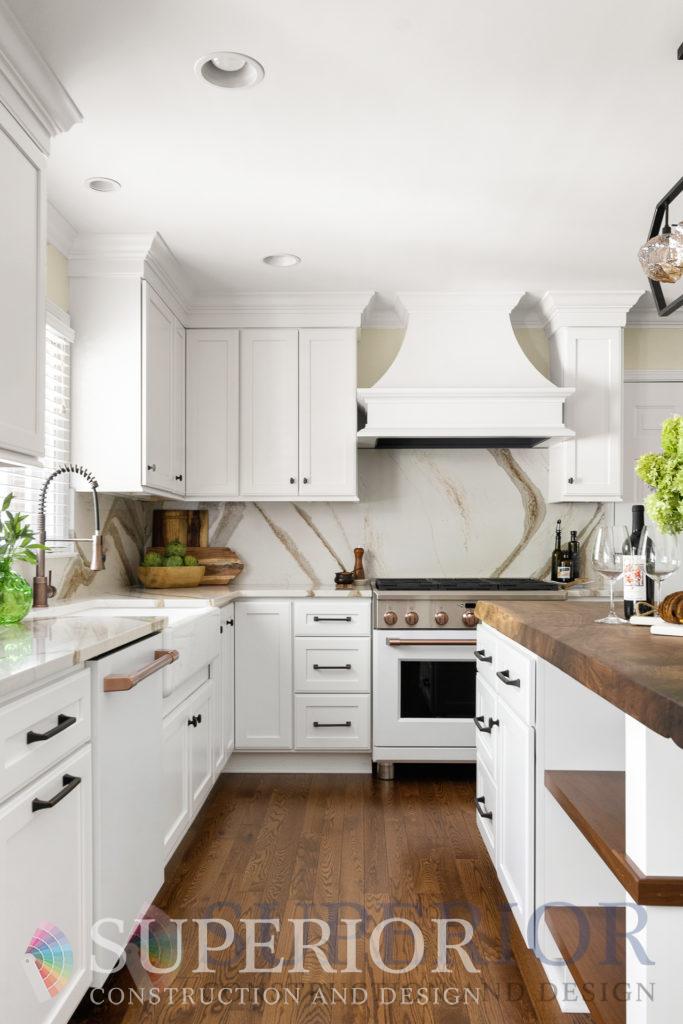 You can also choose a tile with a lot of movement or pattern, or a textured or 3D-relief tile that gives your wall actual depth! I have seen these types of styles used in showers as well and they're stunning!
#2 – Textured & 3D Tile
As you can see from my number one trend, textured tile and 3D tile is hot, hot, hot! It seems like every tile manufacturer has a textured or 3D collection in their offerings. These types of tiles invite interaction and can change with the light (both artificial and natural).
They come in a variety of sizes, from smaller subway tiles to large format tiles that create a seamless look, similar to wallpaper or architectural wall panels. You can use textured and 3D tiles in kitchens, bathrooms and on walls, too. They're particularly stunning on fireplaces that stretch from floor to ceiling. Textures that mimic natural materials like wood, bamboo and leaves are on the rise.
#3 – Double Kitchen Islands
I'm sure you've seen this trend on Instagram and Pinterest and thought, "Who on earth needs two islands?" Believe it or not, two kitchen islands really are better than one! While it might not work for everyone, double kitchen islands provide extra storage, more workspace and are an ideal solution for a home that doesn't have a separate pantry or home office.
With parallel kitchen islands, you have two islands that run the same direction, whereas side-by-side islands work together to create one large island that is split in the middle. Perpendicular islands create a T-shape. There are also L-shaped islands, which are a little more compact. Finally, you can have a little fun with mismatched islands made from antique pieces for a bespoke, curated look.
#4 – Broken Floor Plans
We haven't seen broken floor plans in a while but they're back and I'm inspired by the flexibility and unique visual appeal that they offer. As you might have guessed, these types of plans are gaining in popularity due to the pandemic, and the continued blending of our lives at work, at school and at home.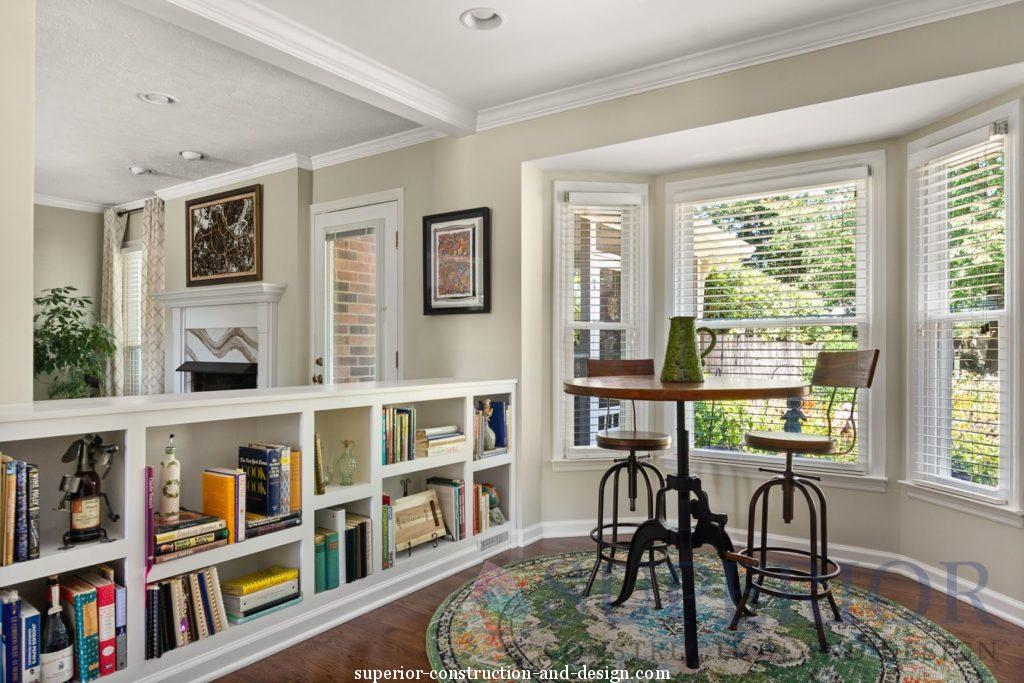 An open floor plan creates large spaces for socializing and gathering – it's how we've been designing homes in the US since the 2000s. I cannot tell you how many renovations we've completed that involved creating an open living space between the kitchen, dining and living room.
A broken floor plan, as the name suggests, is used to "break up" an open floor plan into zones so that shared spaces can provide a little more privacy. For families, broken floor plans help strike a balance between privacy and socializing, especially in shared areas like kitchens and eating areas, living rooms and shared bedrooms.
You can use a combination of permanent and temporary solutions to create a broken living space. A few examples of permanent solutions include built-in bookcases, glass partitions, sliding doors, half-walls, and fireplaces. You can also use changes in floor height to create more private zones (think mezzanines and sunken rooms). For more immediate and construction-free solutions, look to bookshelves, buffets, credenzas, folding screens, curtains, large furnishing pieces, and even plants to create separations.
#5 – Fabric Sink Skirt
This trend is straight out of your grandmother's playbook but I have always found a skirt sink sweet and nostalgic, so I'm excited for the possibilities! Sink skirts offer a unique (but traditional) way to introduce color, pattern, and softness into "hard" spaces like kitchens and baths, where there is an abundance of solid surfaces like cabinets, tile floors, and countertops.
In the south where traditional design is the standard, a sink skirt is a fresh way to add some vintage charm, and can be used in kitchens, bathrooms and laundry rooms. As you can see in the photos below, it really does create a completely different look that we're not used to seeing in our modern environments. I feel instantly transported to a European villa or tiny country cottage. If you'd like to see the "before" photo of the green floral skirted sink in the below-right bathroom, check out this feature from Country Living. You can see more photos of the house, too. It's simply marvelous, and it shows you just how much of an impact a skirt sink can make!
The best thing about a sink skirt is that you don't even need a kitchen remodel to get the look! Just remove your cabinet doors and install a rod, and add some fabric! If you're interested in a little DIY project this weekend, here's a tutorial from Martha Stewart.
There were so many trends on display at KBIS 2023 that it is impossible to go in-depth on them all, so I chose the top five trends that I think we will be seeing a lot more of in the future.
If you are exploring an upcoming remodeling or renovation project (or just have questions about the process) let's talk! You can book a FREE 15-minute discovery call through my website to see if Superior Construction and Design is the right fit for you.
---