Choosing The Right Wood Cabinets For Your Home
March 28th, 2023 | by Elizabeth | Posted in bathrooms, Cabinets, kitchens, remodeling

Without a doubt, cabinets are one of the elements in your home that are both a functional and an aesthetic foundational feature. Wood cabinets are especially popular not only for their beauty, but for their durability and versatility.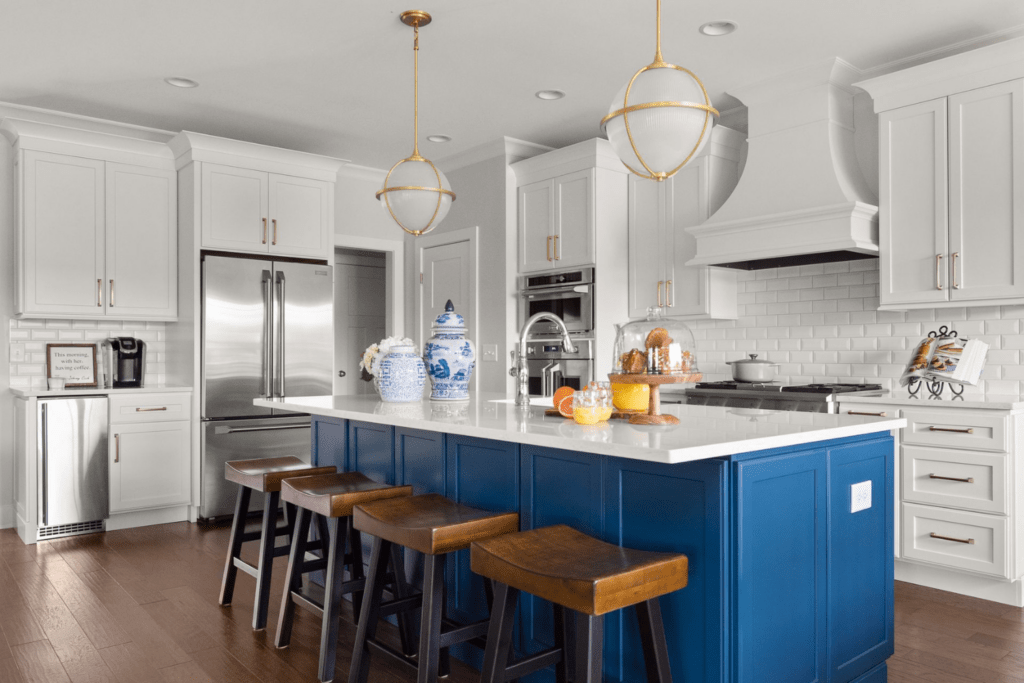 In my last blog post I shared some tips with you for planning your cabinet layout for your kitchen, bath, or laundry room remodel. For this post, I wanted to share everything you'll need to know for choosing the right cabinet style, wood species, and finish for your new cabinets.
Let's get started!
Materials: Solid Hardwood, Engineered, Veneer, and Laminate
First, we'll talk about the different types of wood cabinets: solid hardwood, engineered wood, veneer and laminate. As far as budget goes, solid hardwood cabinets will always cost twice (or even three times) more than veneer or laminate cabinets. Don't worry, though. If solid wood cabinets are not in your budget, there are still plenty of affordable alternatives that have the rich look of wood, without the price tag!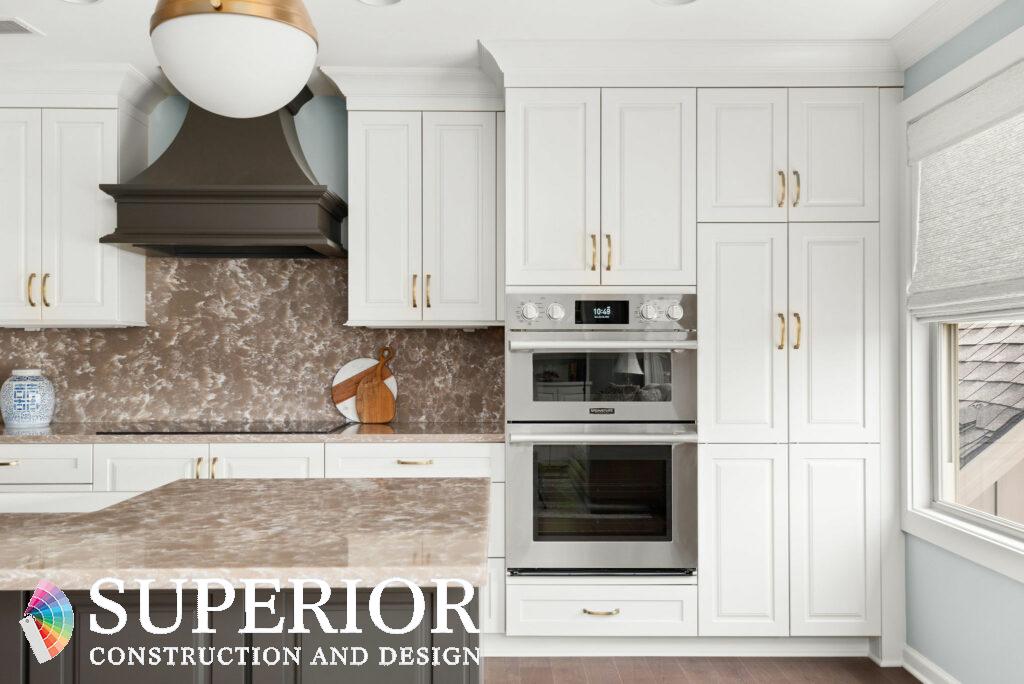 There are many ways to achieve a wood-look with your kitchen cabinets, depending on your budget, style, and durability needs. Here's a brief rundown of the main differences:
Solid Hardwood – The premium choice with a premium cost. Solid wood cabinets are classic and timeless. Wood cabinets can easily be touched up and refinished. Can shrink and swell with humidity.
Engineered Wood – Just like hardwood flooring, engineered wood is also used to make cabinets. Engineered wood is made of layers of sliced wood, glued and pressed together with heat and thermofused melamine to create a board with a wood-grain texture surface. Due to their nature, these cabinets cannot be stripped, but can be repainted with a correctly formulated paint.
Veneer – A veneer is a thin piece of wood attached to a manufactured, composite interior piece, designed to mimic the look of wood. While veneer is an economical choice, it tends to chip (especially at corners and edges). They're also more prone to sustaining water or humidity damage.
Laminate – Laminate cabinets are made of a composite wood plank topped with a layer of laminate. They are cost-effective and very durable! Laminates withstand high heat and moisture very well, making them perfect for wet areas like bathrooms, laundry rooms and kitchens.
Species: Alder, Cherry, Hickory, Maple, Red Oak, White Oak, and Walnut
If you do choose solid hardwood cabinets, there are few things to know about wood species, too. Cabinets are manufactured from several species of wood including Alder, Cherry, Hickory, Maple, Red Oak, White Oak, and Walnut. Each species has its own characteristics and charm.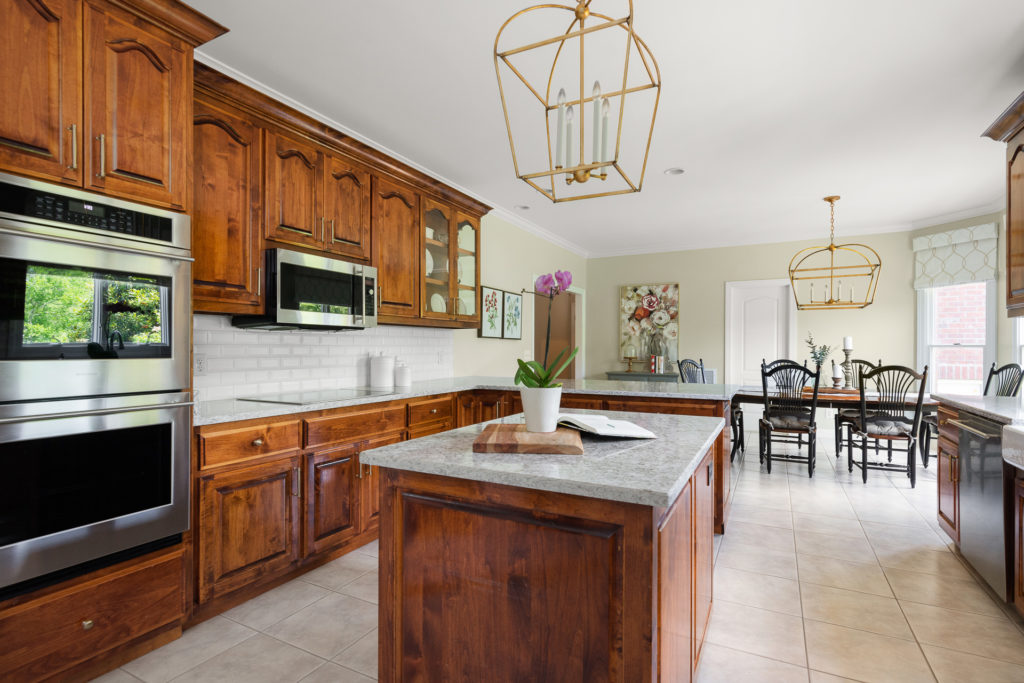 Wood Species Characteristics:
Alder – Light brown in color with a yellow, peach or reddish tinge. Fairly straight grained with uniform texture.
Cherry – Rich red to reddish brown heartwood to whitish green sapwood. Fine, uniform, straight grain, smooth texture with brown pith flecks, mineral streaking, small gum pockets and minimal sapwood.
Hickory – White tinged with brown sapwood and reddish heartwood creating extreme color variation. Extremely dense and hard. Coarse textured with grain that is usually straight but can be wavy or irregular. Natural wood characteristics such as knots, knot holes, burls, swirls, color streaks and light mineral stains.
Maple – Creamy white to yellow with a slight reddish brown tinge. May contain pith fleck. Generally straight grained with a fine uniform texture.
Red Oak – White to light brown in color with pinkish to reddish brown heartwood. Straight bold grained with open pores that hold and absorb finish.
White Oak – Sapwood varies from whitish light brown in color to grayish dark brown and the heartwood is light to dark brown. Mostly straight grain with medium to coarse texture. More evenly spaced pores than plain sawn red oak, revealing the wood's rays as a fleck pattern across the grain.
Walnut – Off white sapwood to heartwood that might be deep chocolate or purplish dark brown. Medium density hardwood. Smooth, tight straight to slightly wavy grain.
Finishes: Stain vs. Paint
Once you have chosen your wood species, you'll need to decide whether you will paint or stain your cabinets. For a clean, modern look go with painted cabinets. Painted cabinets appear very smooth, hiding the grain of the wood. With a painted finish, you can have fun with color and hardware, so feel free to experiment.
If a natural look is more your speed, go with a stain. Stained cabinets highlight the natural grain of the individual wood species and creates a more traditional or even rustic aesthetic. If you are refinishing wood cabinets that are dented or worn, keep in mind that the stain will accentuate the damage.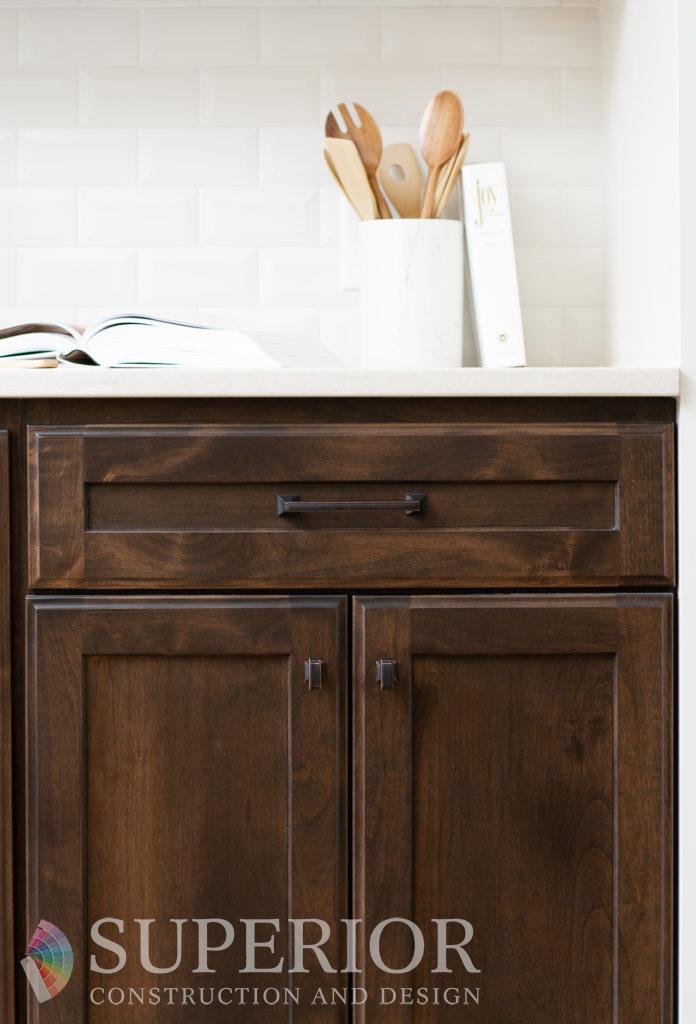 There is also a case to be made for mixing both stained and painted cabinets! It's been a trend recently but it really is a classic choice, and it creates new design and color possibilities, too. When you combine contrasting elements in a space, it adds instant visual interest and character.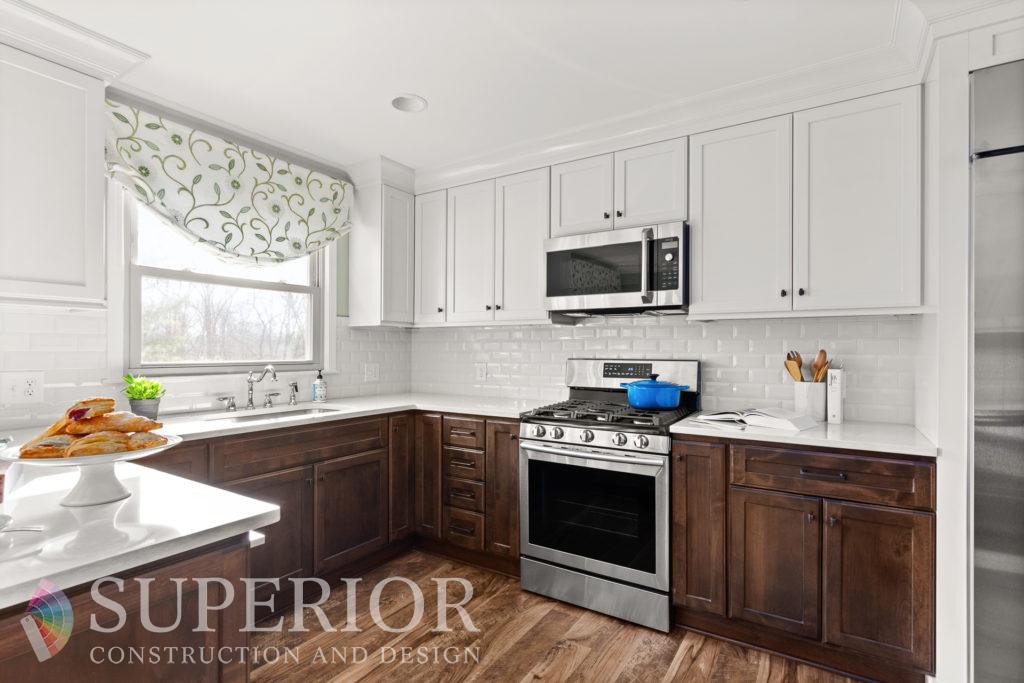 Finally, keep in mind that natural wood has inherent undertones that will impact the final look of a transparent or semi-transparent stain. If you're curious to see how different stains look on various species of wood, you can visit the Crystal Cabinets website. You might be surprised to see that some stains that appear dark gray or black on some species look almost blue on others. Undertones are important, friends!
If you are thinking of remodeling or renovating your home, or are looking to build new, let's talk! You can book a FREE 15-minute discovery call through my website to see if Superior Construction and Design is the right fit for you.
In next week's blog, I'll talk about some of the emerging trends in global design as shared with us KBIS 2023 by the great Patti Carpenter of Carter and Company. It's going to be a good one.
Until next time…
---