Before & After Decorating Project: A Fresh & Colorful Living Room
March 16th, 2020 | by Elizabeth | Posted in Before and Afters, coming home, design

Y'all, it's no secret that times have been… different… from what we're used to, especially here in Wilson County in Tennessee. But instead of focusing on the tough parts, I want to extend so much love, support, and positivity to all of you. Y'all are in my thoughts and prayers, and together, we can make the most of whatever life throws at us!

So to help spread some cheer today, I want to share a Before & After of a decorating project we completed last month. It's fresh. It's proof that you don't always have to renovate. And it's full of happy colors to make you smile!

Let's take a look. 🙂
Decorating Project: A Fun Backstory
Mr. and Mrs. R (as we'll call them) first reached out to me years ago when they lived in another home in a neighboring town. It was the home they had raised their children in, a typical early 80's ranch with a basement full of dark wood, paneling, wallpaper, and lots of mauve and navy. 
At the time, they were thinking of selling and she wanted me to look at things to update to get ready to sell. We met several times, but I ultimately didn't do anything much but consult at that point, because they weren't sure what they wanted to do yet — which was completely okay!
Well, fast forward 2 years and an email from Mrs. R popped into my inbox. She said that they had just purchased a new home and would love me to come out to share some guidance for new furniture purchases and accessories. 
Of course I said yes, pulled up her address… and it turns out she lives right across the street from me in a new subdivision!! So not only was she my client, we are practically neighbors now! Serendipity, y'all!!
The Decorating Project
Alright, let's talk about this home…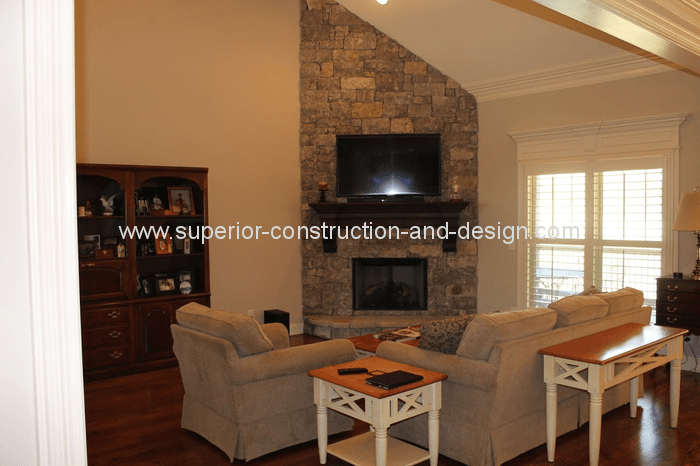 Before
One of the main differences in her new home from her old home is that the new home has soaring 2 story ceilings. While the space is very roomy and open, her older furniture felt dark and dated, and the scale was way too small.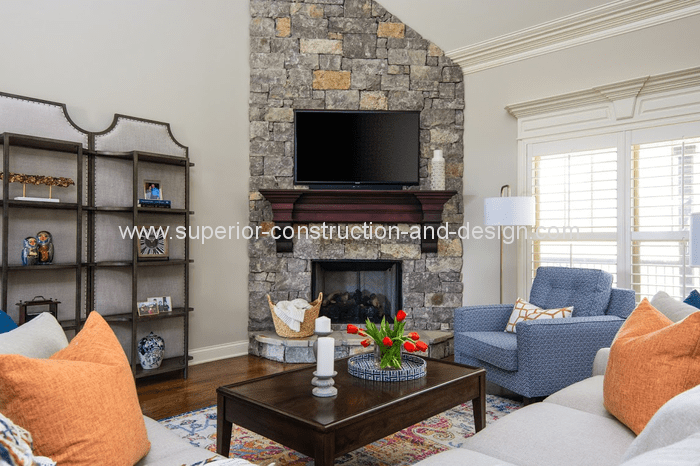 After
The correct scale (bigger, in this case) is one of the most important pieces of this design! We also used good, solid, neutrals in the larger, more expensive pieces and brought in the pops of color with the accessories.
Also, did you know? Part of our services include specifying and ordering furnishings straight from our vendors! We work with only the best furnishings lines available, visit them twice a year at market, and scout out what we believe to be the best offerings for our clients. 😉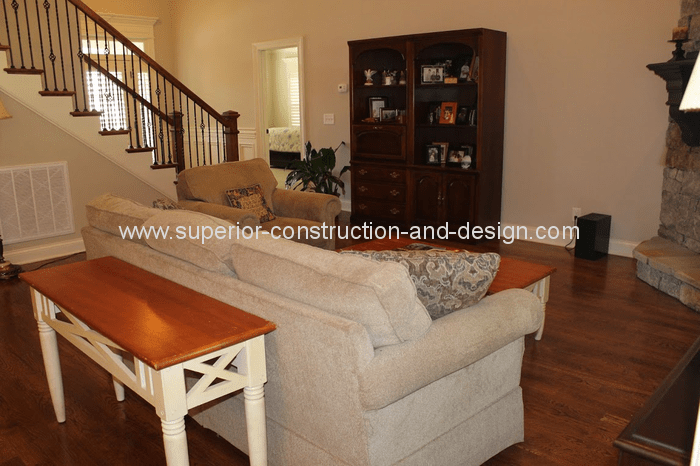 Before
Another design dilemma was that the new room has… a corner fireplace. Y'all these are the bane of my existence! Builders should never, ever, ever put them in a space, because anything placed on a diagonal — be it fireplaces or furniture, or for the love, A RUG — eats up valuable real estate in the room, making it nearly impossible to have a cohesive furniture arrangement.
We are actually about to remove a corner fireplace in a home and put it on the other side of the room in a bookcase built-in — but that's another post!  
For this decorating project, fortunately their living room was large enough that we didn't have too much of an issue with it, but because of it, we specified a sectional.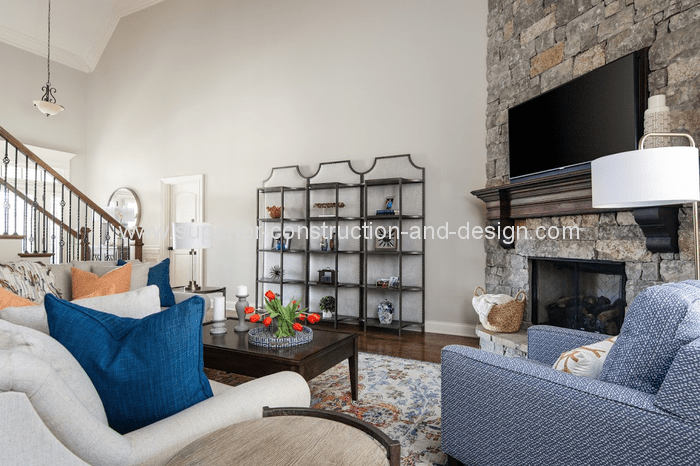 After
Again, properly scaled furniture actually helps the space feel bigger and more comfortable, and makes the 2-story entry more open and inviting.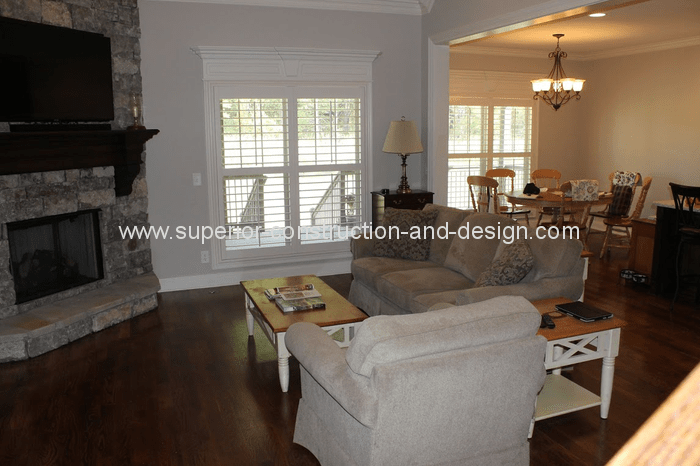 Before
The great room and kitchen and eating area are all open to each other, and they wanted the space to feel bright, airy, and cohesive.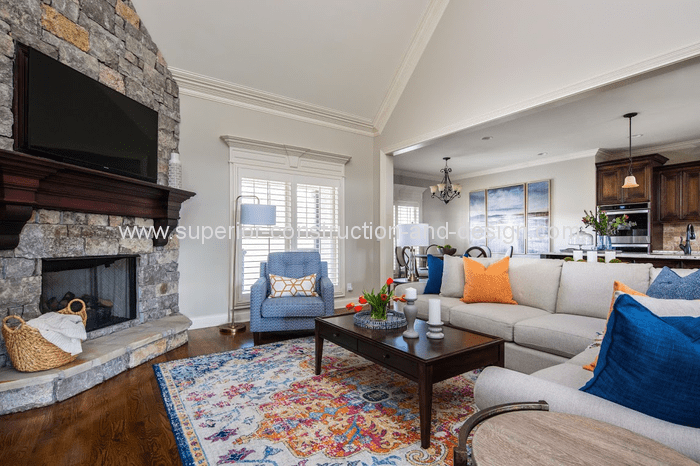 After
The beautiful area rug and the paintings in the dining area help bring all the colors in the space together! Let's zoom in on that dining space…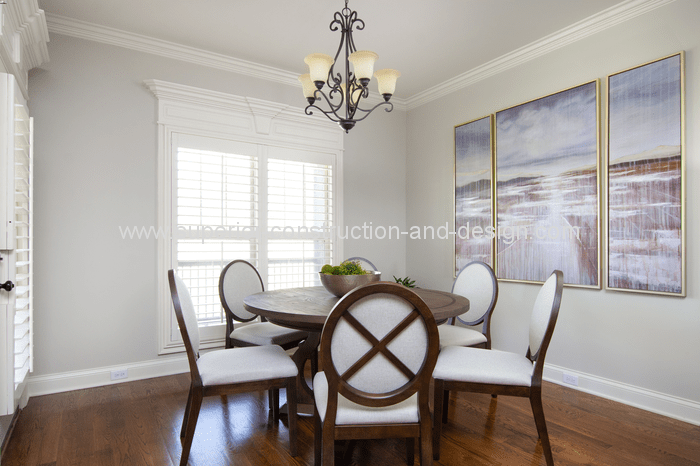 After
Fresh as a breeze!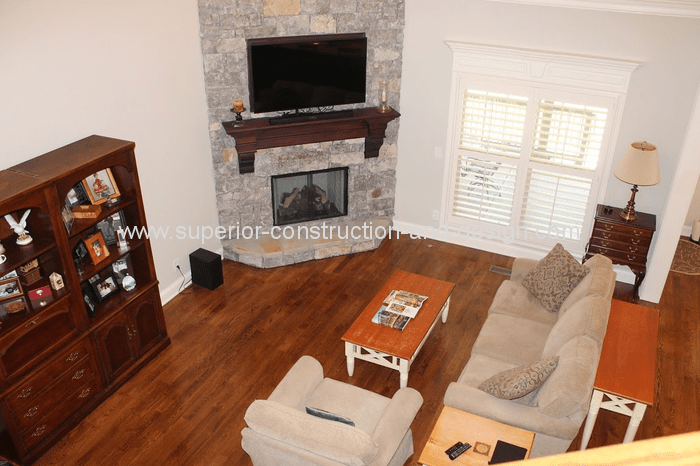 Before
This is the perfect view to see how the furniture wasn't quite filling the space properly.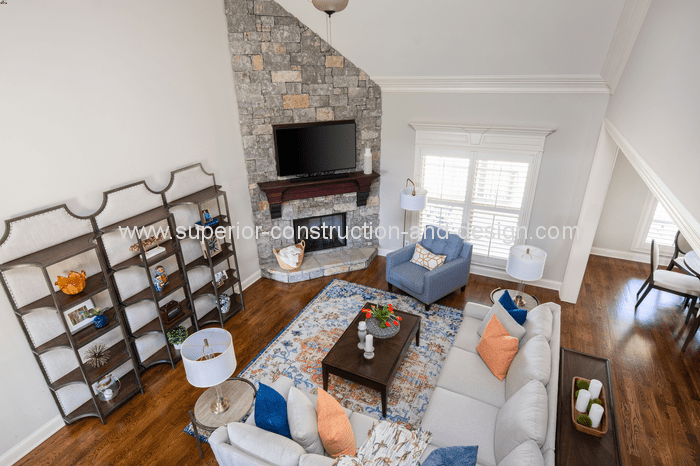 After
Much better! There's room to move around but not so much that it feels like you're swimming around in open space! Psst… notice how the accessories bring the color palette together, too? Love it!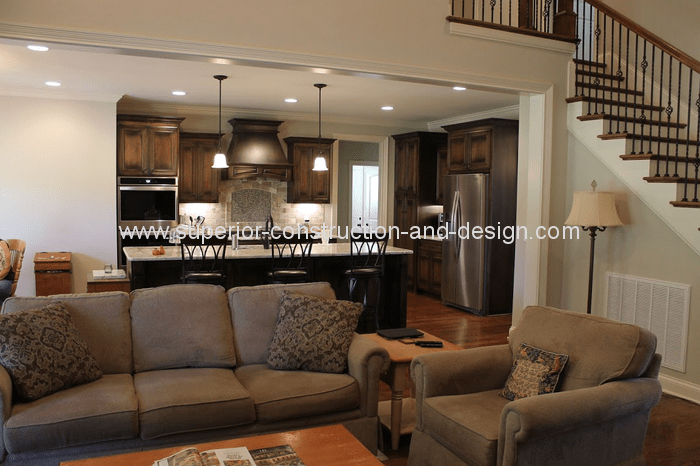 Before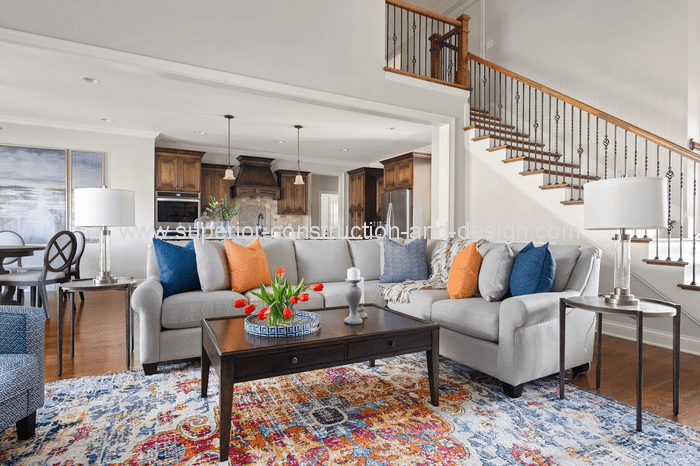 After
A light sectional does the trick! Plus, the warm, orange tones in the pillows and rug help bring the fireplace (did you notice those few golden stones in there?) and the warm wood accents (like the stair railing, cabinets, and flooring) into harmony with the furniture!
And let's not leave out the beautiful details…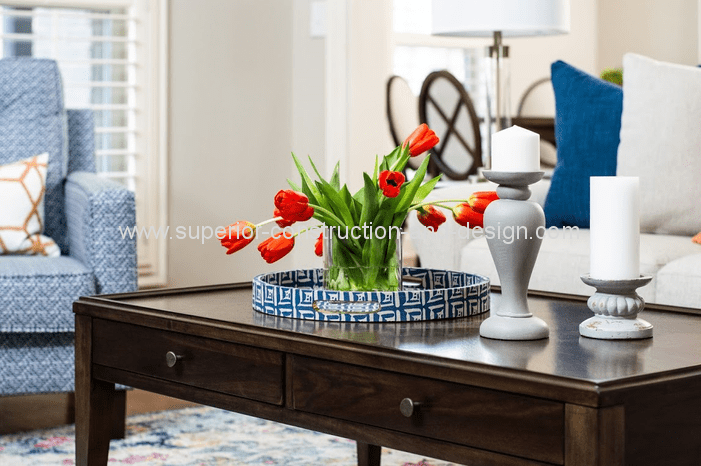 Ahhh… wouldn't you just love to sit back and relax in this space?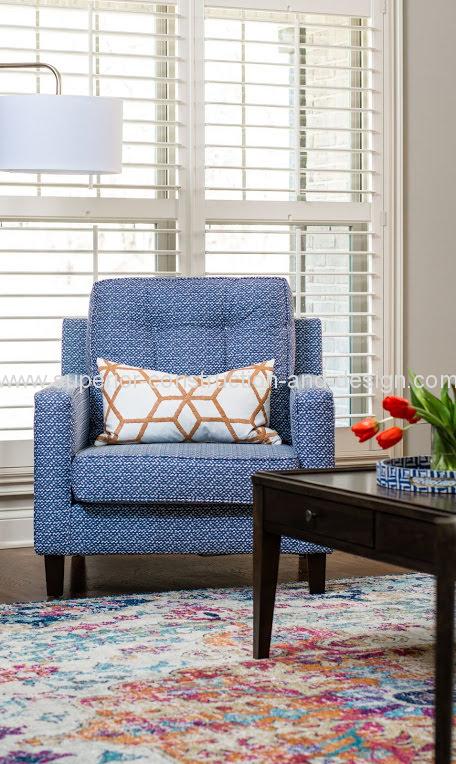 So, what do you think?? If you aren't eager to renovate, could you imagine giving your space a complete refresh with new furniture and decor?
As we spend more time indoors these days, now is the perfect opportunity to look at what you love and don't love about your space, get inspired, brainstorm some new ideas, and make a plan for the future!
P.S. So that WE can do our part in helping keep everyone safe, we are now offering e-design services! Book a discovery call with us or comment below, and let us tell you all about this fabulous design service!
Til then, stay safe. Dream big. And I'll see y'all here next time.
With love,
E
P.s. Looking for more inspiration? See our roundup of 15 Home Transformations that will Inspire You!