How to Create Your Home Furnishings Budget
February 22nd, 2021 | by Elizabeth | Posted in bedrooms
I'm back with the next chapter in our renovation myth-busting series: what a home furnishings budget really looks like! Similar to your project timeline and renovation budget, what we see on TV does not give us an accurate picture of the situation.
Today, I'm going to share:
What factors most impact a furnishings budget
What factors determine the quality and longevity of a piece
What you can expect from Good, Better, and Best level furnishings
An inside look at a sample living room furnishings budget
Grab your notepad and pen, because we're about to cover some details you'll want to remember for your next furniture purchase… or a meeting with your favorite design team. 😉
What factors influence a home furnishings budget?
In a renovation budget, everything impacts the overall investment. For a furnishings budget, there's one key element to consider: quality.
Sure, you can buy furnishings inexpensively, but as the saying goes, you get what you pay for. You can't compare the prices of two pieces and assume you're comparing apples to apples. When purchasing furniture, not all pieces are made the same.
When it comes to your budget, quality is simply a greater investment upfront, but a better investment long-term. The good part about working with us? We're experts at helping you identify which items are worth the investment and which ones aren't!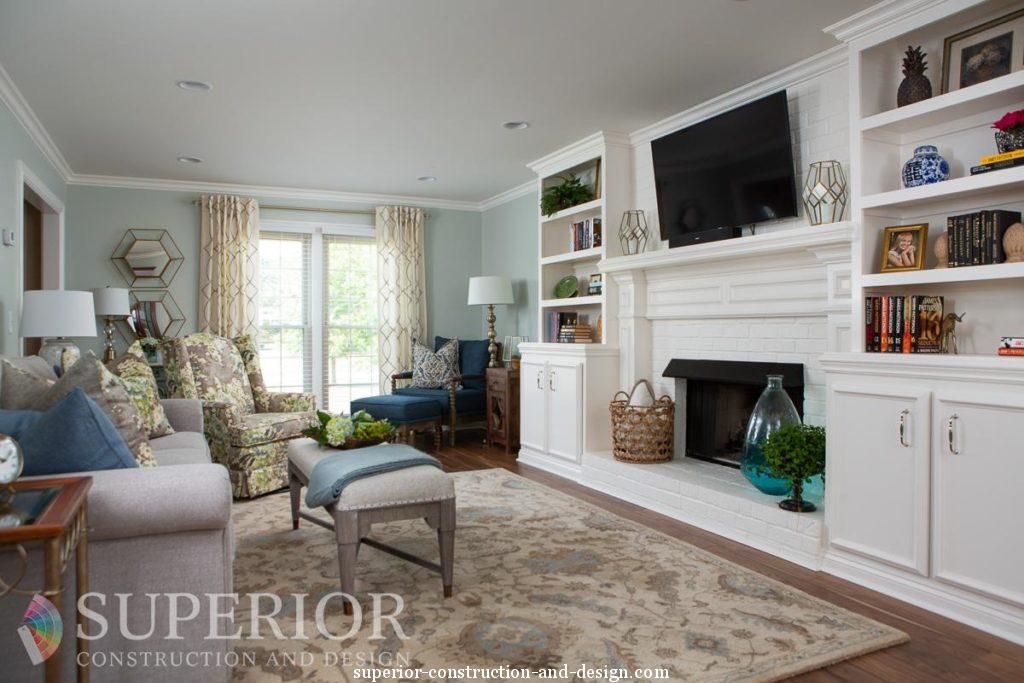 What features identify a piece of furniture as high quality?
When it comes to the longevity of a piece, you have to consider how it will be used — where is the wear and tear occurring on the piece? Take a sofa or upholstered chair, for example. Your weight will be placed on the suspension of the seating and the frame. If you want a piece with longevity, you need top quality production in both of these areas. Luckily, there's a clear winner…
Suspension: Look for "8-way hand-tied"
For longevity, you'll want to purchase a sofa that is constructed in the 8-way hand-tied method. If you're not in the furnishings industry, this likely means nothing to you. But to me, it separates a quality piece from something that you will only get a couple of years' use out of.
To briefly illustrate, imagine a bed of springs lining the cushion you're sitting on. They have to give just a little, or you may as well have a wooden chair, right? But if they give too much (which happens over long-term use), it results in a saggy seat… and nobody wants a saggy seat, y'all! LOL.
The 8-way hand-tied method secures the springs by tying them in 8 different directions. This keeps the whole suspension system taut, supportive, and enduring for ages!
Frame: Look for Kiln-dried wood
Again, this probably means little to anyone outside of the home or furniture industry. But to me, this screams, "quality!" The process of kiln-drying the wood makes it the most durable option for furniture frames that need to bear weight. It resists warping, bowing, humidity, and more. Trust me on this one!
Overall: Get an expert's opinion
If you're looking for a high-ticket piece of furniture that you can feel confident investing in, I can't urge you enough to talk to a designer or furniture salesperson who attends High Point Market each year.
Each season, the industry brings out new lines and new price points. It's imperative to speak with someone who educates themselves in the industry and knows what the norms are for for manufacturing and quality.
What are Good, Better & Best level furnishings?
I've created a sample living room furnishings budget for you below, which includes 3 price points determined by value. I've called these Good, Better, and Best.
I typically work in the Better and Best ranges with clients, solely because I know it's quality that I can stand behind. I believe in creating homes that are designed to bring you lasting joy and functionality for years to come!
However, I also believe that your home is a personal choice, and you have every right to fill it with what makes you comfortable and happy. 🙂 So what's included in these levels?
Good: This level consists mostly of retail items. These are typically lower in cost, widely accessible, and unlikely to endure long-term wear and tear for more than a year or so. Think IKEA, Restoration Hardware, or Wayfair.
Better: The "better" level is a mix of higher-end retail items and some custom furnishings, such as those you might find with your designer at a showroom (custom sofa shapes, performance fabrics, etc.).
Best: In this category, ALL of your furnishings are likely to be the highest quality possible, with most procured through trade-only resources and some custom orders, as well. You'll see this reflected in the price… and in how well you home holds up over the years!
Sample Living Room Furnishings Budget
The moment has arrived! Here's a look at the 3 investment levels for various furnishings in a living room. If you're building your own budget, you can select one level or mix and match for the price point that feels comfortable for you.
If we're working together, we'll make some suggestions based on your budget, style and lifestyle goals, and how long you want your pieces to last. Once you've approved the design concept, we'll source all of the pieces for you, like we did in this Decorating Project last year. This is the fun part!
| ITEM | GOOD | BETTER | BEST |
| --- | --- | --- | --- |
| 2 Sofas | $5,000 | $7,000 | $9,000 |
| 2 Lounge chairs | $1,200 | $2,500 | $5,000 |
| 1 Cocktail table | $1,000 | $1,500 | $2,500 |
| 1 End table | $495 | $995 | $1,500 |
| 1 Lamp table | $295 | $495 | $895 |
| 1 8×11 Rug | $1,500 | $3,500 | $6,000 |
| 4 Drapery Panels/Rods | $2,500 | $4,500 | $6,000 |
| Pillows (8) | $400 | $800 | $1,250 |
| Throw | $75 | $150 | $250 |
| Accessories | $500 | $1,000 | $2,000 |
| Art (4 pieces) | $1,500 | $2,750 | $5,500 |
| 2 Lamps | $150 | $300 | $600 |
| 1 Chandelier | $750 | $1,250 | $3,000 |
| 1 Mirror | $450 | $1,000 | $1,500 |
| | | | |
| Totals | $15,815 | $27,740 | $44,995 |
So, what do you think? Did these numbers surprise you? Or do they feel right on par with what you've experienced yourself? If you're ready for some help building your budget or redesigning your space, we're here for you. 🙂
In the meantime, be sure to grab our Guide to Layered Lighting below — a sure way to add some sparkle to your home and make it feel like new!
And be sure and pin this image so you can refer to the information when you need it!
xo,
E