1970s Ranch Reno: Kitchen, Laundry Room & Bedrooms
April 6th, 2021 | by Elizabeth | Posted in bedrooms, Before and Afters, construction, design, kitchens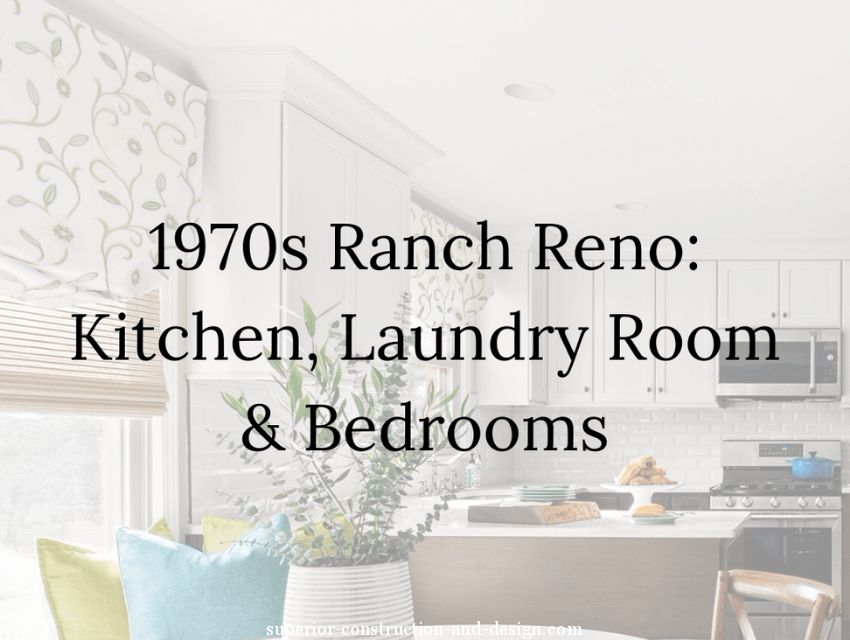 We're back with the second half of our recently completed 1970s Ranch Renovation! Y'all can see the first part showing the living spaces here– they're worth seeing! Today, we're going to dive into the kitchen, laundry room, and three bedrooms.
First up, a familiar face…
Kitchen
See anything familiar in the Before shot of our clients' kitchen? That's right…
Bassett Hall Gold! If you've been around our blog for a while (or you own a home Lebanon, Mt. Juliet, or the suburbs of Nashville)… you've seen this color in all its glory (remember this kitchen remodel and this bathroom Q&A?). It was a fan favorite back in the 90s and early 2000s, and I'd say there's a 50/50 chance that we see this color whenever we show up to a new project.
What else is going on in this kitchen? Outdated soffits, a low-hanging ceiling fan, and a dark and cramped feeling. There's also this gas stove and vent situation… they were incorporated as a little peninsula with this odd gap in between. Our clients didn't think it was very functional, and I had to agree.
We knew we could do something better with that space… and so we did!
Ahhh… it's transformed!! Goodbye soffit. Goodbye peninsula. Hello, light, bright, airy, and functional!
You can see that we closed off that odd peninsula and gap, making the kitchen a little bit smaller but much more functional. It also gave us the ability to create this built-in breakfast banquette, which our clients agree is a fantastic use of the space. Here's another angle:
Perfect placement to enjoy some morning or afternoon sunshine! Any much cozier than the bartop seating right next to an open flame (danger alert!). If we step a bit further into the kitchen and look toward the breakfast table, you'll see the living room we explored in my last post. This is exactly the open concept space our clients asked for!
I love how the layering of relaxed Roman shades and woven wooden shades create a fresh yet natural feel in this updated traditional space. Now, turn to your right and we have this Before & After scene…
Another night and day transformation, right?! Dark lower cabinetry help ground the space, while taking these white cabinets up to the ceiling helps raise the visual height of the room. Meanwhile, thick, white subway tile adds depth and dimension to keep things interesting.
Another surprising bonus about this space? Our clients could add a few colorful accessories for ANY season and they would fit right in with the existing decor! Seriously, picture it… Orange hues for the fall, red or blue for the holidays, pastels for spring, even pops of bright blue and yellow would look perfect for summer. I LOVE design that is always in style.
Okay, now do a 180° turn and you'll see this…
Before the remodel, our clients' kitchen led to the dining room. However, we knew that they wanted a larger space to do laundry. They have 3 boys — that's a lot of clothes! We relocated the refrigerator and added a coffee station by Mr. C's request! We also added a feature that I think you will love…
Double doors! We widened the doorway to get BIG OL' LAUNDRY BASKETS more easily through there! Brilliant, if I do say so myself… who hasn't bruised a shoulder or a hip trying to get through a normal sized door with a monster load of laundry?!
Laundry Room
Here's another Before view of the dining room. You can see what used to be the game room on the right side. We put a wall here, and on the other side of that are the built-in workstations we created for school work, work work (for Mr. & Mrs. C), and gaming. (You can see it here.)
Now, it's light and functional. There's room for 3 boys in here, and plenty of space for folding clothes before they got tossed into the baskets indefinitely and wrinkled all to heck. LOL.
It's laundry days, boys! Come on in!
Alright, I think you've seen enough to be jealous of. 😉 Let's hop on over to the other side of the home and take a peek at the bedrooms…
Master Bedroom
Before: Carpet, minimal furnishings, decent natural lighting, and an outdated fan. In the rendering (right side), we proposed to keep it simple with wood furnishings, a subtle yet color-infused rug, and updated lighting. Once we started designing, we fell in love with this bed frame and nightstand set, and it looks perfect!
After: Light, soothing, airy… just like sleeping on a cloud. 🙂
Boys Bedroom #1
Since the two youngest boys share this room, we knew that maximizing vertical space would free up more of the room for activities other than sleeping. And it did! These boys love the color blue, so we painted the ceiling a reflective navy, added fun bunk beds, and brought in pops of vibrant red and orange for some balance and energy. I'd love to be a kid in here!
Bedroom #2
Mr. & Mrs. C's eldest son, 14, has his own room. We kept the room fairly neutral with natural woods for the furnishings and touches of metal in the bedside lamp and drawer pulls. He loves the color green so we painted the ceiling, added forest green bedding, and incorporated a multi-color rug for some added interest. If he changes his mind down the road (as kids do), some new paint and bedding could transform this space in no time!
Whew! What a big project, right? It was no small endeavor, but the whole family (and our team, too) is beyond thrilled with how everything turned out. It's exactly what they wanted and it's perfect for their family-oriented lifestyle.
This is the moment when I always get a little sappy… because I feel SO incredibly grateful to be able to support others in this way and to know that we're helping bring a family together in their home. This is really what design is all about for me, and I wouldn't have it any other way!!
Thank Y'ALL for coming along on the ride with us. Have any questions about the design or the process? I would love to answer them. Ask below or book a quick chat with me.
Xo,
E
P.S. Feeling inspired to renovate your own home? If so, contact us here!