Three Qualities to Look for in An Appliance
May 10th, 2019 | by Elizabeth | Posted in events, KBIS 2018
what influences your decision?
---
What factors influence your decision when it's time for a new appliance in your kitchen?
Is it price?
Brand?
Function?
Style?
or do you just go for the latest and greatest that the big-box has on sale that week?
When I was young, I'll admit- I might have gone with the trendiest pieces or even the best prices.  I didn't give functionality or durability much of a thought.
But now that I'm older,  much wiser, I've learned that quality, service, and function far surpass anything else.
That's why I'm so very excited to be included in the Modenus Designhounds trip to Napa Valley to the Signature Kitchen Suite Experience and Design Center!
true to food
---
I first learned about Signature Kitchen Suite at KBIS, the Kitchen and Bath Industry Show in Orlando in 2018.  I've attended KBIS and IBS, the International Builder's Show, many times.  But that year, I was part of a Designhounds Tour as well- and that's when I learned about SKS.
Here's a bit of their story, why staying "true to food" is such an important piece of their brand, and details on their award-winning innovative technology.
The Experience and Design Center is a 23,000 sf high-performance facility where we will get to participate in demostrations among the 20 different vignettes.  We will get to experience a full immersion into this technology-driven appliance brand along with visits to vineyards and amazing venues.
running with the hounds
---
as if that weren't enough, I get to do all of this with 19 other selected designers from around the world, along with the SKS Kitchen Designer Council, and a few other industry leaders.
you've got to read all about these amazing women I will be spending the week with!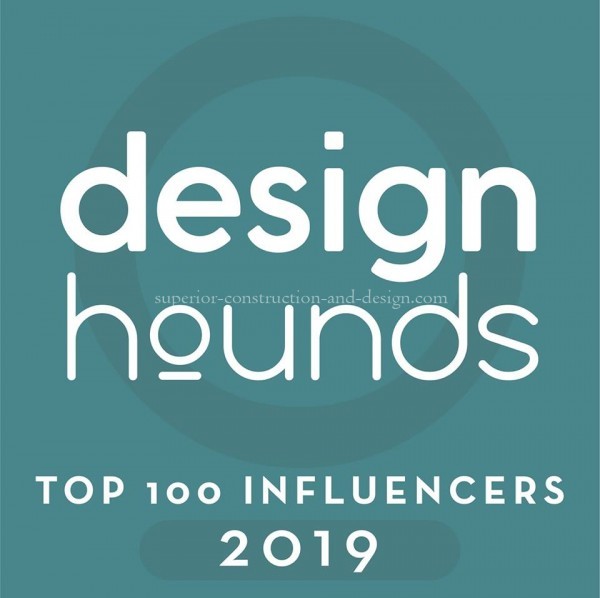 I know about half of the designers on this list and am so looking forward to meeting the others.
I'm very proud to be included in the Designhounds group of design influencers, and grateful for the opportunities I receive because of it.
This year, I was voted one of the Top 100 Designhounds, narrowly escaping the top 10 by ONE!!  But hey, 11 out of 100?  I'll take it!
those three qualities…
---
so back to those three qualities to look for in appliances-
quality, service, and function.
let me tell you how Signature Kitchen Suite checks all those boxes:
quality
---
attention to detail is always a sign of high quality-
Even the burners are beautifully detailed!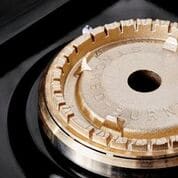 service
---
a sign of good service from a brand is when they back their  products with outstanding service promises.  Here is SKS' promise directly from their site:
Every day without a working appliance is a missed opportunity to enjoy a delicious meal, so we offer an industry-leading 3-year limited warranty* with a 5-day Repair or Replace Promise.
*Basic warranty is two years from date of purchase. Third year is added at no cost when product registration is completed online with owner opt-in for WiFi monitoring.
FIVE day repair or replace??  doesn't get much better than that!
function
---
and last, but probably the most important to me, is function.
Signature Kitchen Suite has the most innovative products on the market today.
case in point- this beauty.  I took this photo at KBIS in February when this range took home a big award!
here's a bit about it from Signature's site:
Introducing the industry's only built-in sous vide range, delivering the ultimate in cooking precision right on the cooktop. Once your favorite cut has reached its perfect doneness, just finish with a delicious crust on our 23K BTU Ultra-High™ Burner, the highest in its class.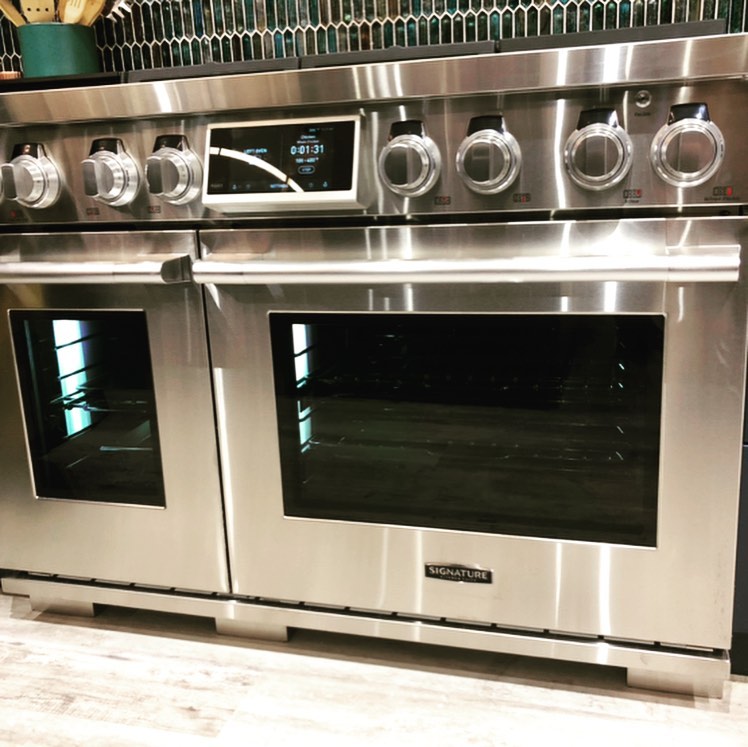 that's right- this is the industry's first appliance using sous vide!  I'm SO excited to learn all about sous vide and taste the difference with this method of cooking!
Wikipedia explains sous vide like this:
Sous-vide is a method of cooking in which food is placed in a plastic pouch or a glass jar and cooked in a water bath for longer than usual cooking times at an accurately regulated temperature. The temperature is much lower than usually used for cooking, typically around 55 to 60 °C for meat, higher for vegetables.
california dreamin'
---
so I invite you to please join me next week as I head to Napa Valley to learn all there is to know about Signature Kitchen Suite.  Follow along on Instagram and on Facebook as I will be doing some stories and some lives!
Many thanks to Modenus and Signature Kitchen Suite for sponsoring this trip and bringing us all out to the west coast.  I've never been to Napa Valley, or really anywhere much in California, and I'm so looking forward to soaking in all the beauty in the landscape, food, and beautiful appliances!
Join me, won't you?