Tips for Planning Your Cabinet Layout
March 7th, 2023 | by Elizabeth | Posted in bathrooms, Cabinets, design, home & garden, kitchens

Whether you're planning a kitchen, bath or laundry room remodel, you're going to need cabinets. It may feel like an overwhelming task but I'm here to help you sort through the details. Before you go down the path of choosing a cabinet style and wood species, there are a few things that you need to know ahead of time to ensure that your cabinets will be enjoyed for years to come.

Cabinets can be a considerable expense, so you need to make sure that you're planning a design that will fit your budget. There's nothing worse than getting your sights set on your "dream kitchen" only to find out that they're out of your price range. As with any home renovation, costs can quickly add up, and having a plan before you start will help your project stay on track.

Let's talk about some of the things that you need to keep in mind when you're planning your new cabinet layout and design!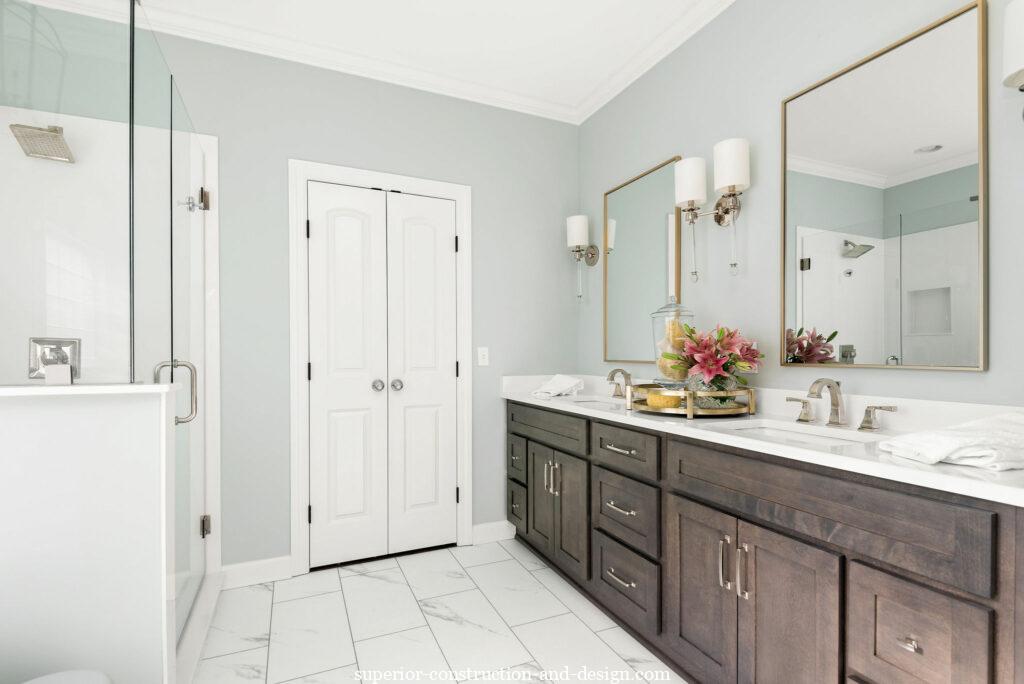 Measure Your Space
The very first thing that you should do is measure your space. You'll want to know both how tall your walls are, as well as how long. This will help you figure out how many upper and lower cabinets you'll need, as well as how tall you can make your upper cabinets.
You'll also need to check to see if your floor is level. There is no floor that perfectly level, and we have seen 1 to 4 inch differences from one corner to another in a project before. Use a laser level to get a reading and determine which corners are higher and which are lower. Then you'll know how much filler or trim to purchase in order to make your cabinets fit your space.
Also, if you're planning a kitchen remodel, you'll need to do a little research on the work triangle. The work triangle is built around the three main kitchen work areas: the refrigerator, the sink, and the stove, and is used to determine efficient, functional and attractive kitchen layouts. The concept is simple: you want to create a work triangle that is neither too small, nor too large, and allows you to get from each of the three main work areas with as few steps as possible. In general, that's no more than 9 feet between the sink, fridge and stove.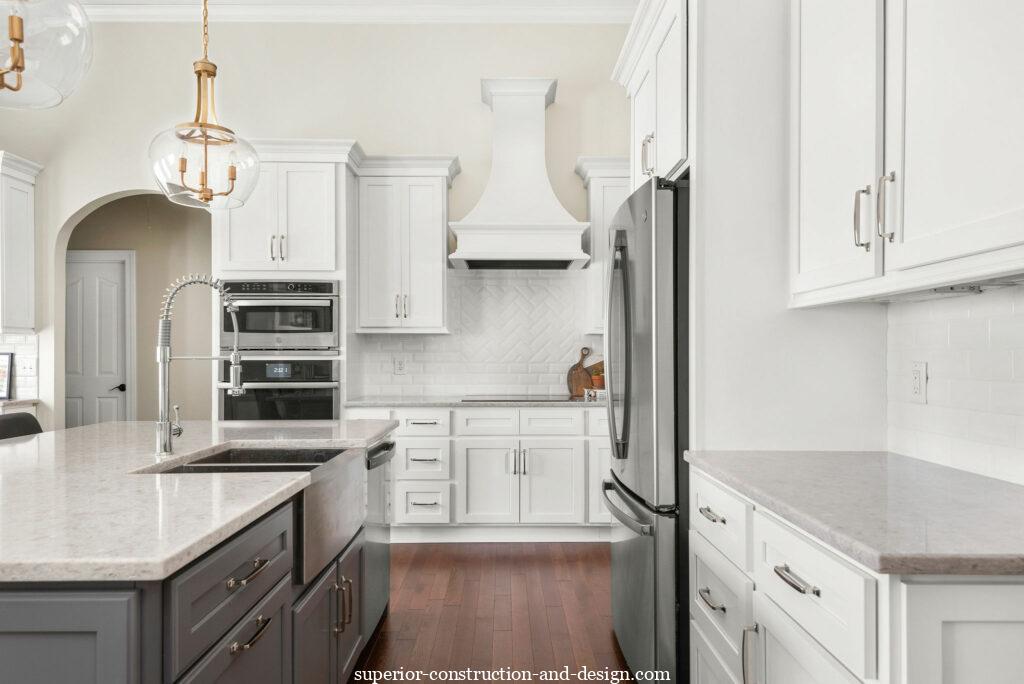 Choose Your Appliances and Fixtures
It may seem a bit early to be picking out appliances, plumbing fixtures and toilets, but you need to know the measurements of the other components in your room before you plan your cabinet design. You want to make sure that your cabinets are sized appropriately for your appliances. Make note of the manufacturer, model number and serial number and ask for the rough-in specifications when purchasing.
Be sure to also check for things like door swing on appliances like ovens, refrigerators and dishwashers. This can impact clearances and may require cabinet fillers so that the metal doors don't bump into your new cabinets.
Working with a kitchen designer ensures that you have someone looking out for all the minutiae when it comes to everything fitting correctly. Being off half an inch doesn't sound like much, but as you can see below, it is everything.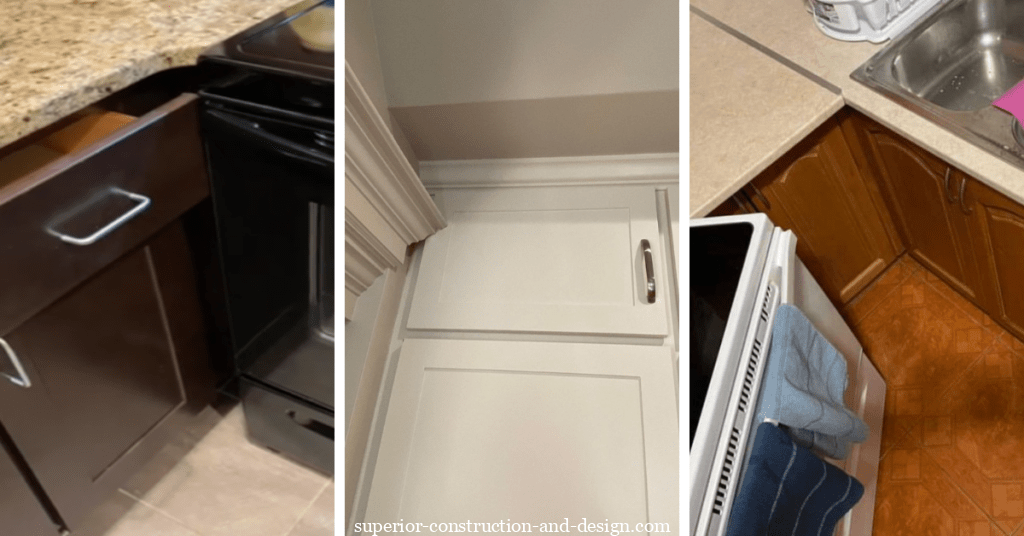 Determine Your Plumbing and Electrical Placement
Believe it or not, your plumbing and electrical placement will impact your cabinet design. Before you design your new kitchen or bathroom, make a list of your needs. Do you want a pot filler over the cooktop or a sink in the island? What about a vanity with built-in electrical outlets for all of your hot hair tools? All of these things are possible, but you have to plan ahead!
Over the years, I've learned a few tricks. One of my favorite ways to create a seamless kitchen is to move electrical outlets to the upper kitchen cabinets, rather than defaulting to the traditional backsplash placement. It really allows your backsplash to take center stage, and goes a long way toward making your kitchen look neat and tidy. If you want to take advantage of this tip, you'll need to make this decision ahead of time and let your electrician know.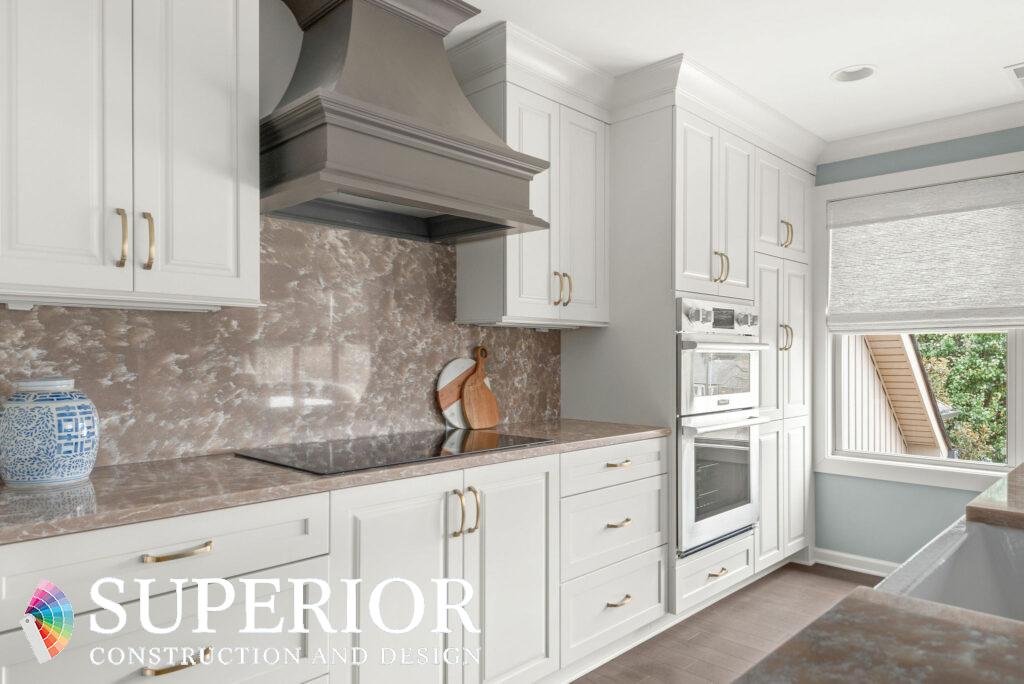 Visualize Your Lighting Plan
Lighting may not seem like it has anything to do with cabinets but it does. You'll need to know what types of lighting you're going to use, and where your cabinets will be so that you can properly illuminate your workspace.
Tall pantry cabinets and wall cabinets have the potential to block your ceiling lighting If not planned for correctly, so be sure to locate lighting where this doesn't happen.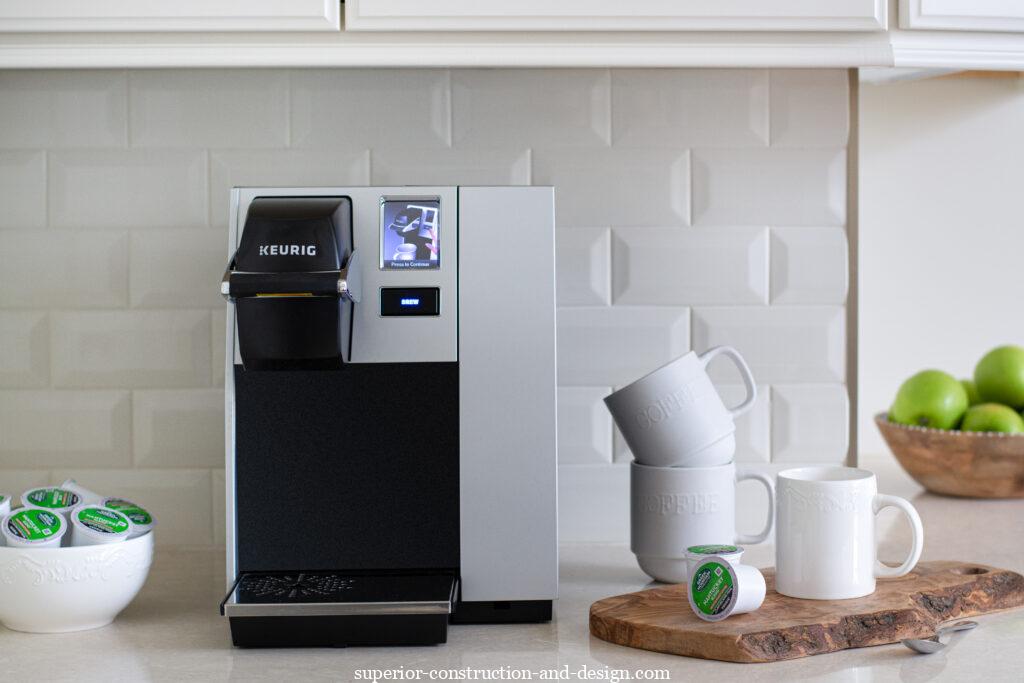 As you can see, there are many considerations that you'll need to take into account when designing a new kitchen, bath or laundry room — but this is just the beginning! In part two, I'll talk more about cabinet styles, wood species and finishes. You'll be a cabinet pro in no time!
If you are exploring an upcoming remodeling or renovation project, or just have questions about the process, let's talk! You can book FREE 15-minute a discovery call through my website to see if Superior Construction and Design is the right fit for you.
---