Project Preview: A Speakeasy-Inspired Wine Room
August 9th, 2022 | by Elizabeth | Posted in bonus rooms, built-ins, construction, design, remodeling

When Mr. and Mrs. R told me they wanted to renovate part of their garage into a speakeasy-inspired wine room, I couldn't think of a couple better suited to pull it off. They are avid wine collectors, philanthropists, and entertainers with hearts of gold.

In fact, Mr. and Mrs. R may be familiar to you… This is the same couple that put a heartfelt message in a bottle and hid it in the walls during their 2020 kitchen renovation!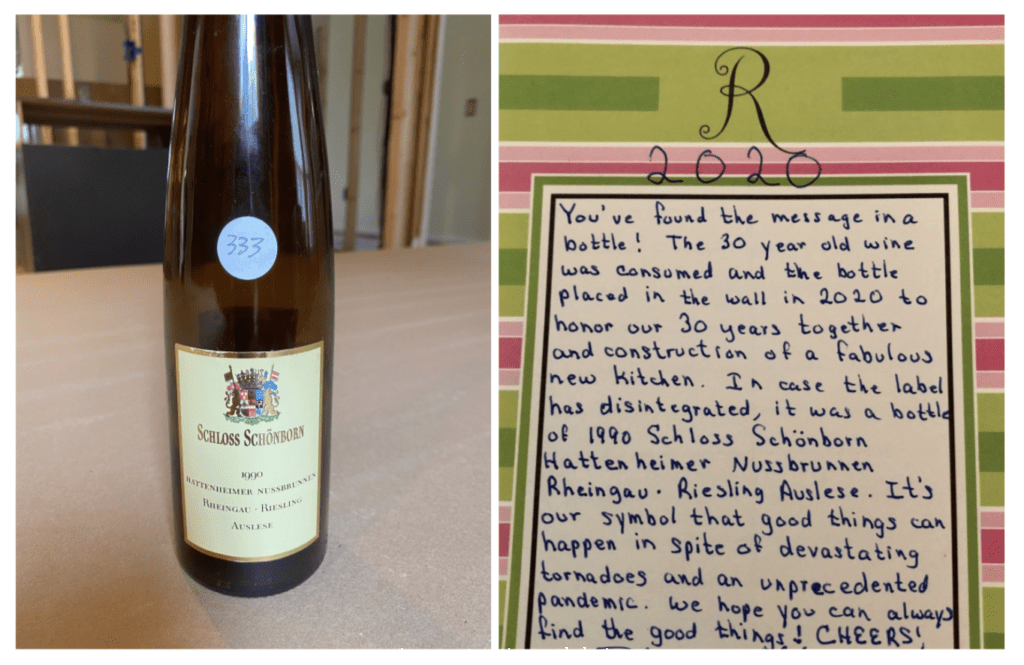 This Riesling was bottled in 1990 and served as a celebration of their 30 years together. How sweet is that? And would y'all read their message of hope to future generations? Beautiful.
You might also remember that their sweet fur baby, Benjamin Buttons, passed right as we finished their kitchen. We were all heartbroken, as Ben was with us overseeing our progress each day.
But, after several months, they decided to welcome a new family member, Coco! He is precious, and ready to make their wine room extra cozy.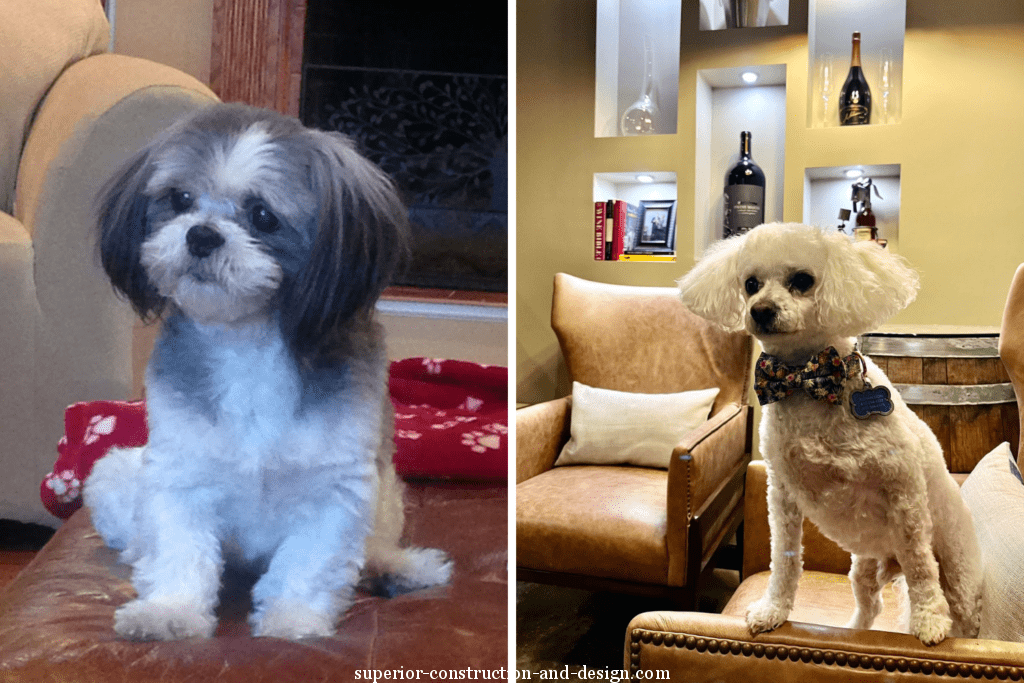 Inside the Design: Speakeasy-Inspired Wine Room
Alright, let's talk about this wine room design. Come on in…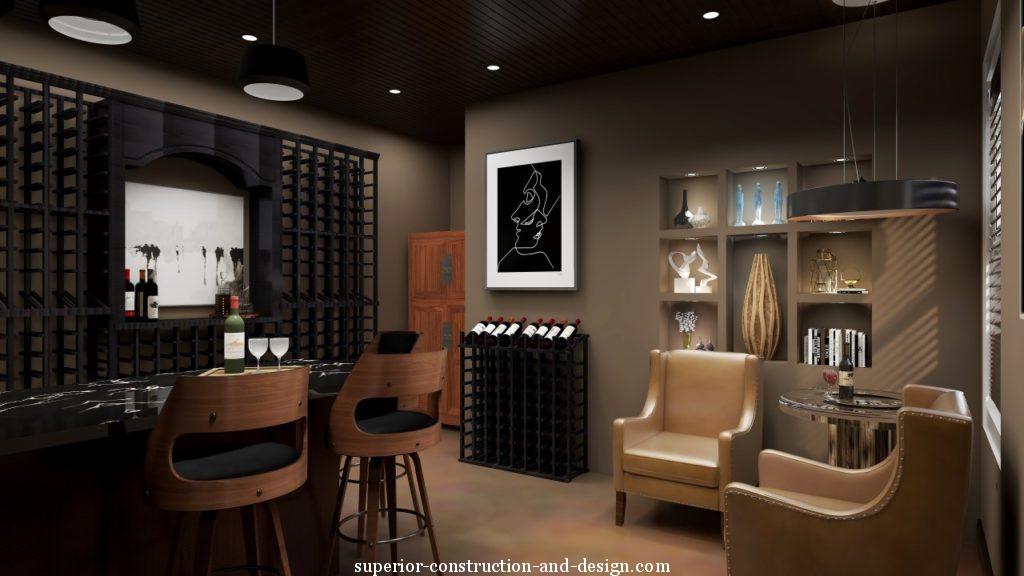 This is the view as you walk in through the door, and I just love that the whole ambiance is visible at a glance: dark counter with bar stools, room for a hundred wine bottles, storage for glassware, wine, and spirits, and a cozy nook for lounging.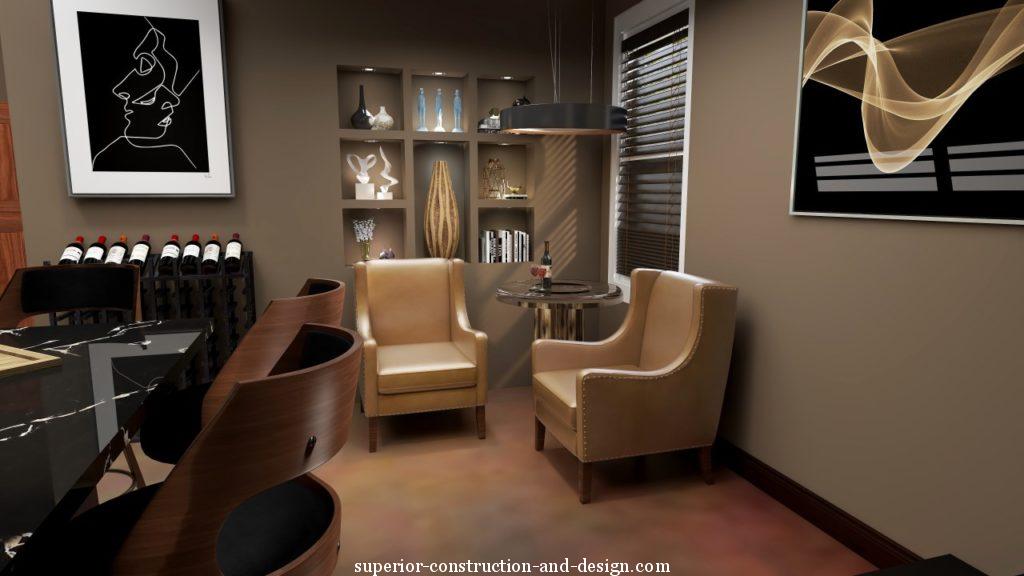 To capture the speakeasy vibe, we wanted it to feel hidden away, a little edgy, and intimate. We used a palette of dark browns, deep black, and metals to make it pop. Together, these colors draw you in while feeling comfortable and upscale.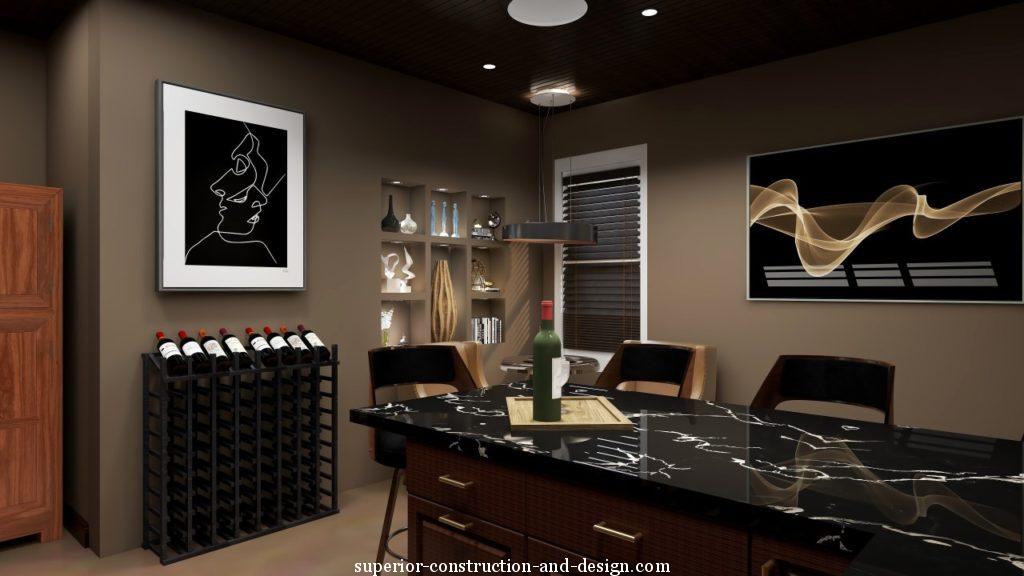 As y'all know, the details make the design, and in this case, the finishes are stealing the show. Handsome woods and leather, a stunning countertop in black and white, and our client's extensive art collection add to that speakeasy vibe of luxury and mystery.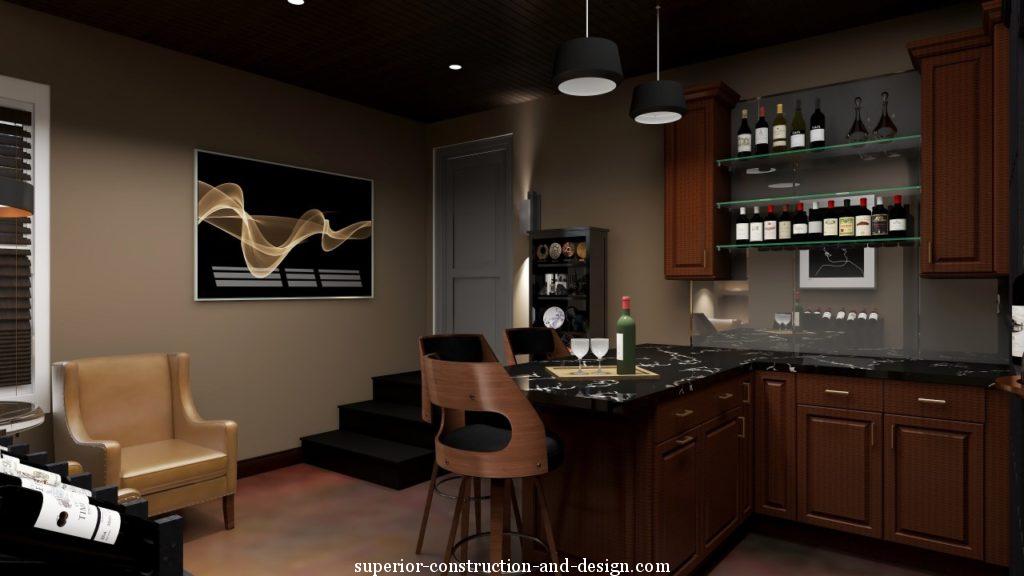 On the wall next to the door, we custom-designed this section of cabinets for storing dishware, stemware, and featuring Mr. and Mrs. R's favorite vintages. Also worth noting are the dark steps leading from the door. I love how this unexpected choice ties the whole room together!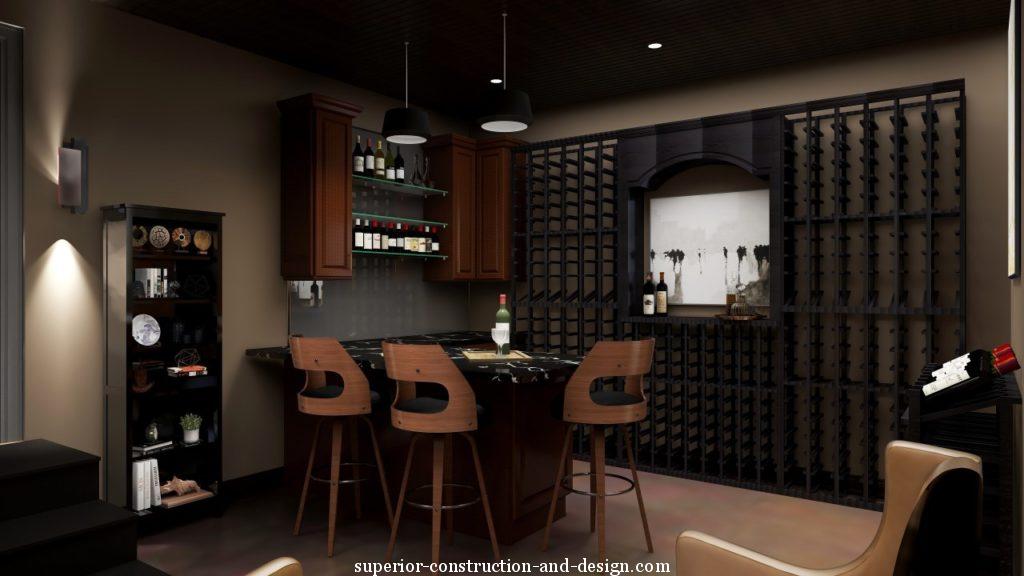 And here's the final rendering of this space, from the lounge area looking toward the bar. We're adding art to the wine rack, modern pendants over the peninsula, and these chairs that mimic the look of wine barrels. How fun is that??
What is the status of this project now?
I'm so glad you asked. In truth, Mr. and Mrs. R have waited forever for this room to be done. We presented the design to them in summer 2021, and by the time we ordered everything, the cabinets had an 18-week lead time. (Deep breaths.) Mr. and Mrs. R patiently waited and waited, and it has all finally come together!
Yes, as you're reading this, their project is complete. I'm sharing the renders of the space today, and next time, I'll share the real thing. We just got our professional photos back, and are scheduling videography now. We want you to be able to walk through the space with us- because these renders don't even show the really exciting part of the space- and I can't wait for you to see it!
Until next time,
E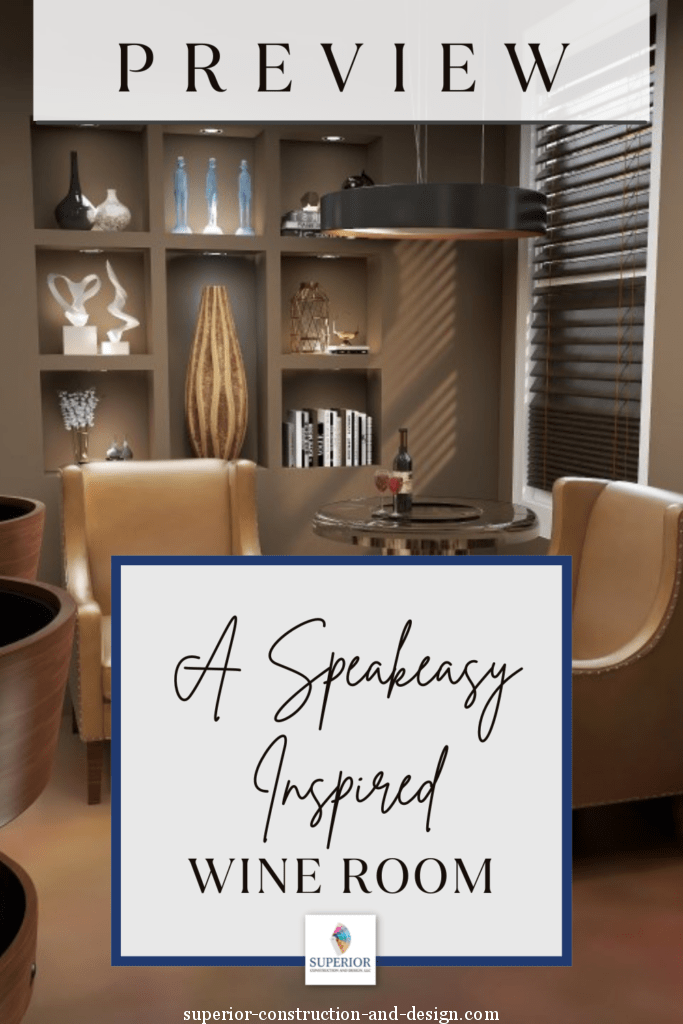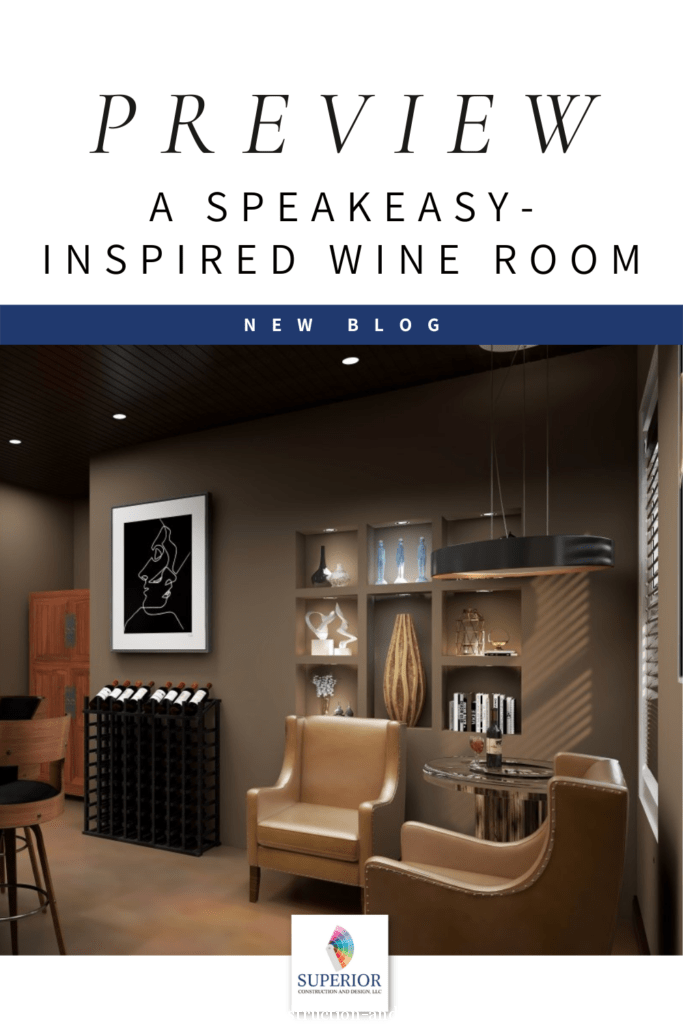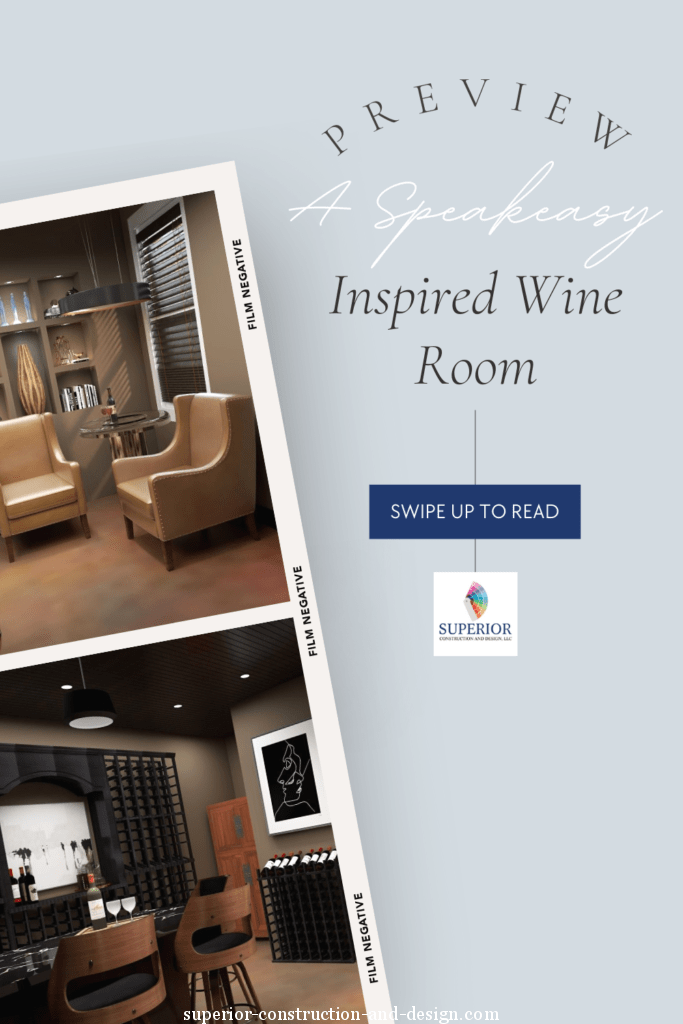 https://superior-construction-and-design.com/project-preview-a-speakeasy-inspired-wine-room/(opens in a new tab)