What Are 3D Renderings? Does Your Reno or New Build Need Them?
September 13th, 2022 | by Elizabeth | Posted in Before and Afters, construction, design, remodeling

Hey, y'all! Lately, we have been whipping up large batches of renderings for our clients, and each time, the conversation always comes up — do you really need them? When? Why?

If renderings are new for y'all (or you just want SNEAK PEEKS of some of the projects we have in the works), this week's blog post will be right up your alley. As always, let's start with the basics:
What is a 3D rendering?
Renderings are a three-dimensional, photorealistic visual of a space. They are created to reflect the elevations (construction documents) that your designer has prepared for your home, along with the colors, fixtures, and finishes that have been specified for your space.
In other words, all of the planning that happens prior to construction? It all gets put into a rendering for full visualization. And they look pretty darn close to the finished result.

When do we use renderings in our projects?
Although renderings are useful and fun, they're not always needed. It depends on your project. Here are the guidelines we generally follow:
Yes, go for the renderings:
Kitchens and bathrooms, always
Full home renovations
Rooms with custom cabinetry or built-ins
Room where the footprint is changing
No, not usually needed:
In a room we are not changing a footprint
Rooms with furnishings only (although they can still be helpful)
Here's why…
What do renderings help us achieve?
1. Renderings help you visualize the space before any construction.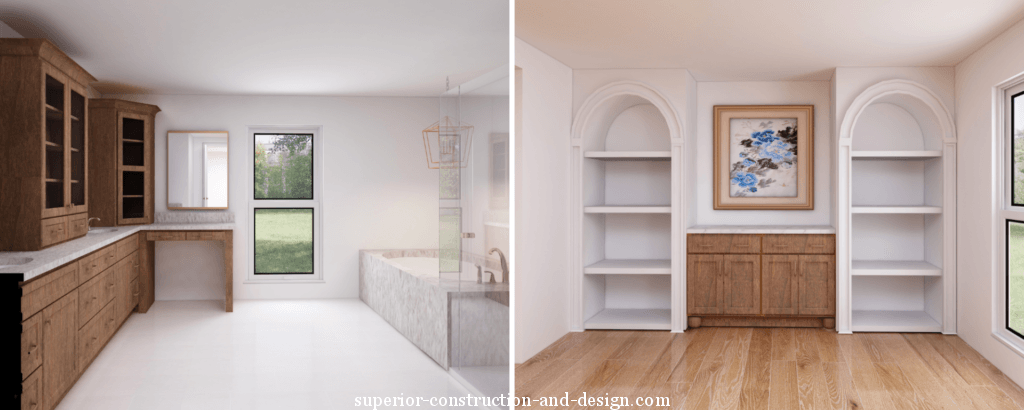 Let's start with the most obvious advantage of renderings: visualization. For most people, looking at construction documents and floor plans is not going to give you a full picture of what your home will look like once construction is done. So how do you know? Renderings.
They translate all of our ideas into a form that can be easily understood, and you can see very quickly if it's aligned with your expectations. This all happens before construction, allowing you can proceed with full confidence into the next phase. Bonus? You'll have a visual reminder that keeps your spirits up when things get dusty!
2. We can use renderings to compare two color options.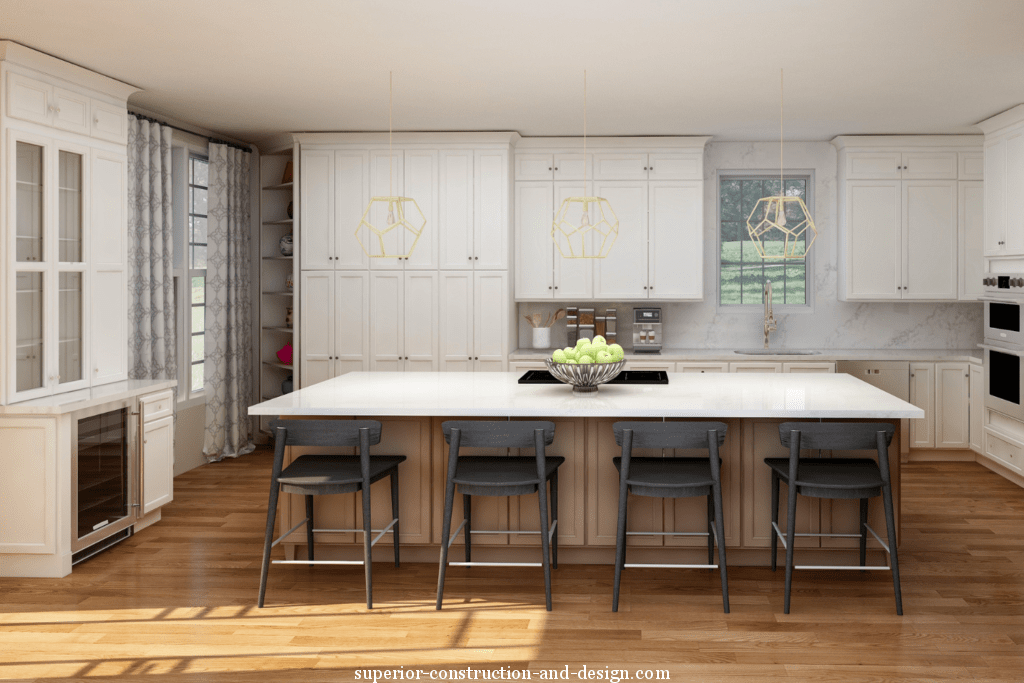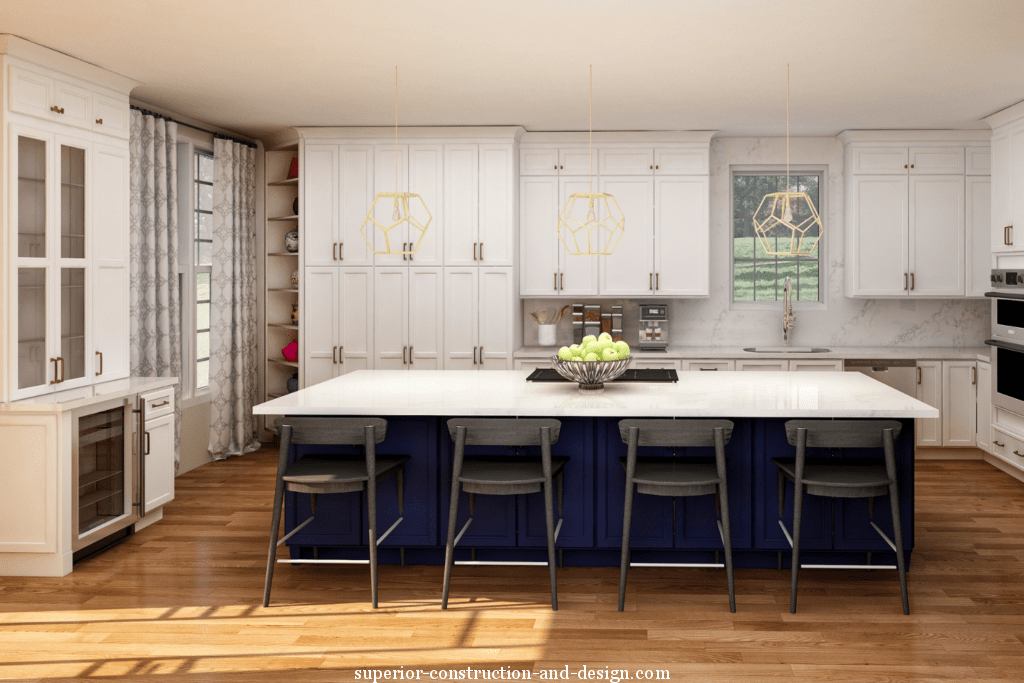 In this couple's kitchen (hello, sneak peek!), we presented them with two different color options for the island: a sandy neutral and a midnight blue color. Renderings make it easy to spot the differences. By comparison, could y'all imagine looking at two paint swatches and trying to use your imagination to visualize the difference?? This is the better way.
3. We can use renderings to compare two different layouts.
Here is the same couple's kitchen but with two different layout options:
In the first option, the existing window is located over the sink for some natural light and a view. However, this configuration puts their stovetop on the island, without a hood.
The second option was to close the window and add a stovetop and range in that spot instead. This gives them the hood for ventilation and makes the sink a part of the island instead. Both of these are beautiful and functional options, but only our clients can decide which feels right for their lifestyle. (Y'all will have to wait to see which they chose!)
4. Renderings help you see how the whole space flows.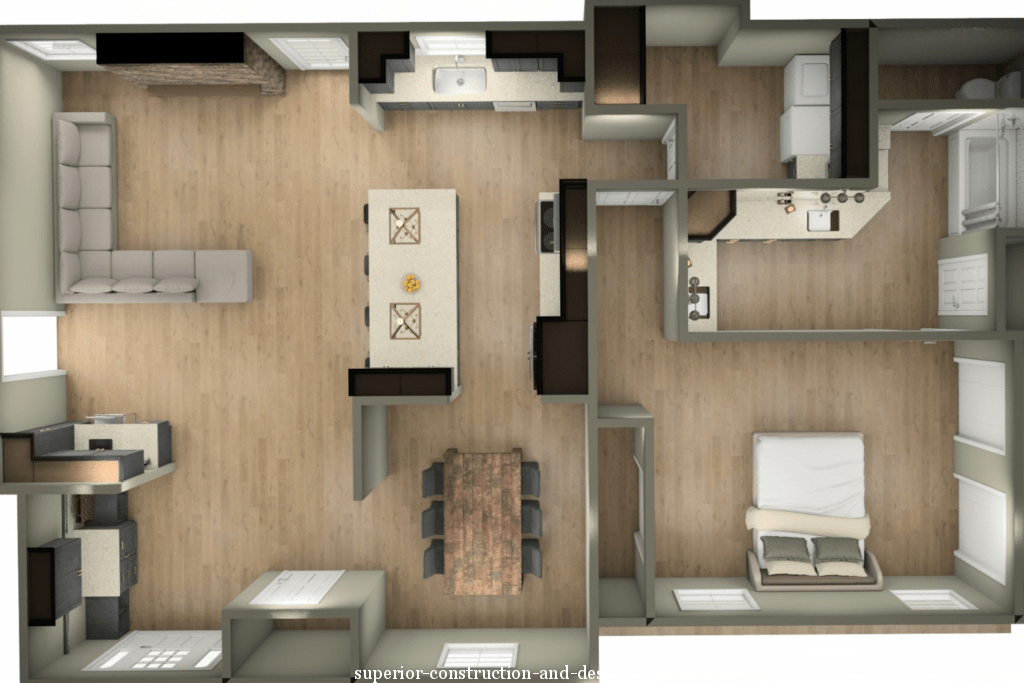 Yes, 3D renderings can show a bird's eye view as well. Instead of looking at two-dimensional floor plans, renderings offer a much better way to imagine yourself walking through the home, living in each room, and going about your daily routine. If you will be moving or removing walls in your home, this is a particularly good way to make sure your future living experience matches your expectations.
5. Renderings help you see how finishes relate to one another.
Because each rendering is a fairly accurate representation of our selected finishes, fixtures, and paint colors, you will see how these finishes relate to each other in the space.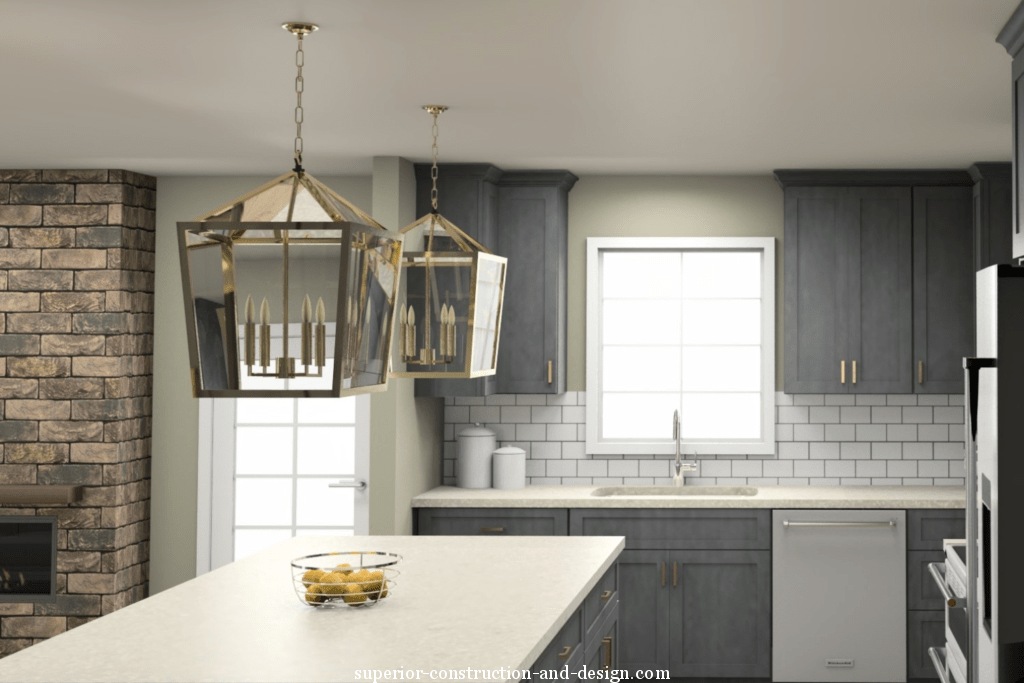 Above, our client's newly proposed kitchen has mostly brass finishes along with some polished nickel. If y'all thought you couldn't mix metals, guess again. You can see how the brass reflects the warmth of the fireplace, the slate cabinets reflect the cool nickel, and together they feel balanced. Perfection.
Here's another example…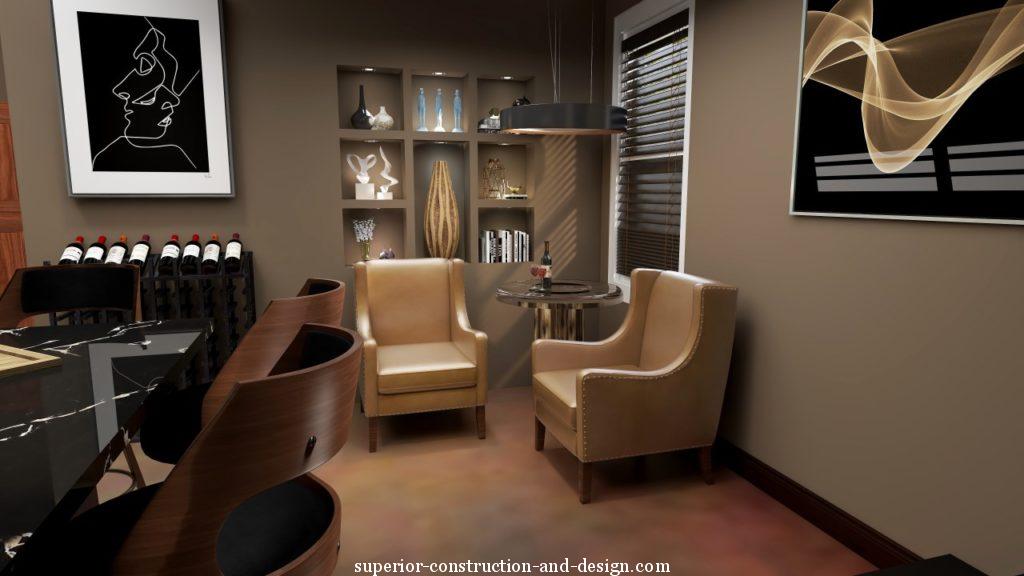 This is the speakeasy-inspired wine room we built for two well-deserving and favorite clients. Isn't it handsome? And you can easily see how the finishes work together with the art, built-in display, and color scheme. We revealed this space in our last blog post, and just shot video of it last week. We can't wait to share that as well!
Have questions about renderings? Or need other advice or design/GC help with your renovation? Y'all know where to find me. 😉
Xo,
E