Should You Paint Your Kitchen or Bathroom Cabinets?
March 22nd, 2022 | by Elizabeth| Posted in Before and Afters, color, design, kitchens, remodeling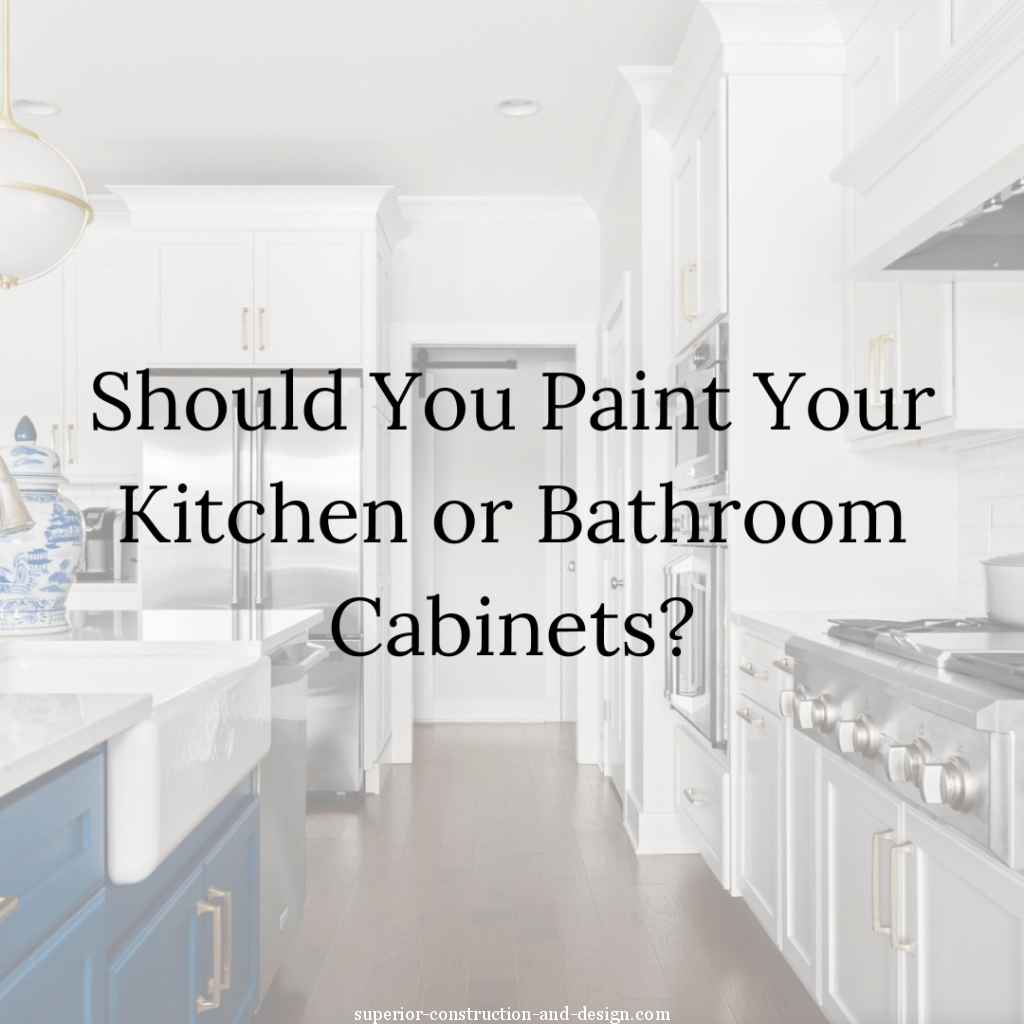 Y'all have seen the power of a new coat of paint on cabinets: a kitchen decked out in honey oak suddenly gets Cinderella'd into a light, bright, and fresh space. It looks so easy and transformational that y'all have started to wonder, Should I repaint my kitchen cabinets? Or my bathroom cabinets?
Before you head to the paint store, there is some important information to know. First, painting cabinets involves a whole lot more than just slapping on a new coat. (More on that in a bit.) Second, though the transformation is undeniable, it's not always the right move. Sometimes, your space might be better served with a different approach, and of course, your investment will play a role in the decision, too.
So, what are your options? The way I see it, you have 3:
Replace your cabinets entirely
Refinish or repaint them
Update the surrounding space instead (surprising, right?)
Let's talk about each of these and help guide you to the right decision for your home, goals, and budget…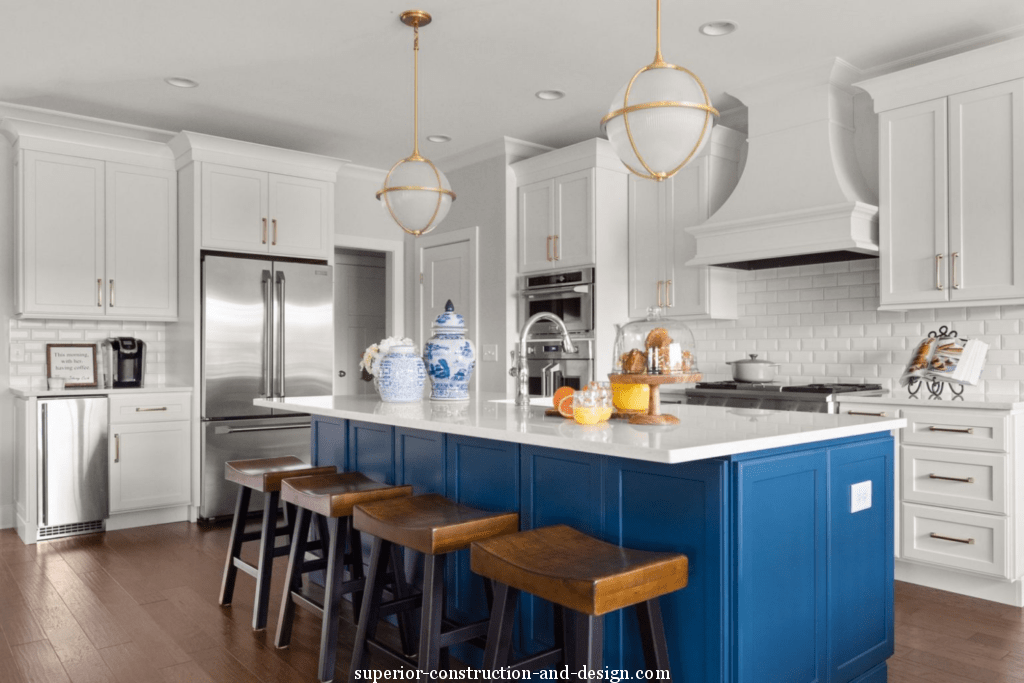 Option 1: Replace the Cabinets Entirely
I know this is the biggest and most expensive change, but it's important to start here. Cabinets play a large role in the overall function and style of a space. So if yours aren't doing a good job on the function or style side of things, painting them isn't the solution you think it will be. Here's what I mean…
Functionally, cabinets are a feature you likely use multiple times a day every day, especially in the kitchen. If your back hurts every time you reach into the depths of a low, open cabinet, or you feel frustrated that you don't have enough storage space, repainting your cabinets won't solve these problems.
Visually, cabinets also take up a lot of eye space, which gives them a loud voice in the overall style of the room. For example, minimal cabinetry with sleek, soft lines are indicative of a more contemporary space, whereas uppers and lowers with a raised panel can lean toward a more traditional style. Again, if your cabinets aren't in a style you love, painting them probably won't achieve the transformation you're looking for.
So, think about the style and function of your cabinets right now. Are they working for your everyday routine? Are they functional? Large enough? Does the style of the door feel as traditional or modern as you would like it to be? (If you're not sure about style, take a look at some of the examples throughout this post.)
If your answers are no, then painting your cabinets probably isn't the right option for you. You will likely be happier replacing them entirely and getting cabinets you love. If this is your decision, I highly recommend consulting with a designer or general contractor. (If you're local, you can book a 15-minute intro call with us here, if you'd like.)
In our 1970s Ranch Renovation, the original kitchen cabinets were not functional, spacious, or in line with the more contemporary style our clients wanted for their home. Plus — they started in white! So painting them wasn't the right solution. Instead, we designed new cabinets that go all the way up to the ceiling. There's more storage space now and there are extra functional features tucked inside too, like roll-out drawers.
Option 2: Repaint or Refinish Cabinets
Okay, let's say your cabinets' style and function is working well for you. If you don't want or need to replace them, but you still want to update the space, Options 2 and 3 might be for you. Option 2 is refinishing or painting those cabinets. However, it's not a task to be attempted on your own, and here's why…
Painting cabinets requires a very intense, multi-step preparation process. You simply must have a painter who knows and is skilled in this process. The quality of the final result depends on it. It's also a very expensive endeavor if it's not done correctly, and then you'll have to call in a pro anyway! (I wouldn't attempt it myself.)
But… if y'all do bring in an expert, make sure you select the right shade of paint before they start. As with all color specifications, cabinet paint color is dependent upon the finishes that are adjacent to it. Just because white cabinets look good in magazines, doesn't mean they will look good in your home! Y'all can check out this advice on choosing the right white or find someone (like us) who is a True Colour Expert.
In this master bathroom, our client liked the length and size of her vanity. Since it was large, it was more cost effective to paint it than replace it. We made it feel like new with fresh paint in a soft gray, along with modern hardware.
In my own kitchen (which I told y'all about in our "lowering a raised bar" post), when faced with the decision to replace everything or just paint and update, I struggled with one thing. The issue was that I definitely wanted to rip out the lighting soffits, but if I did, it would mean re-wiring everything, and it would make my upper cabinets look like they were floating. Back in the day, most uppers were 30″ compared to today's 36-42″, so removing the soffits would make that even more apparent. But then it hit me.
When you have the world's best trim carpenters, you can do just about anything you can dream, and we did just that. I built out above those uppers with MDF (medium-density fiberboard) and millwork to create the look of a taller upper cabinet. Painted out in the same new color and finish as the cabinet boxes, my cabinets now look seamless. I outfitted them in more modern hardware to complete the look, adding a freshness that my '80s kitchen didn't have before. I'm happy to tell y'all that it still looks great today.
Option 3: Update the Surrounding Space
Last but not least…leaving the cabinets alone entirely. In one of our more recent projects, a client of ours had a beautiful, spacious kitchen filled with traditional cabinets in a dark cherry stain. They were a big investment, still in great shape, functional, and despite the changing trend of light cabinets, our clients still loved their cherry stain — and that's great! (It's also a valuable testament to investing in what you love…it lasts.)
So in this case, it didn't make sense to paint or replace them. Instead, we updated everything in that kitchen except for the cabinets:
We offset the warm cherry tones with touches of brass, white, and a well-chosen beige. These are carried through in the countertops, bar stools, subway tile backsplash, transitional light fixture, and new plumbing fixtures. The result is a space that looks and feels like new.
Well, there y'all have it — a long answer to what I bet you thought was a simple question. 😉 Still not sure which option is right for you? Need a design plan that works specifically for you and your home? That's what we do.
Reach out to us here to book your complimentary consultation. I can't wait to meet you.
Xo,
E