How to Update an '80's Kitchen on a Budget
July 13th, 2017 | by Elizabeth | Posted in Before and Afters, color, remodeling, sherwin williams | #kitchen remodel, #kitchen update, #leabaon, #tn, #white kitchen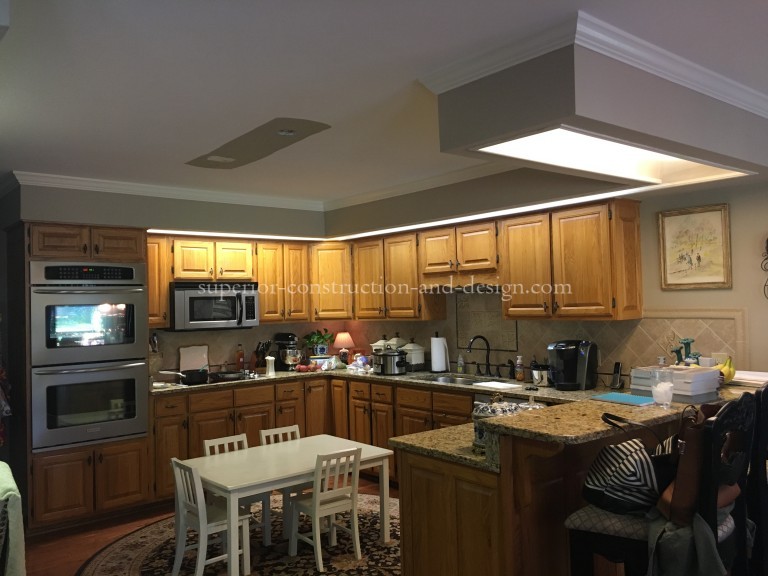 Oak cabinetry and lighting soffits.
These were the the one thing in my home that made my eye twitch, until I realized the solution was so simple.
Through teenage eyes
Until I was 15,  I rode the bus to school.  From 15 to 16, if I was kind (and had some gas money) my "big brother" Jason who lived down the street from me, would let me hitch a ride; or, if I was really super lucky, my friend Jamie would pick me up.
She was a junior, and she let a freshman ride with her??  I was super cool on those particular days.  We would stop by the quick stop and grab "breakfast," as all the cool upper classmen did.
Mine consisted of chocolate milk and chocolate pie.
Oh, the good ol' days when I could eat chocolate for breakfast and not gain an ounce.
But before these dream days of riding with the cool kids, I was on the bus.
Every day, we would ride through the subdivision that I now call home.  At the time it was just being developed, and I thought it was the most beautiful place I'd ever seen.  
I envied the handful of kids we would drop off here; imagining their perfect lives in their perfect homes.
Dreaming of home
Fast forward about ten years, and I was building my very first home in the sub-divison I longed for from the window of my bus. 
We lived in that house a total of one year before my husband sold it. 
Being married to a salesman has it's advantages, but you had better not get attached to anything very long.
Fast forward another ten years, and we were in our umpteenth home, and I had just had our girls.  
I definitely had built that home to sell; and it was 2007.
Right. before. the. BOTTOM. hit.
Thankfully, our house sold.  We had 3 weeks to find a place to go.  We wanted to find our forever home.
I was done building and selling (for us) and wanted to find a home to raise our babies in.
Our forever home
As fate would have it, we ended up back in the subdivision we started in 10 years prior. 
The same one I admired from my bus window all those years ago. 
The problem with some of the homes in the subdivision though, was that they were still stuck in the days of when I admired them from my bus. Mine was no exception.
So with about 2 weeks until we had to move, I flew in to renovate everything I could in a short amount of time.
With 18 month old twins on my hip.
Paint, wallpaper removal, and flooring were the immediate items.  I reasoned with myself that I would do the rest after we moved in.
Well, over the past ten years I have done LOTS to our home, but the kitchen remained dated.
Oh sure….I painted and put in new flooring and countertops when we moved in, but I still had my oak cabinetry.
AND the dreaded overhead lighting soffits that were oh-so-cool in the eighties.
But last fall, we had a leak upstairs that pushed me into a mini-renovation on our kitchen that has totally changed our home.
Total reno, or minimal update?
When faced with the decision to replace everything, or just paint and update- I struggled with one thing. 
It's actually why I had never painted the cabinets sooner.  The issue was that I definitely wanted to rip out the lighting soffits.
But if I did, it would mean re-wiring everything- and it would make my upper cabinets look like they were floating because there would be nothing "anchoring" them to the room. 
Just these tiny upper cabinets floating on the wall with all this open space above. 
Back in the day, most uppers were 30″ compared to today's 36-42″, so removing the soffits would make that even more apparent.
But then it hit me.
I could build out above those uppers with mdf and millwork to create the look of a taller upper cabinet. 
When painted out in the same color and finish as the cabinet boxes, it would be seamless.  
I have specified this paint treatment many times in the past for clients, but in those situations the soffits were flush with the cabinet boxes. 
Mine extended out from the cabinetry 12″ so this painting  trick would not work with my soffits.
But when you have the world's best trim carpenters you can do just about anything you can dream, and we did just that. I'm not saying that this was cheap.
But it certainly was no where near the expense of new cabinets and counter tops.
The change it made to the space is undeniable.It's now light, bright, and happy!
All we did was rip out the soffits and build out the upper cabinets. 
After paint, new hardware, new fixtures and a new back splash, we have a completely different space.
SO much less time and money.
I've put the before and after below side by side so you can really see the difference! 
Better, yes??
So if you have an eighties kitchen like I did, I hope this inspires you and offers an option to update, without the expense of new cabinetry.
What are your updating issues?  Oak cabinets?  Lighting soffits?  Popcorn ceilings?
Leave me a comment below and tell m what makes your eye twitch!
P.s. Looking for more inspiration? See our roundup of 15 Home Transformations that will Inspire You!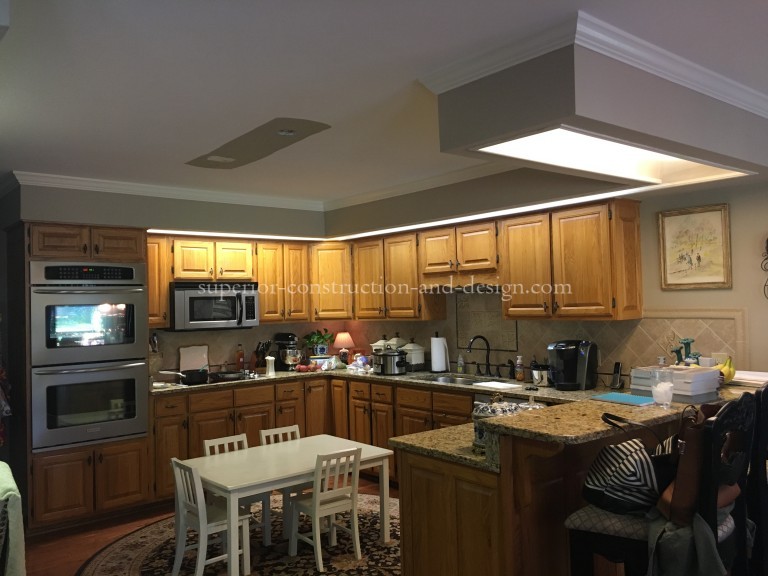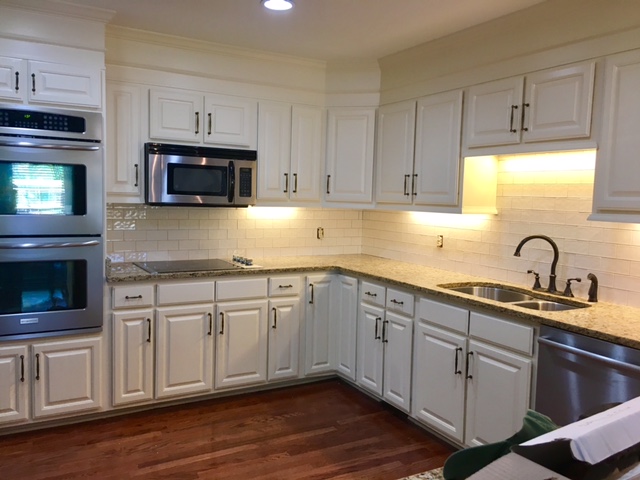 And here's a pinnable image so you can mark this in your favorites and come back to it when you're ready to tackle your oak cabinetry!
You're welcome!