Which Stone is the Best Choice for Your Kitchen Countertops?
July 15th, 2019 | by Elizabeth| Posted in design, kitchens | #cambria, #countertops, #general contractor, #granite, #interior design, #kitchen, #low maintenance, #mt. juliet, #pros vs cons, #quartz, #remodel, #renovation, #stone, #tn

Y'all, I JUST installed new countertops in my house!! I have been waiting to get new countertops for ages, but like they say, "If it ain't broke, don't fix it!"

Until… the water leak!! Actually, they weren't really broken even then, but we had to repaint my cabinets. So if I was ever gonna replace them, now would be the time… and now I have those new countertops I've been dreaming of! Small blessings in the darnedest places. 🙂

I also thought this would be the perfect opportunity to talk to you about countertops. Which one's the best? Which one adds a big ol' goose egg to your property value? Which did I choose for my own home?

Let's satiate your curiosity and answer these questions and more!
why I usually steer clear of granite
---
I get asked about granite countertops all. the. time. It has gotten extremely inexpensive these days, but I'll let you behind the scenes… it's cheap because it's being exported and the quality level is very low. So it's true when they say, "you get what you pay for."
But the MAIN reason I steer our clients away from granite is because it's extremely porous. That means it can soak up gunk and bacteria right into the stone itself — yuck!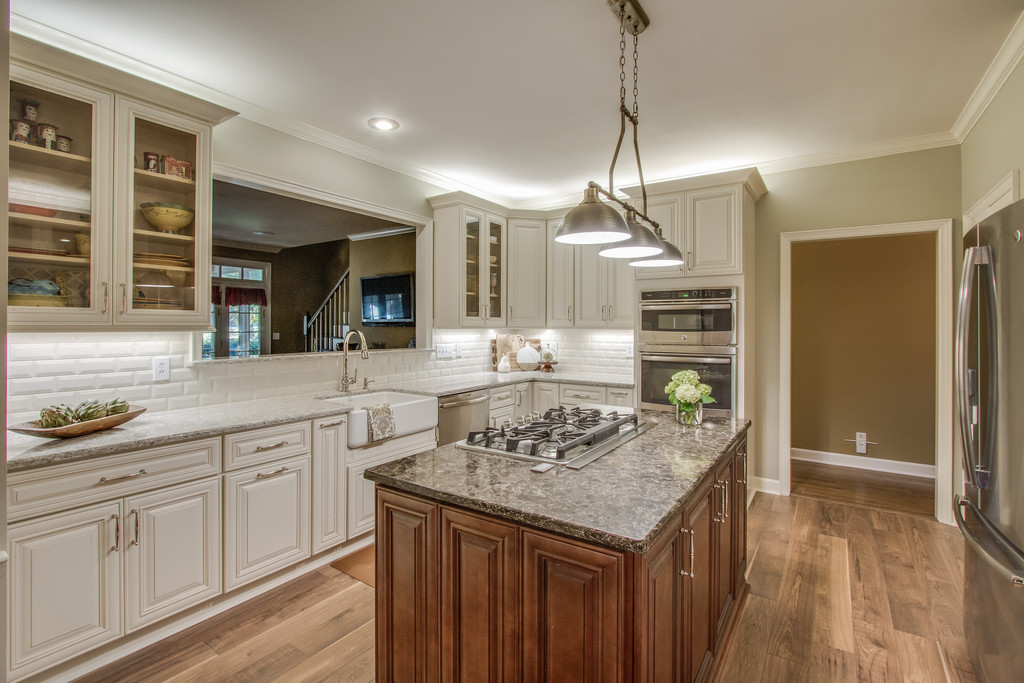 Keep your countertops fresh!
which countertop materials will date your home?
---

I mention a few other decade-defining traits in this post here. When it comes to property value (whether you're selling your home or not) you don't want to expose your home's age at a glance.
Laminate tops (often called by a popular brand name of Formica) immediately date a home. Then there are solid surface tops, which are referred to by their brand name of Corian, which had their heyday in the 80's and early 90's.
And now granite with its busy and often spotty appearance is going to be the decade defining countertop of the 90's and 2000's. These surfaces will immediately tip off potential buyers that your home is getting on in its years!
That said, there are some newer laminates, like Wilsonart, that look just like real stone. It's a low-cost viable option if there's no money in the budget for the real thing… BUT laminate and solid surface counters add ZERO VALUE to your property.
So unless you're flipping the house, you end up losing money in the long run.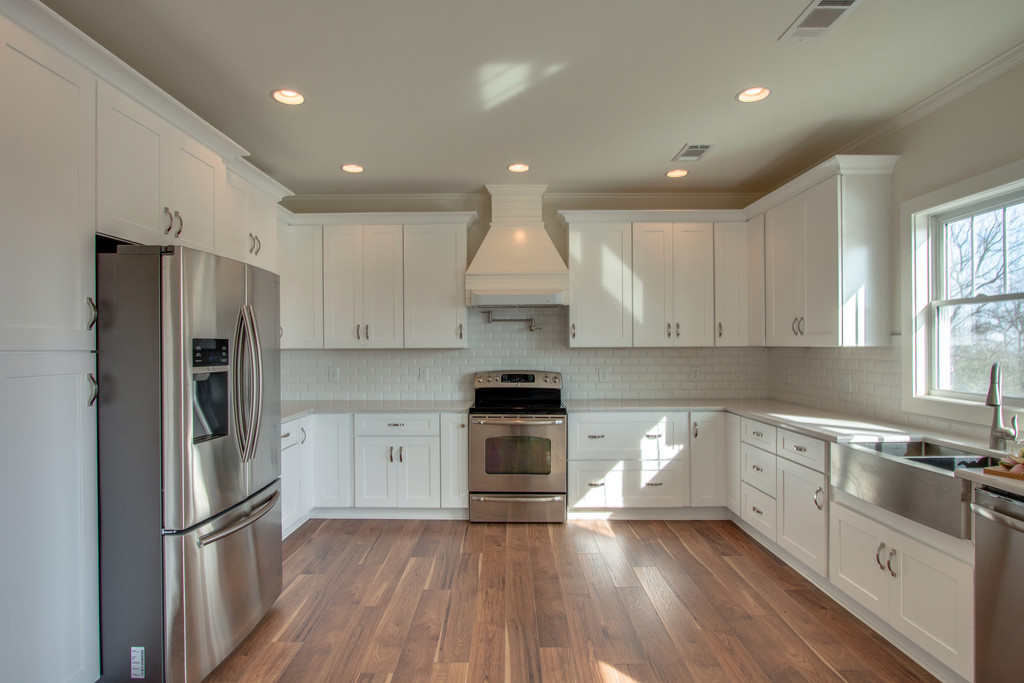 Say nay to granite, yay to…
so what's my go-to countertop material?
---
My favorite, hands down, for kitchens is always quartz. And not just any quartz… Cambria quartz.

But first let me tell you the what, and then I'll tell you the why.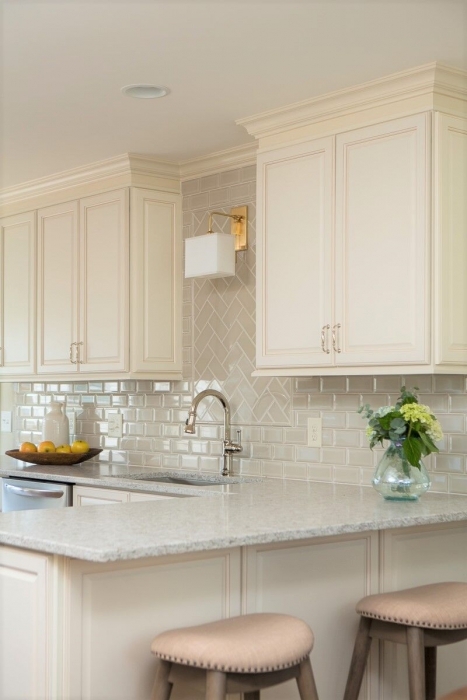 Cambria Quartz in New Quey and matte finish, from our home makeover in Mt. Juliet
so let's have a little Quartz 101, shall we?
---
There are two products commonly called quartz and most people don't know there is a difference:Quartzite: a natural stone found in nature. As it is a real stone, like granite, it is porous and would require constant maintenance.
Quartz: a man-made product that includes quartzite granules bound with a resin to make it solid, non-porous, and maintenance free.
Being non-porous means it doesn't require sealing. EVER. No maintenance ever, ever, ever. I'm really into no maintenance! 😉 And it will never, ever, ever soak up any gunk from food, bacteria, etc.
cambria quartz
---
My favorite, hands down, for kitchens is always Cambria quartz. Cambria is a family owned company, made in the USA, and has a LIFETIME TRANSFERABLE warranty.
I've been to their facility in LeSuer, MN (yes, like the LeSeur peas!) and to see the process, the quality control, and pride in these tops is something I will never forget.
Cambria only uses clear quartz crystals to manufacture their tops. What you will see in the video above are the clear crystals. If there is any pink or other color at all in the crystals, they are discarded… but they are not thrown away. Can you guess where they go?
The other quartz manufacturers you may have heard of buy the crystals to make their quartz! That's right! Those other big names that I won't name purchase the Cambria crystal cast-offs for their tops.
Now…nothing wrong with that at all. You just won't get the best clear and true color that you could get when using Cambria. When you purchase Cambria, you are purchasing the BEST.
Here's a video from Cambria about their amazing process!
lifetime, transferable warranty stole my heart
---
AND Cambria's lifetime TRANSFERABLE warranty backs up all this amazing quality! So yep, if you sell your house, that warranty goes right to the next owner.
All Cambria slabs are marked with serial numbers on the bottom, so they can tell who made it, when it was made, and when it was shipped. It's like a little family tree right underneath!
Another cool part: Cambria has a distribution center here in Nashville, and I can take clients there any time to view slabs. They will actually roll the slab out onto a roped-off red carpet area for us! Who doesn't love the special treatment?!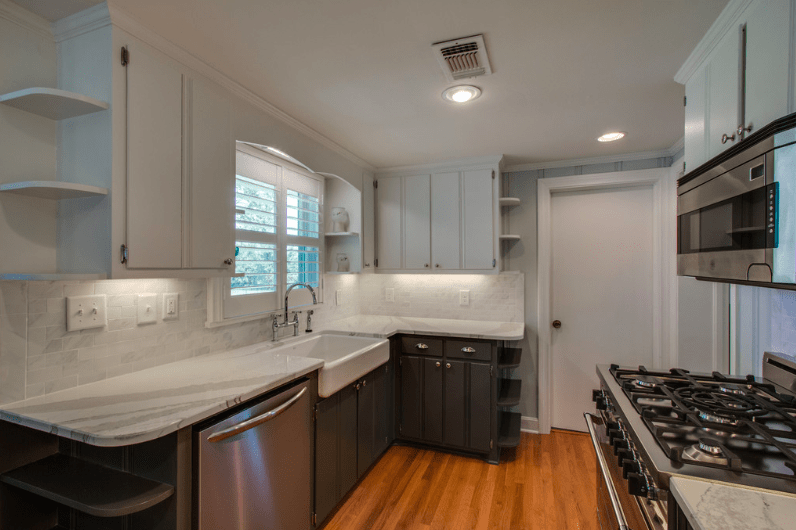 Cambria Brittanicca from our Lebanon, TN farmhouse remodel. Would you look at that detail?
My own new kitchen boasts Cambria Quartz Brittanicca Gold counters, and I LOVE THEM. I don't have any photos for you yet — not until our floors go in at the end of the month — but shots of this beautiful stone will be coming, I promise. 😉
So, what questions do you have about countertops? Ask me in the comments, and let's talk about it!
Xo,
Elizabeth