3 Beautiful Stories to Make You Smile Today
June 1st, 2020 | by Elizabeth | Posted in coming home, news
Well, friends, I have something a little different for you today, but I think y'all are going to like it. In the last few months, I've witnessed several events that were fairly small as events go, but so packed with goodheartedness and human kindness that they deserve to be shared. 
If you're having a tough time right now, I hope these stories revive your faith if you need it.
I hope you'll join me in reliving these sweet moments today…
Story 1: Message of Hope in a Bottle
Our first story starts with our clients, Mr. and Mrs. R, who began working with us last summer to design and create their perfect space. We're now in the middle of a total kitchen gut. If you've been through a kitchen gut before, you know the drill. It's loud. It's messy. And it sure gets worse before it gets better. (Though it ALWAYS gets better, promise!)
Meanwhile, their precious pup, Benjamin Buttons (Ben for short) — who is adorable and their world — has been our main priority, as his health is declining. Mrs. R takes care of him during the day, and we have been doing all that we can to make sure the noise and disruption are kept to an absolute minimum.
And let's not forget the events of late… local tornadoes and a pandemic. Safe to say, life's throwing curveballs at us left and right!
So imagine my surprise when one day, while I was on-site with them, Mrs. R told me that they had decided to leave something for someone to find in the future. She told me of a note she had written and brought me an empty wine bottle that they wanted to put into one of the walls while it was open. (They are avid wine collectors.) Now, I don't know a ton about wine, but the bottle was dated 1990 (30 years old!!), so I knew it had to be important.
Well, she set it down right in front of me, and then showed me a note: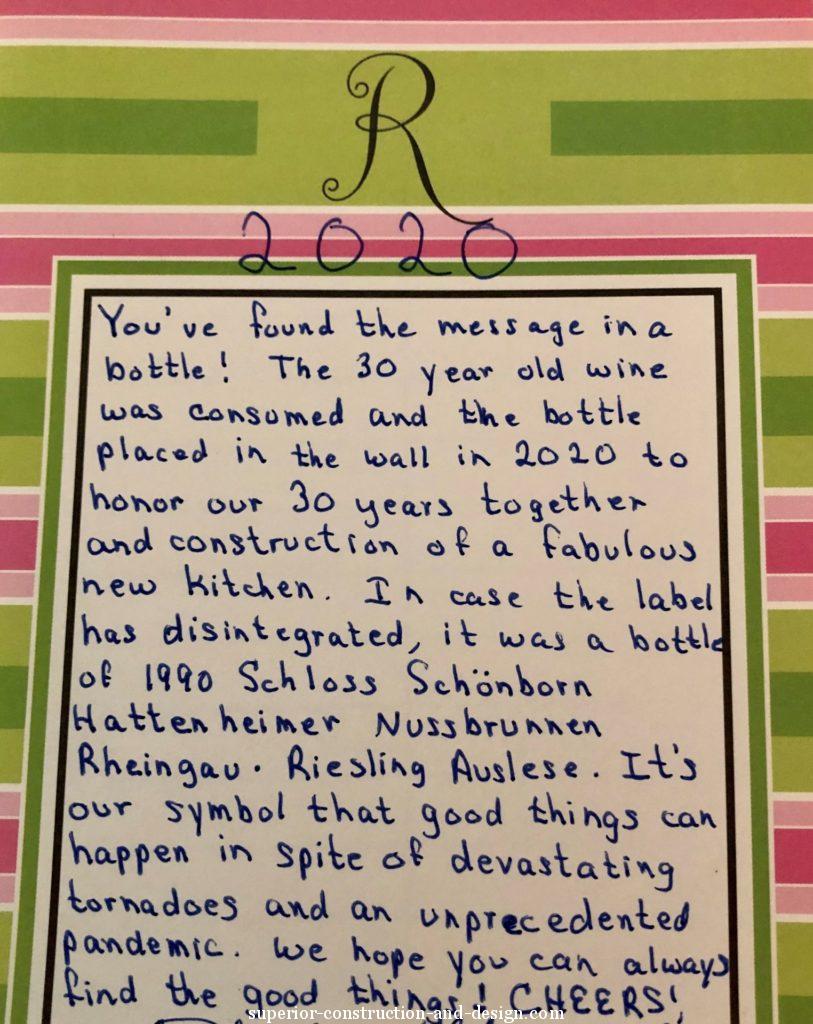 When I was done reading, I had tears in my eyes. Mrs. R told me that she wanted to let someone, somewhere in the future know that there is good in this world. How simple yet totally incredible is that?
We really have been through so much here in Tennessee, and in the world for that matter. And although her note is meant for future generations (we've tucked it into the walls for a lucky homeowner of the future to find) I also think we can take heart from it right here and now in 2020, don't you think?
So let's all smile, be there for one another, and remember that there's always, ALWAYS something good. And a big thanks to our dear clients for the loving reminder.
Message loaded, and into the walls it goes!
Story 2: Out of the Mouths of Babes…
My second story for you comes from a family that we recently built a pergola and sunroom for. They are clients and friends we attend church with. Mrs. C is a victim's advocate who founded a local non-profit, and her husband Dr. C is a vet. They have 3 children.
Their daughter, who is the middle child and I think 10 (already thinking about future matchmaking here, but SHHHH…) is the main character of this story.
Y'all, this precious girl colored a rainbow and hung it in the porta-potty late one afternoon for our workers. Yes, she was brave enough to go into the porta-porty herself and tape it right on the inside of the door!! All because she was so grateful to us for building her sunroom.
I mean, is this precious or what? A precious girl with a precious heart. I'm smiling again just remembering it!
Story 3: Powerful Scripture on Studs
Our third story is related to the same family and their project. One day, I was sitting at my computer working on the logistical side of things, when an email popped into my inbox from Mrs. C. They had never had a new build before and were excited to personalize and dedicate their room, so she asked if their family could write on the studs of their new sunroom.
Of course, I said YES! (Writing… messages in bottles… it all goes, right?)
On my next site visit, I saw their precious writings of scripture- on each side of the room, on several studs- even the flooring.
And y'all see that verse above from Isaiah? The one that says the cornerstone of a believer need never be shaken? Well, you remember the tornados that ripped through Nashville on March 2nd?  
They skirted the yard of this home, but didn't knock one shingle off the roof. Not ONE.
In fact, not a thing happened to their house, nor the pergola we had JUST completed about 4 weeks before. But one street over? Total and complete devastation. Homes that were total losses, nothing left standing. I'll just say that left me with chills.
I've been so lucky to have such incredible people to work with in my career, and these are examples of two very special families, with special hearts for others. If we could all have such pure hearts and love for others!
I hope these brought a smile to your face that will carry you through a wonderful week.
With love,
E
P.s. Our guide to layered lighting (at the bottom of the page) will also help brighten up your home. 😉 Get your hands on it, if you haven't yet!