What You Need to Know About Designer Showrooms
September 7th, 2021 | by Elizabeth | Posted in design, High Point Market Design Bloggers Tour
Hey y'all, it's that time of year again… fall is sneaking up on us! I'm not sure nature knows yet (it's been HOT here in Tennessee), but my babies are officially back in school and we're working extra hard on all the renos and design projects we can complete by Christmas. We want as many of our sweet families to be able to enjoy their homes during the holidays. Stay tuned for more on that.
Today, I don't have a new project to share with y'all just yet, so I thought I'd "reveal" one of the exclusive resources we use for our clients: designer showrooms.
I get questions about our vendors often, like… "Who do you use?"… "How do you find them?"… "What's the difference between your vendors and others?" I have answers to these, but I think it's most important to start by saying our vendors are the. BEST.
Our motto and mission is: "We make it feel like home." Yes, a designer can help you identify what will feel like home to you. And yes, it takes a designer to assemble and coordinate all of the many elements that make up a beautiful, functional, and personal home.
BUT — without unique, high-quality products to choose from, we could never create a collected, timeless, and truly special place for you to live. That's where designer showrooms come in…
From a designer showroom at High Point Market Spring 2021
What are designer showrooms?
Great question. A designer showroom or "trade" showroom is a collection of products that is set up by a vendor specifically for members of the trade (designers, architects, decorators, etc.) to shop at and specify items for clients.

I often visit local showrooms for quartz (the Cambria Quartz showroom is one of my favorites) or other finished elements that are too large to store full-size in our studio. Can you imagine a countertop-sized slab of quartz leaning up against my bookcase? Me neither… and I'm certainly not lifting that thing either. They can weigh up to 30lbs per square foot!
We used Cambria Quartz for the countertops and backsplash in the Langford Pass Kitchen Renovation.
However, the bulk of the showrooms we visit are at High Point Market. You've probably heard me mention High Point Market before, but just in case this is your first time here, it's the largest furnishings market in the world.
At High Point, there are over 180 buildings filled with showrooms, over 2,000 exhibitors, tens of thousands of new products introduced, and over 100 countries represented. It's safe to say that if I can't find a product at High Point, it doesn't exist.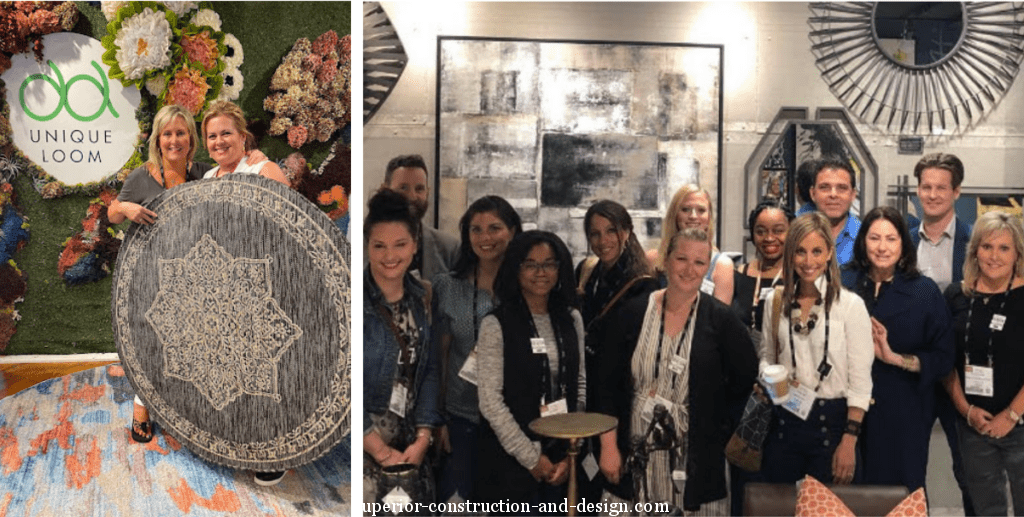 Throwback to High Point Market Fall 2020 (left) and Spring 2019 (right).
What do we do in designer showrooms?
I've been designing, building, and renovating for 20 years, and I've seen it all — but I'll never tell you I know everything. There are always new products and innovations entering the design and construction industry, and it's my responsibility to you and to our clients to stay as educated as possible.
Designer showrooms give me that opportunity. It's where I go to learn about products, see if they would be a good fit for our clients, and in some cases, test them out myself. If you've seen photos of me sitting on sofas and chairs at High Point, believe me, I'm hard at work. 😉 How else would I be able to tell y'all they're comfortable?
Showrooms also give me the opportunity to meet the vendors' representatives. Are they well-versed? Do they provide valuable assistance? These details matter, since their service and relationship with me translates to the service we can provide to you. If I think a vendor is suitable for our clients' wants and needs, only then will I open an account with them and start a long-term relationship.
This process of discovery and forming relationships is how we preserve the integrity and uniqueness of your home. And it's all facilitated by — you guessed it — those designer showrooms.
What are the advantages of designer showroom products?
Specifying products through showrooms will always give you a more custom look and feel in your home. Function can also depend on the types of products we are incorporating into your space. (Custom ottoman with built-in storage?) The result is a truly individual home that fits you and your family.
The other advantage of designer showrooms is… QUALITY. This is a big one. Retail options are created for the masses and typically made out of lesser or cheaper materials, as the items are mass produced.
Have you seen my guide to Good, Better, Best level furnishings? Showroom products fall in the Better and Best categories. This means you can trust your furnishings to endure day-to-day life. And when you're investing in your home, that's important.
Our approach to sourcing products for your home? We will mix and mingle, but only with smaller pieces. For instance, we will specify all furnishings through our vendors, but sometimes we'll use small, fill-in accessories that we find in retail.
The exact proportion of showroom to retail items will come down to your goals, budget, and timeline. Don't worry, we'll chat about all these details when we first sit down to work together.
My design advice?
My final words of advice are these: If you want a one-of-a-kind space created specifically for you and the way your family functions, you'll want to work with a designer who can access showroom options.
If you want your space to look similar to other homes or to follow a trend, shop big-box retail. And if that's you, that's okay. Remember, there's no right or wrong — it's your home. You get to decide what feels most like you.
If you're still discovering what you love, I suggest peeking through our portfolio, browsing my past blog posts, or diving into my curated Amazon Store for inspiration! Until next time, y'all…
xo,
E