How to Create a Budget for Your Kitchen Renovation
February 8th, 2021 | by Elizabeth | Posted in construction, kitchens, remodeling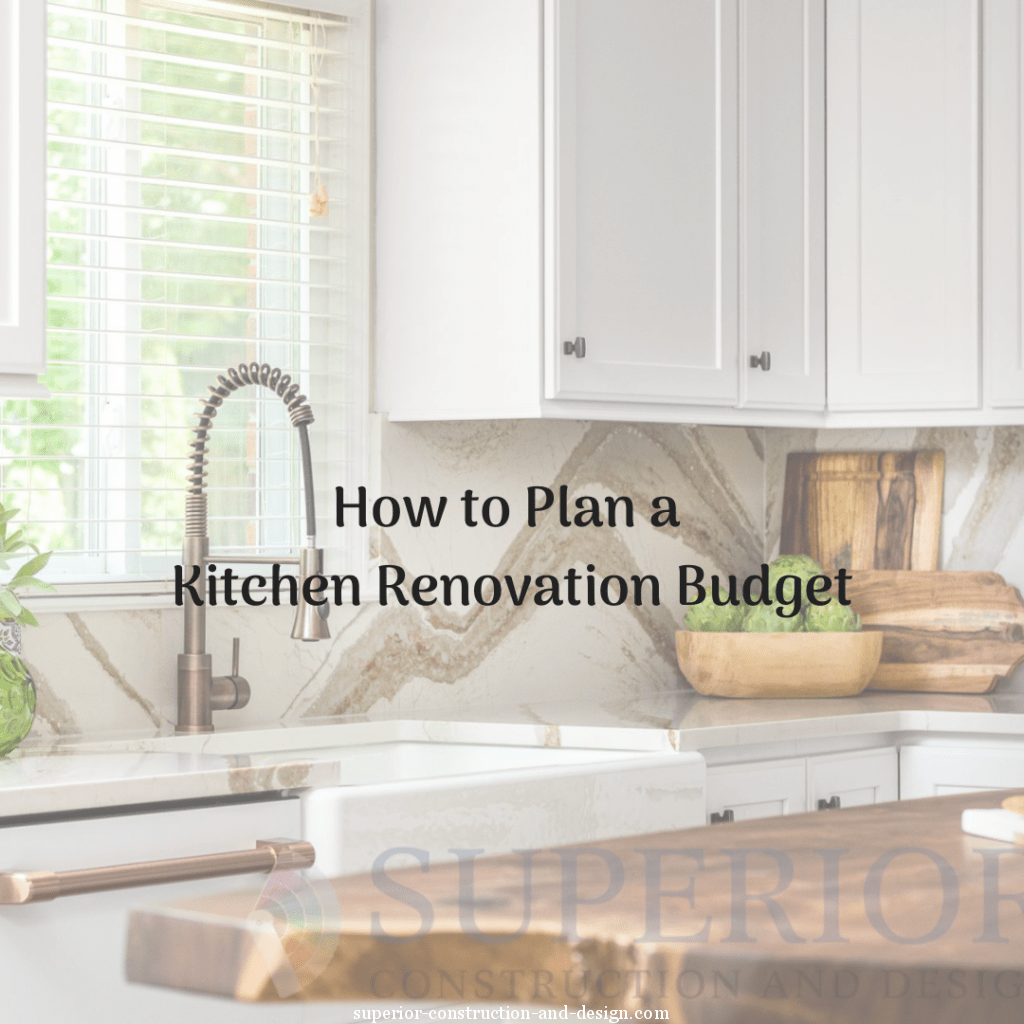 Today, we're tackling another elephant in the room: your renovation budget. This is the #1 mystery for most homeowners, largely thanks to "reality" TV shows that quote full-scale kitchen renos at the low, low price of $10K. "Wow! Really? They did all that for $10K?!"
Nope, don't believe it, y'all!
Considering I spend a fair amount of time dispelling the myths surrounding renovations, I figured y'all deserve the truth, too. I decided to put together what I'd like to call the SC&D Renovation Planning Series:
How to Create a Budget for Your Kitchen Renovation (meet today's topic!)
Alright, I can tell that you're ready… let's talk about budgeting for your kitchen renovation.
P.S. Most of this advice can be applied to renovations in other areas of your home, too. I'll share some extra tips and nuances along the way for y'all. 😉
Why is the kitchen called the "money room?"
I bet you've heard kitchens called the "money room" before, right? Do you know why? I'd say there are two reasons, both are sides of the same coin:
Kitchens are called the "money room" because they are the place in your home that usually requires the highest investment to renovate. This is thanks to the sheer complexity and number of decisions to be made in the space — plumbing, electrical, appliances, fixed elements like cabinets, countertops, an island, lighting, etc.
Basically, you can take all the elements of any other room in your home, and you can bet they're in the kitchen, too! Minus the fireplace, of course… but a gas range isn't too far off. 😉
The second reason kitchens are called the "money room" is because they have a huge impact on your home's value. Yes, they require more money to renovate, but that investment is easily going to increase what your home is worth… which is exactly why it's called an investment!
What factors impact the cost of a kitchen remodel?
As you know, a kitchen has tons of moving parts, so I would say everything impacts the overall investment required. However, there are a few elements that are your big-ticket updates and will escalate your budget pretty quickly:
1. Changing the footprint of the space.
When you change the floor plan, even if you aren't moving walls, your investment is going to climb a bit. It's likely that plumbing and electrical will have to be moved. Plus, there's always extra labor required.
That said, I've personally seen how a new kitchen footprint can transform the way you use your kitchen every day — so I'd say it can be totally worth it in the right situation!
2. Moving load-bearing walls.
Anytime we want to move walls, we have to get a structural engineer out to the site to address the safety factor. If the wall is load-bearing (a.k.a. keeping the roof over your head), far more work is required to safely remove it and make sure the "load" of your roof is supported elsewhere.
I recommend getting a professional opinion to assess your options, and make the choice that's right for you. Case in point — remember this story about our client who wanted to remove the walls between her kitchen and living space? We proposed a less costly option to create a half-wall that would open up the space without needing to remove the load-bearing supports. However, she had her heart set on the whole wall coming down, so that's what we did!
3. Replacing appliances.
No surprises here. Replacing appliances, especially if you're opting for top-of-the-line models with all the bells and whistles, can add up quickly. This is something we'll certainly discuss during our conversations with you. We'll make sure you know your options and can select the ones that will work best for your lifestyle and price point.
What are our steps for creating renovation budgets with clients?
Knowing your desired investment is one thing. Creating an itemized, perfectly balanced budget to hit your goals is another — and we make sure you have the support to do so! Whether it's for a kitchen or another space in your home, your budget is the foundation of a successful project.
Step 1: Setting Scope
"Scope" is the work that we will actually be doing for your kitchen. To start setting scope (which determines budget), we'll review all the fixed elements of your existing kitchen. Below are some of the questions we'll ask you:
What's working for you functionally? What isn't?
How do you currently use the kitchen? For cooking? Entertaining? Working from home? Etc.
How would you like to use your kitchen in the future?
Which materials are still solid and which need to be replaced?
Is the layout efficient or does it need to be redesigned? (This is where moving walls could come into play.)
Together, we'll be able to use your answers to determine what type of updates you need (or simply want!) to complete. Sometimes the scope calls for a full renovation; sometimes it doesn't. We'll also compare scope to your desired investment level. We'll be able to tell you whether it's possible, or whether it would be cost-effective to split your project into phases.
Again, this is where a design-build team is invaluable — we can see all the options, including those you might not know are possible!
Step 2: Selecting Appliances, Materials & Finishes
The quality of the materials, finishes, and appliances you choose will also impact your budget. Now, I firmly believe in stretching your investment as far as we can, but feel personally responsible for steering you clear of anything that is cheaply made. If we can't stand behind the quality and integrity of what we're installing in your home, we won't put it in there! That's just the kind of business I believe in running.
That said, even with quality materials you'll see that the investment can vary widely. This is another reason working with a Designer/GC is a great idea — we know all the options available to you and can make suggestions for a balanced budget.
For example, maybe you have your heart set on a gorgeous, high-priced countertop stone, but you are open-minded about the backsplash and cabinets. Because we know what's available to you, we can "save vs. splurge" in the areas that matter most. Bonus: We also know which materials to prioritize for raising home value!
Step 3: Selecting Furnishings
This last step is less likely to impact your budget in a kitchen, but I don't want to leave it out, because it's important for the other rooms in your home. Your furnishings.
Imagine this… You complete your full-scale renovation. You have a bright and happy, open concept space. You can't wait to relax and enjoy it, but — oh no! — there's no room left in the budget for the new sofa, chairs, window treatments, and decor that make your house look and feel like home.
If you really want to experience a full transformation of your space, we should budget for furnishings at the beginning of your project, not as an after-thought. Again, this is something we'll talk about together (and is the subject of my next blog post!), and we can often mix old and new items to create a look that feels timeless and fresh.
What does a kitchen renovation cost?
"Get to the numbers already, Elizabeth!" I know, I know. Y'all have been waiting for some numbers, right?!
The reason it has taken me this long to get to them is because every project is different… and now you know why. So, take the following numbers with a grain of salt! Here are a couple methods of calculation:
For a full kitchen renovation, including flooring, appliances, and cabinetry, you can expect to spend around $50K. If you're moving walls/plumbing, doing any custom work, or opting for all top-of-the-line appliances and materials, that investment will go up.
On average, a kitchen renovation will require an investment around 10-15% of your total home value. You can do a quick calculation to find the general investment range — the high end of that is likely to include all of those big-ticket changes I mentioned above. Of course, this is not a replacement for the itemized budget that will launch your project!
Inside Tip: Kitchen renovations are usually higher in design, labor, and renovation fees but lower in furnishings budgets. For spaces like your living room or master bedroom, the opposite is true: they're typically lower in renovation costs and higher in furnishings costs.
What if you're not ready for a full-scale kitchen renovation?
Renovating your kitchen isn't a decision to be made lightly, which is why I also want you to know that there are lower investment options available to you, such as a cosmetic refresh.
A refresh could include repainting walls and cabinetry, replacing countertops and hardware, and updating lighting (the biggest culprit in dating a space). These can be done fairly quickly and with dramatic results — and we can certainly help you achieve them!
So, what's next?
If a kitchen update is in your future — be it a full-scale renovation or a cosmetic refresh — our team would love to support you. This is our passion, our expertise, and what we live and do every single day.
We would love to guide you through this process and lead you right to the doorstep of your newly updated and beautiful home. Contact us here and let's get cracking!
Oh, and be sure to pin this to refer to later!
xoxo,
E