3 Fast & Easy Ways to Transform Your Old Kitchen
August 26th, 2019 | by Elizabeth| Posted in Before and Afters, construction, kitchens, remodeling, tips

Hey y'all, I'm taking another break from the Scruggs family remodel to share some kitchen refresh tips. Now, these are visually transformative but (lucky for you) won't require a full renovation.

If you've been dragging your feet on making some updates, I think you'll find these tips simple, manageable, and ready to get you fast results… at least faster than the 2 months my own kitchen has been under construction. 😉

As you probably know, many of the homes in Mt. Juliet and Lebanon, TN have kitchens designed back in the 70s, 80s and 90s, chock full of design elements the cast of Cheers would love.

But… these are the traits that dish your home's age like hot gossip!

So what are these characteristics and how can we freshen them up fast? Let's talk about it y'all!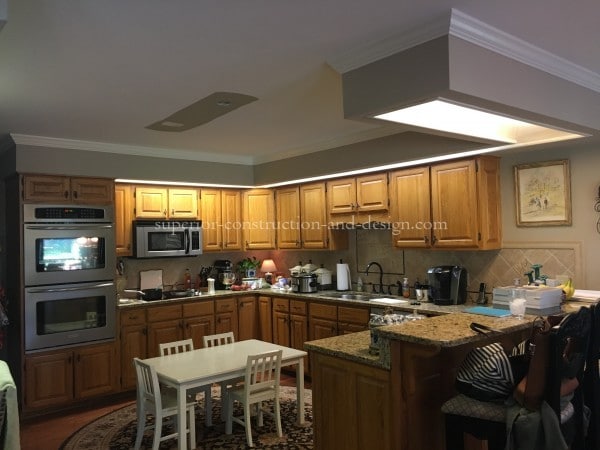 Can you spot all the decade-defining traits in this 80s kitchen?
decade-defining traits you might find in an older kitchen
---
Which features are aging your kitchen?
Cabinets that don't reach the ceiling or come in older wood species, like oak

Paneling and popcorn ceilings (the horror!)

Countertop materials

like Formica and Corian (80s/90s) and granite (90s/2000s)

Hardware and lighting that haven't been replaced in the last 5-10+ years
Take a little stroll around your kitchen to see which of these features you can find. Does the space look dark? Is your lighting yellow and peaky? Is the kitchen just a little sad in general?
We have some quick cures for those! 3 to be exact…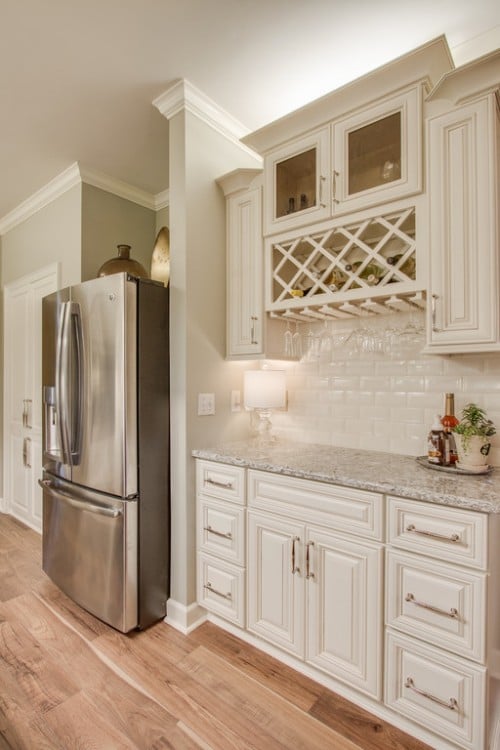 kitchen refresh idea 1: paint cabinets or walls
---
Remember this design/staging project I showed you where a coat of fresh paint completely transformed the home?
You can do the same in your kitchen. Painting cabinets (especially those older wood species I mentioned) is the fastest way to a completely new look.
If your space is a little darker in nature, I suggest choosing a lighter color that will reflect your lighting throughout the space. If lighting isn't a problem, you can get more creative. (And if want some expert advice, get a color consultation from us!)
As for the walls, a coat of new paint could be just what the designer ordered. 😉
Before: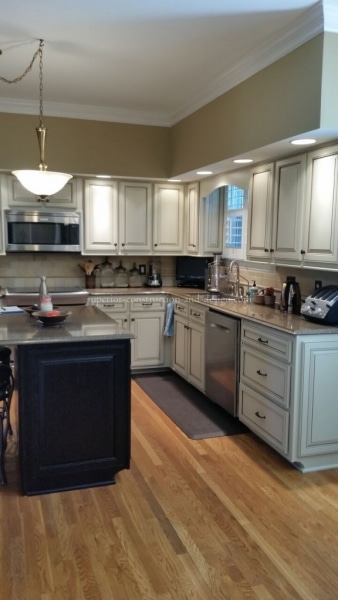 After: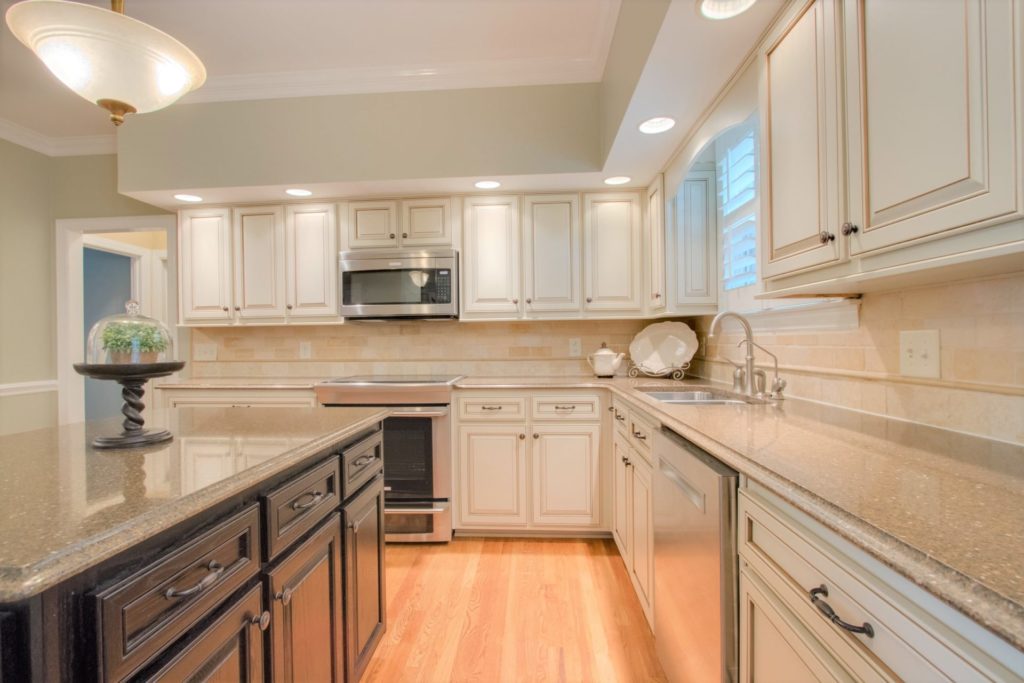 See how the new paint transformed this TN kitchen?
refresh idea 2: build out short cabinets to the ceiling and trim with crown molding
---
This kitchen refresh idea is transformative but it's not as cheap as slapping on a new coat of paint. That said, it's also NOWHERE near as expensive as brand new cabinets and countertops, sooooo… perspective.
Three years ago (!!!!), my husband and I made this upgrade to our own kitchen's oak cabinets and, yes, I even have a blog post from that project called How to Update an 80s Kitchen on a Budget! (Where does the time go??)
Long story short, we ripped out the soffits, built out the upper cabinets, added paint, and new hardware, and y'all they were just like new.
Before & After shots from the Scruggs' first kitchen update project THREE years ago…
Before: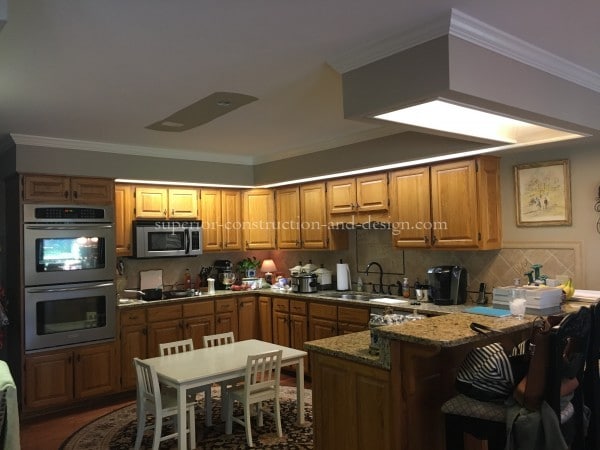 After: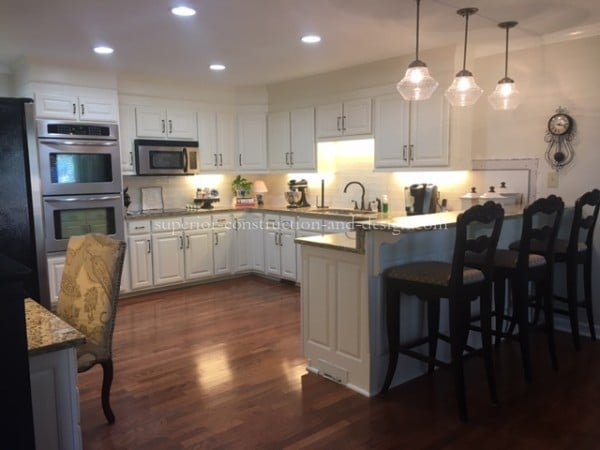 Amazing what paint and new lighting can do!
refresh idea 3: kitchen lighting
---
This tip is another budget-friendly way to revive your older kitchen, and the Before & After photos above are a great example of its impact!
Before, we had this awkward light feature over the bar top. We removed it (which really opened up the space), and added three pendants.
These pendants are not only more modern and stylish (even today), but they are much better at dispersing light throughout the space. The white cabinets help reflect that light, too!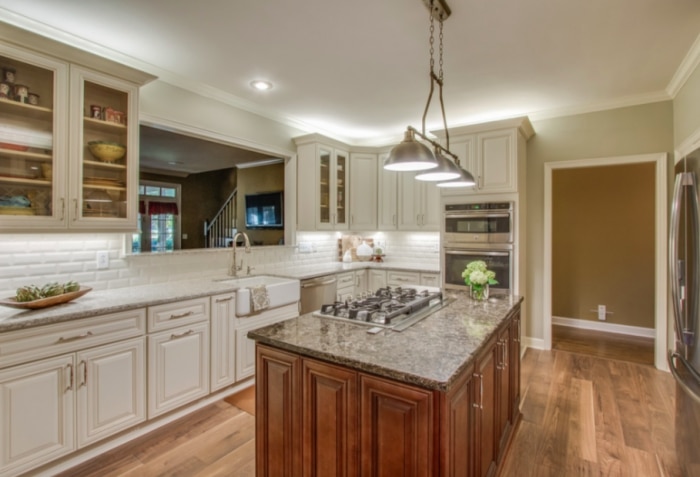 There you have it — 3 easy ways to give your older kitchen a fast and transformative update! Pick one of these tips or all of them, but remember, the most important part of your project is PLANNING.
The more you plan in the beginning, the easier things will go. Make ALL decisions together and at one time.
I hope this was helpful and that y'all feel extra inspired to revive your space. If you need any advice or help on your kitchen journey, you know just who to ask. 😉 See you next time!
Hugs,
Elizabeth