Insider Tips: What to Look For in Quality Sofas & Chairs
July 19th, 2021 | by Elizabeth | Posted in design, tips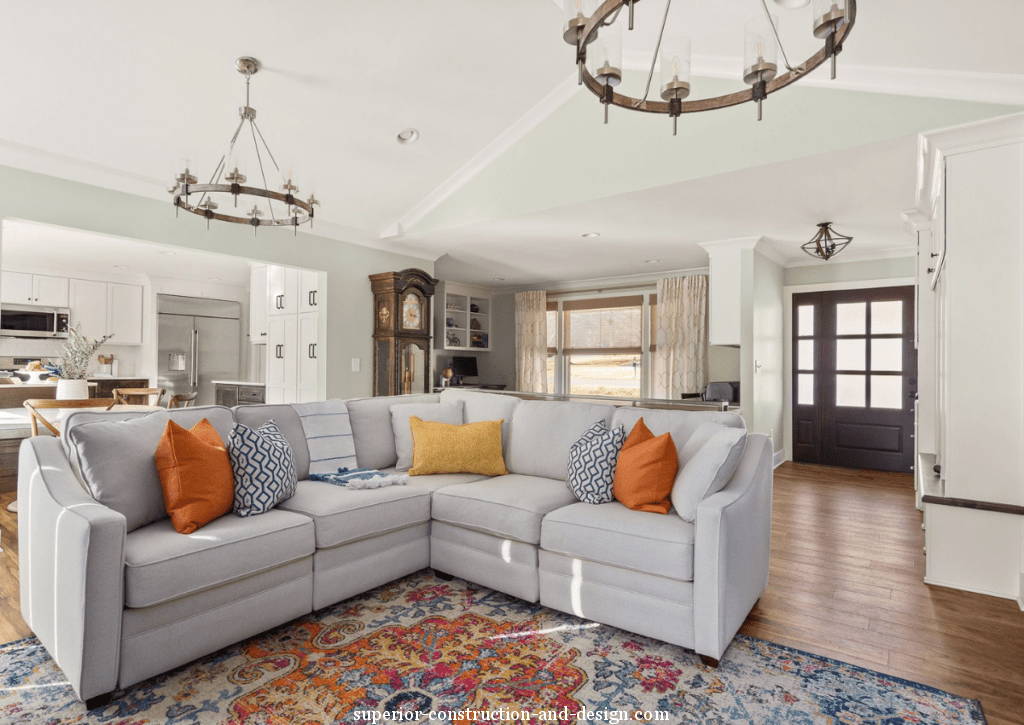 Sofas and chairs are what I like to call "high-ticket" items. They're not cheap, and there's a good reason for that. Unlike an end table or even a statement chandelier, sofas and chairs must stand up to daily use. They carry a "load" (haha), endure long-term wear and tear, and may need to stand up to kids, grandkids, pets, or a weekly stream of guests you love to host.
In other words, sofas and chairs need to support you and your lifestyle — literally!
Now, remember when I told y'all that we get what we pay for? This is doubly true for sofas and chairs.
Finding furnishings that are worth the investment — and balancing our clients' budgets to save vs. spend where it matters — is a large part of what we do at SC&D. (Call me a design nerd, but I actually love the puzzle-like strategy of budgeting an investment!)
I've already shared quite a bit about how to budget a home furnishings investment, including a chart of Good, Better and Best investment levels, so let's set aside the topic of cost for now.
Today, let's talk about what to look for in high-quality pieces and where to find them…
1. Sturdy Frames
The furniture's frame is what holds and supports weight, so the better the frame, the longer the piece will last. I suggest looking for solid hardwood frames — such as oak, walnut, cherry, or maple. These retain shape and stability over longer periods of time. Softer woods, like pine and cedar, can bend and break easily.
If you're looking for the Best quality frame, look for hardwoods that are "kiln-dried." Yes, these are more expensive, but the process of drying the wood eliminates nearly all moisture in the wood fibers. This means that it will resist bowing or expanding/contracting in humidity or high temperatures — always a good thing in the South!
SC&D Tip: You also should NOT be able to feel the frame through the upholstery. For example, if you touch the upholstered arms of the chair and you can feel the wood inside, it isn't well-made.
Look for: Hardwoods, "kiln-dried"
2. Strong Joints
Just like our bodies, the joints of a piece of furniture take on a lot of stress. For longevity, it's important that joints are well-made and reinforced. There are two types of joints that I stand by: mortise and tenon joints (where the wood is fitted together like a lock and key) and double dowel joints (where multiple dowels are used to connect the two pieces).
I also like it when the makers reinforce the joints with corner blocking, which is basically an additional piece of wood added in the corner. It helps support and disperse the force applied on the joint for longer-term durability.
If you're working with us, don't worry about memorizing all of this! We'll lead you to furnishings that prioritize quality. If you're looking on your own, the sales rep should know these terms and be able to point you in the right direction.
Look for: "Mortise and tenon joints" or "double dowel joints" with corner blocking
3. A Manufacturer's Warranty
Yes, manufacturers can offer furniture warranties! Not all do, but when you can find one that is willing to go the distance, you know your investment is in good hands. One of our vendors actually offers a lifetime frame warranty. Since the frame provides the foundation for the whole piece, this is a warranty that is worth having.
Note: I would say that the lowest investment you can make in a quality sofa (the "Good" quality level) is $2,500. "Better" is around $7K, and "Best" is around $9K. (See the chart in this post.)
Look for: Frame warranty
4. Comfortable, Supportive Seating
When you think "seating," you're probably thinking of the cushions that support your backside. Lol. This is true, but we're not there quite yet! While comfy, quality cushions are important, they aren't really what's supporting your weight — there's a spring suspension system underneath them!
The best suspension system is called "8-way hand-tied," and involves a skilled craftsman tying each spring with twine in 8 different directions and securing it to the frame. Since this does involve a high level of hands-on craftsmanship, these pieces can typically be on the upper end ("Best") of the price point. However, these pieces can last years and years or even become heirloom pieces.
The "Better" end of the price point usually include a "sinuous spring" suspension. These are still good quality and will likely last 5-7 years with care.
Look for: "8-way hand-tied" suspension (top investment) or "sinuous spring" suspension
5. Quality Cushions
Okay, now we're ready to talk about cushions. Again, they are not all made equally. Some will give out quickly and leave you with a flat or saggy seat. Y'all don't want that! ? Others can get lumpy or misshaped. No, thanks!!
I suggest looking for cushions made with blended down. These have a foam core to keep their structure and are padded with feathered down on both sides for comfort!
Look for: Blended down
Where to look for quality sofas & chairs?
Here's a trade secret most people don't know… buying furniture through a designer offers you options you won't find in a big box retail store. We custom-design each sofa for our clients with fabric, cushions, and a shape specifically designed for their home.
In fact, we just spec'd a sofa the other day with one fabric on the sofa and co-ordinating (but different) fabric on the down throw pillows! We then carried that pillow fabric on the back of the chairs in the adjacent room. This is just one of the details you can't create when you purchase retail!
BEST PART? Purchasing through your designer is almost always equal to or cheaper than buying a comparable piece yourself through a vendor or retailer. Seriously.
If you don't want to buy through a designer, no sweat. You can usually find retail stores with knowledgeable reps. But if they look at you with confusion when you say "kiln-dried" or "blended down," run the other direction!
P.S. If you haven't seen my chart of Good-Better-Best furnishing investment levels, come take a peek here. 'Til next time, y'all!
xoxo,
E