9 Exciting Decorating Updates You Can Make Right Now
April 14th, 2020 | by Elizabeth | Posted in bedrooms, built-ins, color, design, kitchens, tips

Y'all, I've been thinking of you lately! Quarantine is still going strong and while we might be praying for normalcy over here, I can't deny that this time at home has gotten my creativity in a whirl! Lately I've been noodling on…
What are some simple ways to make a space feel happy and joyful? 

How can we work with what we already have in the house? (Or with what's available at the grocery store)

What will feel fresh and exciting, so it doesn't feel like we're living the same day over and over?
Well y'all, I finally have some answers for you, and yes, I've tested them myself! I've got 9 tips for you, plus some measurement suggestions that I know you've been curious about! (For art, coffee tables, rugs…)
Y'all ready to have some fun at home again? Let's go!
Rustle up some fresh cuttings from the garden
One thing I've been doing is bringing in fresh cuttings from my garden.  And no excuse if you don't have a flower garden — branches from trees with spring buds are just as good!  
A simple branch in a jar with water is beautiful, and anytime you bring the outside, in, it brings life in your space. They remind us that life is still going on all around us!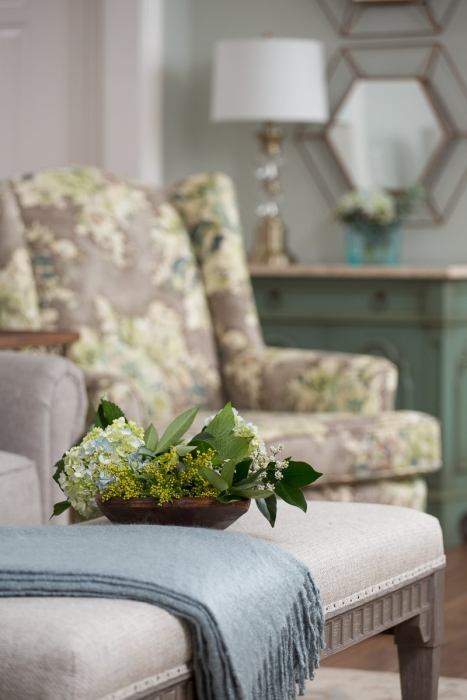 Freshly laundered sheets
Another great thing is to add freshly laundered cotton sheets to your bed. I know this is a short and simple one, but anytime I slide into bed with fresh crisp sheets, it's almost like being in a fancy hotel! Do y'all feel that way, too??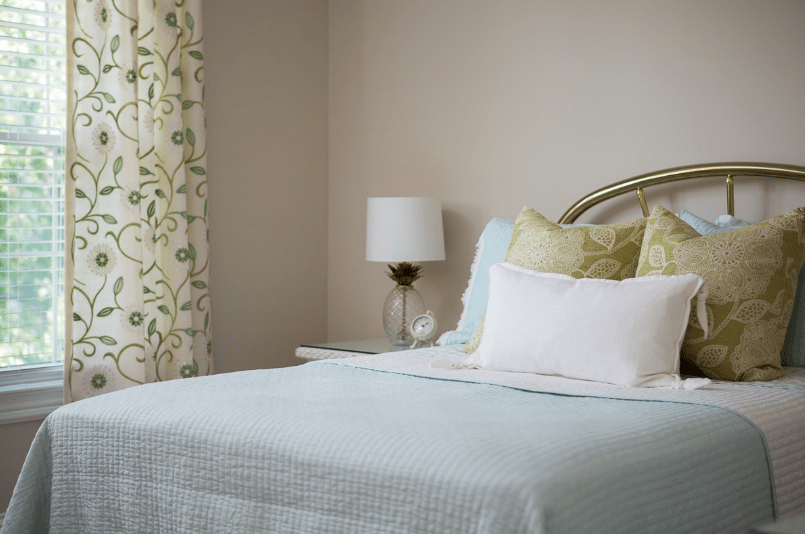 Making the bed extra nicely for yourself can feel like a treat too!
Embrace organizing… but just a little
Organizing your spaces is a big one, and I bet you've been hearing about it a lot lately, right? 😉 There's a reason, of course. There really is something cathartic about  an organized space.  
The key for me is not to  tackle anything too large. If you do, you'll never finish it, and it will be a source of dread. What's a simple win that'll put you in a great mood? 
The junk drawer! We all have one…
Or, it could be the Tupperware cabinet in the kitchen (have mercy) or the missing sock pile in the laundry area (those poor lost soles).
(Sorry, I couldn't resist.)
These are those small projects we always think we will get to, but never do.  
However, the HUGE feeling of accomplishment after tackling one of these small spaces is irreplaceable! I like to turn on some music and set a timer for 15 minutes. Something about setting a timer makes you race yourself, and it almost becomes a game… I'll race y'all!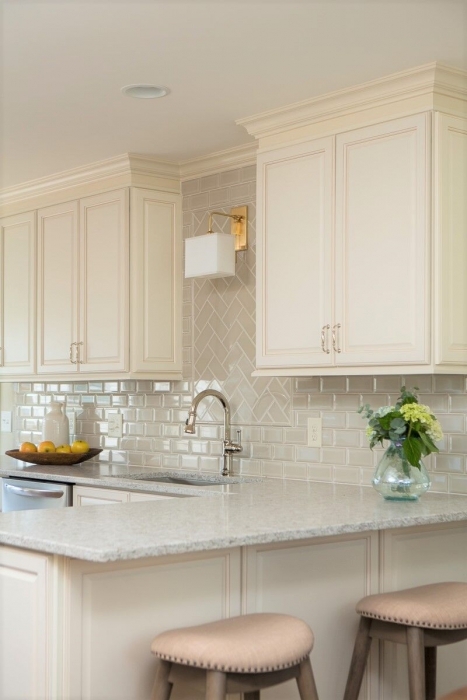 Can you imagine what cleared kitchen counters might be like? With three kids in the house, I think this one will remain a dream for me.
Shop your home for "new" goodies
I love shopping other people's homes before designing a space for them. To me, it makes the most sense to use what you have first.  Oftentimes, our perception of our own homes is a bit skewed and we can't see things in a different way because we've seen it the SAME way for soooo long. 
I also find that many of us have a hard time breaking our own rules. For example, just because the green armchair has always been in the living room, doesn't mean it has to stay in the living room.  
The first stop on my in-home shopping spree is in the neglected rooms… those rooms we don't use very often.  So many times in a redesign the first thing people say to me is, "I forgot I had that!!" So pretend you've never seen your home before, and go take a journey through your spaces!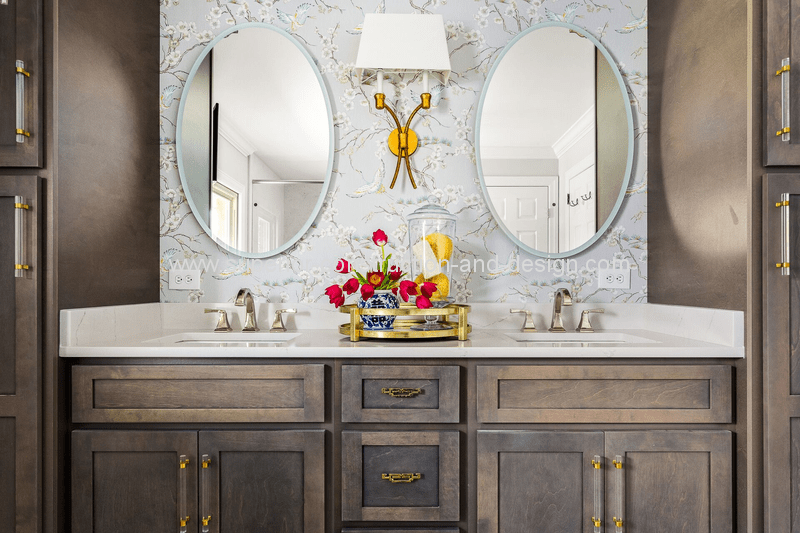 The decor in our new master bathroom came from items we had in other areas of our home!
Show off the collections you didn't know you had
Curate collections! Even if you don't consider yourself a collector, I'm willing to bet you have several "like" things you can group into a collection and that always gives a space interest! 

Think vases, clocks, colored glass jars, and books!! Did I mention books??  Have I ever mentioned they are my most favorite thing in the world?? It always shocks me when I go into a home (and believe me there are many where this happens) and there are no books!!! To each his own, but nothing gives a space more warmth and feeling of home than books!
If you are a bookworm like me, you could use stacks of books to make an instant coffee table vignette or elevate things that may need some height (think potted fern or orchid). I even have a stack of books under a lamp! Because why not?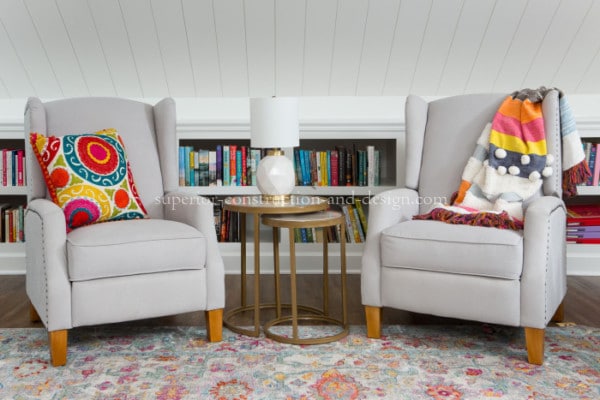 I spy books in the Scruggs' bonus room! 😉
Rearrange rooms or play "musical chairs" with your decor
Remember "musical chairs?" Well, we're going to play it, decor style. 😉 You could bring in some mis-matched chairs into the dining room if you have one to spice things up. (Everything doesn't have to match!)
You could rearrange the furnishings in the family area, creating a configuration that feels new and exciting each time you walk in.  Or better yet, if you have two different family areas, say a bonus room and a den/ family room — you could completely swap the furnishings from one room to the other! 
In other words, get inspired and create something that feels like new!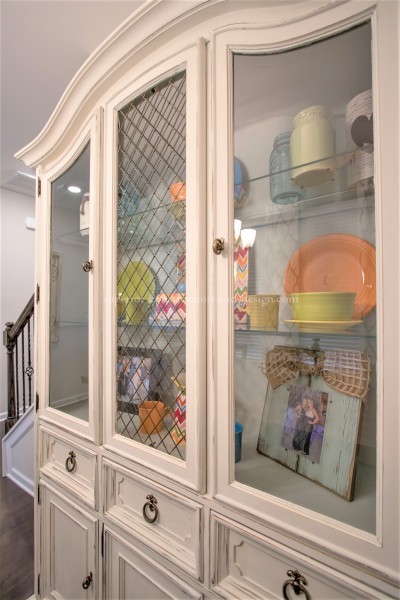 You could move items to new homes throughout the house or restyle for a new look, like we did in this decorating project!
Create focal points for function
Even if we're moving furniture and decor around, it's almost always a good idea to configure the furnishings around a focal point.  Every room has one, and sometimes two. Think fireplace, TV, large window with a view, etc. 
The furnishings should create a nice conversational area around the focal point, while leaving a clear pathway from one space to the next.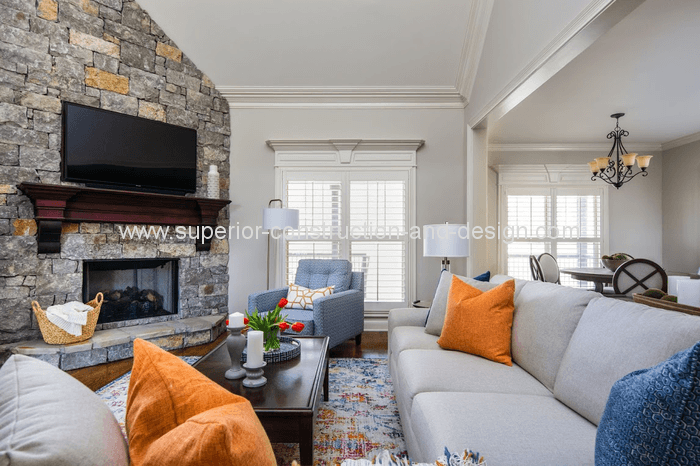 We created a new focal point around the fireplace in another recent decorating project, but there's a clear path from one side to the other!
Style a workspace that inspires you
The most important tip I can give for a workspace is to make sure that the desk or space you will be working at does not face the wall. That will squash your energy faster than anything… or at least it does for me! 
I love to have some flowers or branches cut from my garden in a vase and a candle burning. But whatever gets your brain moving and grooving is what you should do.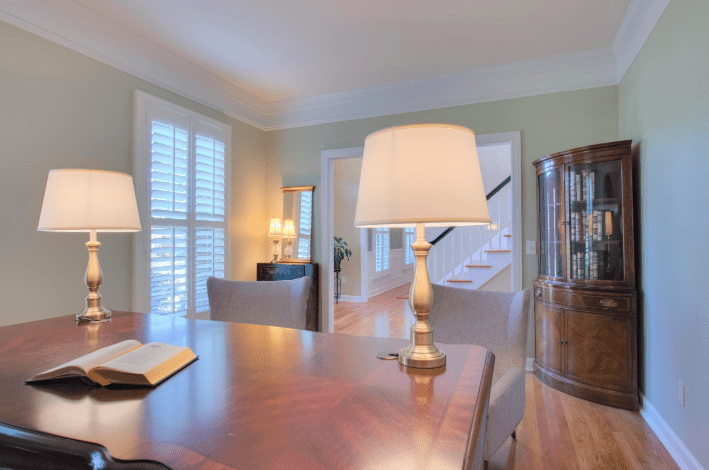 This one was a home staging project, but I sure wouldn't mind knocking out my to-do list in here!
Create a gallery wall that's filled with love
Gallery walls are an amazing and beautiful way to show a collection of art! My friend Angela has a beautiful gallery wall of her children's art in her study. I was watching her in a FB live last week and her gallery wall of her children's art took my breath away.  Precious snippets of their hearts drawn in love for their mama and daddy. I love that they are different sizes, different frames, and the wall is colorful, fun, and exudes love.  
And THAT'S what makes a space special my friends – surrounding yourself with things and people you love that make you want to be the best version of yourself!     
For a gallery wall, I suggest creating paper cutouts that equal the size of the frames you want to mount. Use painter's tape to arrange them into a configuration you like before putting any nails into the wall… unless you want it to also look like your kiddos were playing darts in there. 😉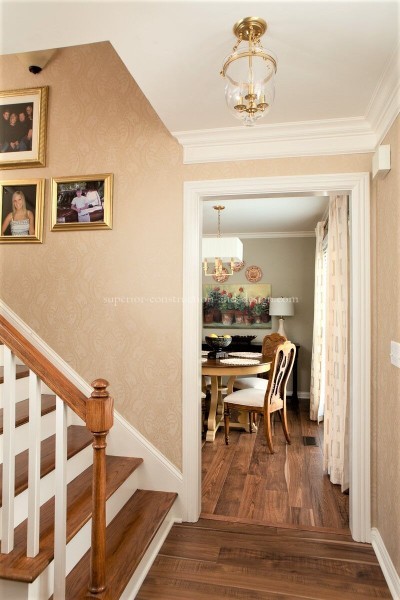 A teeny tiny peek at this gallery wall we hung over the stairs for this home redesign we completed last year.
While we're at it… measurements you can use RIGHT NOW!
Okay, a few measurements I just thought of that you can put into practice right away…
ART: Alright, I'm going to give you these measurements, so you have no excuse.  Please don't make my eye twitch if I come to your house and the art is hung too high. I will have to get my toolbox outta my car and re-hang it. I can't help myself. Lol. 
Art should be hung so the center of the piece is 60" above the floor.  (If you are a family of really tall individuals, I'll let you have an inch or two, but no more.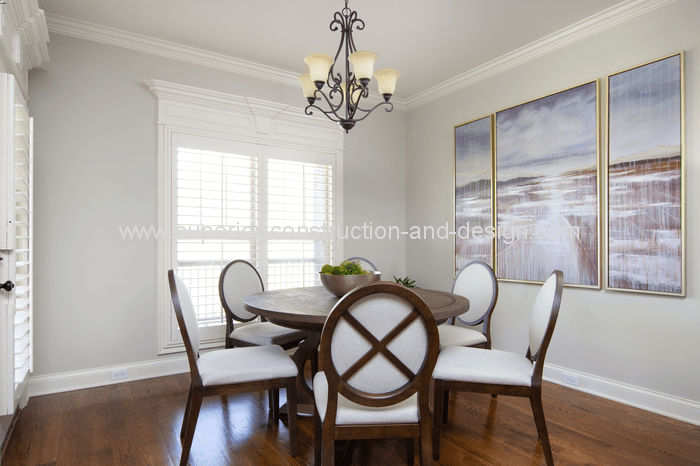 Yes. 😉
RUGS: If you have an area rug in a room, all the furniture should be resting on the rug. Or at least the front two feet of the piece should be on it. Don't ever have a rug floating in the middle of a space by itself. It will look sad and alone, and that's not what we all need right now. We want to anchor the furniture and make it feel togetherness. 
COFFEE TABLE: The ideal spacing between seating and a coffee table is 18". I know you have been wondering this!! I've lost count of the number of tables I've smacked my shins on because they were too close. 18" y'all. Trust me. 
And speaking of coffee tables, your "table" doesn't even have to be a traditional table. You could use an old trunk or a couple of ottomans and change it up! But the best height for whatever piece you are using is typically between 15-18".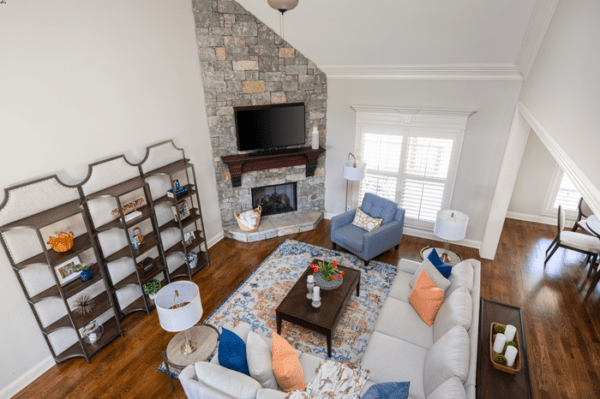 Here, the rug creates boundaries for the space, making it feel cozy and complete. And guess what distance that coffee table is sitting at? 😉
Whew! That was a lot, huh?? Now y'all have plenty to keep you busy, right? Just kidding… it's not about staying busy, it's about creating a space that you really love. Spaces that support you. Excite you. Make you feel joy and contentment every day. And if these tips help you in even a tiny way, y'all know I will be tickled to hear it!
If you haven't snagged our guide to lighting (the jewelry of the home), be sure to grab it below, as it's a goldmine of actionable info, too.  When you do, you'll receive our blog post in your inbox and you'll never miss a post.  In the meantime, if y'all have any questions, please do ask in the comments below — I love reading them and if I can help, you know I will!
Xo,
E