The LG Styler is Retiring Ironing & Dry Cleaning for Good
September 23rd, 2019 | by Elizabeth | Posted in design, remodeling

You may remember when I went to Napa Valley in May as a participant on the Modenus Designhounds and Signature Kitchen Suite (SKS) Tour — and it was amazing.

While there, SKS Appliances offered each of us the opportunity to try the LG Styler clothing care system in our homes or showrooms. Needless to say, we were all over the moon excited!

So this beauty arrived, and I'm not at all embarrassed to tell you that during my unexpected remodel, I designed my entire laundry room around this one appliance! (More updates on our remodel to come soon!)

Today, I want to share my thoughts about this appliance with you, because in a few short weeks, it has already been a game changer, y'all!

This post is sponsored by Signature Kitchen Suite, who graciously donated our LG Styler to use and review, and these are my honest thoughts about their product… which has already become part of our daily lives!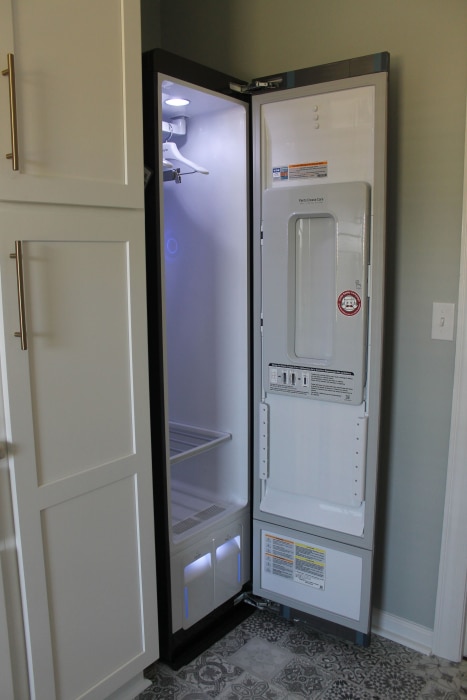 what does the LG Styler do?
---
Y'all, this thing will be your new heavy-lifter on cleaning day. The LG Styler is a clothing care system that steams, refreshes, sanitizes, preserves and even dries fabric, all while saving your TIME.
It can completely replace drycleaning (buh-bye trips to the cleaners) and even has a piece on the inside of the door that creases pants! Bet you won't be too broken up about retiring your iron, am I right? 😉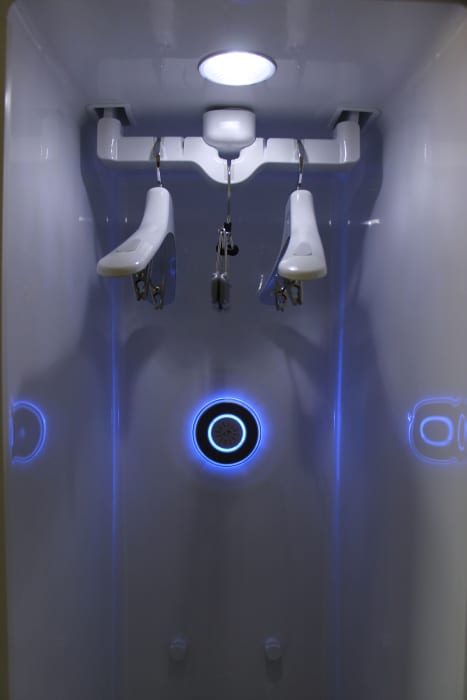 You can also say goodbye to air-drying your "shrinkable" or delicate clothes over a sink!
But my favorite feature, especially as a mama to three active kiddos, is when it comes to those funky odor items. You know the ones… well-loved stuffed animals, shoes, and even sports equipment. (I'm looking at you batting helmet…)
You can toss them right in the Styler for sanitation and a refresh!!! Hallelujah!!!
who is the LG Styler for?
Because it's so versatile, I think the LG Styler could save time and bring ease to pretty much anyone's life.
It's perfect for someone who has to dress everyday in suits or office attire — it de-wrinkles blouses, gives you that crisp pants crease, spiffies up a sports coat, and adds that fresh-out-of-the-dryer scent.
Plus, if you have kids or even grandkids, you know there's always something to be sanitized. (Truth!)
how I designed my laundry room around the LG Styler
---
If you've been following our water leak-inspired remodel on Facebook, you might have seen a picture of our Styler looking cozy and fabulous in our laundry room. In fact, I designed the entire cabinet plan around it!
I just thought since I HAD to move a wall and change the laundry flooring, then I was able to add more cabinetry, and since I was doing that, well, I could design the entire cabinet plan to put this puppy front and center!!
That's exactly what I did, y'all… and it looks SO good!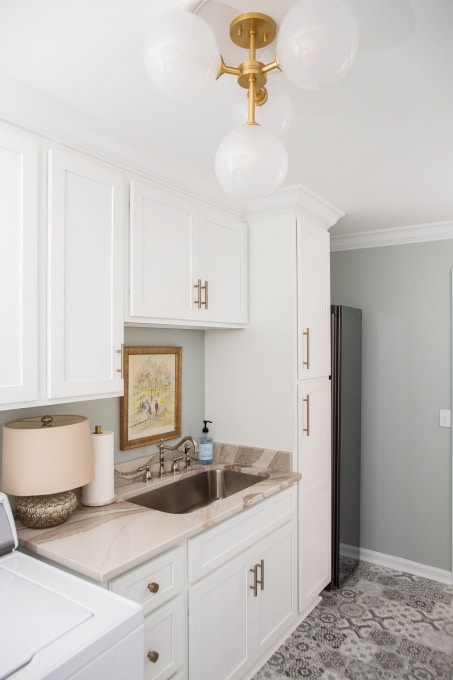 BUT. Don't think that the Styler requires special room or special wiring. If you have an electrical outlet, you are good to go. They really have thought of everything.
So, what do you think? Could this appliance change laundry day for you? Eliminate some tasks that aren't your favorite? Freshen up some things around the house you've been fixing to sanitize? I'd love to hear your thoughts!
In the meantime, I'll have another post coming for you soon with an update about the Scruggs remodel and some After pics!
See y'all then…
Elizabeth

#LGStyler
#Sponsored
#LGStylerDesignHounds