The HPMkt Scoop: Interior Design Trends for Spring 2019
April 18th, 2019 | by Elizabeth | Posted in activities, color, design, events, High Point Market Design Bloggers Tour, trends | #2019, #brass, #color, #design bloggers tour, #emerald, #high point market, #home decor, #interior design, #marble, #orange, #spring, #trends, #velvet

Hey y'all!! I hope you're ready, 'cause I am fixing to give you the scoop on High Point Market's Design Bloggers Spring Tour!! Can you tell I'm excited?!

Now, I'll have 3 blog posts for you about what we saw on the tour, but let's dedicate this first one to the elephant in the room — trends.

What styles did we see everywhere? What trends are making their way out? What can you expect to see more of this year in home decor?

Don't worry, y'all, I got you! Here's the scoop…
newest interior design color trend at market: orange
---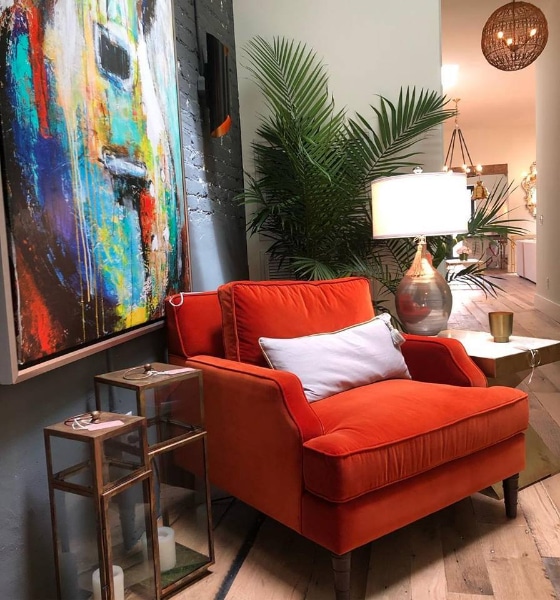 I'm a blue and white girl all the way, but I can call it like I see it! Orange was everywhere this market and in all sorts of applications. Keep an eye out for this color trend to grow! (Ro Sham Beaux)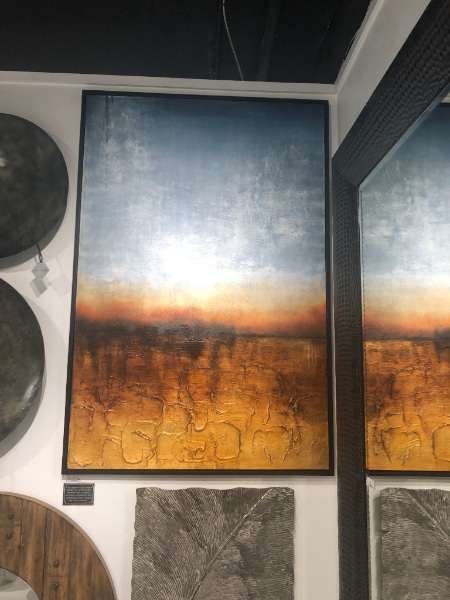 Another shade of fiery yellow-orange, but the best part was the unique story behind each of this line's pieces! (Howard Elliott)
ongoing interior design color trend: green
---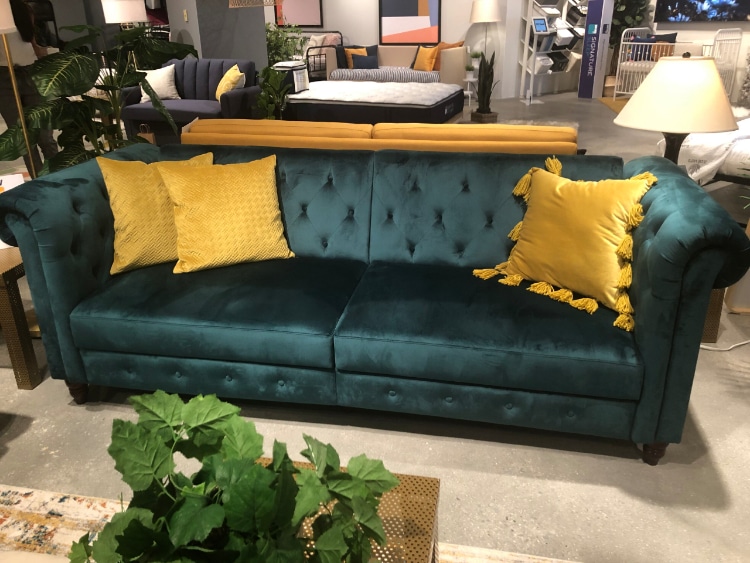 Rich emerald hues have been trending for a while now, and I see no signs of it stopping. This luscious, button-tufted sofa is simply divine! (Dorel Home)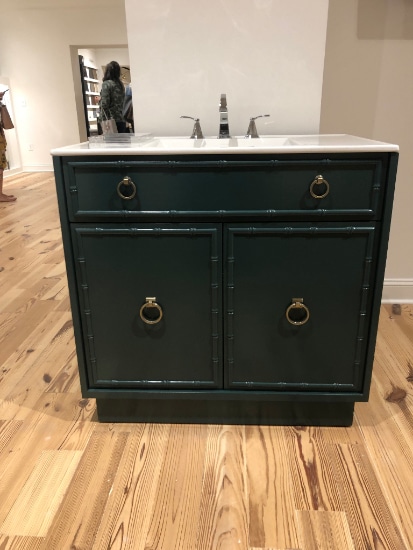 A darker forest green vanity mixed with brass pulls. Simple yet classy. (Vanguard, sponsored by Crypton)
color trend on its way out: blush
---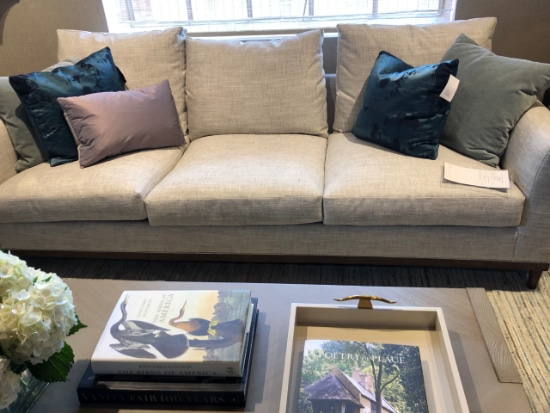 I still saw some blush around the market, but it's being used as more of an accent these days than as major focal pieces. (Hickory Chair, sponsored by Crypton)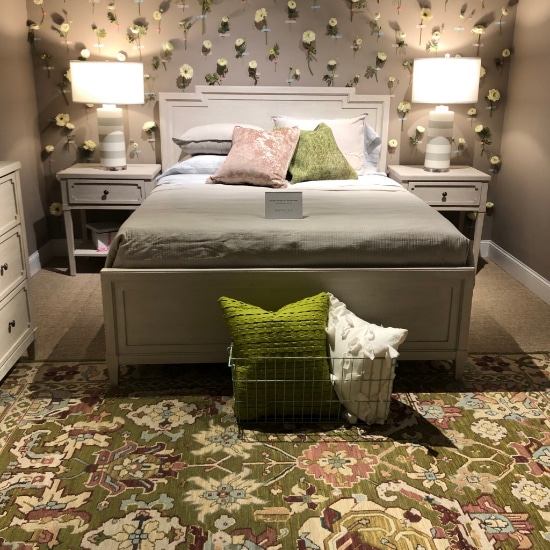 Touches of blush in the pillow and oriental rug complement tones of vibrant, grassy green! (Universal Furniture)

velvet is still in… and now for outdoor furniture, too!
---
If the rich orange armchair and emerald sofa above weren't clues, here are a few more!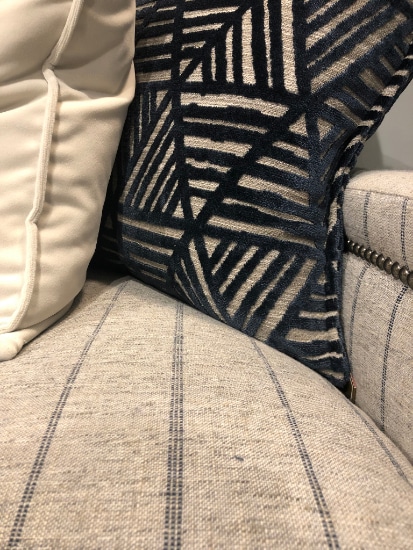 These days, you can even have outdoor velvet furniture and pillows, thanks to Crypton's new line of velvet performance fabrics. Incredible! (Vanguard, sponsored by Crypton)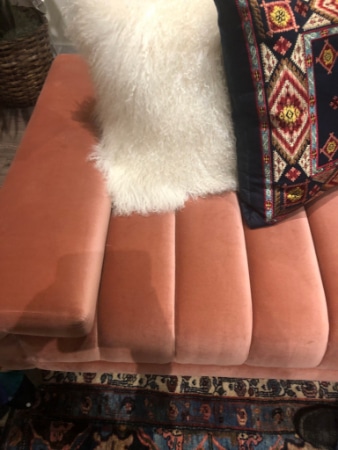 Don't you want to touch it? 😉 (IMC – Interhall & Rawan Isaac)
metals are all over interior design, especially brushed brass
---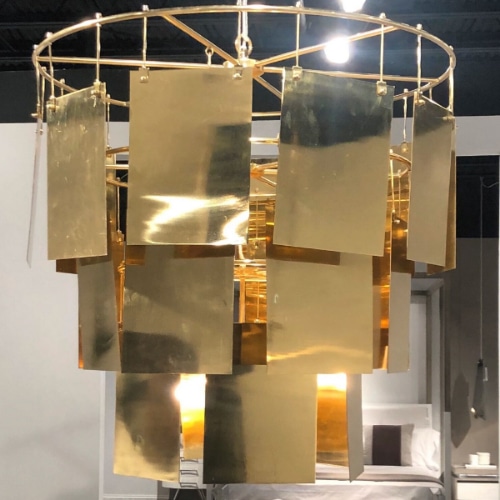 Most of our clients' homes are traditional or transitional, but the gleam of this oversized Marilyn chandelier is mesmerizing! (Sonder Living)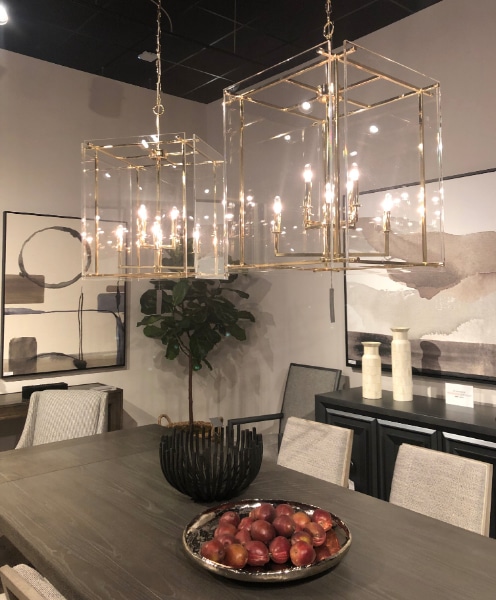 A bit more traditional and definitely a conversation piece! These are truly the jewels of the room. (Vanguard, sponsored by Crypton)
new trend to interior design: buckles
---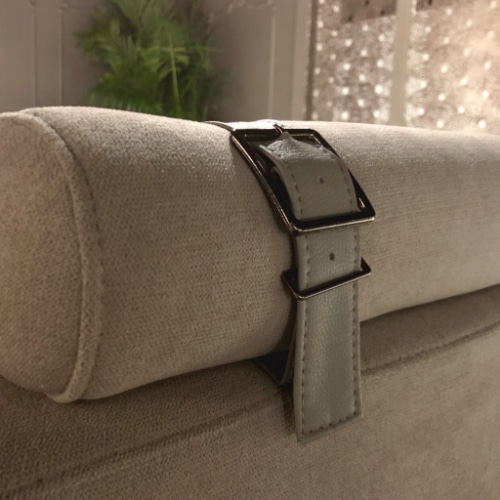 We saw buckles everywhere! Love the tasteful touch of this buckled sofa back by Universal Furniture. And speaking of backs…
bringing sexy back… to your chairs
---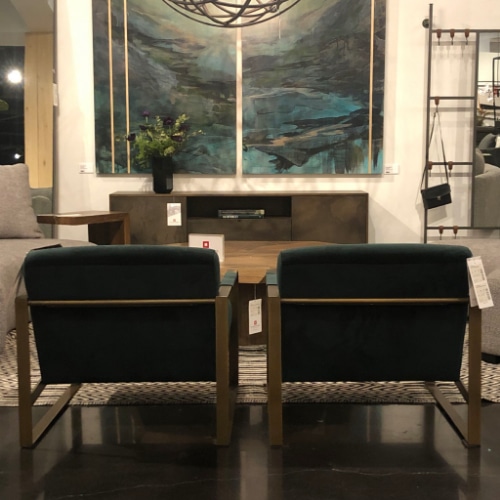 It would have been impossible not to notice the extra attention that went into the backs of chairs and sofas all over the market! (Four Hands)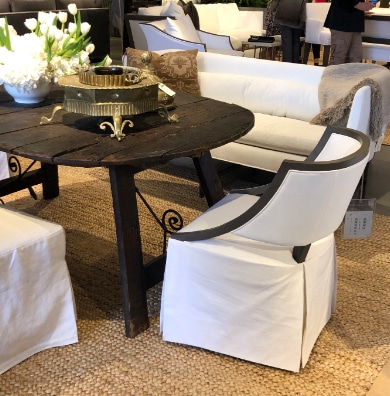 Doesn't the back of this chair holler classy southern brunch?? I'd call that updated sophisticated. (Lee Industries, sponsored by Crypton)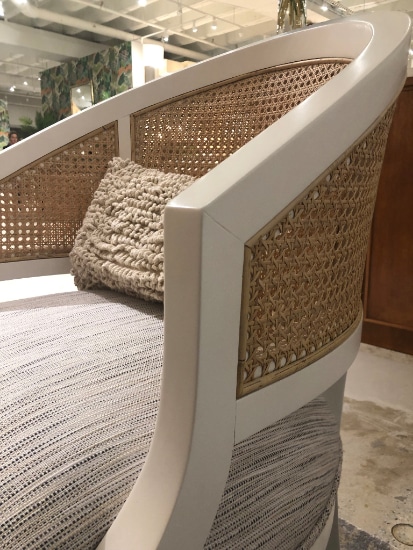 Effortlessly classic caning takes this upholstered chair up a notch! (Made Goods)
always an interior design trend: leather
---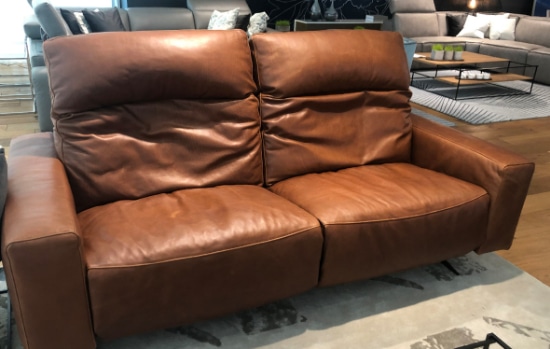 We saw quite a bit of leather, from sofas to accessories to accents. I think it's safe to say leather is always in style. (220 Elm & Pinnacle)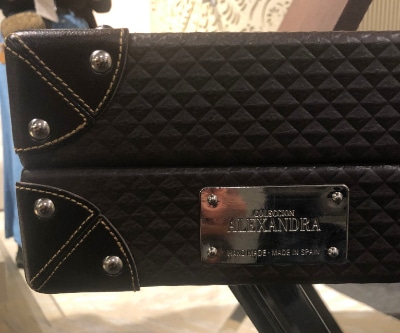 More leather accents! (IMC – Interhall & Coleccion Alexandra)
indoors or out: woven wood
---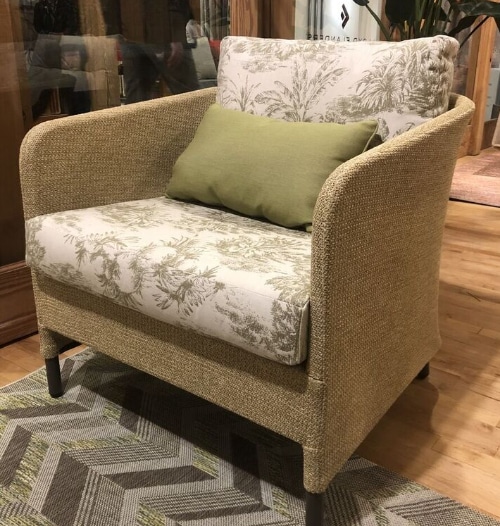 Indoors or out, this woven wood chair tells tales of springtime, relaxing on the porch, and — you know me — a good book! (Lloyd Flanders)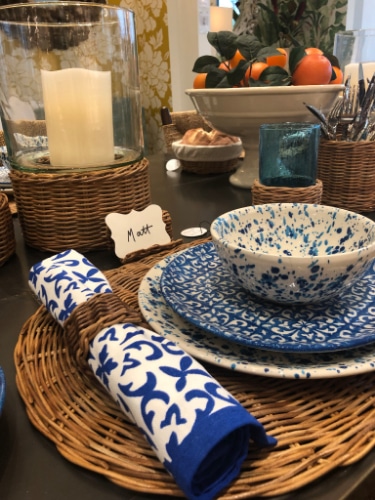 Traditional patterns and my favorite colors meet classic woven wood. (Made Goods)

as far as the eye can see: marble
---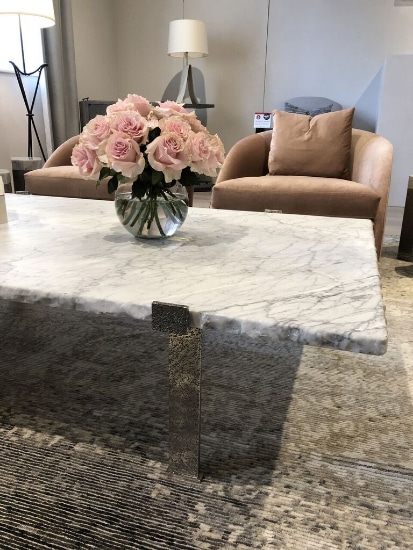 Here's another material that will never go out of style, and we saw a LOT of it — marble! And of course, a touch of rosy blush. (E.J. Victor)

Whew! That was a lot, huh? Don't worry, I still saved some of the best photos for my next posts!
Coming up, I'll be sharing which pieces impressed me the most and which are most likely to appear in our clients' homes… AKA subscribe below for more fun to come!
For now, Lenneke and I want to wish y'all a happy, happy Easter with your families! Enjoy, stay safe, and we'll see ya real soon. 😉
— Elizabeth