How to Easily Freshen Up Your Traditional Space
May 3rd, 2019 | by Elizabeth | Posted in activities, color, design, High Point Market Design Bloggers Tour, tips, trends | #design bloggers tour, #fresh, #high point market, #home decor, #interior design, #lebanon tn, #modern, #new, #southern, #style, #traditional, #trends, #update

It's no secret… in the South, we love our traditional design!

In fact, most of our projects here in Tennessee involve breathing new life into our clients' traditional interiors… because it's also true that no one wants an outdated or stuffy space!

Since we're fresh off of High Point Market (where there's no end to new designs), I thought I'd give you some of my favorite tips for freshening up traditional spaces.

Ready to brighten your world a little bit?? Let's go!
tip 1: display traditional pieces in new ways
---

You don't have to bring in all new accessories and furnishings to have a space that looks alive. Rearranging those classic items can be just as successful!
Here's a great example: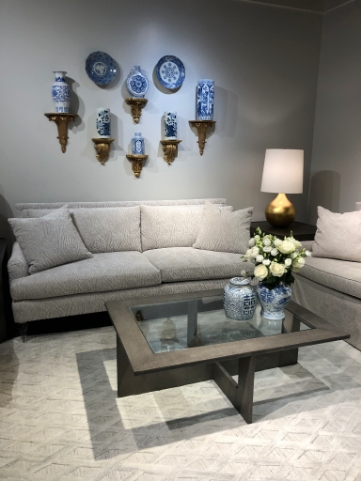 Is there anything more Southern than displaying classic blue and white chinoiserie? I love how Vanguard made these vases feel new and fresh as wall art! (Assuming you don't have kids or grandkids throwing footballs in the house…)
tip 2: choose lighter colors for your space or furnishings
---
Traditional spaces are known for rich colors, sumptuous fabrics, and dark woods, so a great way to create a more fresh and lively space is simply to brighten it up!
Choose light, soft colors for walls or furniture to help open up the space and keep it from looking cramped. You can keep some dark pieces, of course, but moderation is key. (This project we completed is a great example of balancing light and dark for a fresh feel!)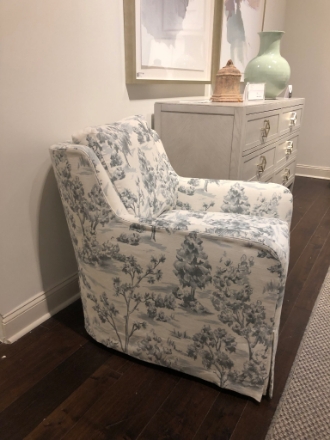 Vanguard's traditional slipcovered armchair — in chinoiserie-style print, no less! — looks especially fresh next to light, creamy walls and soft, neutral furniture.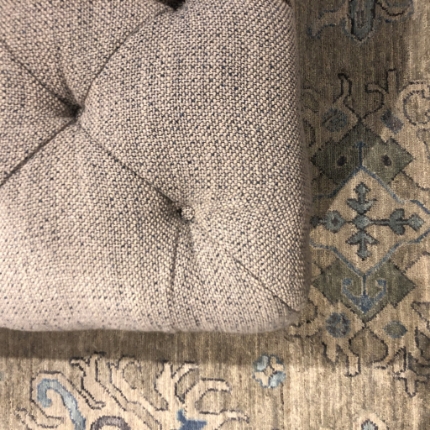 This classic button-tufted ottoman looks light and refreshing in canvas-toned fabric. Better yet, it's Crypton fabric… which means you can go to town with the coffee and spaghetti sauce spills and they won't leave a mark!! Brilliant!
Also, can we admire this stunning traditional rug for a second??
tip 3: Introduce some smooth curves into the space
---

Y'all know we love our curves in the South, and the more ornate and elegant the better! That said, if ALL of your furnishings and accessories have curves galore, your space could end up looking a little dated.
A great way to keep your space in our modern-day world is to balance your curviest pieces with some pieces that have smoother lines and curves. Here are some great examples from High Point Market: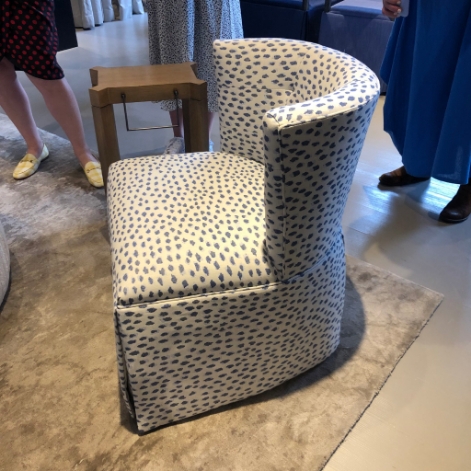 This traditional wingback chair from E.J. Victor gets some fresh new life with a fun pattern and sleek new body.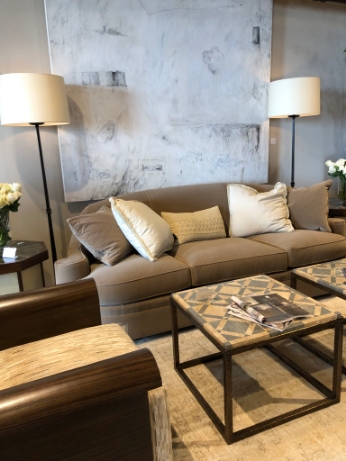 This low-backed, curvy sofa from Hickory Chair echoes traditional curves but embraces a sleek new style. No claw feet here! Also, if you can believe it, this fabric is also full of Crypton magic.

tip 4: add a few "new traditional" pieces to the mix
---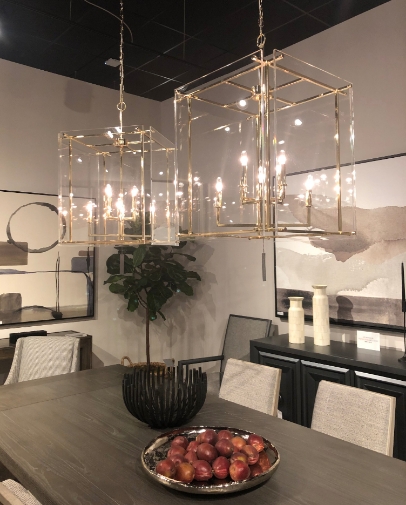 Vanguard's new take on a traditional chandelier sparkles in brushed brass and glass casing!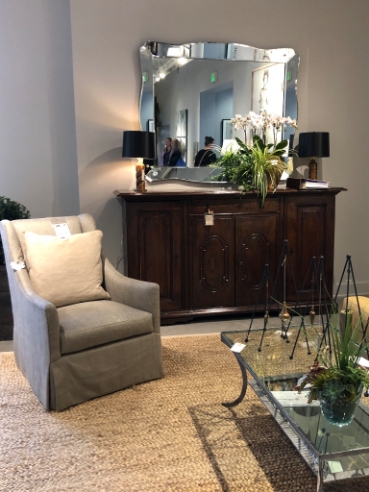 This mirror is the same shape as a traditional mirror but is missing the big ol' gold gilded frame! Instead, Lee Industries' design surprises us with a "frame" that's all mirror. That's what I call an update on an old classic!

tip 5: Find the classics you love in new, modern materials
---
Finding your favorite traditional pieces in a new material can be just as effective at freshening up your space. Here are a couple examples I loved seeing at High Point Market: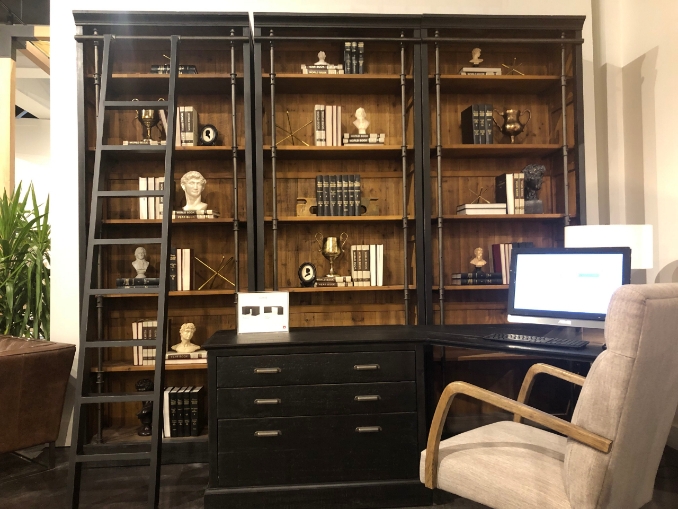 You know me, I can get lost for hours (days, really) in a good library! Here, this classic concept still feels traditional with rich, dark woods, but Four Hands uses touches of steel hardware to give it a modern new look.
The best part in my opinion? The minimal design makes us notice that beautiful wood in the back!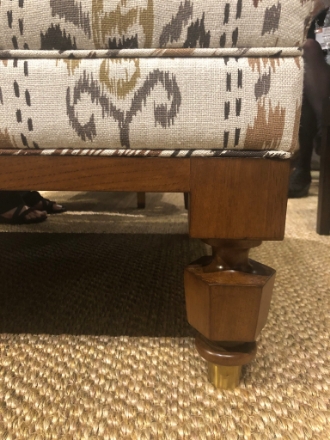 I love the way fresh fabric meets new-style ornamentation in this ottoman from Mally Skok's collection for Dowel Furniture. Her entire collection is fashioned after pieces she owns — this one in particular she found on Luxe Road in London! So cool.
Don't be afraid to embrace little variations on old classics… and you might make new friends!

And there you have it — 5 ways you can freshen up your space all while keeping traditional design alive and well!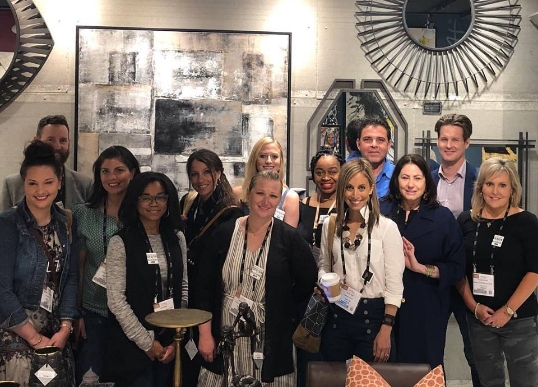 Before I head out, I just want to say how grateful I am to have been part of the High Point Market Design Blogger's Tour. We got to see and speak with designers about their collections, get the inside scoop that we might not otherwise have gotten, and it's just an all-around huge honor to have been included!
A big thank you to Adam Japko and Esteem Media for organizing the event… and to the power women supporting him, the ever-fabulous Luba and Beverly.
And lastly, a big thank you to YOU for coming along for the ride with us and making everything we do worthwhile. We do what we do because we love making you happy in your home and life, and we wouldn't be here without y'all.
So from the bottom of our hearts, THANK YOU!! And if there's any design you've loved best so far, tell us and we'll keep 'em coming!
Xoxo,
Elizabeth