How to Update a Staircase With Paint
July 18th, 2017 | by Elizabeth | Posted in benjamin moore, built-ins, color, coming home, construction, design, home & garden, remodeling | #oak staircase, #remodel, #staircase, #update

Does your staircase need an update? Do you have some oak from the 80's still hanging around in your home? So did I. Read on to find out how I updated the look of my staircase.
My old house had…
I often hear this when I meet with a prospective client:
"in my old house, we had _____________, and I really want to have that in this house too- that won't cost much right?"
"My old old house had terrible siding"? I typically refer them to siding installation beaver pa.
You can fill in the blank a hundred ways.
But isn't that just human nature? We always want what we had, and then some.
Seems I'm no exception
I've written about my home several times. I adore it and it's all I ever dreamed of when I envisioned my forever home.
But here's the problem…
Each home my husband and I have owned in our 25+ years, except for ONE, has been new construction. Yeah…I know that doesn't sound like a problem at all, but hang in there with me.
See, when you do what I do- (or what I did when I built and sold every couple of years), there are pros and cons.
The pro, obviously, is having everything new every couple of years. The newest appliance, the newest countertops, the newest design trend, etc.
The con: MOVING…all. the. time.
My ONLY saving grace on that part was Phil's Moving Service. (and the congregation said 'AMEN!')
Mental posession
When looking for a home, statistics show that a buyer forms an opinion of a property from William Pitt the FIRST 15 SECONDS after entry.
And once that opinion is formed, it is almost impossible to sway that opinion (whether positive or negative) either way.
Again, I'm no exception.
After the first 15 seconds of entering my home, I had taken mental possession. It was mine, (my husband and the current owners, Lane and Melinda, just didn't know it at the time!)
And I knew exactly what I was going to do in each space. In the beginning, the staircase didn't bother me at all.
But after living in our home for a couple of years, it began to look so dated.
In my mind, I could still see the beautiful iron spindles on the staircase in our last home, and began to think about how I could have that in my new home.
But with three children, expenses such as ripping out a staircase that is perfectly fine just because I don't like the way it looks, is just plain stupid. In my current phase of life anyway.
A lot of flash for a little cash
My husband has been in the car business all of his life, and this is a phrase I've heard car dealers use for years. And yet it is so suited for what I do as well!
So with a little cash, I purchased a little paint, and showed my painters how I wanted to paint out the stairs- and here is how it turned out-
Staircase update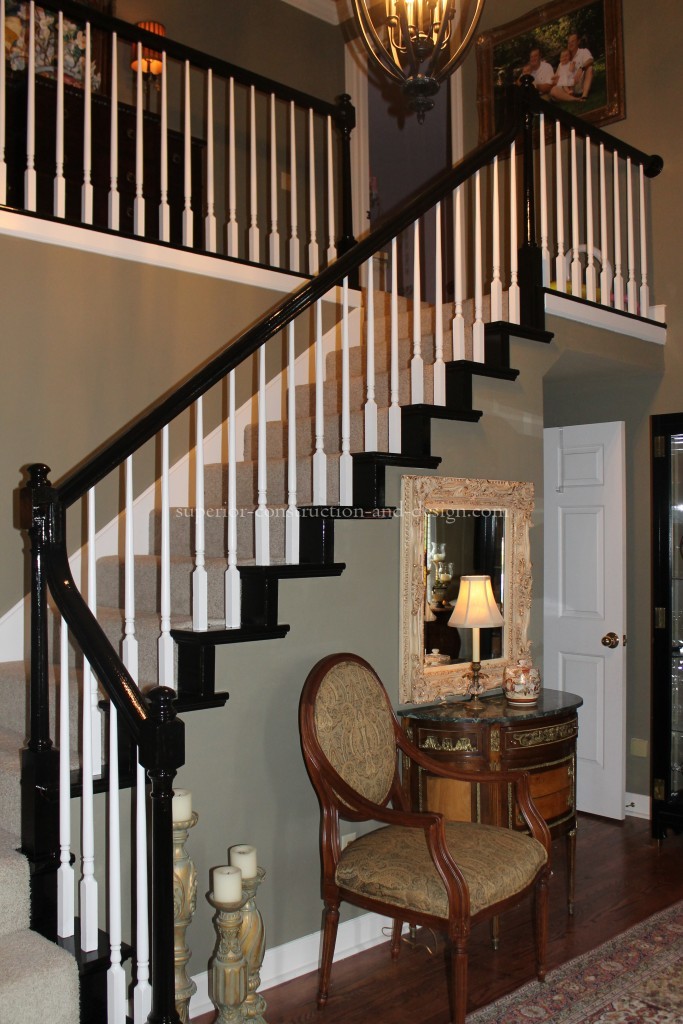 Now, before you go and just start painting your staircase, let me implore you to use a professional. I just so happen to know one ;).
There is a lot of sanding and priming involved, but if you know the proper steps, it's really not too hard. It can be labor intensive, and a bit time consuming- if done correctly.
But don't you agree that it make a huge difference?
Of course these photos are a couple of years old, and I've since replaced the treads and risers on the stairs and painted the foyer.
Here is our staircase now-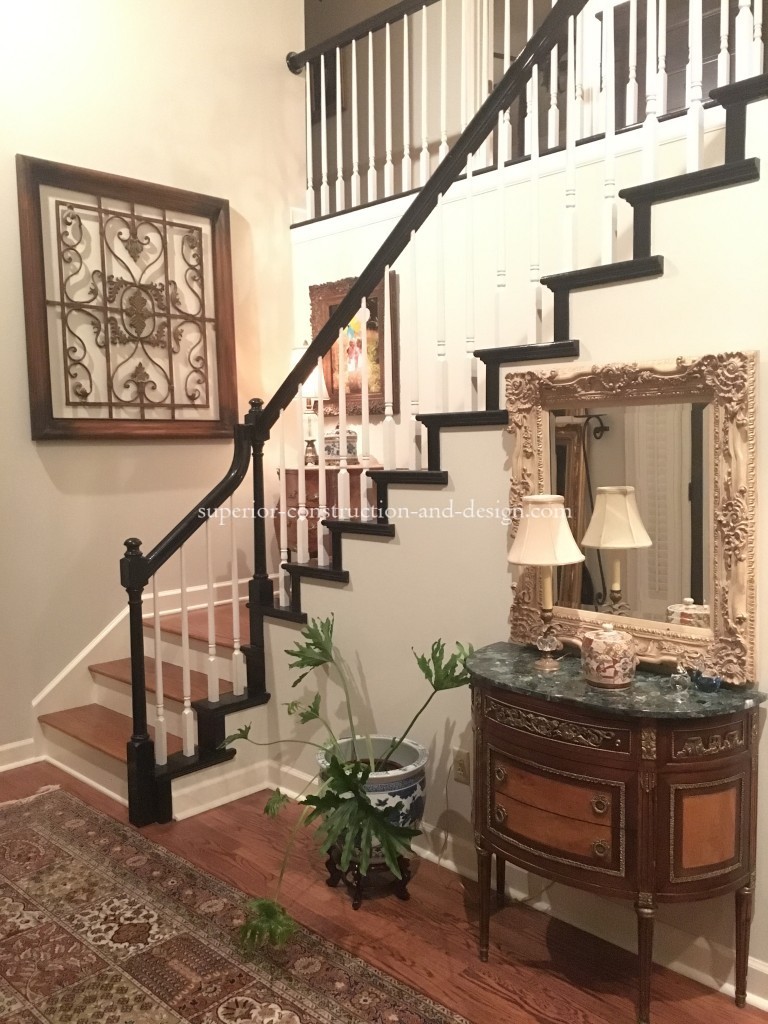 Sorry for the terrible photo, but I didn't realize I didn't have any current pictures until I almost completed this post.
Here is the before and after together for better comparison: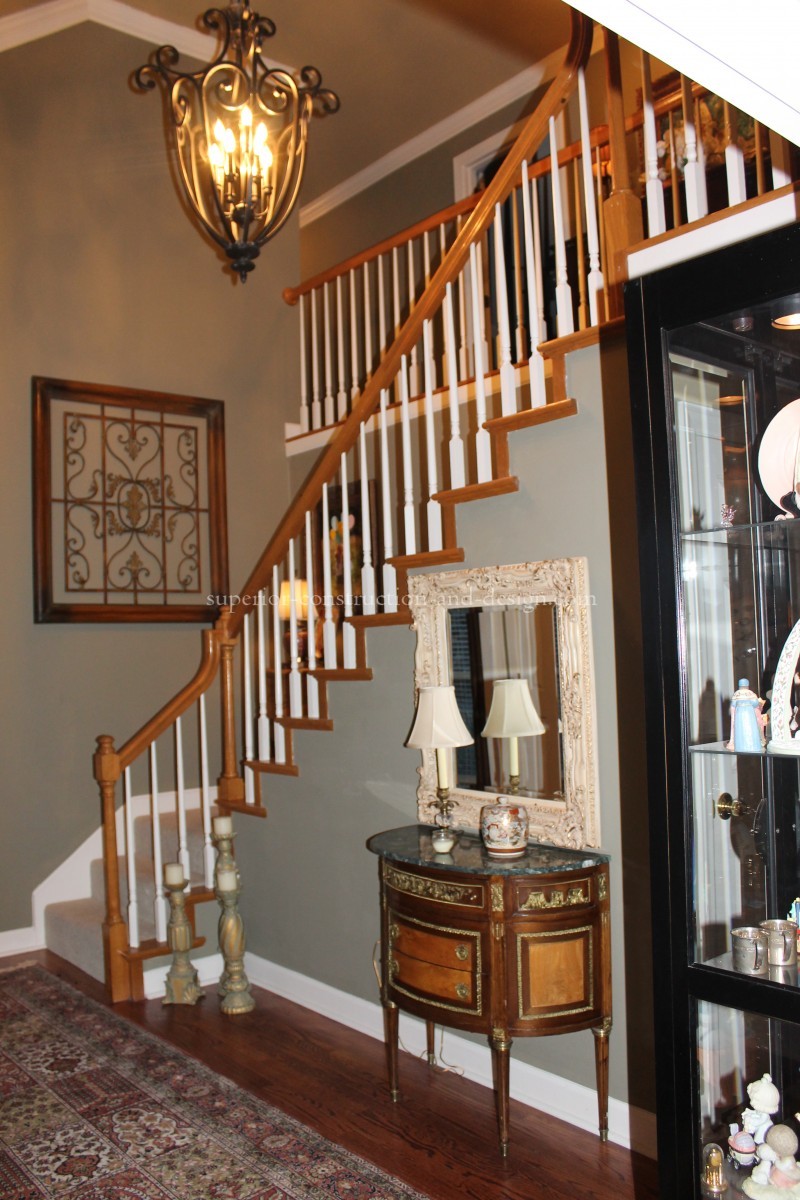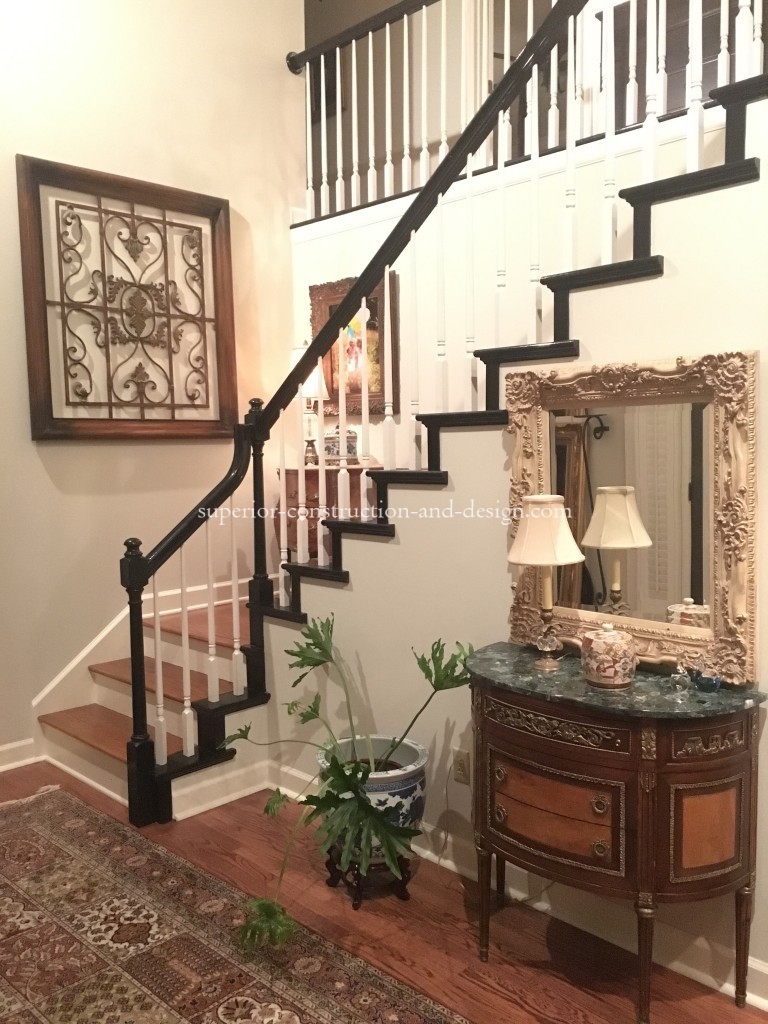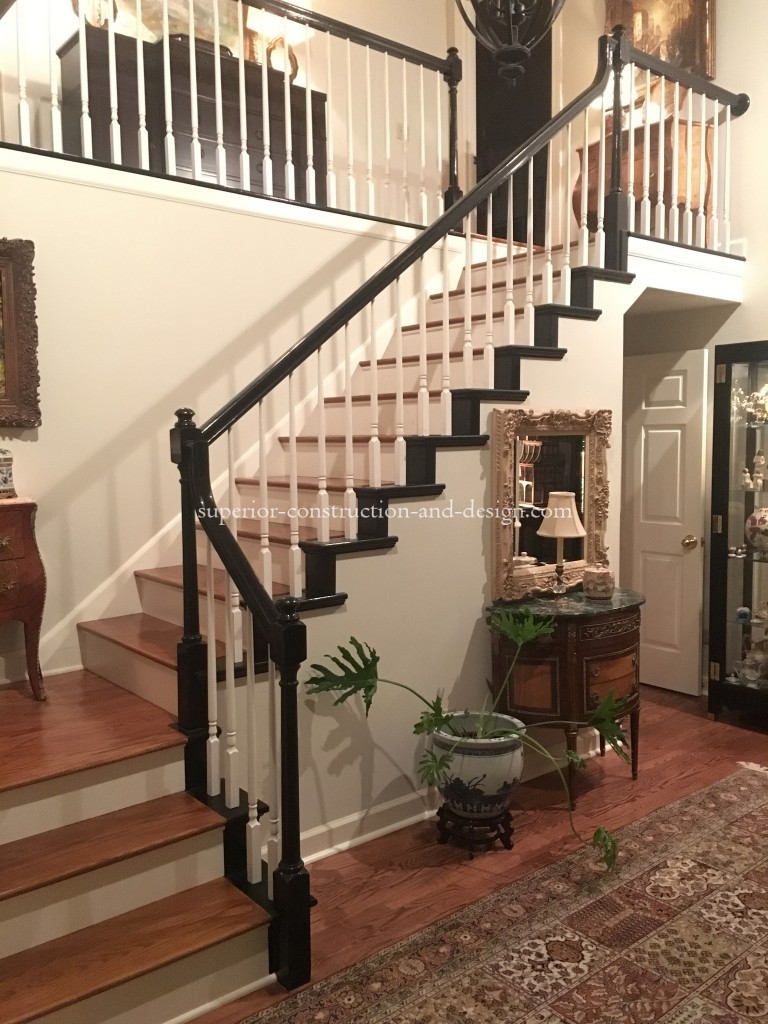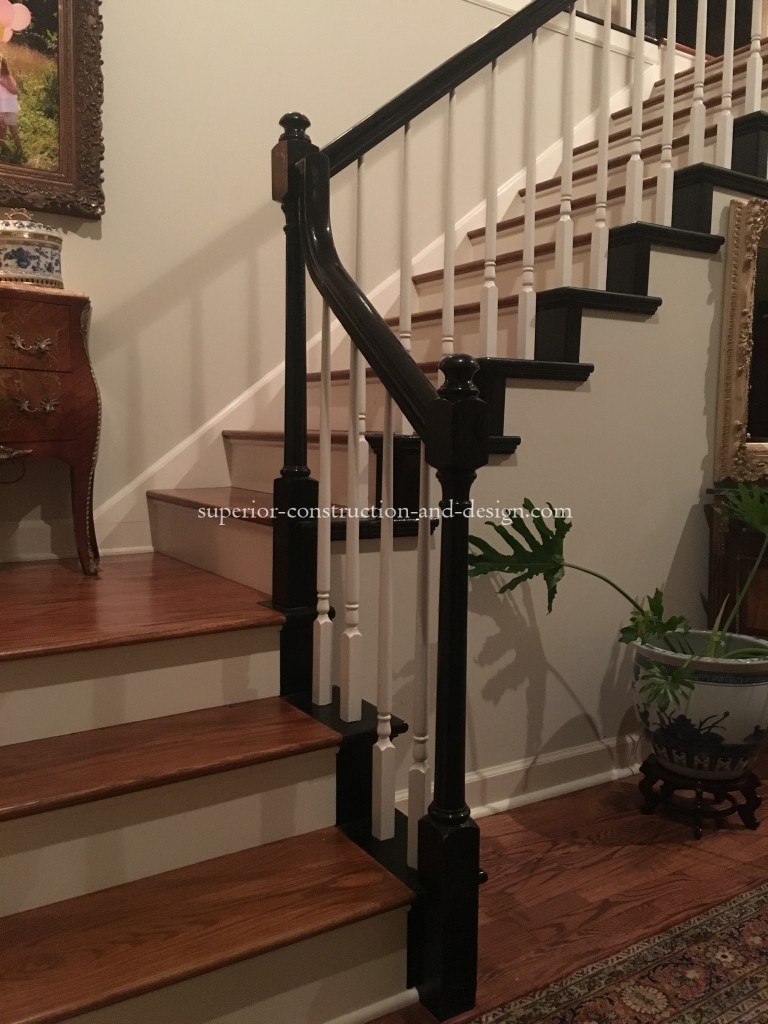 What updating projects are on your list of to-do's? Leave me a comment and tell me all about it!
SAVE FOR LATER BY PINNING THE BELOW IMAGE