How to Style Your Southern Porch for Relaxing & Entertaining
May 13th, 2019 | by Elizabeth | Posted in coming home, design, outdoors, tips, trends | #brunch, #durable, #furniture, #home decor, #interior design, #outdoor, #patio, #performance fabrics, #porches, #southern, #styling, #summer, #sweet tea, #tn, #woven

Put summer porch dreams and High Point Market inspiration together and what do you get…? Tips for styling a southern porch that's beautiful, relaxing, and ready to entertain allllll your family and friends this summer!!

Have y'all been dreaming of sunny porch days and sweet tea as much as I have???)

Alright, let's talk about southern porches, outdoor spaces, and how you can create one that's perfect for you. 😉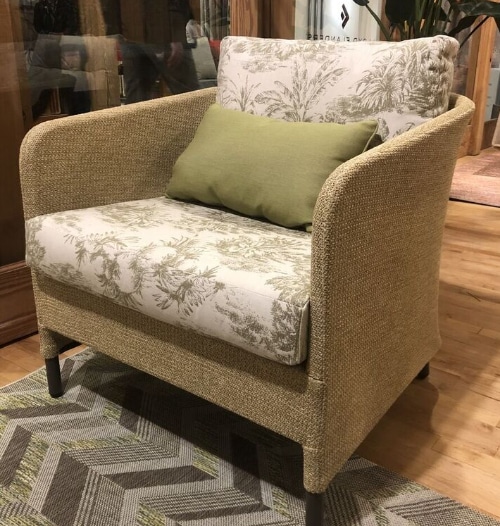 Loving everything about this outdoor chair from Lloyd Flanders. Classy, updated traditional style. Summer colors that will transition beautifully into fall. And comfy too!
like all spaces, design for function first
---
I can't tell you how many times clients have told us they saw something they liked, bought it, then realized it had nowhere to go in their homes! If that's you — it's normal.
But when it comes to the perfect porch, you should think about function first!
How will you use the space? Will you be sipping coffee with the sunrise? Enjoying family dinners? Hosting game days, movie nights, or brunches?
Each of these scenarios requires something a bit different… small tables or large, cooking and serving spaces, table chairs or cozy couches, maybe even a television and speakers for music.
Once you know the purpose of your space, THEN you can start thinking about the perfect items!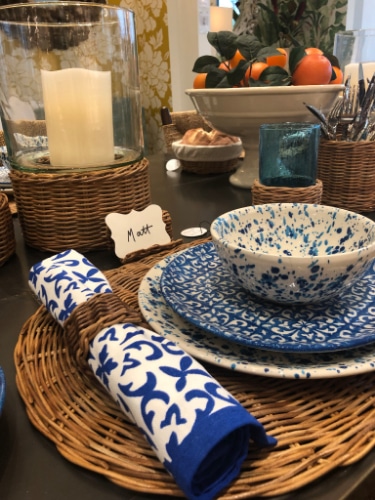 Loved this classy-cute outdoor table setup by Made Goods!
choose furniture that will stand up to our wet southern summers
---
We're pretty lucky these days — instead of soggy, mildewy, sun-faded furniture, there are so many options that will last more than a season, especially Lloyd Flanders. Their motto is "Woven for life!"
As long as you pick furnishings that are truly destined for the outdoors, you'll be in good shape!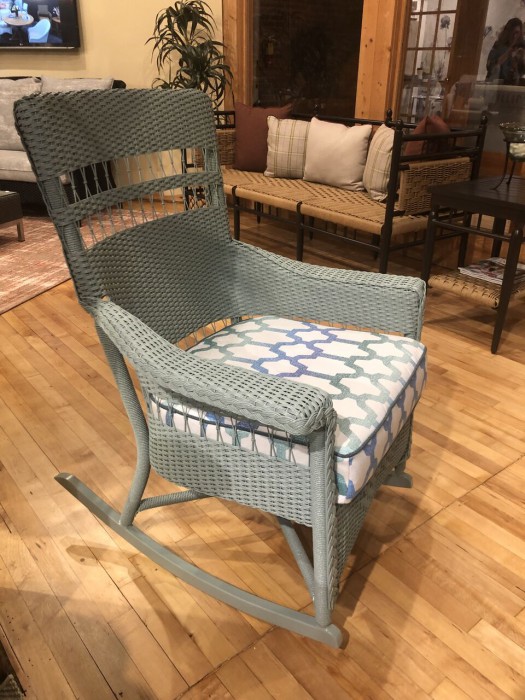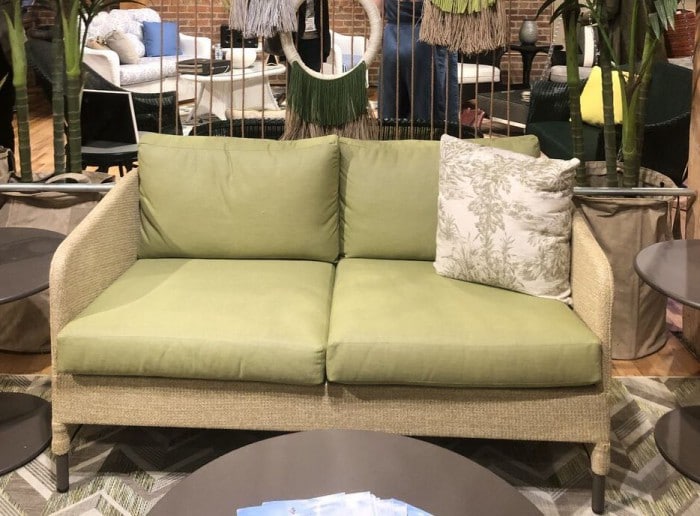 Another outdoor furniture success from Lloyd Flanders. (Fun Fact: Lloyd Flanders's antique baby carriages are featured in Cracker Barrels around the country!)
place furniture, rugs, and lighting for flow
---
Like a home, styling an outdoor space starts with the largest items first and has overall flow in mind. (Would you want to carry fresh chicken from the grill through your entertainment space to get to the dining table? Maybe. Maybe not.)
Decide where your largest furniture will go first. A few things to keep in mind as you do…
If you'll be using your porch at night, know where you'll have accessible lighting! Are there places where you can mount outdoor sconces or plug in lamps? You won't want to create a beautiful space and then realize you have no way to use it after sunset!

If you have enough space, outdoor rugs are a great way to create "zones" within an outdoor porch. Use a rug to create a lounging/entertainment space, a reading nook, etc.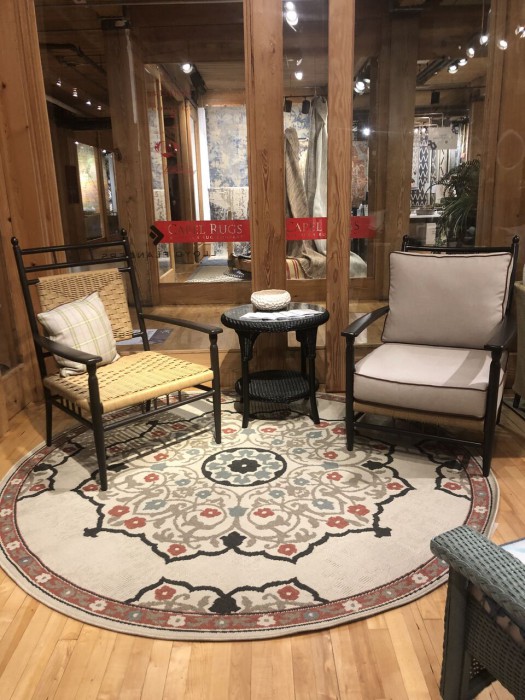 Lloyd Flanders used a circular rug to create the perfect spot for coffee and sunrises… or sunsets!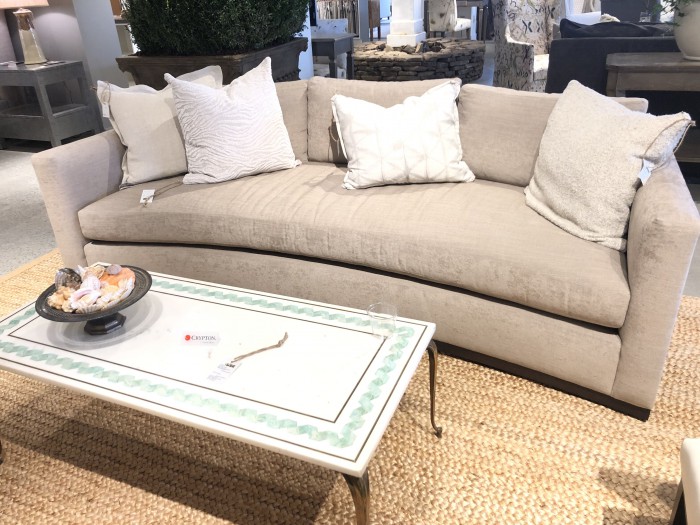 Natural rugs, like this one are durable, sustainable, and add great natural texture to a space. Those made from sisal, jute, and seagrass are nice outdoor options. (This creamy cozy sofa was designed by Lee Industries.)
add decor like side tables, curtains and live greenery
---
Now that you have a foundation in place, you can start decorating your heart out! Some ideas…
Pillows and blankets in summery colors (you can always swap these out by season!)

Classic side tables or coffee tables

Overhead or table fans (maybe even heaters for when winter comes back around)

Curtains or outdoor roller shades

Food prep station staples (salt and pepper shakers, cutlery, outdoor dishes, etc.)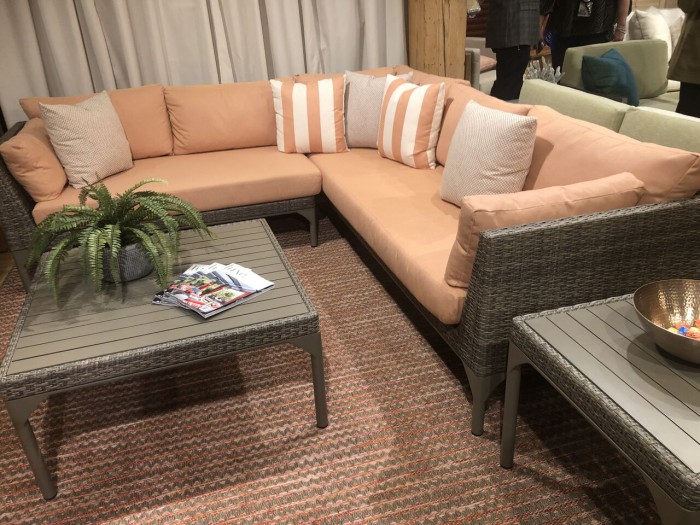 Lloyd Flanders gets outdoor furniture right with a cozy and summery couch and functional side tables.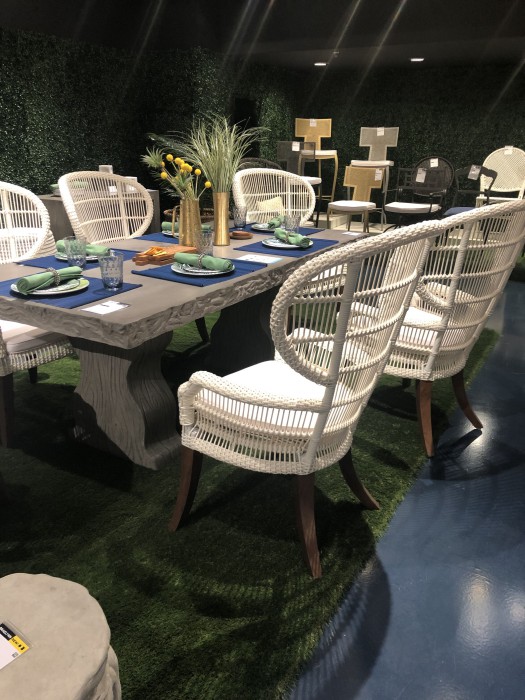 Made Goods's outdoor setup includes traditional-style chairs, live greenery, and table settings in summer colors.
enjoy your southern porch to your heart's content!
---
I know you don't need reminding of this step, but I love a good ol' happy ending!
That's it for this post, but I would love to see pictures of your porch after you've styled it… and we might even invite ourselves over. 😉
Thank you again for following along with us on our High Point Market journey. I hope you've been loving the inspiration and ideas as much as we have!
There's more to come, so don't forget to subscribe below to be the first to know. See y'all soon!!
Xo,
Elizabeth