My Designhounds Picks for KBIS 2023
February 14th, 2023 | by Elizabeth | Posted in KBIS
That's a wrap on KBIS 2023 and Construction Week! Let's take a look at my top five Designhounds picks and discover what's new in Kitchen and Bath Design!
Last week our team was in Las Vegas for the ultimate series of events. Five major industry trade shows happened all at the same time and we were there for it all! The Las Vegas Winter Market (LVMKT), the National Hardware Show (NHS) and The International Surface Event™ (TISE) were co-dated with Design & Construction Week's NAHB International Builders' Show and the NKBA Kitchen & Bath Industry Show from January 29 through February 2, 2023.
My Senior Interior Designer and Project Manager, Lenneke, and I enjoyed meeting up with other designers and learning more about the new products and tools available to industry professionals.
I also unveiled my contribution to the new Ethos Design Collective's Prism Collection – the Kairos stool. Ethos Design Collective is a group of luxury interior designers known for the stunning, high-end interiors they create. For the Las Vegas Market, Ethos selected members to design their own creative take on various products from one of our vendors.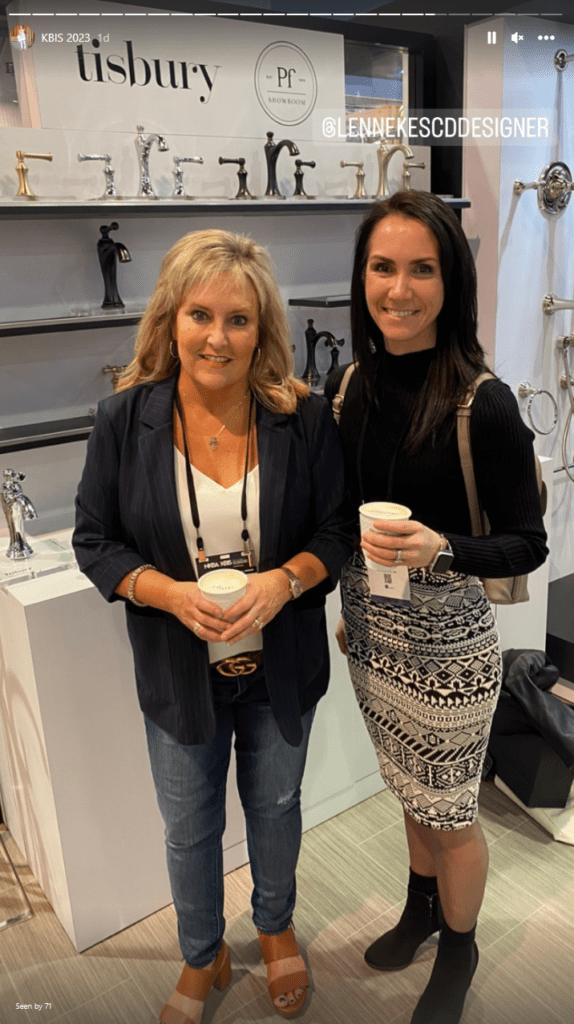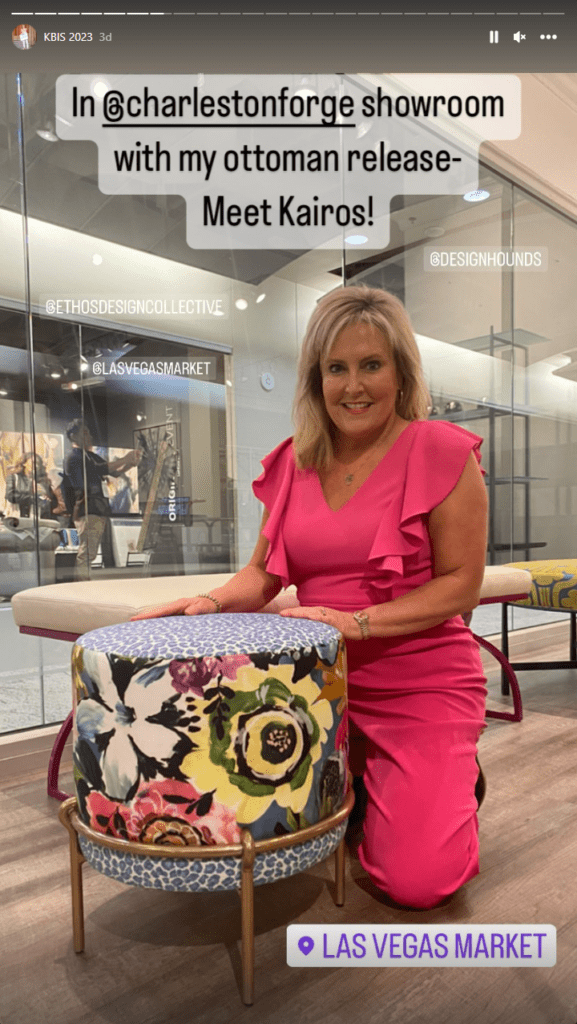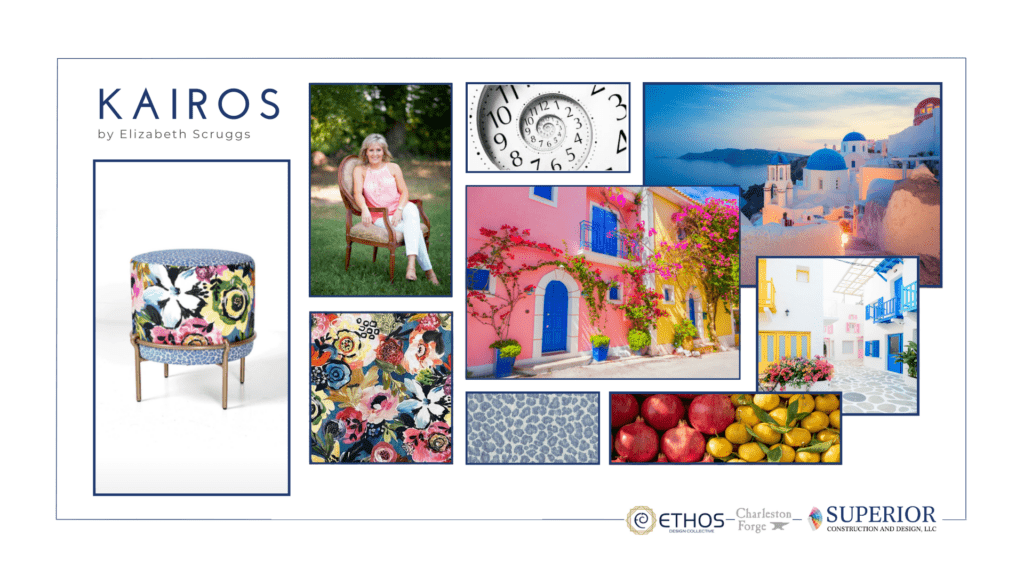 My Top 5 Designhounds Picks
A Designhound is someone who knows not only how to design, but how to uncover the truly special products, sources, and trends. The Designhounds influencer group was created by Modenus Media as a network of more than 600 interior design professionals. Since 2011, our combined audience has grown to more than 5-million design-savvy audience members.
For 2023, the Modenus Media Designhounds were tasked with scouting out our top 5 favorite products from all of the exhibitors at KBIS Las Vegas. This event was made possible by our generous brand partners: Signature Kitchen Suite, Mr. Steam, Compac Stone, Westlake Building Products and Ballerina Kitchens.
Bocchi Fireclay Sink and Telescopic Faucet
This is of one of the most talked about new products of the year: The Baveno Hide-Away Kitchen Sink System which includes a telescopic faucet! Yes, you heard that right – a faucet that disappears!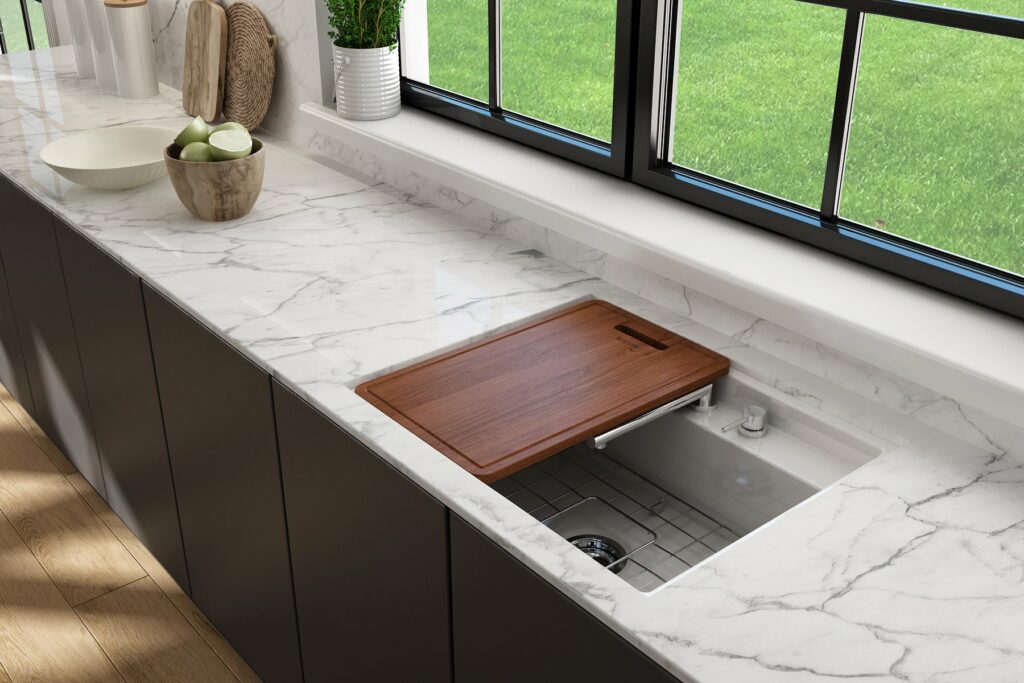 The Baveno Hide-Away Kitchen Sink System also won Kitchen Gold and Best of Show at this years KBIS Best Of Awards, and it's no wonder! The innovative Baveno system allows users to easily change between sink and uninterrupted counter space with its innovative design and telescopic faucets, maximizing workspace.
Homeowners can customize their sink area to be as functional and stylish as they want by utilizing sink covers, multiple faucet options, cutting board, colanders and roller mats. It is the perfect solution for small spaces where counter areas are in high demand. The fireclay sinks are easy to clean, scratch and stain resistant, and require less water to clean than conventional sinks due to the BOCCHI Clean+ Technology which also minimizes lime-scale buildup, bacteria, and dirt.
This collection is ideal for smaller kitchens, pantries, or bars. If you want to see this beauty in action, here's a video from KBIS, featuring Lars Christensen, Director of Product Development for the company.
One Click Contractor
Dale Thornberry, the founder and CEO of One Click Contractor, knows the challenges that we contractors face when it comes to estimating and managing our projects. Its a lot of paper, y'all! With more than 40 years in the home improvement and Remodeling and Renovation Industry, Dale knew that well, so he dedicated himself to creating a product that would fix all that.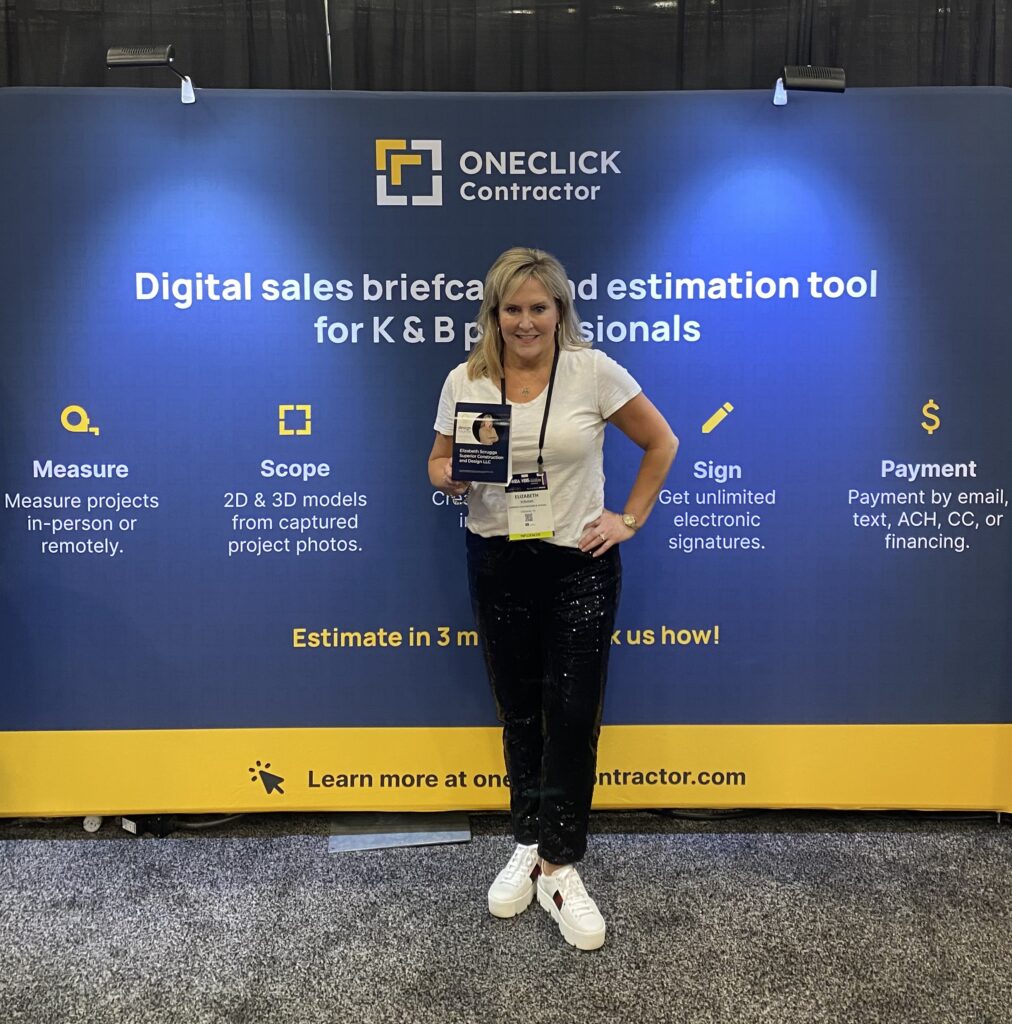 By making the transition from paper to digital, it is easier to deliver an accurate, professional, and customized presentation for your clients. Going digital also allows you to contain all of process containing your estimates, contracts, and presentations in one place.
One Click Contractor's experienced team of experts helps you take your current sales process – including your price list, contracts, terms and condition – and converts them to digital tools that you can use every day to improve your business.
48-inch Built-in French Door Refrigerator by Signature Kitchen Suite (SKS)
The 48-inch built-in French door refrigerator by SKS is the first-of-its-kind intelligently designed to provide ample space for all of your favorite foods and beautifully built for convenient, stylish presentation on any occasion.
I know you've heard me talk about Signature Kitchen Suite before. They're my favorite appliance brand, known for driving innovation in the luxury kitchen appliance market. The new 48-inch French door refrigerator meets the food preservation demands of any high-end consumer while offering convertible drawer flexibility with a functional and sleek design.
In addition to offering one of the most versatile and largest-width interiors in the industry, this model features Lift and Go™ drawers, fully adjustable door bins, and LED lighting that is hidden away and focused on the food, not shining in your eyes.
Functional and innovative convertible drawer offers five preset temperatures ranging from 41⁰ F to -6⁰ F allows for precise food preservation across five temperature settings: chilled wine, fridge/deli, meats and seafood, beverage, or drop the temperature all the way down to make it a freezer. SKS was a legacy sponsor for KBIS 2023.
Ballerina-Küchen
Ballerina-Küchen (German for "kitchen") was founded in 1978 in Germany, and produce kitchen and bath products with three principles in mind: individuality, simplicity and practicality.
My favorite thing about Ballerina Kitchens that they offer Fitted Kitchens, which means that you can order an entire kitchen from them. Fitted kitchens allows for maximum storage and counter space, and they're more economical than custom cabinets. They were also a new sponsor for KBIS 2023 and it was a pleasure to get to learn more about their products!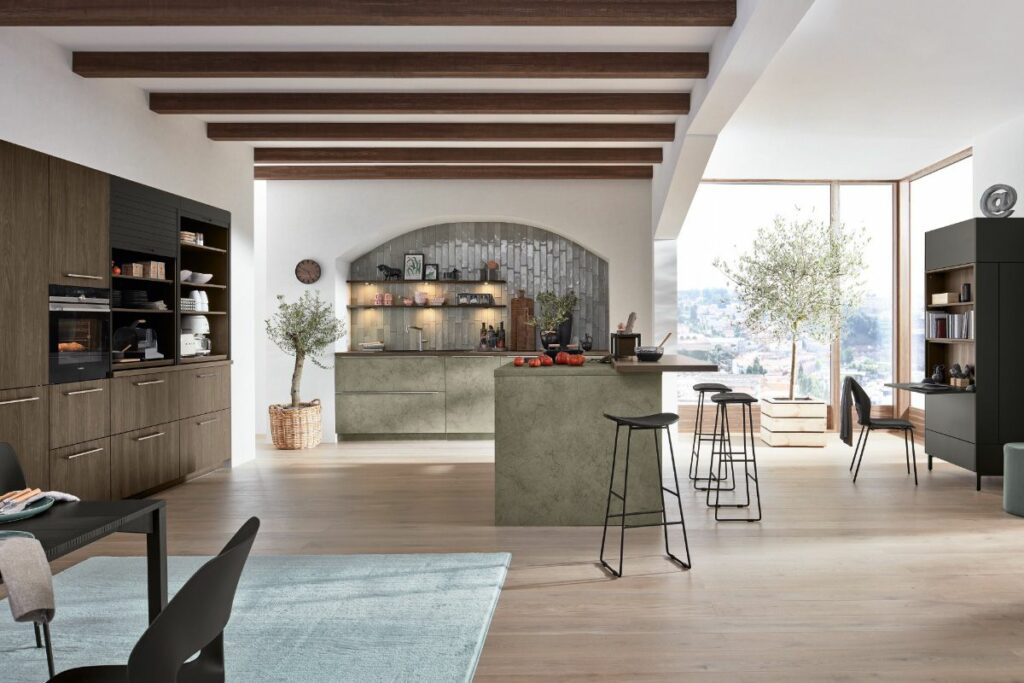 Their impressive range of options includes more than 30 standard colors, as well as bespoke additions and innovative features like SMARTGLAS, a high-tech, break- and fingerprint-resistant alternative to real glass. Their countertop surfaces are also extremely durable, easy to clean, and have antibacterial properties, too!
PITT® Cooking Systems
PITT® Cooking is the specialist in integrated cooking systems. Since its inception in 2009, the company has grown into a worldwide high-end manufacturer of unique, patented products for the global market. Each PITT® Cooking system is carefully manufactured by hand in The Netherlands. The brand is recognized by the largest kitchen surface manufacturers around the world.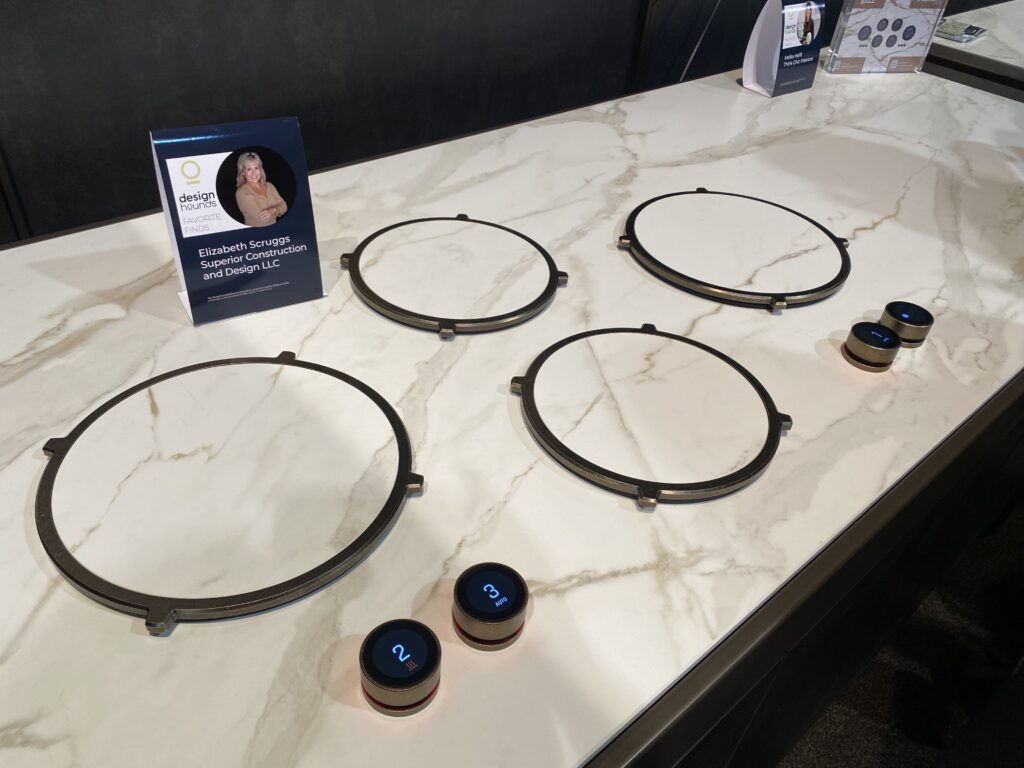 As part of my Designhounds tour, I got an exclusive behind-the-scenes look at their cooking systems, and discovered just how versatile they are! With PITT® Cooking, you can install gas burners directly into the countertop! The burners are also spaced out so you will always have enough space while cooking — even with your largest pans. With no ridges or corners, cleanup is a breeze!
Thanks to an assortment of varying configurations there is a perfect choice for everyone. You can determine the placement of your knobs! There is also the option for a wok ring, designed to give you fast and powerful cooking over a high flame.
The Verve™ Bathroom Collection by Pfister
I'm super excited about this collection, ya'll. Pfister is a favorite brand because they make stylish, elegant, and feature-packed pieces for the kitchen and bath including some of the bestselling and award-winning product lines on the market.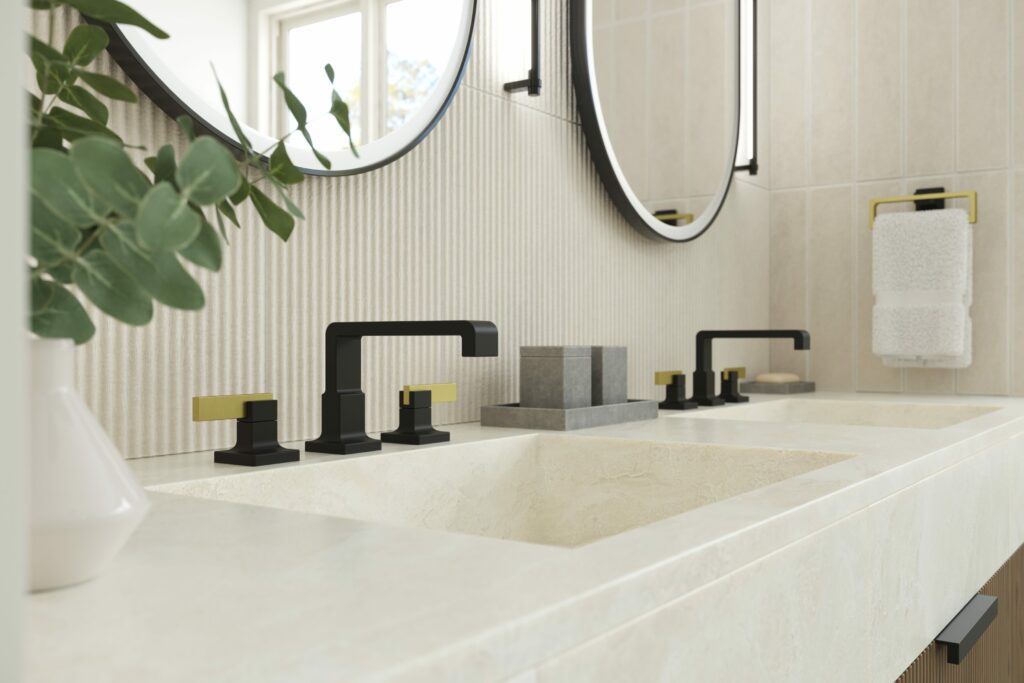 With Pfister's new Verve™ Collection, you can finally, you can customize your faucet to be the perfect fit with their selection of interchangeable handles and faucets! Choose between cross handles, straight levers and even a T-handle-style faucet. Handle finishes can also be specified separately.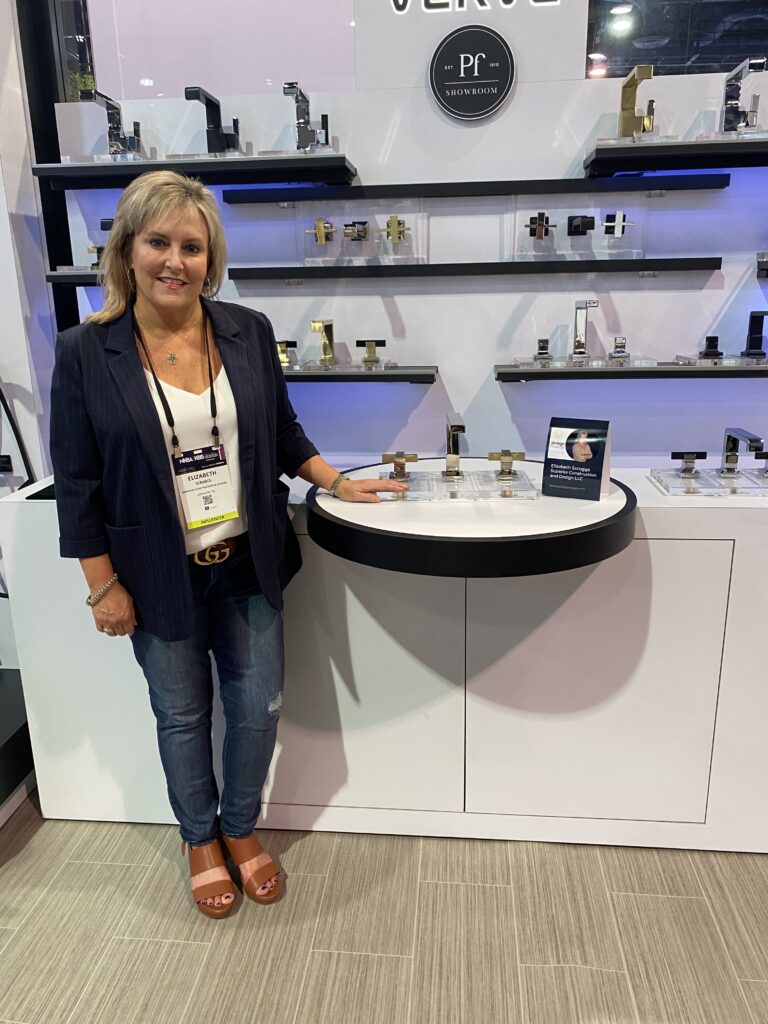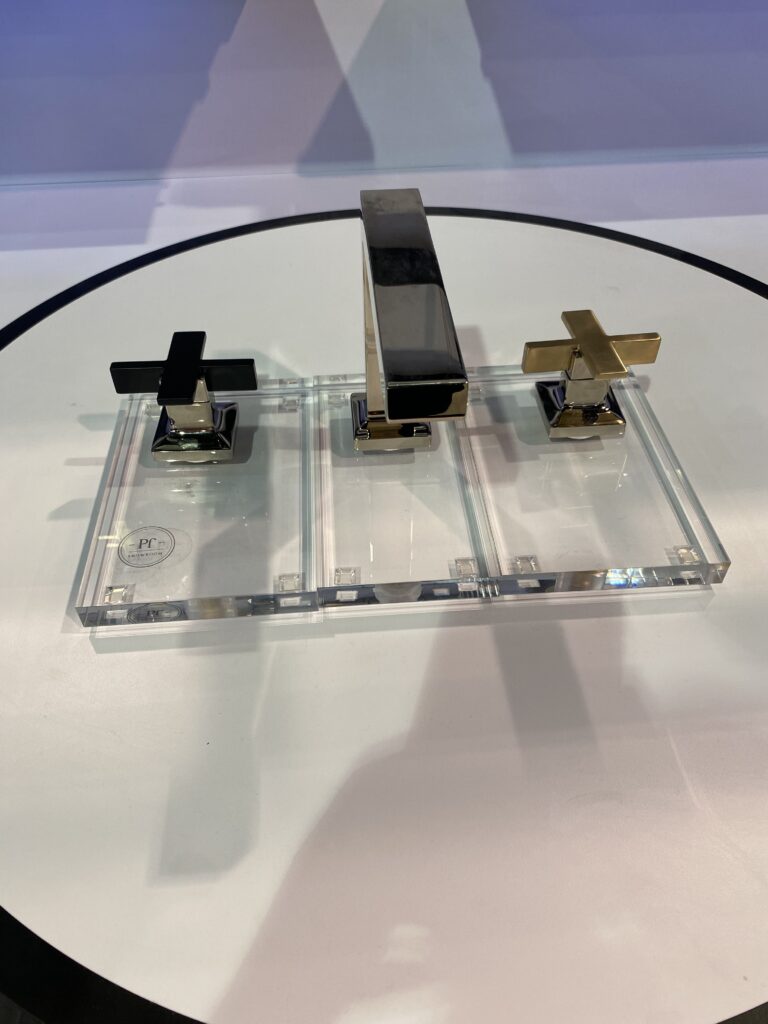 Verve™ Finishes include Polished Chrome, Polished Nickel, Matte Black and Brushed Gold. Well-known for aesthetic excellence and craftsmanship, Pfister remains a company of "people-people," who cheerfully and proudly stand behind their Pforever Warranty®.
The Monogram Designer Collection
The Monogram Designer Collection is revolutionizing luxury kitchen design with the debut of the industry's first-ever custom 96-inch high refrigeration panels. A refrigerator that goes to the ceiling? Yes please!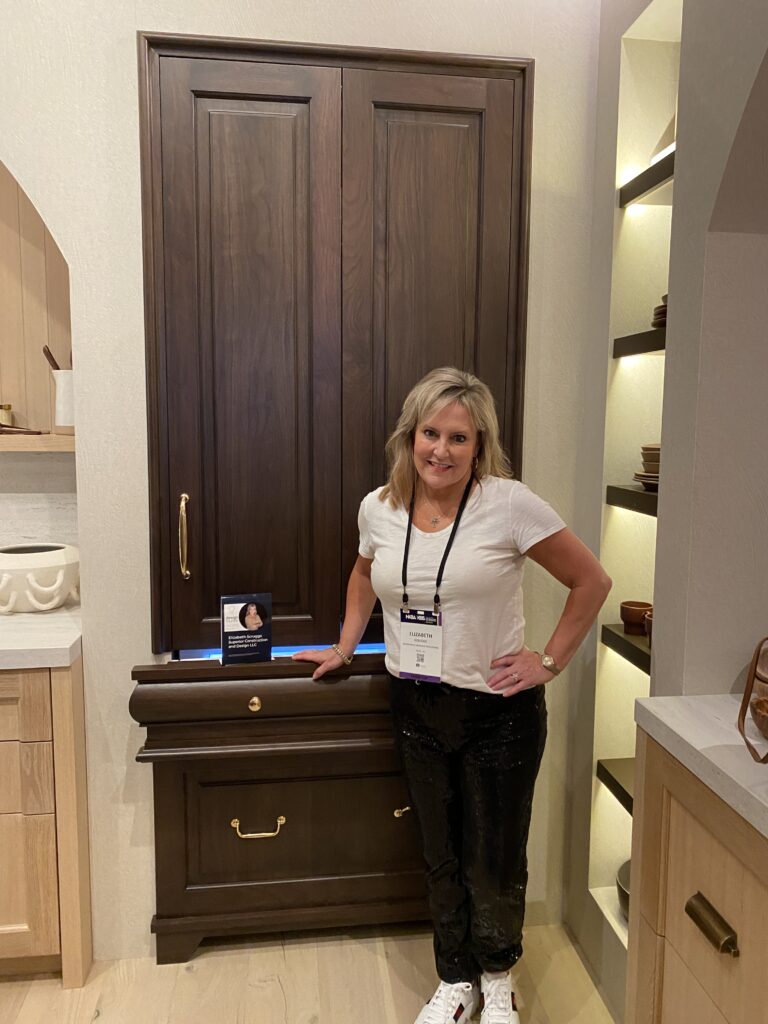 Inspired by fine jewelry, designer Richard Anuszkiewicz created each piece with tailored lines and refined style and proportions. Each piece is expertly engineered down to the finest detail. From the machined door bins to showcase LED lighting, Monogram refrigerators go way beyond food freshness!
Their custom door panels can be matched to your existing cabinetry, or you can choose their professional style stainless steel finish. You can also use control your refrigerator's functions right from your phone!
The Monogram Designer Collection x Richard Anuszkiewicz also includes other appliances in striking brass and titanium finishes, and completed with with hardware wrapped in hand-stitched, sustainably sourced, Greenguard Gold Certified, durable leather. Talk about luxury!
That's A Wrap on KBIS 2023
Whether you're a designer or homeowner, I hope this post has given you some insight into a few of the best products on the market right now. That's what I love about interior design — it's always growing and evolving to make our lives easier, more productive and more beautiful.
If you are looking to transform your kitchen or bathroom, or have questions about remodeling or renovating your home, I would love to help! Book a discovery call through my website and see if Superior Construction and Design is the right fit for you.
Until next time…