How to Use Lighting to Create that Joyful, At-Home Feeling
October 21st, 2019 | by Elizabeth | Posted in Before and Afters, coming home, design

Hey y'all! I hope you're not tired of seeing the Scruggs Home Makeover results yet, because I have another one for you… and it sparkles! This week, I want to share some of the lighting changes we made to our space during the big ol' Waterpocalypse 2019.

This round of updates was, again, sponsored by one of our favorite vendors: Hudson Valley Lighting. We use Hudson Valley Lighting often in our clients' projects (like this one!), and it was a real treat getting to pick out lighting for the Scruggs home this time around!

Are you ready to see some beautiful, versatile pieces and plenty of inspiration? Then let's go y'all!

Note: Though this post is sponsored by Hudson Valley Lighting, all thoughts, comments, and lighting selections are my own. Enjoy!
elegant and whimsical chandeliers from the Mitzi collection
---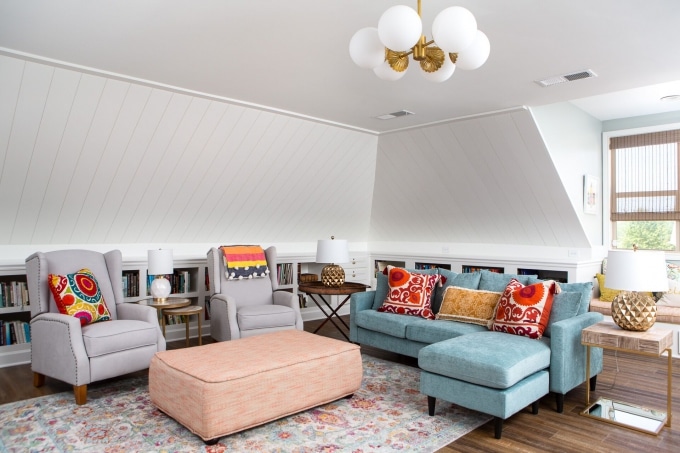 So you've seen close-up shots of this space in my blog post here, but I didn't mention the super cool (and a bit retro) Paige Chandelier in Aged Brass from Mitzi, part of the Hudson Valley Lighting Group.
I love how this fixture is almost cloud-like, floating above this happy, colorful scene and adding elegance and whimsy to our fun-loving bonus room. That said, I could easily see this chandelier turning heads in a more formal, luxurious space. Definitely a versatile piece!
Speaking of, I couldn't resist putting a similar light fixture in another room that needed some cheer…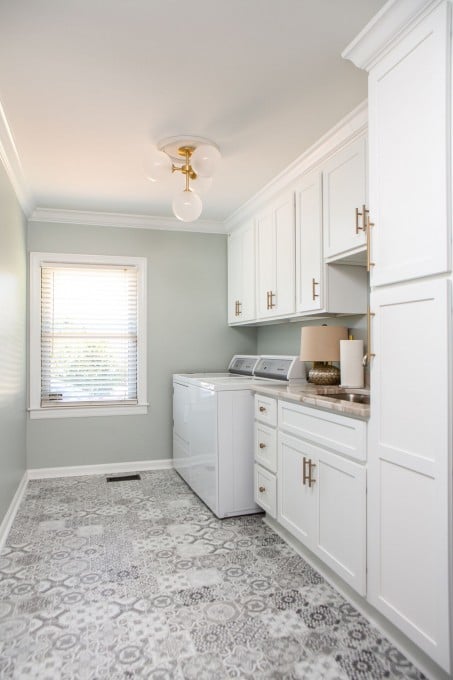 The laundry room!
If you're familiar with the traditional doom and gloom of laundry day, I can almost guarantee you that new scenery will change things. It sure has for me! No, a fluff and fold might not be a day at Disney World, but y'all, in this space it is LOADS more joyful! See what I did there? 😉
I owe my newfound happiness in large part to this gorgeous and fun light fixture. The aged brass of this Ashleigh Chandelier in Aged Brass from Mitzi adds the perfect touch of warmth and elegance, and again, there's that cloud shape. Against this cool, breezy palette, it feels less whimsical and more uplifting.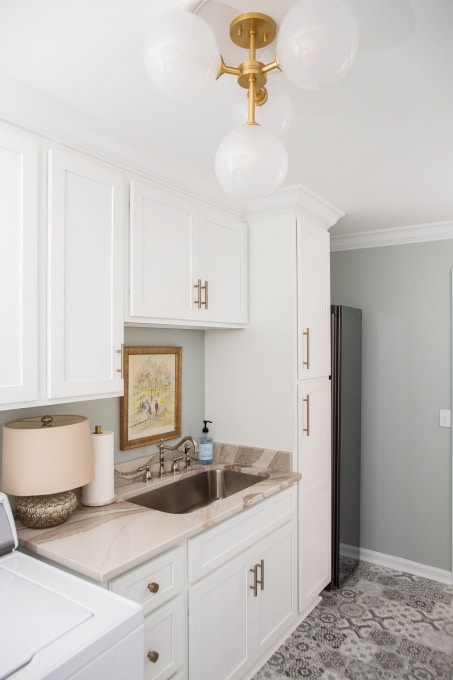 The aged brass is the perfect complement for the warm tones in my Cambria Quartz!
When I walk in now, I feel instantly calm, happy, and pampered — yes, on laundry day. Thank you, Hudson Valley Lighting! Isn't design powerful?
traditional flush mount from Troy Lighting keeps us feeling at home
---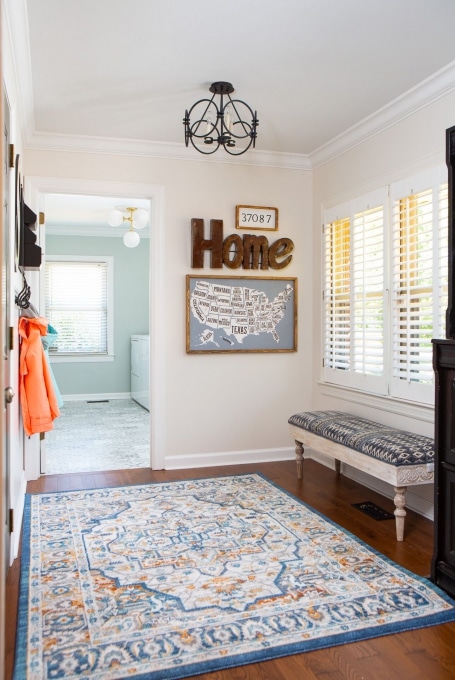 I love that even though our home was built in the 80s, the owners were savvy enough to put in a mudroom at the backdoor. Remember, this was way before "mudrooms" were even a thing.
During our home redesign, I wanted to create a welcome little spot for our family to come in, sit down, take off our shoes and coat, and know we are home.
Of course, a bench, rug and coat rack were essential, and I topped it all off with the Juliette Flush Mount in Country Iron from Troy Lighting, of the Hudson Valley Lighting Group.
I love how the flush mount's circular design subtly mimics the light fixture in the laundry room behind it. But instead of the flush mount being light-colored, which would make the ceiling feel more open, the dark iron defines a visual "border" for the space.
This makes the space feel more grounded, which is exactly how we want to feel when welcomed home!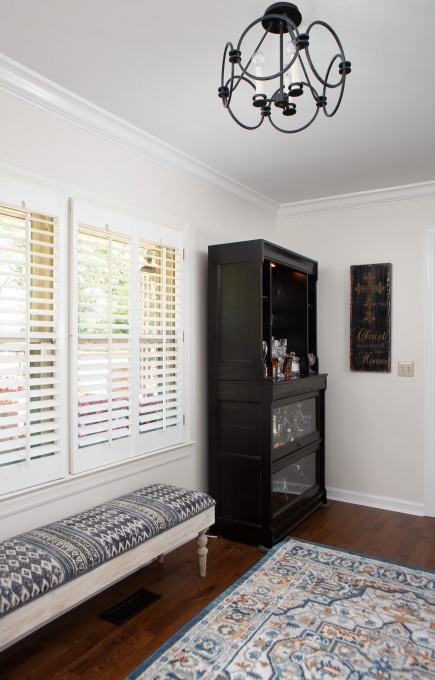 Thanks to Troy Lighting and Hudson Valley Lighting for shining the light to guide us home!
a chandelier that's fresh, traditional and oh so elegant
---
Fresh traditional. That's what I like to call it. I love all the details of traditional styling, but without all the fuss or stuffiness. That's why I believe in classic and timeless elements in a space. If the fixed elements are good, then all the accents can be updated as needed (and don't leave that empty feeling in your budget).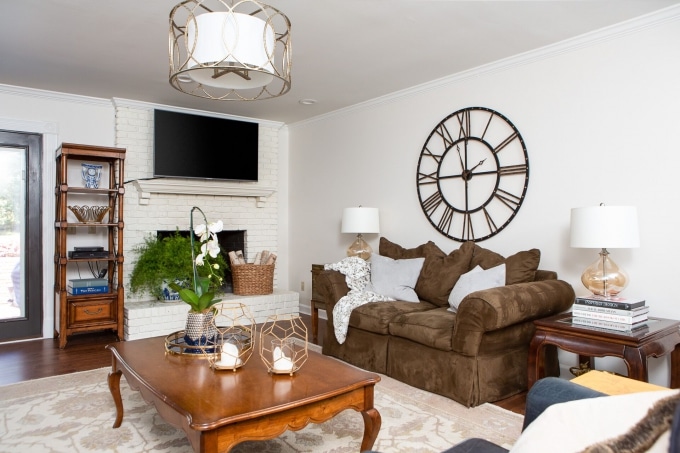 For our family room, I chose the Sausalito Flush Mount in Silver Gold from Troy Lighting, and I couldn't be more pleased with it.
The outside iron frame with the inside fabric drum shade give off such beautiful, glowing light, and I love the way the curves of the light fixture balance out all the linear elements of the fireplace, TV, etc. It also mimics the shape of our iron clock without being matchy-matchy.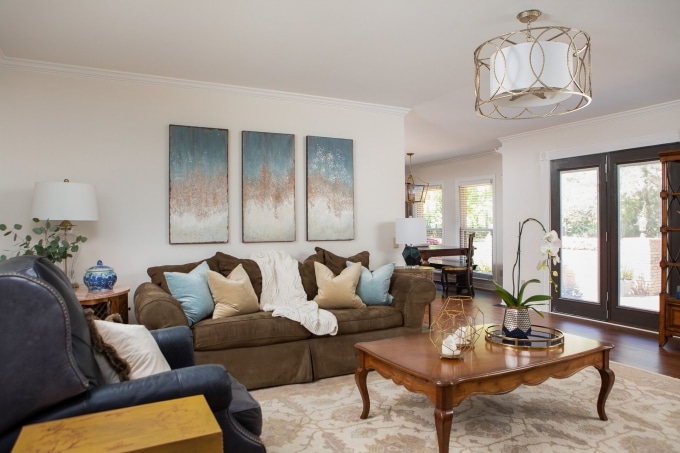 A light-toned fixture was necessary to keep the ceiling, and therefore the room, feeling bright and open. Sure, we want to feel "grounded" in this space too (like in our mudroom), but the furniture is already playing that role — just more evidence of how every design element influences all the other elements! Design is a constant balancing act, y'all. 🙂
So, how about you? Does your space need a little TLC? Do you know which rooms could use a little cheer or that at-home feeling? Tell us below! Or reach out to us here if you're ready to call in the reinforcements. 😉
Xo,
Elizabeth
P.s. Looking for more inspiration? See our roundup of 15 Home Transformations that will Inspire You!
Subscribe to our mini-magazine to learn how to use layered lighting to create focal points![/fusion_builder_column][/fusion_builder_row][/fusion_builder_container]