How to Prep Your Guest Bedroom with Real Southern Hospitality
November 16th, 2018 | by Elizabeth | Posted in coming home, design, events, guest room, tips | #christmas, #guest room, #holidays, #home decor, #lebanon tn, #southern hospitality, #styling, #thanksgiving

before we dive into today's topic, can I ask you a question? Maybe it's just me, but do you feel like we get hit over the head this time of year with ads telling us how stressful the holidays are?

Of course, all of our lives get just a little busier (or a lot busier) this time of year. I think that's inevitable for most people, but we can choose how we handle it right? Do we have to feel stressed?…

What if we choose to embrace and enjoy the chaos instead!

With my kiddos growing faster and faster every year (seriously, where does the time go?), I think I'd much rather savor every busy, crazy, frazzled moment as it comes. These moments will eventually be memories — don't we want them to be happy ones?!

Yes, yes we do.

(Between you and me, I'm also convinced that this happier mentality could prevent more Black Friday shopping injuries next week…but that's a different topic. ?)

So feel free to join me on this happy-grateful train! Now, on to business…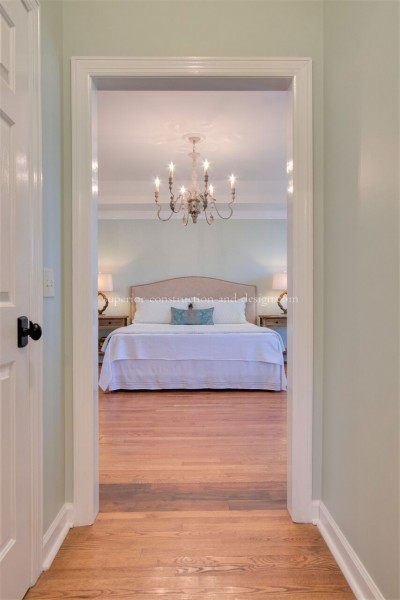 southern hospitality's secret sauce
---
Just because we're embracing the holiday chaos doesn't mean our home has to look like it, right? We're known for our hospitality here in the South, after all. 😉
Today I'm sharing our secret… wanna hear it? Come a little closer…
Hospitality is in the details.
Yep. It's really that simple.
I've pulled together a few detail-oriented tips that will help you make your guests feel just like family! I'll put an easy checklist summary for you at the end, too. Let's go!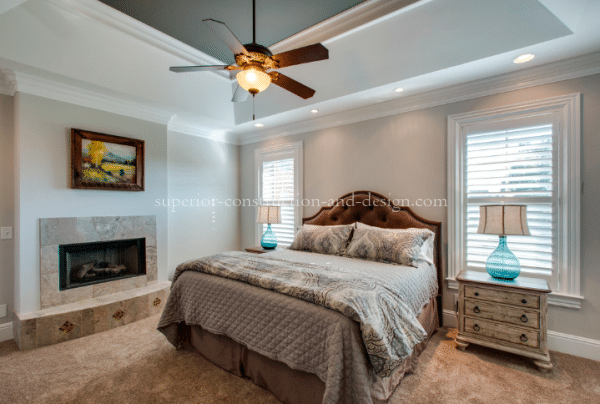 From a complete home redesign we completed in Mt. Juliet, TN

wash your linens… even if they're already clean
---
I know washing your guests' linens is a no-brainer, but you should do this EVEN IF they are already clean. Nothing smells or feels better than freshly laundered sheets. Trust me, people know the difference!
You should also take an advance inventory of your pillows. A lumpy pillow just screams "old and used" and can be unappealing. Replace the sad, lifeless ones. Match your pillow sets for a nice aesthetic. Fold extra towels, linens, and blankets nicely at the foot of the bed.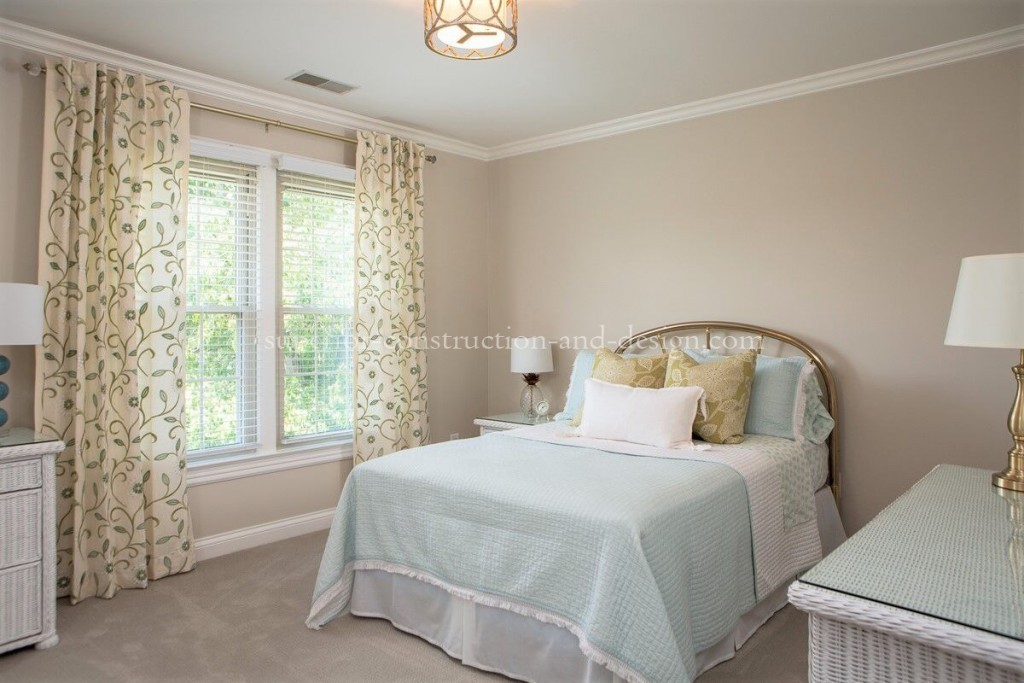 From our complete house remodel in Mt. Juliet, TN

provide refreshments IN the guest room
---
Most guests you host won't "help themselves" — no matter how many times you insist!
Leaving some accessible refreshments in the room will allow them to relax, refresh, and satisfy any cravings they might have been too shy to voice! Some suggestions…
Bottled water

Mints or chocolates

Mixed nuts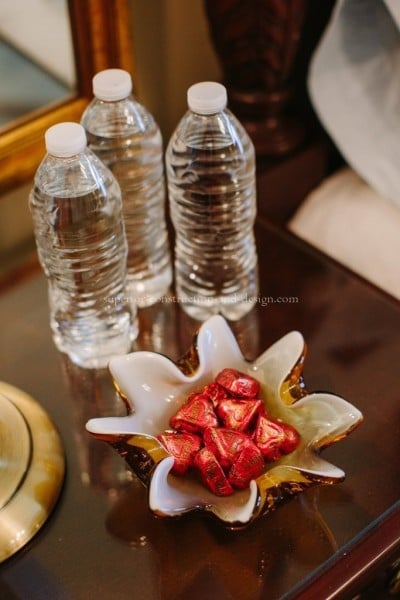 Source: Chesley Summar Photography, Lebanon, TN
the room-brightening magic of fresh flowers and foliage
---
A simple bouquet or arrangement does WONDERS for a space, and especially around this time of year, you can find pretty great ones for under $10 at your local grocery store.
Arranging them in a crystal vase is perfect for adding grace and elegance to the room, but you could easily use a Mason jar or pitcher for a charming handcrafted touch.
Whatever vessel you choose, adding fresh flowers or greenery to the space will bring it to life before your eyes… and your guests'!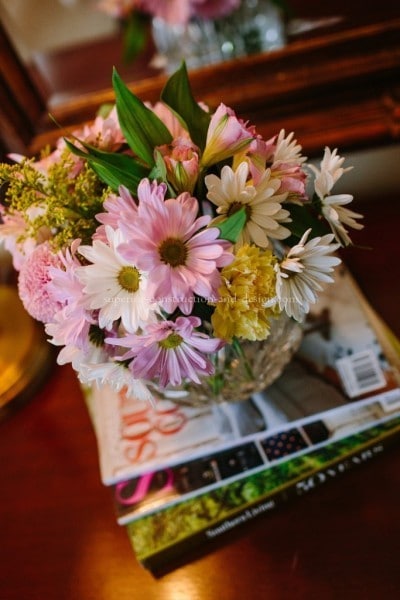 Source: Chesley Summar Photography, Lebanon, TN
save the day with a tiny-toiletry surplus
---
If your guests are like me, they'll probably forget to pack some small and insignificant toiletry… which will suddenly become much larger and more significant once they realize its absence!
Luckily, you can swoop in and save the day by having a surplus of travel-sized toiletries available to them. Some essentials…
Toothbrushes & toothpaste

Disposable razors

Shampoo & conditioner

Deodorant
Turns out they don't need your spare goodies after all? You looked like a great hostess anyway. 😉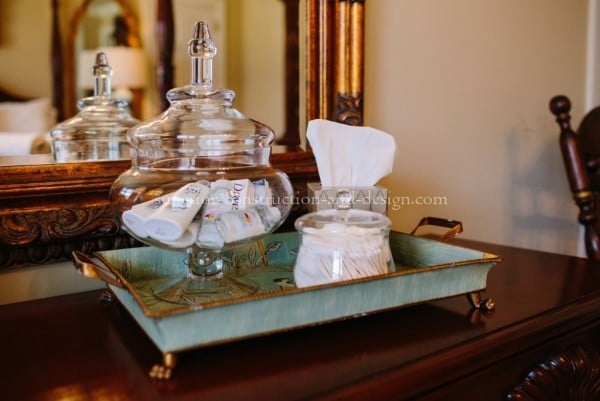 Source: Chesley Summar Photography, Lebanon, TN
help your guests entertain themselves
---
Most people find it tough to make time for reading in their daily lives, but when it comes to vacation time… we will eat that novel up!
Your guests just might too, given the opportunity. Stack current best-selling novels on the nightstand for some late night reading. Or, if they're new to town, share some books or local magazines about your region.
A funny-witty coffee table book rarely goes amiss in a guest room (or guest bathroom) either!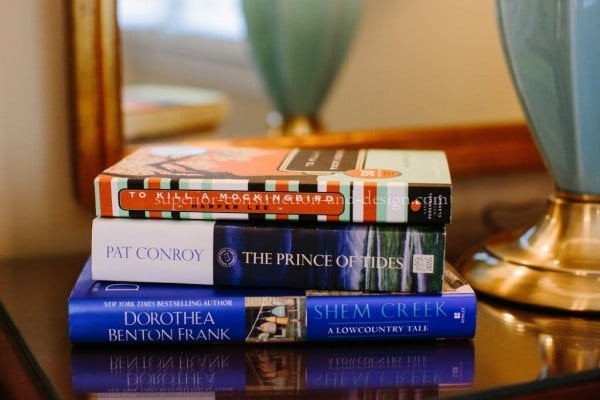 Source: Chesley Summar Photography, Lebanon, TN
your southern hospitality guest room checklist
---

Here's a recap you can copy down for yourself:
Wash linens

Replace old, lumpy and mismatched pillows

Provide refreshments in the room

Water

Mints or chocolate

Mixed nuts

Add fresh flowers or foliage

Provide a surplus of mini-toiletries

Toothbrush & toothpaste

Shampoo & conditioner

Deodorant

Razors

Reading materials

Best-selling novels

Local magazines

Funny coffee-table book
Look at that list, will ya? Short, sweet, and full of the thoughtfulness that will warm your guests' hearts and make them feel right at home.
On that note, I hope Y'ALL feel extra warm and special this season with your loved ones, too! Go and spread the good cheer! 😉