How to Know if You Should Renovate Your Home Before Selling
February 4th, 2019 | by Elizabeth | Posted in construction, design, real estate staging, remodeling, tips | #home decor, #lebanon tn, #mt. juliet, #new paint, #renovations, #selling your home, #staging for roi

Today's post is a little less visually inspirational than usual, but it's PACKED with great info if you're going to be selling your home this year — so don't skip this one!

Spring is peak home-selling season here in Mt. Juliet and Lebanon, Tennessee, which means now is the time to make any renovations before you put your home on the market.

Before you start dreaming of the pool and home office renos that will "guarantee" your ROI, let me say… girl, slow your roll!

The first question you should ask is… Should you even renovate at all?

That's the big question, because not all renovations are created equal. If you update a part of the home that no one can see (or your target buyers don't care about), you're not going to see that money come back.

So how do you know? Let me count the ways…
Home redesign in Mt. Juliet, TN
step 01: consider bringing in a home stager for a
consultation
---
Do this off the bat and you can skip all the other steps in this post! Seriously.
Half the battle of renovating your home for a top-dollar sale is knowing which renovations will bring in the biggest returns. If you can get a professional opinion on that front, you're saving yourself time, stress, and a whole lotta uncertainty.
This is what a home staging consultation can do for you.
Even if you don't stage your home (though you really, really should if you want great ROI), a home staging professional is the best person to call in early.
They'll give you an actionable list for prioritizing the right renovations — and specific to your target market. After all, the characteristics of fast-selling, top-dollar homes in NY are very different from the ones selling here.
So get the inside scoop!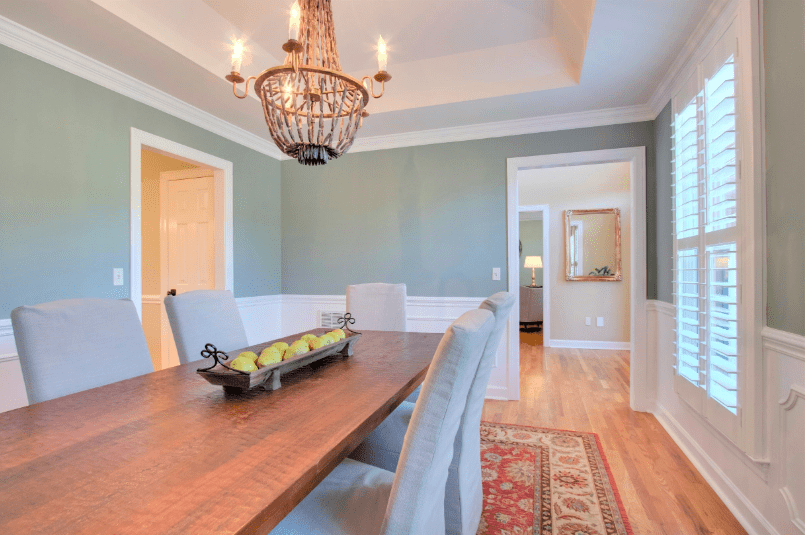 Home staging project in Lebanon, TN

step 02: cross these potential renovations off
your list…
---
There are a few renovations that research has shown should never be considered for selling purposes. In some cases, they can even be a deterrent to potential buyers:
Never consider updating…
Swimming pools

Media rooms

Attics

Decks

Offices
Don't try to get all fancy pants with your home. Keep it simple and classic. If these are on your list of potential renovations, go get a red marker and strike 'em out!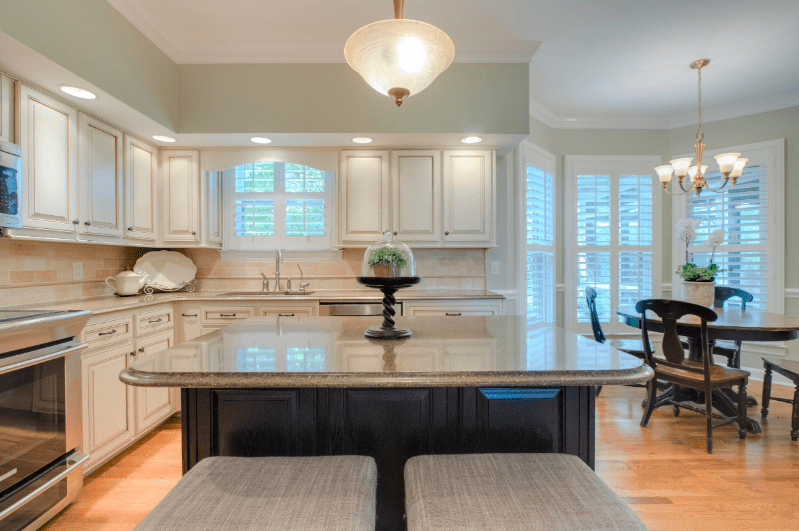 Home staging project in Lebanon, TN

step 03: identify any decade-defining traits in your home
---
Decade-defining traits are just that… aspects of your home that dish the deets on precisely how old it is. Beauty comes before age in today's housing market!
Make a note of these decade-defining traits in your home:
Popcorn ceilings

Paneled walls

Appliance colors of a certain decade

Formica countertops

Tiny closets

Shag carpeting

Laundry area in a basement or garage

Fixed elements in a decade-defining color (I'm looking at you, lime green and flamingo pink…)
Once you've identified these areas, you'll have a starting point for some impactful renovations.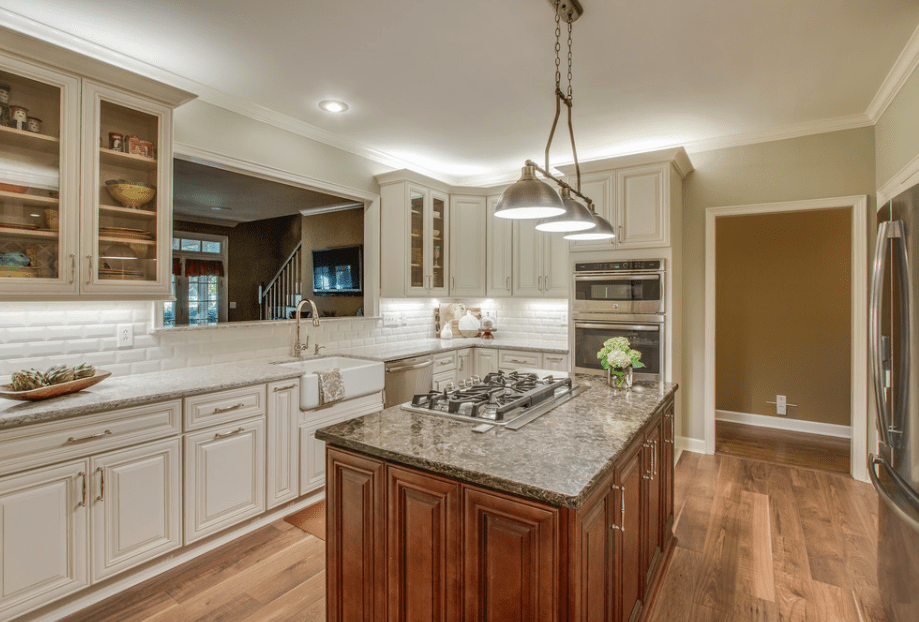 Kitchen remodel in Lebanon, TN

step 04: add these improvements
to
your list
---
Some renovations are non-negotiable for encouraging potential buyers to actually leave their cars and tour your home. Such as the exterior. Others are simple but surefire ways to make your home more attractive.
High-impact improvements:
Immaculate exterior (gutters, soffit and fascia, shutters, columns, bricks, shingles, etc.)

Neutral color palette

Bright, well-lit interior (and updated light fixtures)

Timeless finishes, aka nothing trendy
We all judge books by their covers, and it's no different in your home. Make it shine!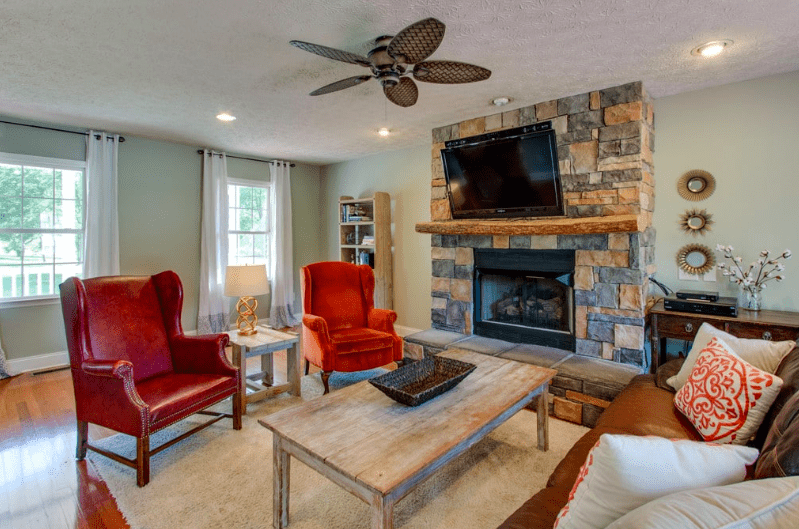 Home staging project in Lebanon, TN

step 05: know what your renovations are actually accomplishing
---
Unless you have serious problems to address (such as structural safety issues), each of your improvements should do at least one or more of the following:
Adding space for function or improved access

Creating or updating light sources

Removing any decade-defining features & replacing with timeless elements

Repairing or replacing any

visible

structural elements in disrepair
Here's some insight into the hows & whys of a Mt. Juliet home we renovated for sale.
If you find any items on your list that don't fall into these categories, well, you know what that red marker is for… saving your ROI!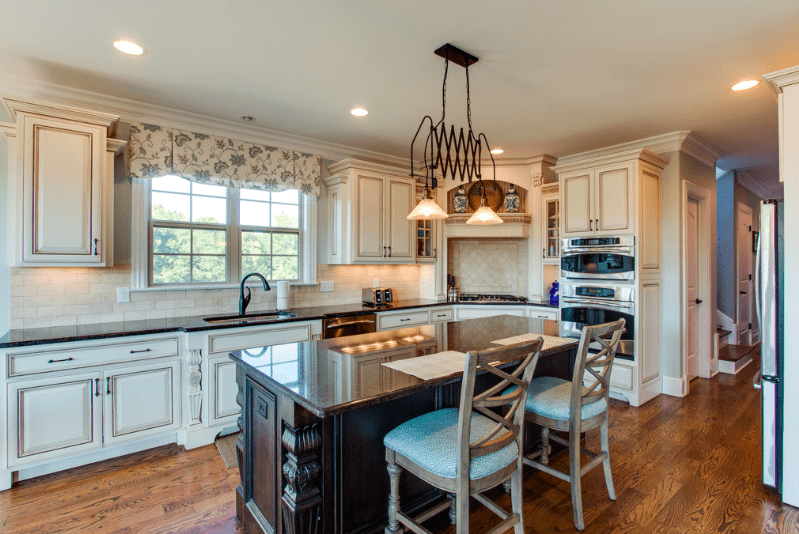 Kitchen redesign in Lebanon, TN

extra step: accept the success stats of staging
---
By now, you should have a list of smart and impactful renovations you can make in your space — or maybe you've found that your home doesn't need any. (Lucky you!)
My last bit of advice — and I'm going to sound like a broken record here — is to bring in a home stager to help oversee the renovations and definitely to stage the space for MLS listing photos and home showings.
Staging has some impressive stats, and I simply can't keep them to myself:
83%

of staged homes receive their asking price or up to 20% higher

Staged homes sell an average of

78%

faster than unstaged homes (and time is MONEY!!)

Staging is always less expensive than your first price reduction
Can you tell I'm pretty passionate about this? I want the best for you — whether you involve us or not. 😉
That's it for now! If you haven't yet, subscribe below to get light layering tips that will create big impact in your space!
See y'all next time,
Elizabeth