HGTV vs. Real Life: What Can You Really Expect?
February 18th, 2019 | by Elizabeth | Posted in construction, design, remodeling, tips | #budget, #construction, #expectations, #female builder, #hgtv, #home decor, #interior design, #labor, #lebanon, #mt. juliet, #real life, #renovation, #scope, #timeline, #tn

Okay, it's official… y'all are the best readers a girl could ask for! Thanks to your votes, we won Best Remodeling in The Chronicle of Mt. Juliet's Best of Mt. Juliet contest!!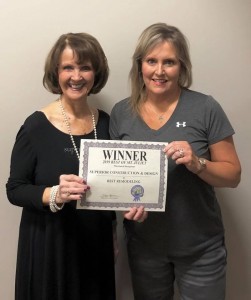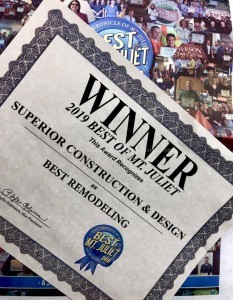 Phyllis Robinson, VP of The Chronicle of Mt. Juliet, presenting the award

We're so excited and beyond grateful, and I want to thank you from the bottom of our hearts! Thank you for your continued support. Thank you for spending part of your day with us on the blog. And a BIG thank you for welcoming us into your homes and lives!
We truly couldn't do it without you, and we are even more inspired to keep helping you live beautifully! Which brings me to our topic today…
What YOU can expect from a "real life" design project vs. what you might see on HGTV.
Now, I just want to preface this by saying that we will not be bashing HGTV or their shows. They are fun, entertaining, and we'll never say no to an amazing transformation.
We are going to compare what we all see on TV with what happens in a real life project. Because if you're considering one yourself, you should have the right expectations!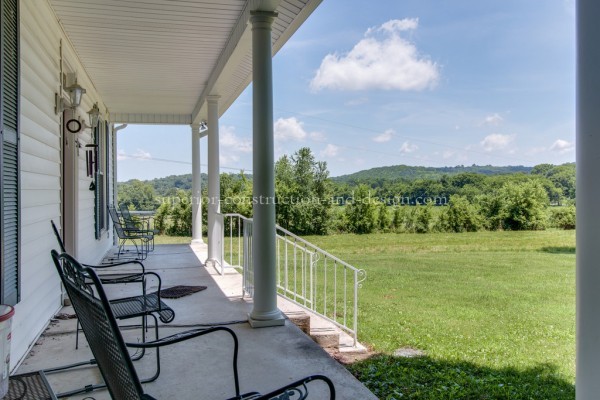 The grass is always greener…
hgtv vs. a real design project… costs
---
if you're pausing and rewinding Fixer Upper to scribble down notes on budgeting, you might be in for the shock of your life!
Reality: The costs you see quoted on home makeover shows are NEVER accurate. Major brands donate TONS of stuff (hello, marketing) and that keeps budgets way down.
That said, an interior designer can often help you get below-retail prices (but not free, sorry!), while also saving your time and managing the headache-inducing tasks of handling any returns, damages, etc.
If you want to accurately budget your project, we suggest searching for the pricing of your largest items and the services you'll require. (Or come talk to us!)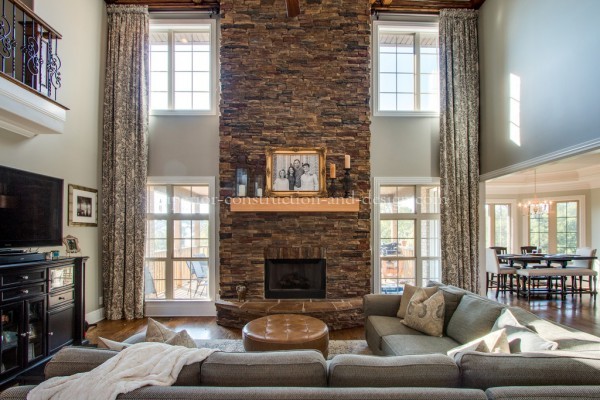 This scene might be a little bigger of an investment in real life!
hgtv vs. a real design project… approval
---
on home makeover shows, we see a concept turn into city approval and then construction in a few seconds flat! (If only!)
Reality: While there may be some video editing going on in there, it's also true that the building code departments are VERY accommodating to the studio's shows. The normal approval process gets heavily expedited.
If you're looking for a realistic timeline for your project, come talk to us. Every project is different, but we can give you a ballpark estimate that will help you decide the best timing for you and your family.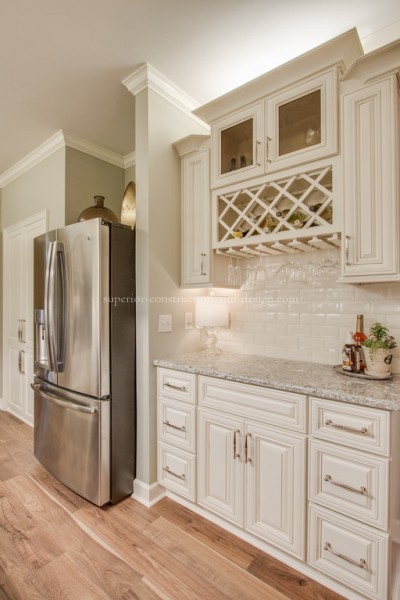 You'll need approval for most major renovations.
hgtv vs. a real design project… man hours
---
i love a day-to-night time-lapse as much as the next girl, but in real life, your crew will NOT be working 24 hours without stop! (Somebody feed those hard-working people!!!)
Reality: Makeover shows have contractors working on unreasonable timelines, so they can shoot the footage on schedule. I know this because I interviewed as general contractor for one of the popular shows that has twin brothers as hosts! 😉
When your design project or home renovation is underway, your teams will be working reasonable hours and you'll know in advance how long each phase of the project will take — which can be anywhere from 4-6 weeks (design only) to a few months (small renovation) to a year (new build).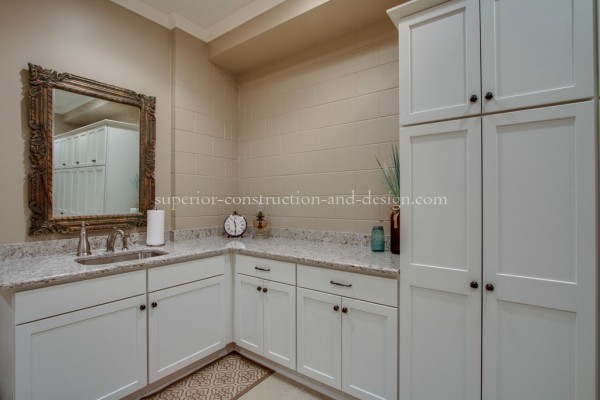 A custom wine rack doesn't happen overnight!

hgtv vs. a real design project… scope
---
it never fails that chaos strikes, something breaks, or the team finds a smelly "surprise" under the house. Some of these catastrophes might be real… until you see the glint of mischief in someone's eyes that tells us we're being taken for a ride!
Reality: Makeover shows often massage issues because it makes for good television. After all, who doesn't love a little drama when it's not our own? But, it IS true that every home project comes with surprises.
This is precisely why every project has an appropriate contingency budget, and why it's an asset to have an experienced designer on your team. We can manage the project, foresee issues, and help you avoid problems that might affect your budget or timeline.
In real life, you want a team that doesn't come to you with problems, but with solutions!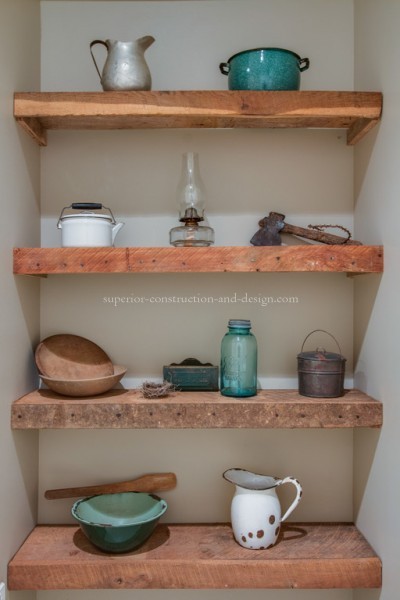 Repurposing original wood can be a great solution.
what you can expect from your own design project
---
every project is a little different, so it's difficult to give you a precise idea here. The best way to prepare is to research:
Research the products and styles you love

Decide how involved you want to be and research the services you're interested in

Start talking to some industry pros you may want to work with!
If you're considering us for your next project, we'd be happy to chat with you on a discovery call, a 30-minute coffee date, or a 2-hour in-home consultation — all perfect, low-cost investments to getting a feel for us or gleaning that little bit of advice you need to keep your project moving… realistically! 😉
one last thing…
---

okay, I was debating whether to include this or not, but I just can't help myself…
…we are up for another 7 AWARDS!!! (It's award season, folks!)

We're in the running for 7 CATEGORIES in the Lebanon Democrat Best of the Best in Wilson County Awards.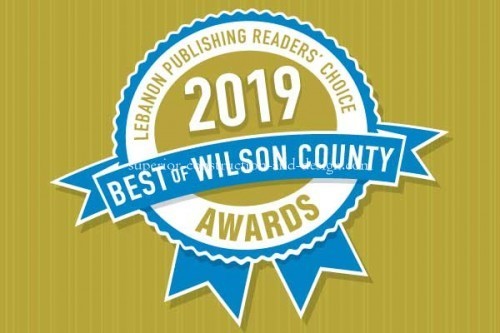 I'd be lying if I said this isn't a huge contest for us… we've won best Interior Designer for the last FIVE years!
And I'm just a WEE bit competitive if you haven't noticed…
If you're still with me here, these are the categories we're up for:
"Outside the Home" Category
Home Builder / Construction

Home Remodeler

General Contractor
"Inside the Home" Category
Home / Real Estate Staging

Home Remodeling

Home Organization and Storage

Interior Design / Interior Decoration
Yes, I realize that "Home Remodeling" is on there twice, but they said their parent company sets up the categories and they can't change it… so there ya go. More chances to win though, right? 😉
Thank you, thank you in advance and we'll be back soon with more exciting news! Really, y'all are gonna love it…
Elizabeth