Falling in Love Again: A Kitchen Renovation Story
June 13th, 2023 | by Elizabeth | Posted in built-ins, Cabinets, color, design, home & garden, kitchens, remodeling

The best part about my job is the feeling that I get when I see clients' faces light up when they see their new home. This kitchen renovation was a long time coming, and I'm so glad that we could help these sweet clients – Mr. and Mrs. C – create a space that finally works for them.

Most of the time, people live in a house for many years before they finally commit to a remodel or renovation. In the C's case, they built their house 19 years ago, and it was becoming clear that it was no longer functioning for them. According to Mrs. C, the kitchen felt dark even though there was plenty of natural lighting from the windows. In her words, "it was just never laid out properly." That just about broke my heart, considering they built this house new in the first place.

We sat down with the homeowners and discussed their kitchen and their lifestyle at length. We wanted to know how and why the space was no longer working for them, as well as what they wanted to see in their new space. They mentioned the lack of storage, good light, and functionality.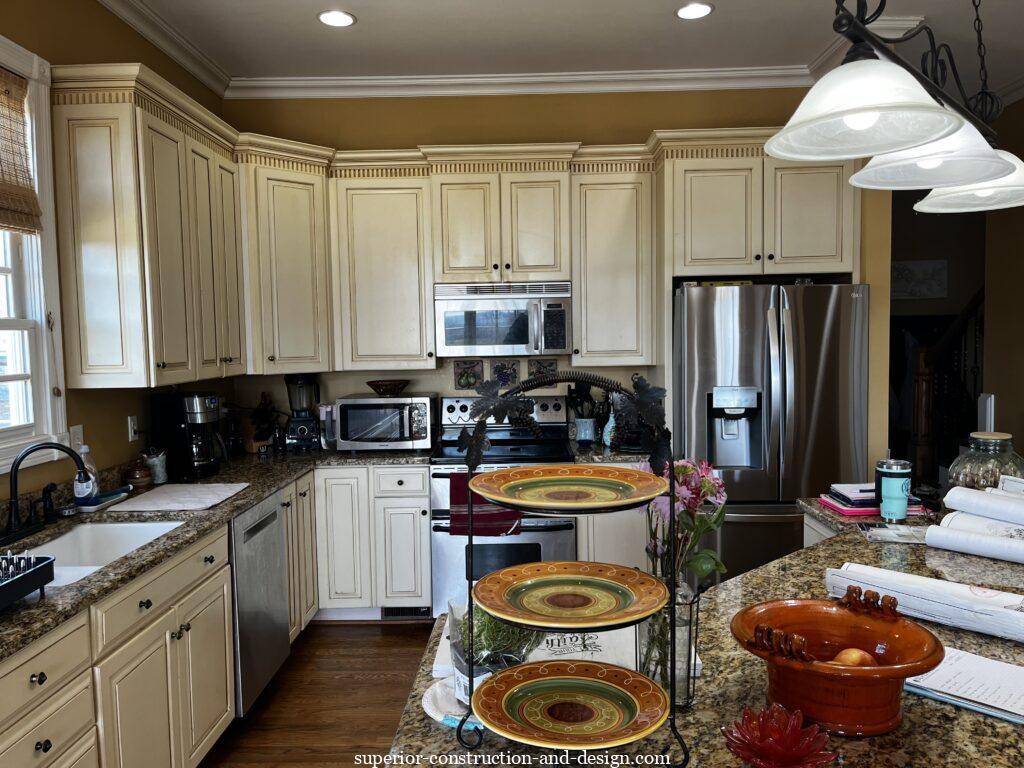 As you can see in the photos below, the kitchen and breakfast area form a large space for cooking and eating, but it still feels small and dark (despite the windows). There was also a lot of wasted space, and missed opportunities for better functionality through built-ins and cabinetry.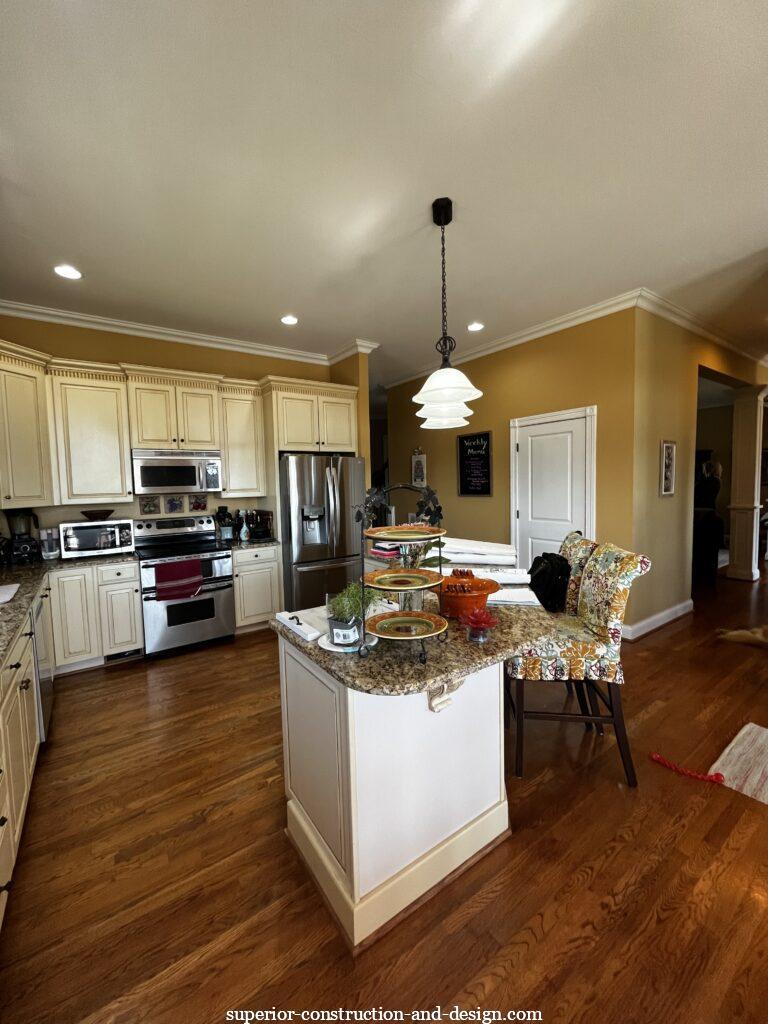 After putting our heads together, we discussed various design options with Mr. and Mrs. C, including removing the wall to their existing dining room. With the wall gone, it would create an even larger space for all of the storage they wanted. This plan also included an impressive oversized island that would double as an eating area.
Our clients approved of the plan and we got to work! For our cabinets and island, we decided to go with a selection of custom cabinetry from Crystal Cabinets. We wanted to really highlight the size of the new kitchen (which already had 10-foot ceilings, so we installed the cabinets as high as possible and created custom crown molding to create the illusion that they go all the way to the ceiling.
We wanted to make the island into the focal point so chose a beautiful navy blue color to make it pop, and used white cabinets for the perimeter. To keep things light and bright, we went with a white quartz with gray veining from Cambria and carried the material up the walls to serve as the backsplash. This is a great way to create a luxurious, high-end look that is also easy to clean because there are no grout lines.
Finally, we added LVP flooring, a light gray wall color, Kohler faucet, island pendants, and decorative cabinet hardware from Amerock completed the space. We even had enough space for a mini-bar! Y'all, this kitchen has it all.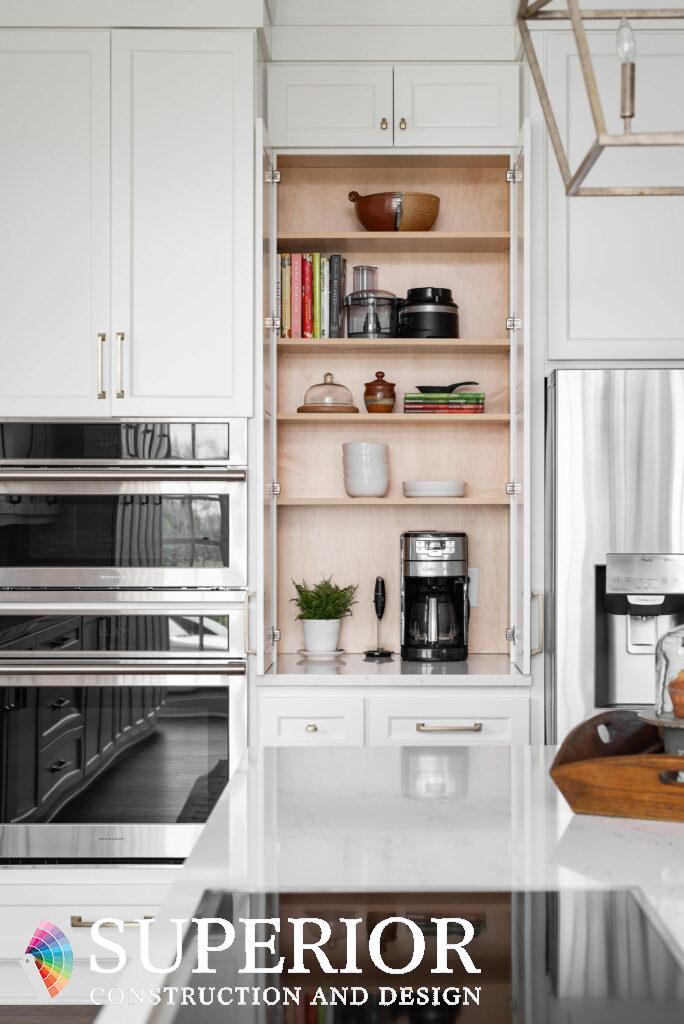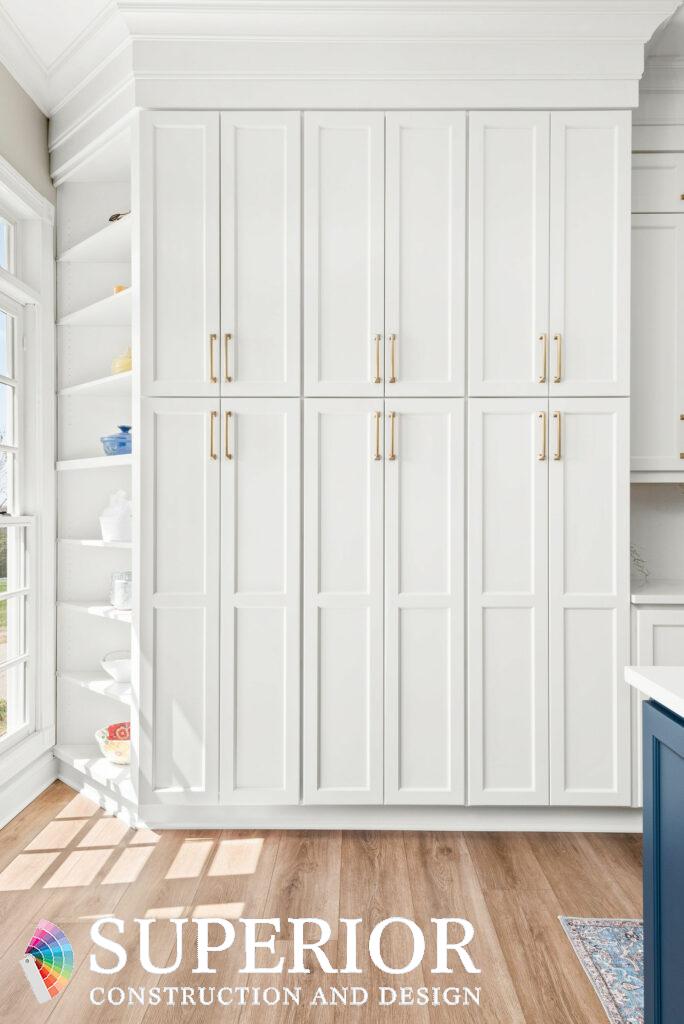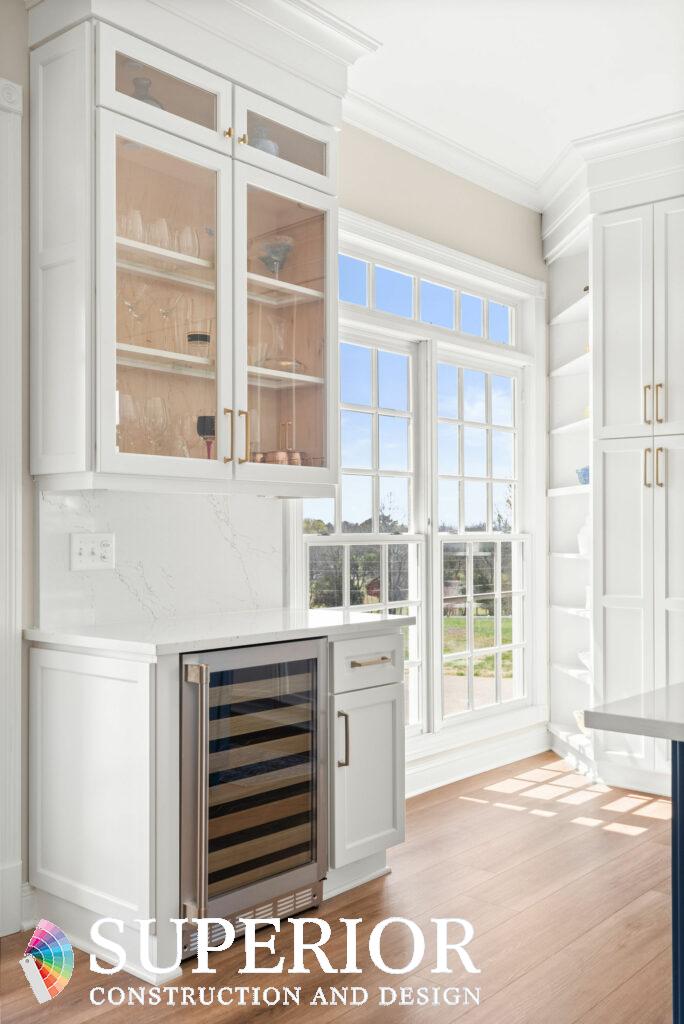 This project was such a complete transformation that we asked the homeowners for permission to share some very kind and humbling words that they sent us about their renovation experience. Here is what Mrs. C. had to say about her new kitchen:
"Elizabeth and her team were a pleasure to work with. Everyone was top notch and respectful of our home and I would highly recommend them. It not only maximized our space and storage but it pulled our whole house together. I feel like this is the way our house should have been all along.
If you are considering a renovation, you need to know what is the most important goal and stick to it. Don't shy away from change. It can be a hassle for you to disrupt your life but keep focused on the goal. It's worth it.
A kitchen renovation is not for the faint of heart! All in all, it was so worth the sacrifice! I have fallen in love with my whole house, especially my new kitchen again!"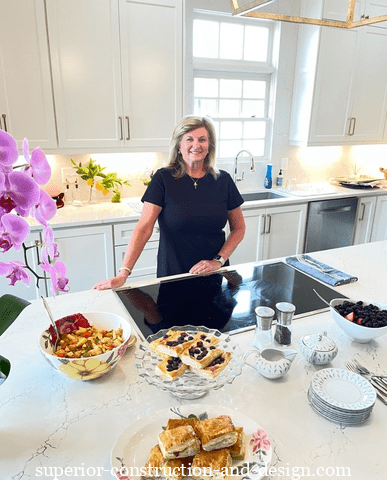 I have to tell you – that right there is why I do what I do. To have a hand in giving families a home that they truly love is such a reward. I go into every project with the mindset of transformation and hearing words like the ones from Mrs. C. makes all the long hours worth it.
If you are exploring making a big transformation to a home that no longer works for you — or you just have questions about the remodeling or renovation process — reach out and let's talk! You can book a FREE 15-minute discovery call through my website to see if Superior Construction and Design is the right fit for you.
To see all of the photos from this project, be sure to visit my website!
Until next time…