A Reno-Free Home Transformation
May 23rd, 2023 | by Elizabeth | Posted in bathrooms, Before and Afters, Cabinets, color, design, kitchens
Want to know how to update a dated home without a renovation? Try a home refresh instead.
Knocking down walls, relocating plumbing and replacing floors can be expensive, and this is an especially tight year for a lot of folks. The rising price of goods and services coupled with interest rate increases are causing a lot of people to ask us how to update a dated home without a full home renovation.
So what do you do if you don't have the budget (or time) for a full-blown renovation? This is where a home refresh comes in! I cannot stress just how powerful a home refresh can be. When chosen correctly, a new paint color, new cabinet hardware and new lighting fixtures may be all you need to bring your home up to date.
Let's take a look at a project that we finished recently that completely transformed our client's home, no renovation required!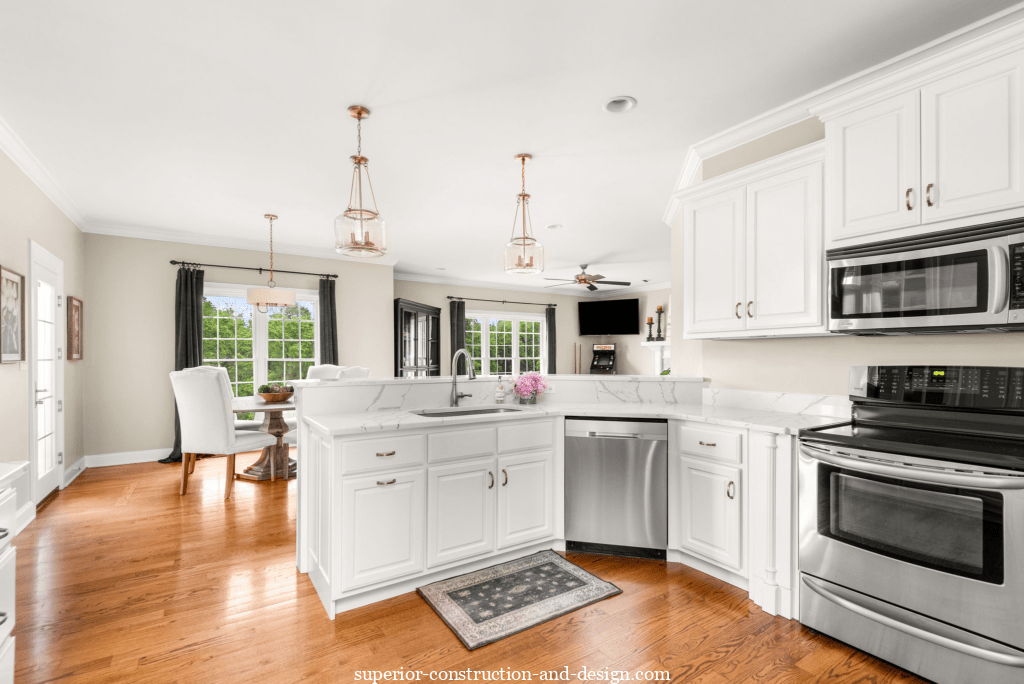 Project Background
Before calling us, our client had replaced her countertops in her kitchen herself. The layout of her kitchen and breakfast area worked for her, but she disliked her existing countertops. She wanted to make a big impact, so she swapped out her dated granite countertops for a beautiful new white quartz with gray veining. 
Unfortunately, she realized that the bright white quartz made her cabinets look yellow and dingy. Her options were to either replace or paint the cabinets, but she didn't know what color that she should choose. That's when she decided to call us.
The Kitchen
Since our client's cabinets were in good shape and she didn't our kitchen remodeling services, we decided that the best course of action was to paint them rather than replace them. We chose an off-white paint color that would coordinate with the countertops.
We also replaced the peninsula's pendant lighting with the correct scale in a gold finish, as well as a new gold-toned chandelier in the eating area. Finally, we completed the kitchen's update with new brushed champagne cabinet pulls.
Can you believe this is the same kitchen? We didn't touch the floors, the wall color or anything else. Just a new cabinet color and some new fixtures and hardware. I may be a general contractor and custom home builder, but I can make a home beautiful without a renovation.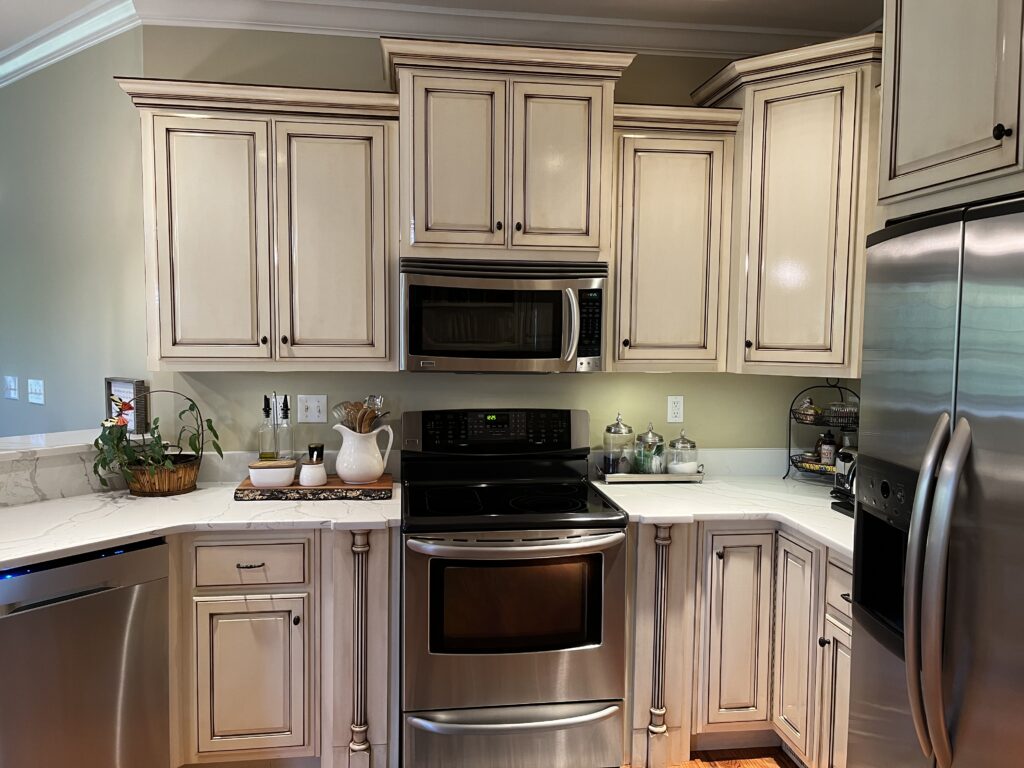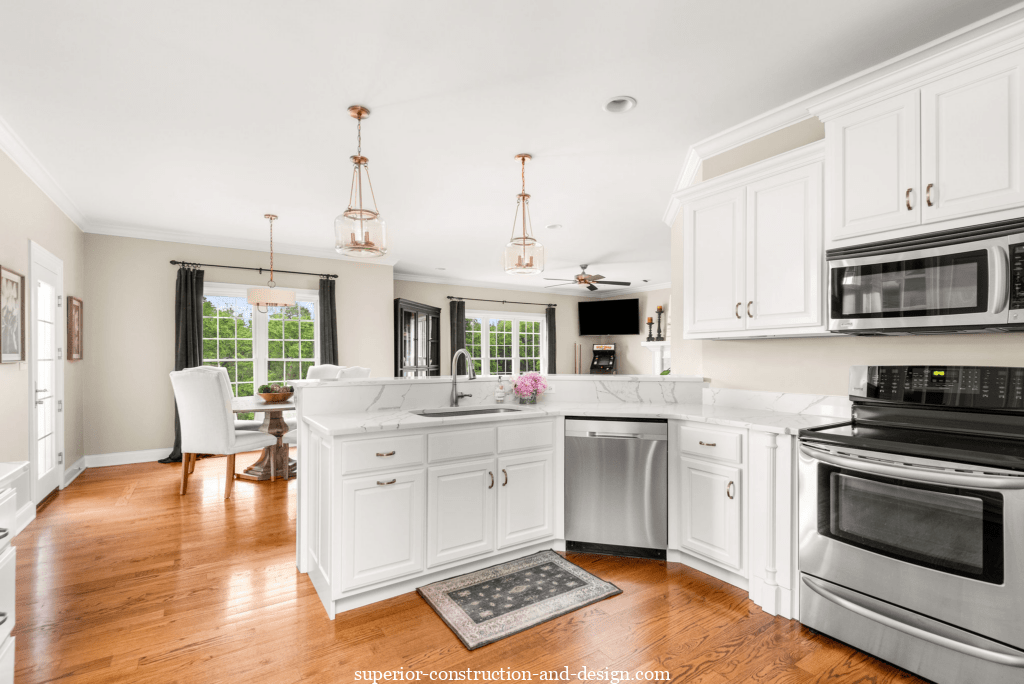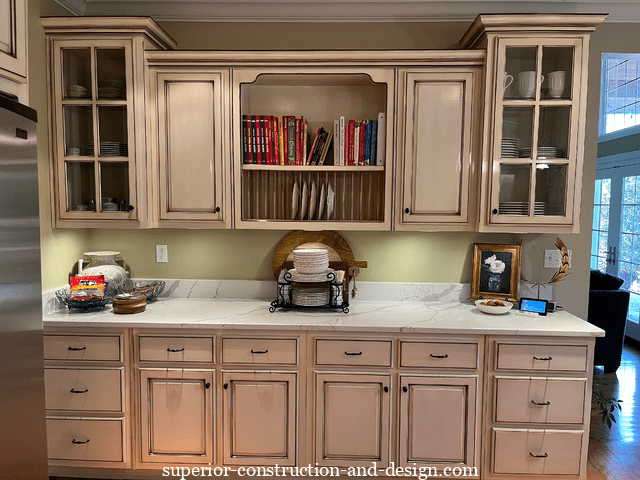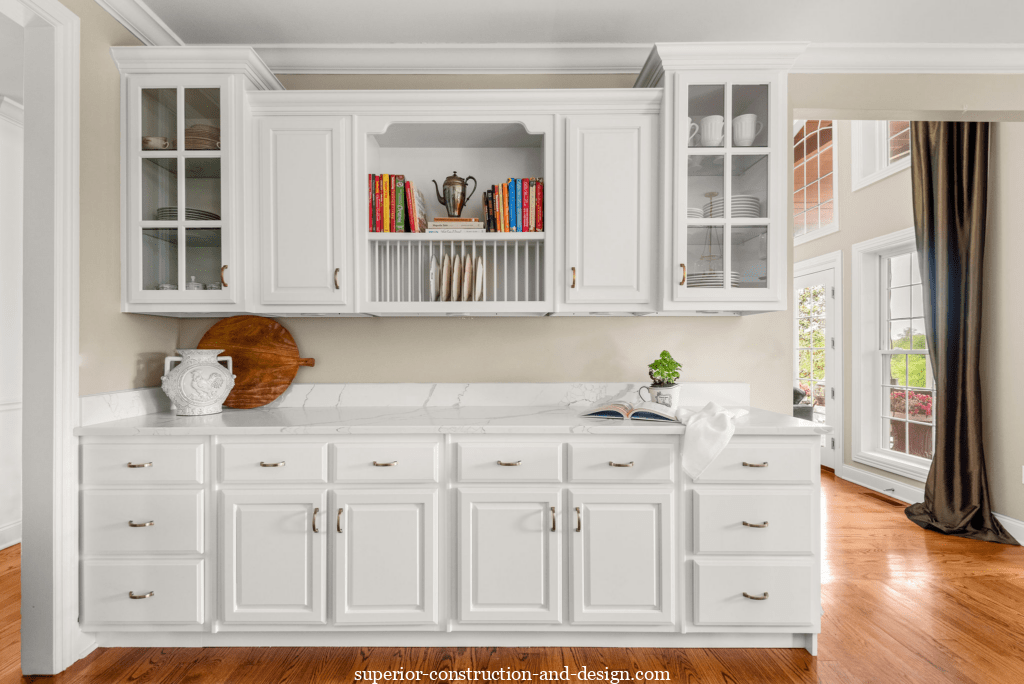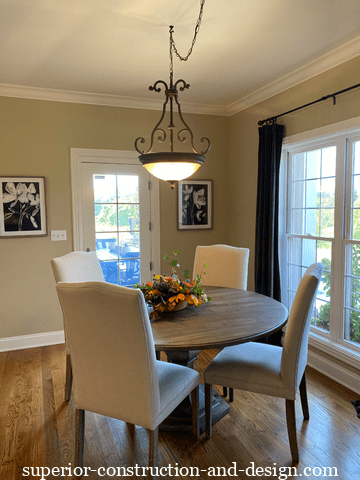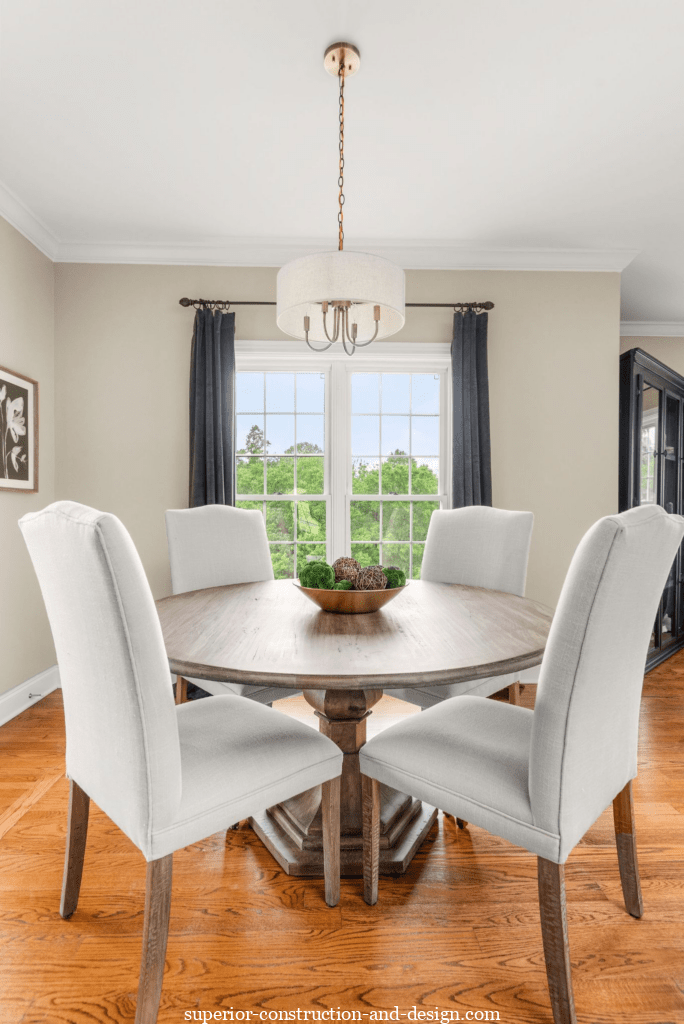 The Bathrooms
Along with the kitchen, we also performed our refresh magic throughout the rest of the house. In the primary bathroom, we replaced the dark granite countertop with an off-white Cambria quartz. The lighting fixtures, cabinet hardware and plumbing fixtures were also updated.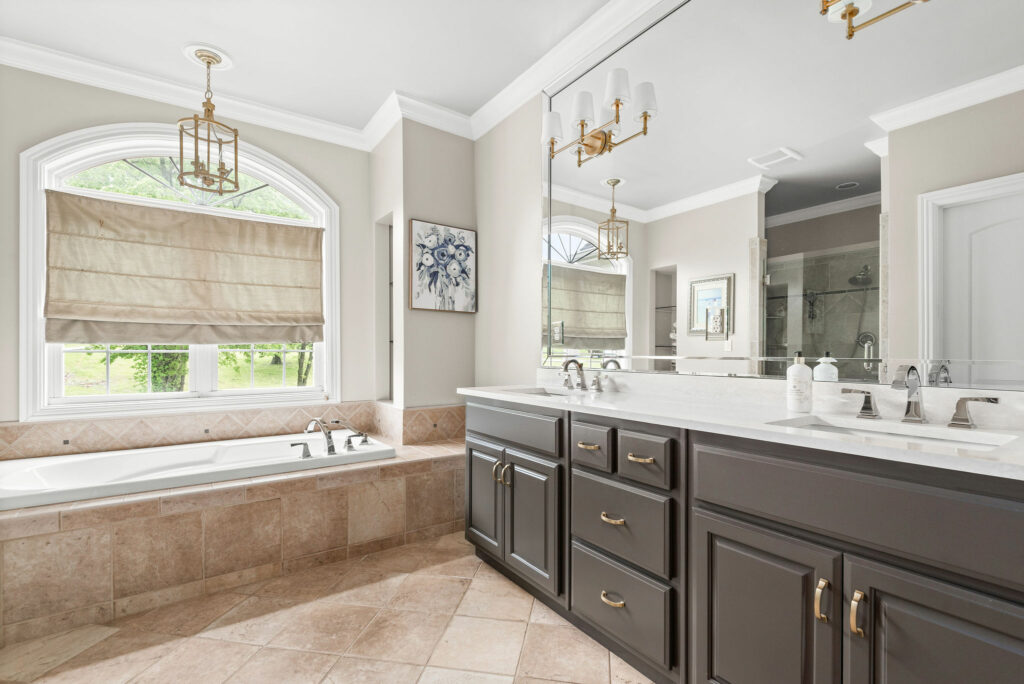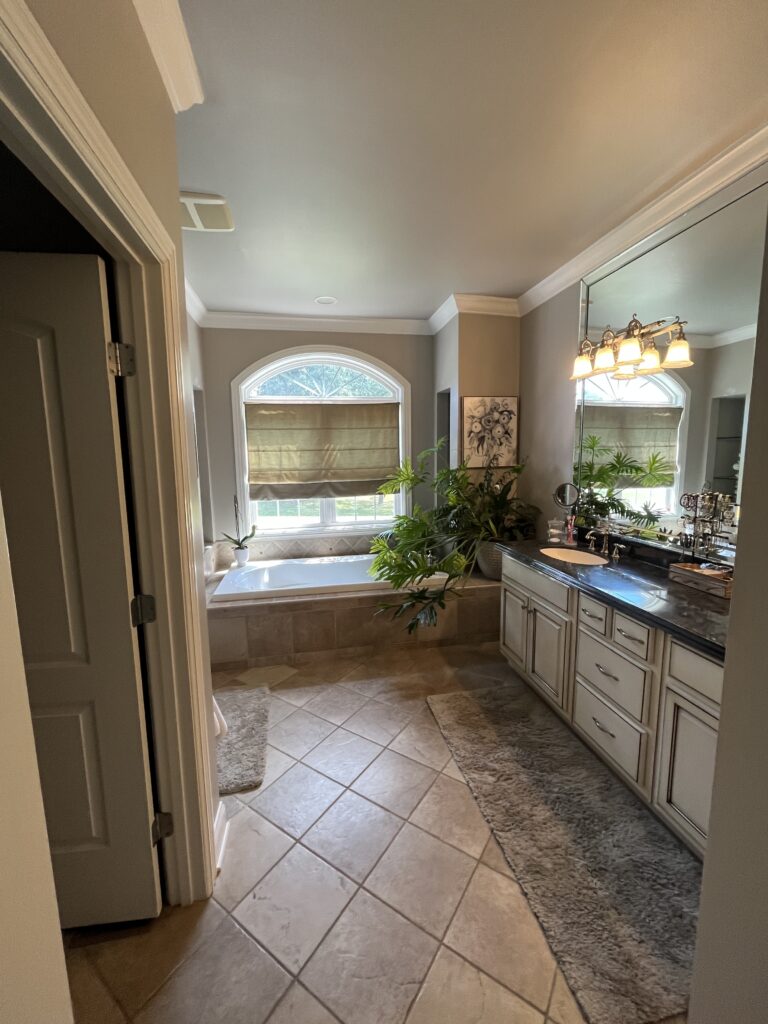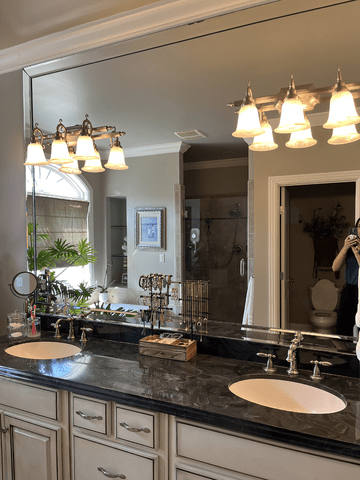 In the Jack-and-Jill bathroom, we repainted the cherry vanity and added a new quartz countertop with rectangle undermount sinks. New cabinet hardware, plumbing fixtures and lighting brought this bathroom into the current decade. A new look is possible without a bathroom renovation.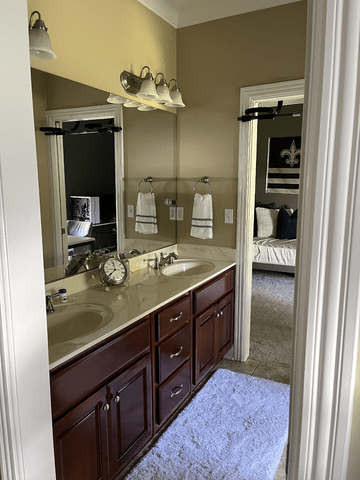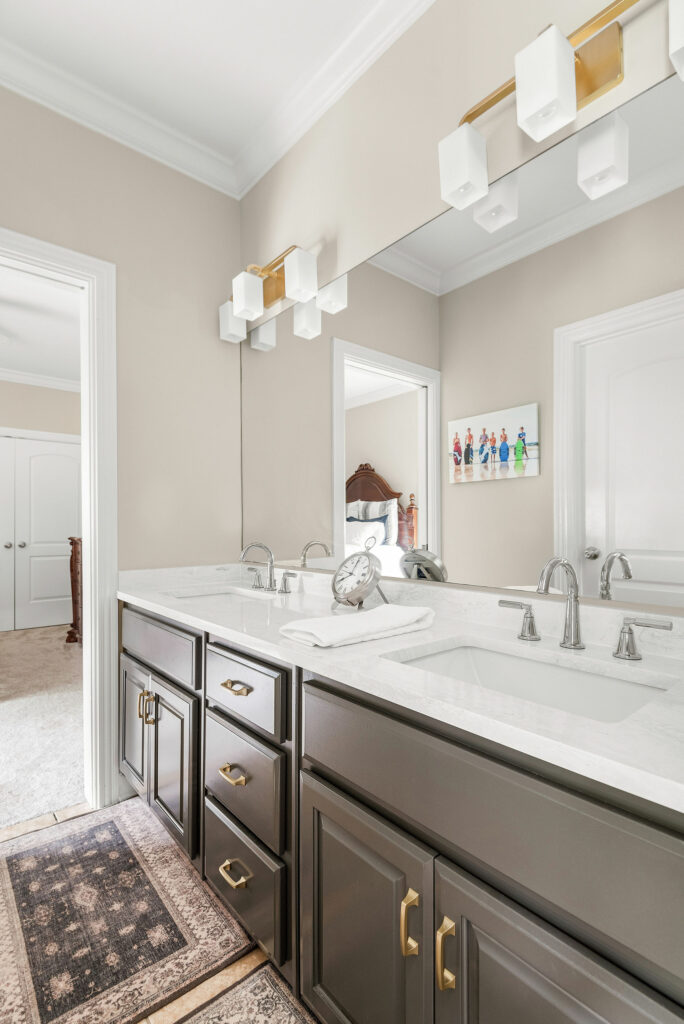 The Entry, Dining Room and Living Room
The floor plan is typical of a 2000-era home, with an open dining room separated by columns from the entryway and main living areas. The dining room is visible from all main living areas and needed new light fixtures. That's literally all we did and look the incredible difference in the before and after photos!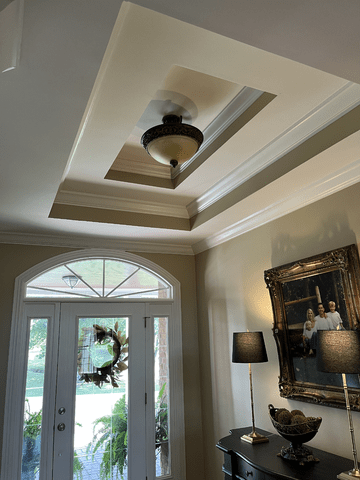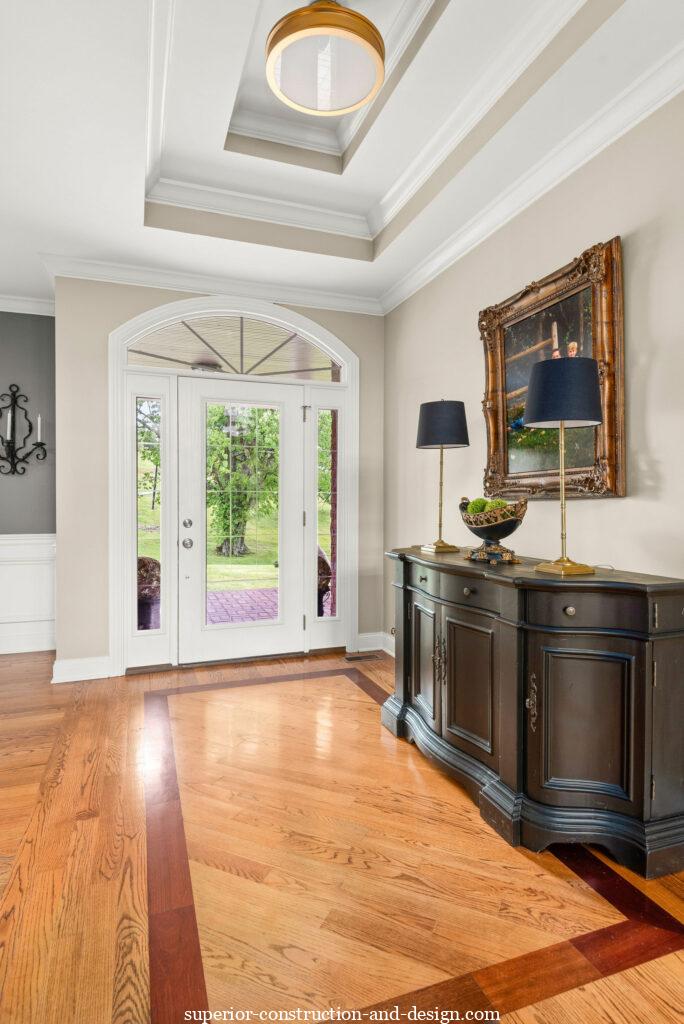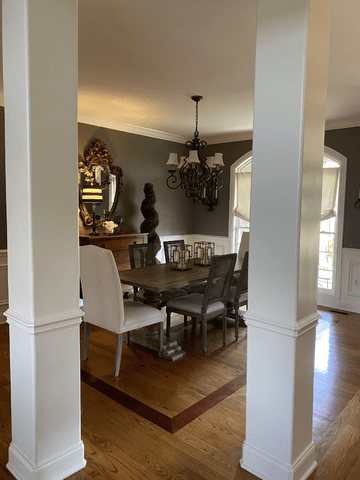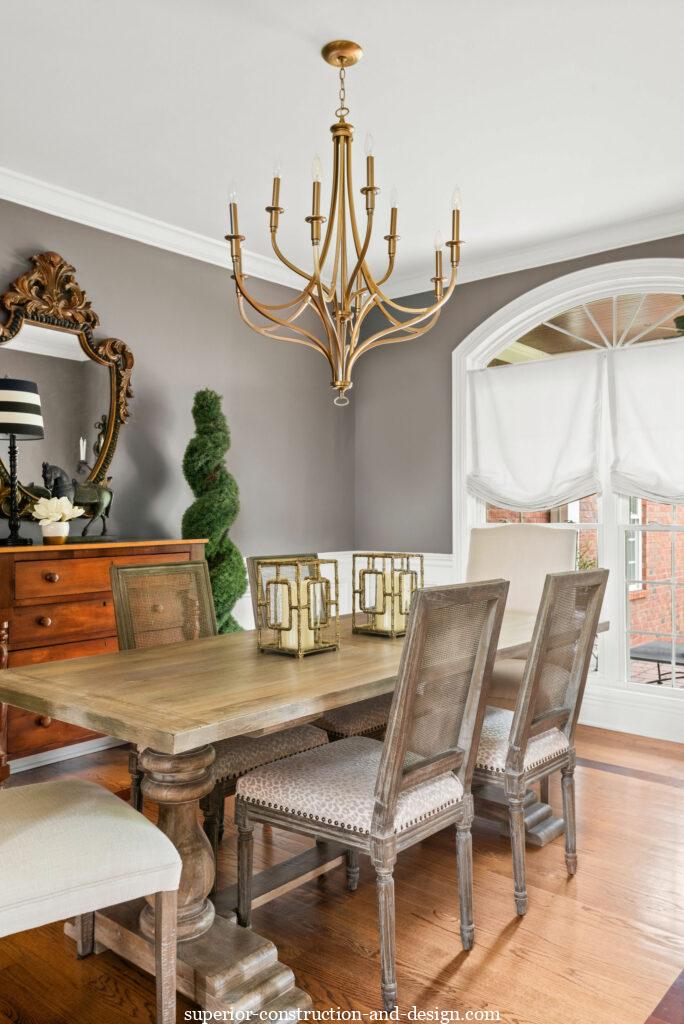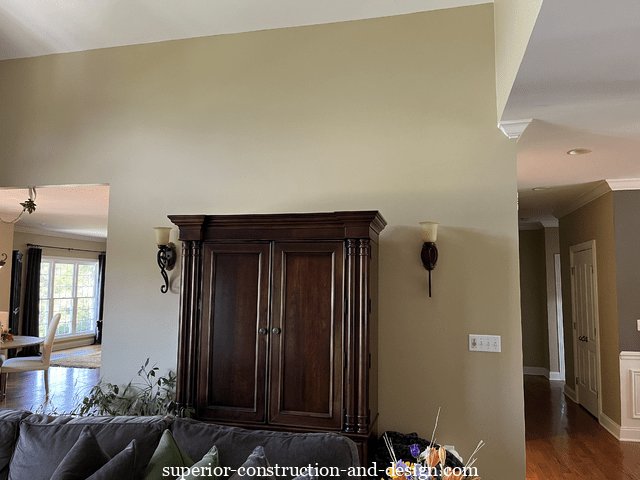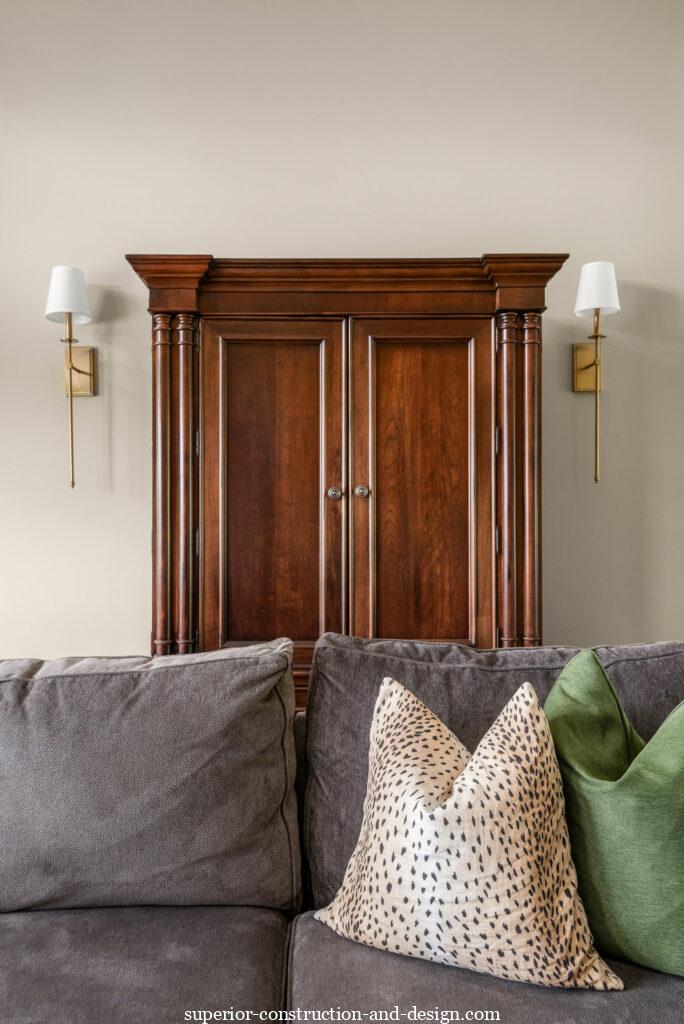 I hope this blog post has given you a more complete picture of just how powerful a home refresh can be to your home. Sometimes, a new paint color, fixtures and hardware are all that you need to achieve a truly remarkable transformation.
If you want to refresh your home but don't have the budget for a renovation, reach out and let's talk about your options. Superior Construction and Design is a General Contracting and Design firm with interior designers and a certified kitchen and bath designer on staff. We are also certified in color theory and remodeling by the National Kitchen and Bath Association.
Do you want to know if a home refresh is right for you? Book a FREE 15-minute Discovery Call through our website and let's discuss your options.
Until next time…